Six blocks of Broadway will become Manhattan's largest shared street as part of open space plan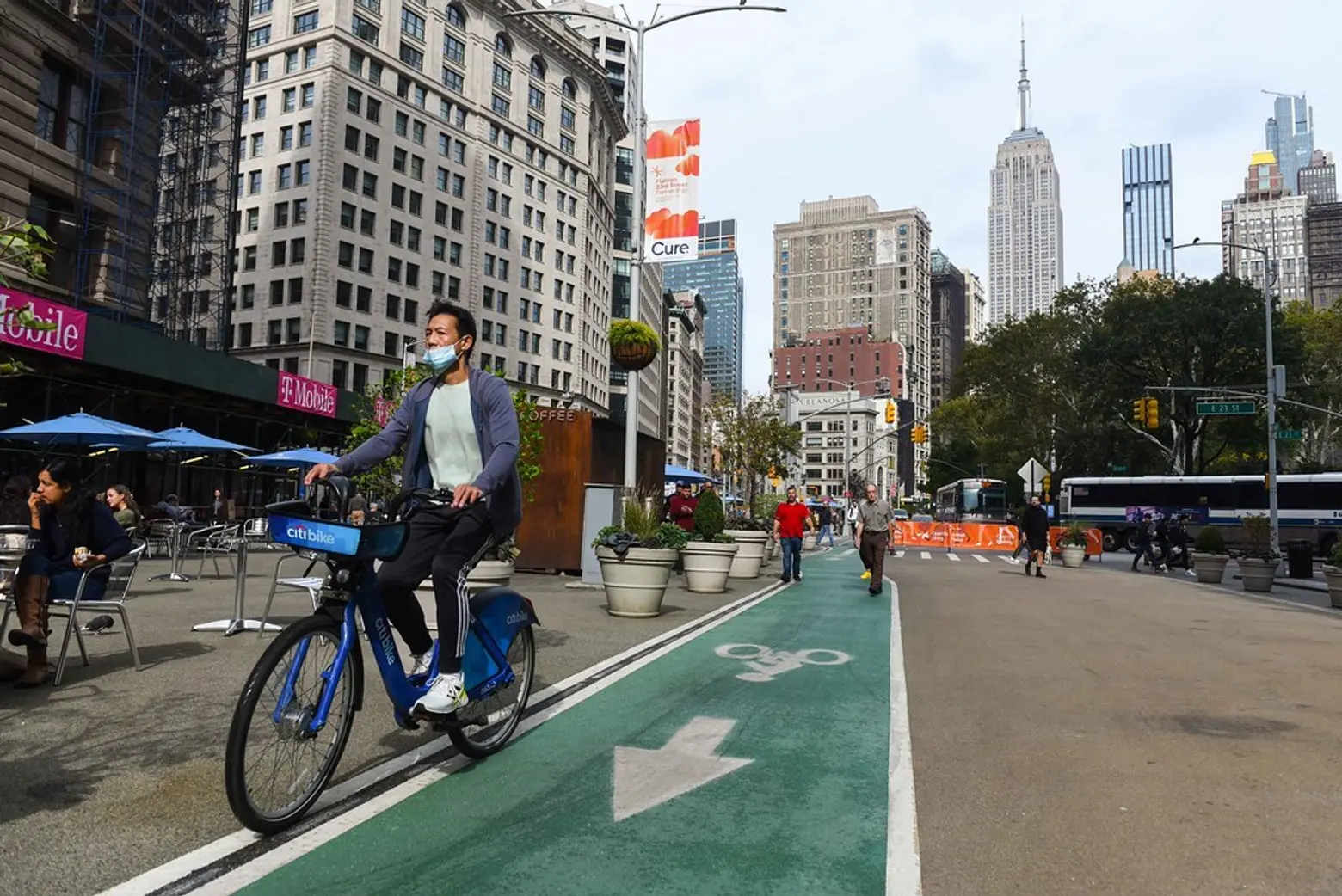 Mayor Bill de Blasio and Department of Transportation Commissioner Hank Gutman have announced more improvements coming to the city's streets, including six blocks of Broadway that will be fully dedicated to pedestrians or modified so that cars, cyclists, and pedestrians can share the street. The DOT's "Broadway Vision" will reimagine 12 blocks of the Manhattan street as shared public street space.
The new shared streets include two blocks of the Flatiron District between 22nd and 23rd streets that will be shared street space–the city's largest shared street–and four additional blocks in the Garment District and Times Square. Additional street improvements include a plaza block from 39th to 40th Street fully closed off to cars, shared and slow streets from 21st Street to 23rd Street in Flatiron, 38th to 39th Streets in the Garment District, and 48th Street to 50th Street in Times Square. The street improvements feature larger pedestrian spaces, a 5MPH speed limit, and protected bikes lanes.
According to DOT data, the stretch of Broadway between 22nd and 23rd Street is used by 18 times more pedestrians than vehicles. The Broadway street designs are the first real-life examples of the innovative street designs DOT hopes to implement throughout the city including Open Streets in Jackson Heights, north Brooklyn, Prospect Heights, and the South Bronx.
"These innovative new designs reimagine how every New Yorker interacts with our streetscape," Gutman said in a statement. "These streets are safer, more accessible, and make the experience for people – not cars – the best it can be. With the strong support of local businesses, these designs serve as a model that we look forward to implementing on key streets citywide, including some of our most successful Open Streets."
Not everyone, however, is thrilled with the prospect of putting the brakes on car traffic on the city's busiest streets. Steven Roth of Vornado Realty Trust, one of the city's most powerful real estate developers, recently expressed concerns about the mayor's plans to prioritize buses over cars on Fifth Avenue in Manhattan, the New York Times reports.
After a presentation by the developer warned that faster express buses "create anxiety for pedestrians and bikers and make the avenue more dangerous. Fifth Avenue tourists are especially at risk," the mayor's transportation commissioner has reportedly now asked staff to reconsider the plan to give buses top billing.
RELATED: