Pop-up pools proposed for NYC's open streets this summer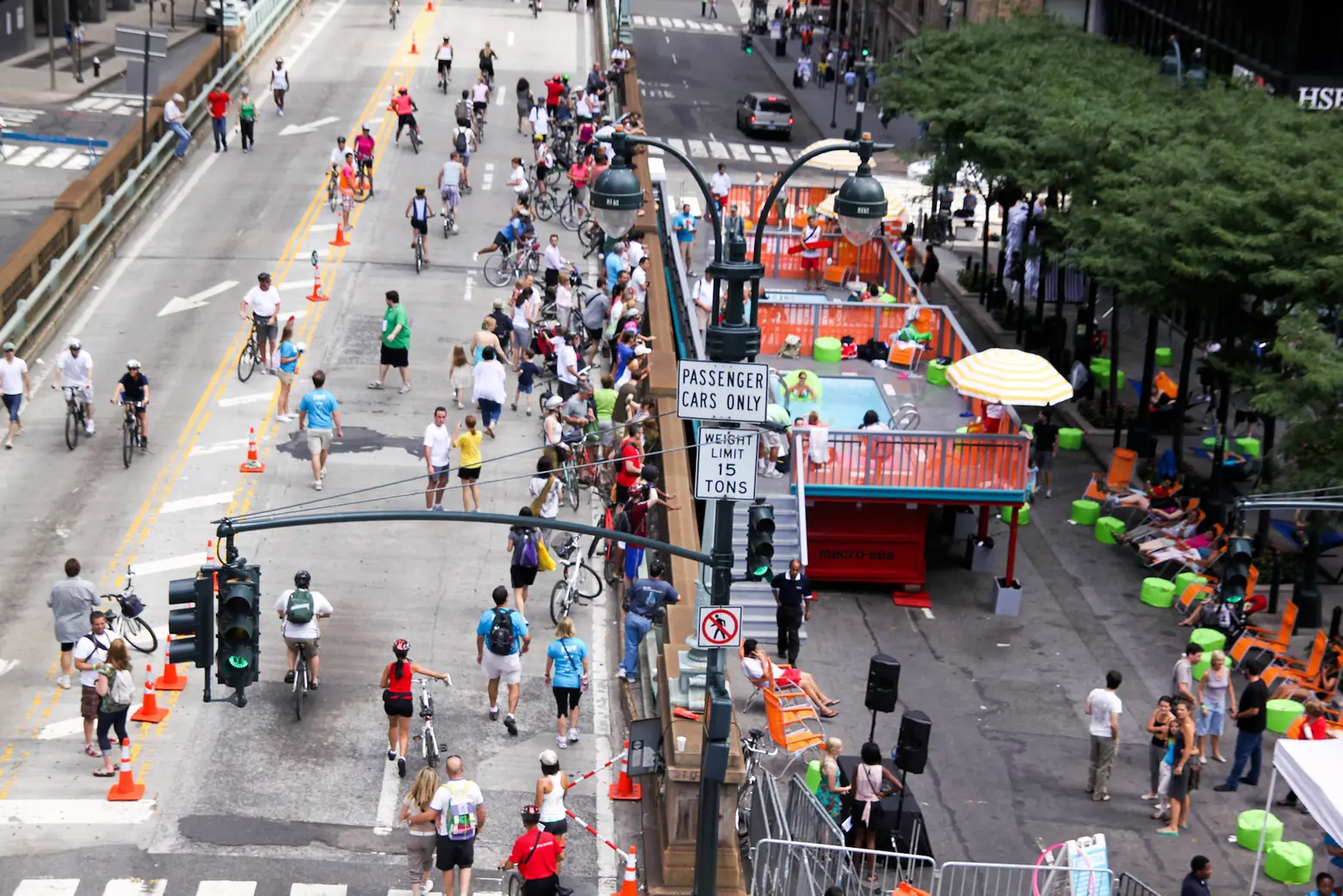 A "dumpster pool" opened on Park Avenue in 2010 as part of the city's Summer Streets initiative, courtesy of NYC DOT on Flickr
Last year, New York City public beaches and pools did not open until July because of the coronavirus pandemic. This year, city comptroller and mayoral candidate Scott Stringer wants to make sure New Yorkers from all boroughs can enjoy the summer season by making pools, beaches, and the city's waterfront more accessible. In a proposal announced on Tuesday, Stringer called on the city to bring a series of pop-up pools to Open Streets and vacant lots in neighborhoods that lack green space.
"Our kids and families are so desperate for fun, and we absolutely have to give that to them this summer," Stringer, who is calling on the city to pilot a pop-up pool program this summer, said.
The proposal would include the use of "dumpster pools," mobile containers retrofitted for swimming. Street swimming is not an entirely new idea in New York, with dumpster pools seen in Gowanus in 2009, on Park Avenue between 40th and 41st Streets in 2010 as part of the city's Summer Streets initiative, and at Brooklyn Bridge Park in 2013.
If elected mayor, Stringer said his administration would build up to three floating pools as designed by the nonprofit +POOL, which has developed a way to self-filter the East River into water safe for swimming.
Other proposals in Stringer's "Summer in the City" plan include opening city pools and beaches on time this season, expanding free swimming lessons for children and young people, and providing free sunscreen at pools, parks, playgrounds, and beaches. The candidate is also calling on the city to design new and improve existing bike routes to beaches, as well as expand bike parking there.
"We need to open our pools and beaches as soon as possible this year, and we need to keep them open until the last day we can — and we need to bring the fun to every corner of the city with pop-up pools. For the long term, I believe that having + Pools in the city's waterfront will create places for New Yorkers to swim that are unlike anything anywhere else in the world."
On Wednesday, Mayor Bill de Blasio announced public city beaches will open for the season starting on Memorial Day Weekend and the 48 public pools will open on June 26.
RELATED: