'Ode to NYC' poster campaign spreads love across the five boroughs with heartfelt artwork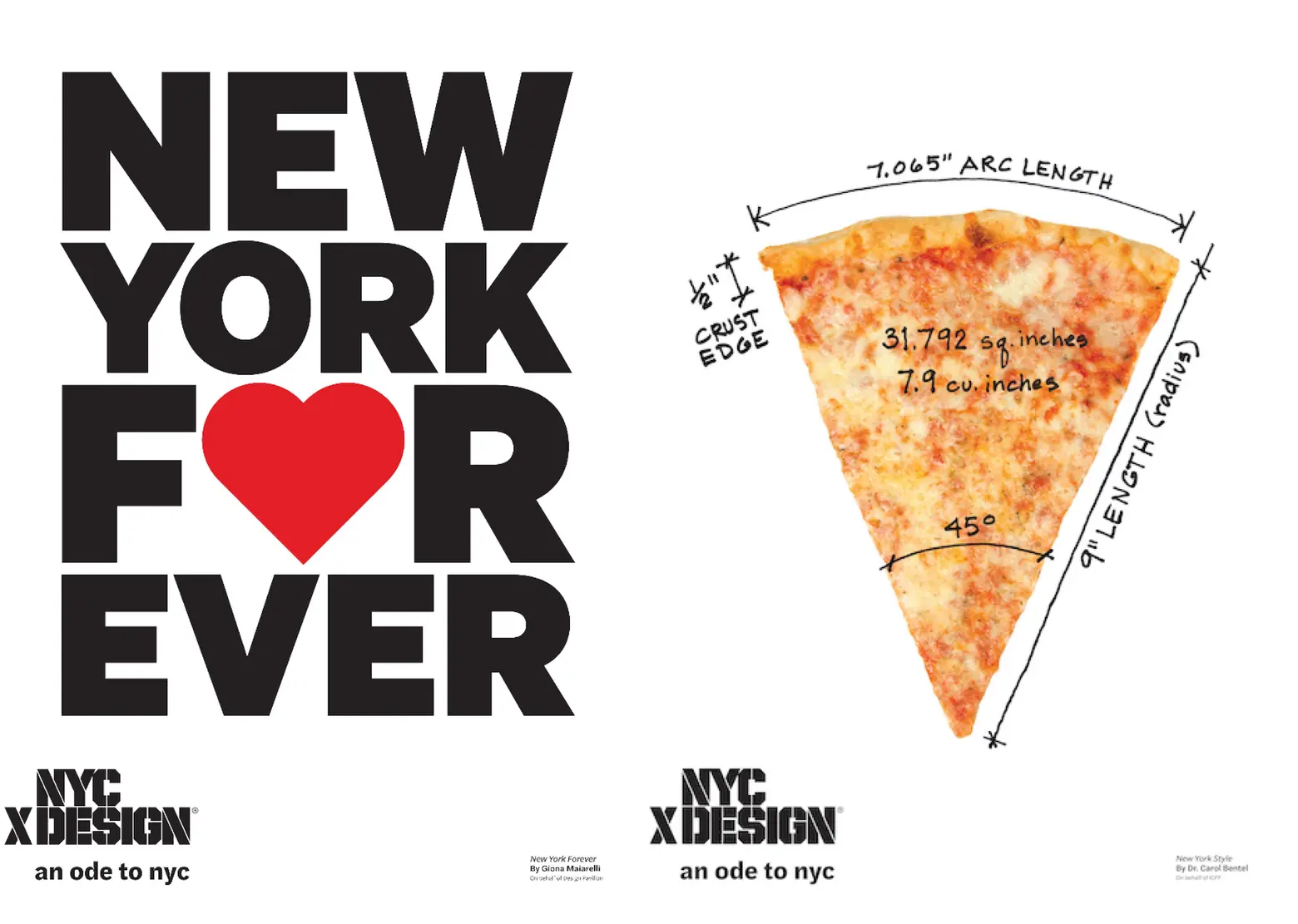 New York Forever poster designed by Giona Maiarelli; Pizza poster designed by Dr. Crol Bentel
A new citywide poster campaign will launch next month as a tribute to New York City in response to one of the most challenging times in its history. NYCxDesign this week announced the "An Ode to NYC" campaign, a collection of posters designed by local artists that reflect their love for New York. The original artwork will be on display in design showrooms, restaurants, retail stores, and iconic spots across the five boroughs, including the Oculus at the World Trade Center.
The new initiative pays homage to late Milton Glaser's legendary "I LOVE NY"design, with posters offering a message of solidarity and love to the residents and small businesses of New York City.
New York-based artists particpating in the campaign include the design team at 2×4, Alison Rose, Jack Travis, Kati Curtis, Kelly Marshall, Leyden Lewis Design Studio, Lori Weitzner, Marie Burgos, Sara Bengur with Veronique Gambier, and Suzanne Tick, and others.
Some designers partnered with local organizations for the project, like Dr. Carol Bentel and ICFF, Harry Allen and Giona Maiarelli on behalf of Design Pavilion, Jon Santos on behalf of Independent Lodging Congress, Lora Appleton and the Female Design Council, Manuel Miranda and the AIANY/Center for Architecture, Rodolfo Agrella on behalf of WantedDesign, and Vincent Lin on behalf of IDSA NYC.
Posters will be on display and available for purchase from Poster House starting October 7. All proceeds will go to the Black Artists + Designers Guild (BADG).
"We were so moved by the outpouring of love, support, and hope that was generated through our initial An Ode to NYC activation that we knew we had to continue the program into the fall," Valerie Hoffman, program director at NYCxDesign, said.
"Aligning with a non-profit is a critical component of the campaign. We are thrilled to support BADG in their ongoing mission to create an inclusive arts and design environment through equity and representation. It's a wonderful opportunity to unite the community and support our local businesses with the power of design and love."
The poster campaign follows the original rollout of the Ode to NYC initiative, which kicked off in June with designers from around the world sharing messages of hope, love, and longing for the city.
As part of the campaign, each showroom will display three posters from the collection. The citywide poster locations will be unveiled next month, with a map with all of the spots found at www.NYCxDESIGN.com.