NYC's 11 most festive bars and restaurants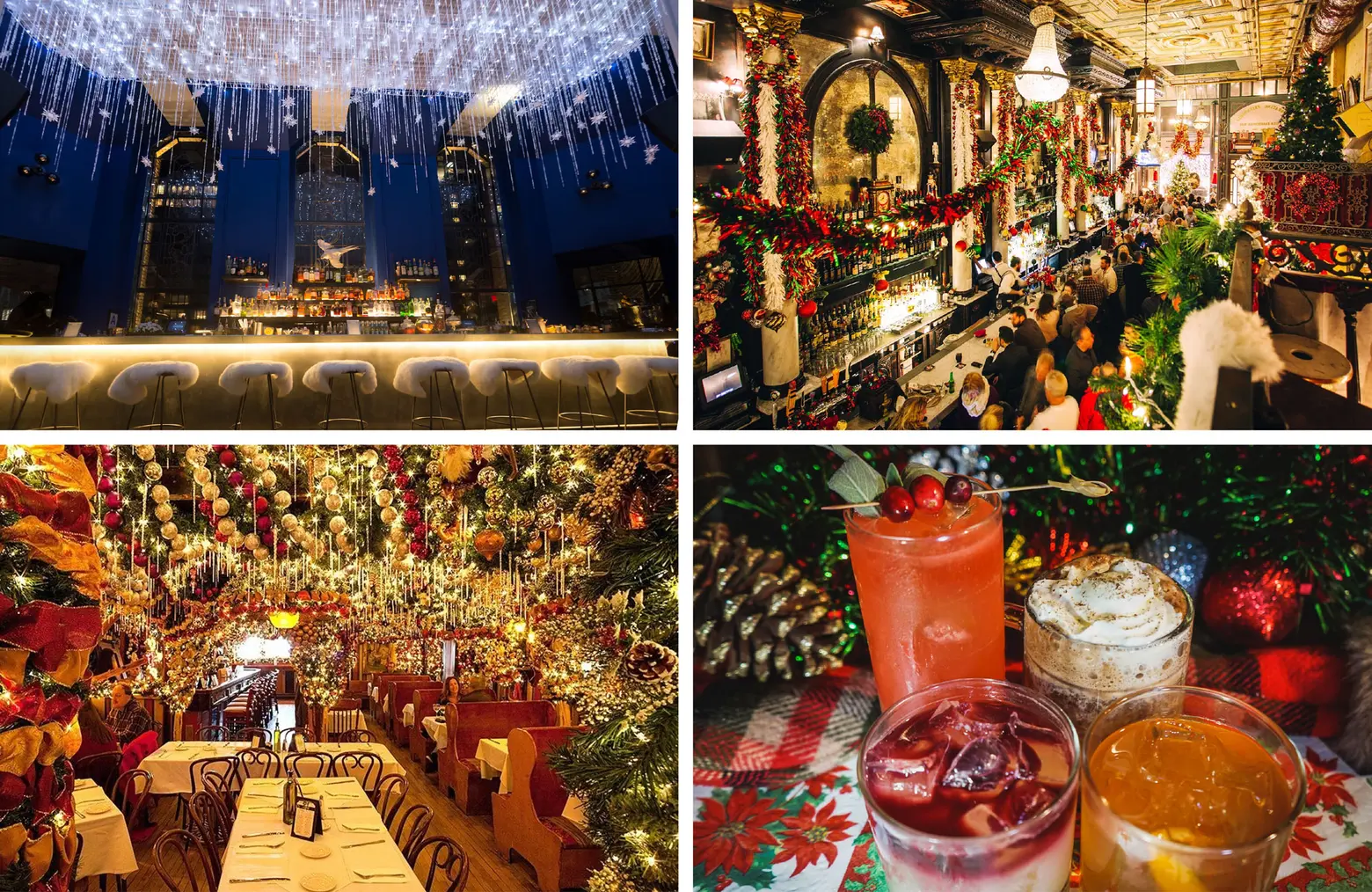 With its lit-up streets and sidewalk tree-sellers, New York is at its best during the holidays, especially if you can avoid tourist-clogged areas like Rockefeller Center and Times Square. There are lots of lovely festive spots to celebrate seasonal cheer, including local bars and restaurants that transform their spaces into holiday wonderlands, complete with themed drinks, bites, and lots of Christmas lights. Here are some of our favorites.
1. Lillie's Victorian Establishment
249 West 49th Street between Broadway and 8th Ave., Midtown West, Manhattan
13 East 17th Street between West Union Square and Broadway, Union Square, Manhattan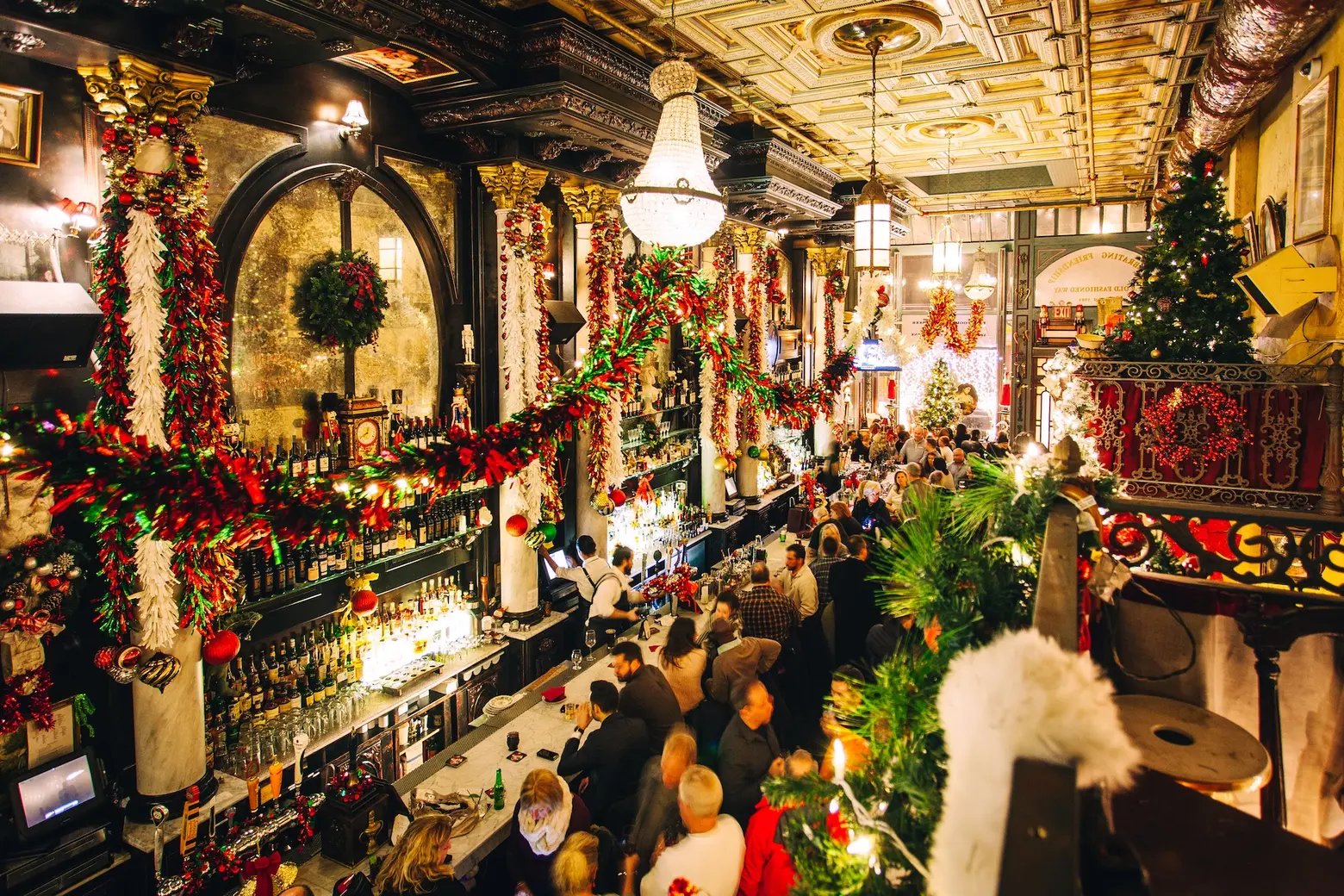 Photo courtesy of Lillie's Victorian Establishment in Times Square
Both Lillie's locations are worth decor-based visits year-round, thanks to their gorgeous walls filled with Victorian-era photographs and memorabilia and romantic high ceilings dotted with vintage light fixtures. During the holidays, that charm kicks it up a notch; ornate wreaths, holiday lights, and oversized ornaments transform both bars into wintry paradises. Stop in for the decorations, stay for the pub fare and reasonably priced cocktails.
2. Bamonte's
32 Withers Street at Union Ave, Williamsburg, Brooklyn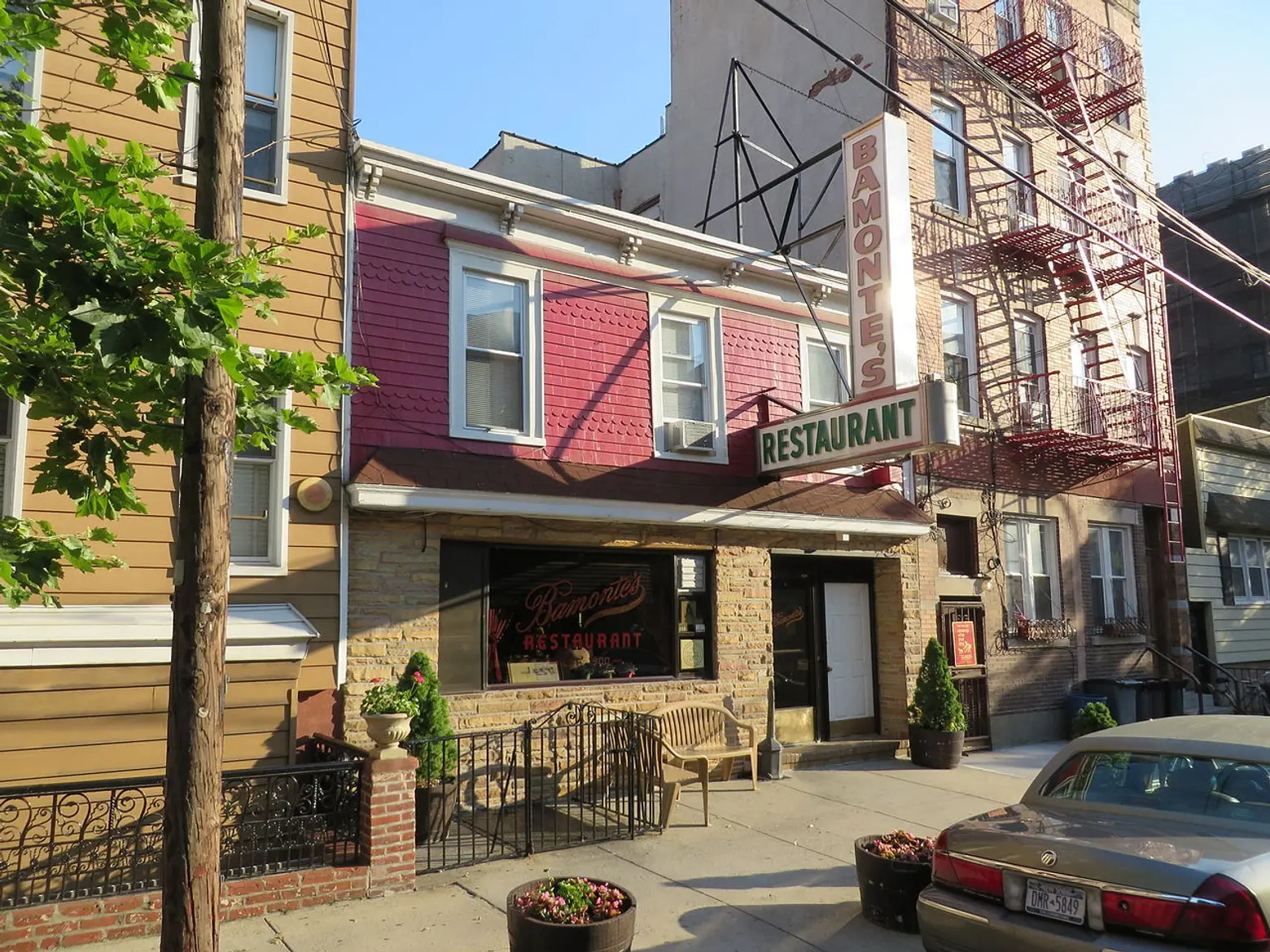 Photo by Leonard J. DeFrancisci via Wikimedia Commons
Famed Williamsburg red sauce joint Bamonte's is particularly charming around Christmastime, when the jacketed servers and old-school ristorante decor feel all the more intimate and special, like dining at your Italian grandmother's place around the holidays. Warm up with classic dishes like seafood fra diavalo, baked clams, and spaghetti with meatballs, and enjoy the classic wreaths and festive lights that decorate the space.
3. Leyenda
221 Smith Street between Butler and Baltic Streets, Cobble Hill, Brooklyn
Photo by Shannon Sturgis courtesy of Leyenda
Brooklyn cocktail bar and Latin American eatery Leyenda puts on a real show for the holidays, opening the very fun "Sleyenda" pop-up bar from Thanksgiving on. Sleyenda serves up festive drinks like Santa's Little Cider, a hot spiked cider spiced up with sherry and Spanish brandy, and a super-nutty Nutcracker Old Fashioned. Sleyenda also donates a dollar for every cocktail purchased to women's charities, giving you an opportunity to spread the holiday cheer beyond the bar.
4. 230 Fifth
230 Fifth Ave between 26th and 27th Street, Flatiron, Manhattan
230 Fifth installs a number of see-through igloos atop its massive roof for the holidays, each with room for 12 to 14 lucky al fresco drinkers looking to warm up with Irish coffees and spiked hot chocolate. They've also got heaters and robes for folks willing to brave the outdoors in December, plus the roof's decked out with snowmen, snowflakes, and other seasonal decor to get you in the holiday spirit.
5. Sunday in Brooklyn
348 Wythe Ave at South 2nd Street, Williamsburg, Brooklyn
Popular Williamsburg brunch spot Sunday in Brooklyn hosts a seasonal popup aptly dubbed "Snowday in Brooklyn," where you can enjoy delightfully kitschy decor (think fake snow and bartenders in holiday pajamas) alongside aptly-themed drinks and bar bites. Offerings include Partridge in a Pear Tree (tequila, pear brandy, sherry, grapefruit, lime, celery root, cinnamon); Bad Krampus (bourbon, cognac, Becherovka, Allspice, coffee stout reduction, absinthe), and Ski Lift, made with Irish whiskey, Jagermeister, coffee, and whipped cream.
6. Bohemian Hall and Beer Garden
2919 24th Ave in Astoria, Queens
Though December isn't quite the right season for outdoor beer-swilling, Astoria's famed beer hall jazzes up their expansive garden with a full-sized Christmas tree, one so beloved in the neighborhood it warrants an annual lighting ceremony. Chill (literally) for a bit in the garden with a brew in hand, then duck inside when your hands get too cold and imbibe comfortably in one of the hall's expansive indoor rooms.
7. Rolf's German Restaurant
281 Third Ave between 21st and 22nd Streets, Gramercy, Manhattan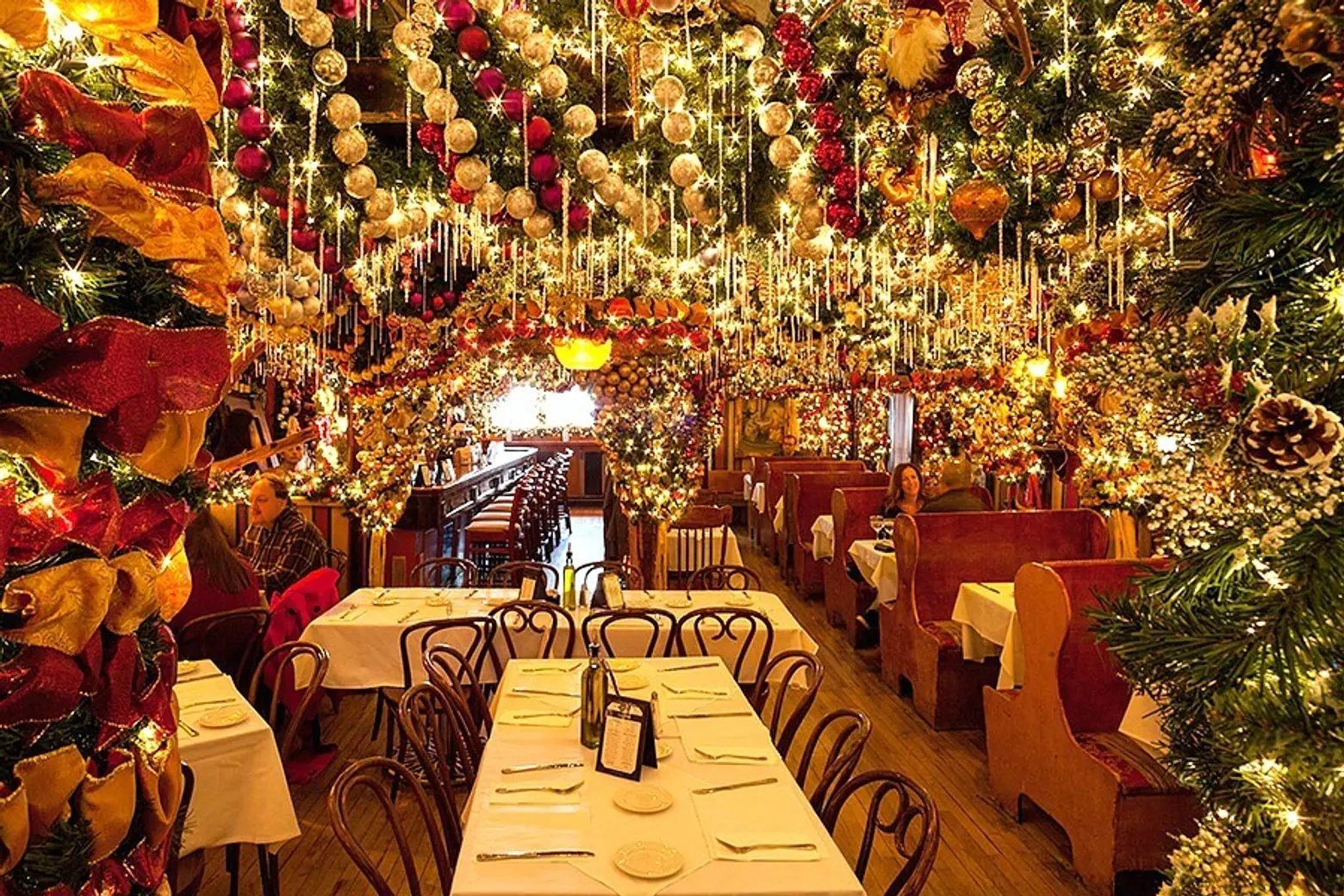 Photo © James and Karla Murray. See more here >>
The thing about Rolf's is that it's always Christmas inside, even when it's full-on air-conditioner outdoor drip season everywhere else in the city. Still, the restaurant's ornate year-round holiday decorations—which include 15,000 ornaments hung from the ceiling and walls, along with wreaths, garlands, 800 dolls, and 10,000 sparkling lights—are best enjoyed around actual Christmas, and with one of Rolf's eggnog cocktails or pumpkin martinis in hand.
8. Pete's Tavern
129 East 18th Street, Gramercy, Manhattan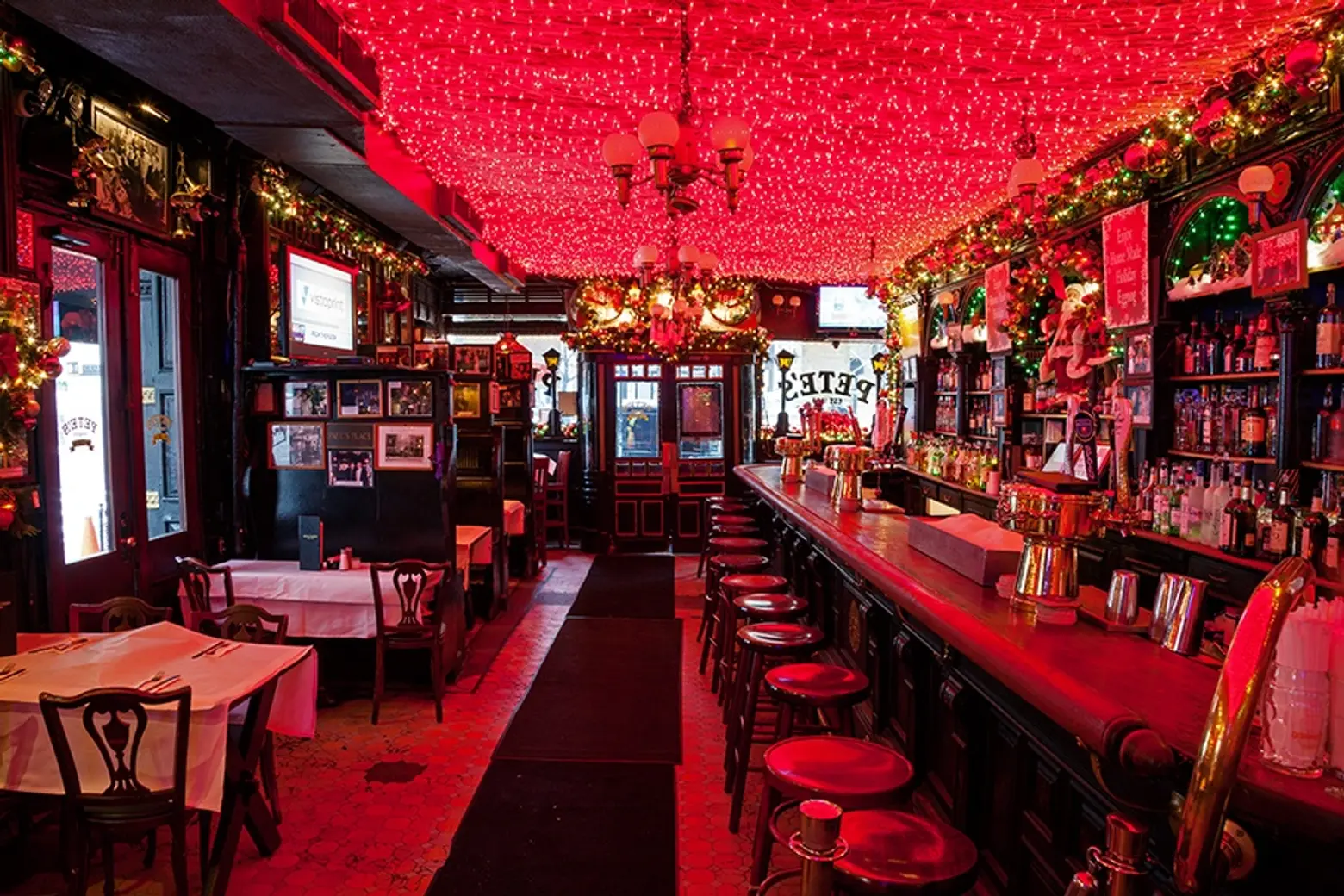 Photo © James and Karla Murray. See more here >>
If you can't get into Rolf's, consider heading a few blocks south to Pete's Tavern. Not only is this where O. Henry penned "The Gift of the Magi" in 1905 (if you're lucky, you can even sit in "his" booth, where he dined every night), but for the past 35 years, the historic restaurant has been installing its own over-the-top holiday decorations. They may not rival Rolf's, but the lights on the tin ceiling and collection of holiday dioramas in the windows and behind the bar are certainly a festive affair.
9. The Late Late
159 East Houston Street at Allen Street, the Lower East Side, Manhattan

Photo by Omri S. Quire for The Late Late
Named after Ireland's late-night talk show, "The Late Late Show," this Lower East Side bar is already decorated to look like a 1960s period Irish residence, complete with a rotary phone and vintage wallpaper. During Christmas, the bar kicks it up a notch, installing delightfully tacky Christmas decor and serving up themed drinks like spiked hot chocolate and "A Pinch of the Grinch," made with Volcan Tequila, orgeat, lemon juice, and Terrazas Malbec.
10. Ophelia
3 Mitchell Place between Beekman Place and 1st Ave, Midtown East, Manhattan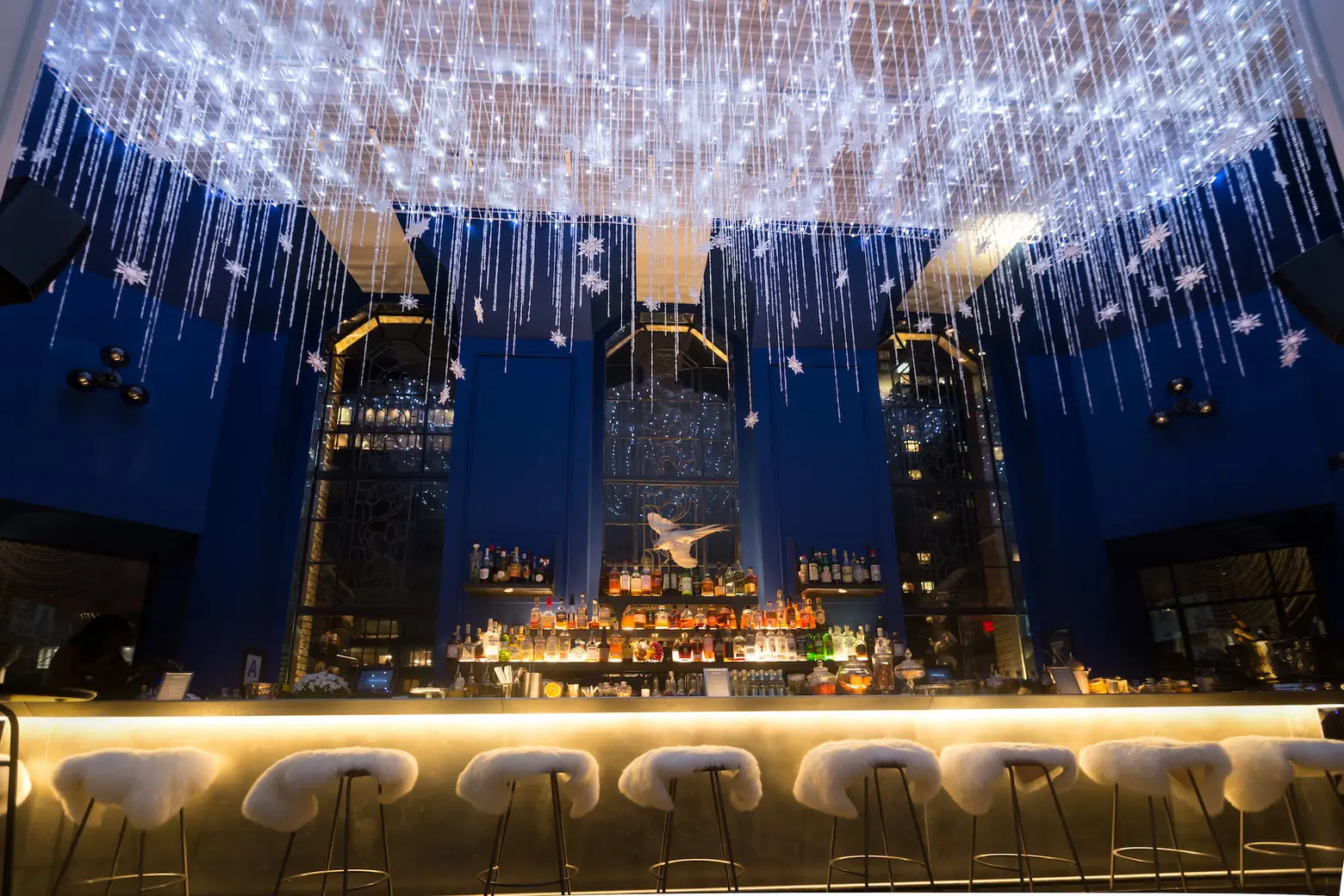 Photo courtesy of Ophelia Lounge NYC
Located on the top floor of Midtown East's Beekman Tower, this sleek cocktail bar transforms into a gorgeous "Snowglobe in the Sky" for the holiday season, complete with crystals and snowflakes that dangle from the high ceilings and white sheepskin draped over the bar's furniture. Holiday cocktails include the Fireside #2, made with Laphoraig 10yr, Pierre Ferrand 1840 Cognac, Cocchi, Aloe Vera, and Nardini Amaro; and White Lightening, made with Manhattan Moonshine whiskey, lychee liqueur, Cointreau, wormwood bitters, and Rambutan.
11. Boilermaker
13 1st Ave at East 1st Street, East Village, Manhattan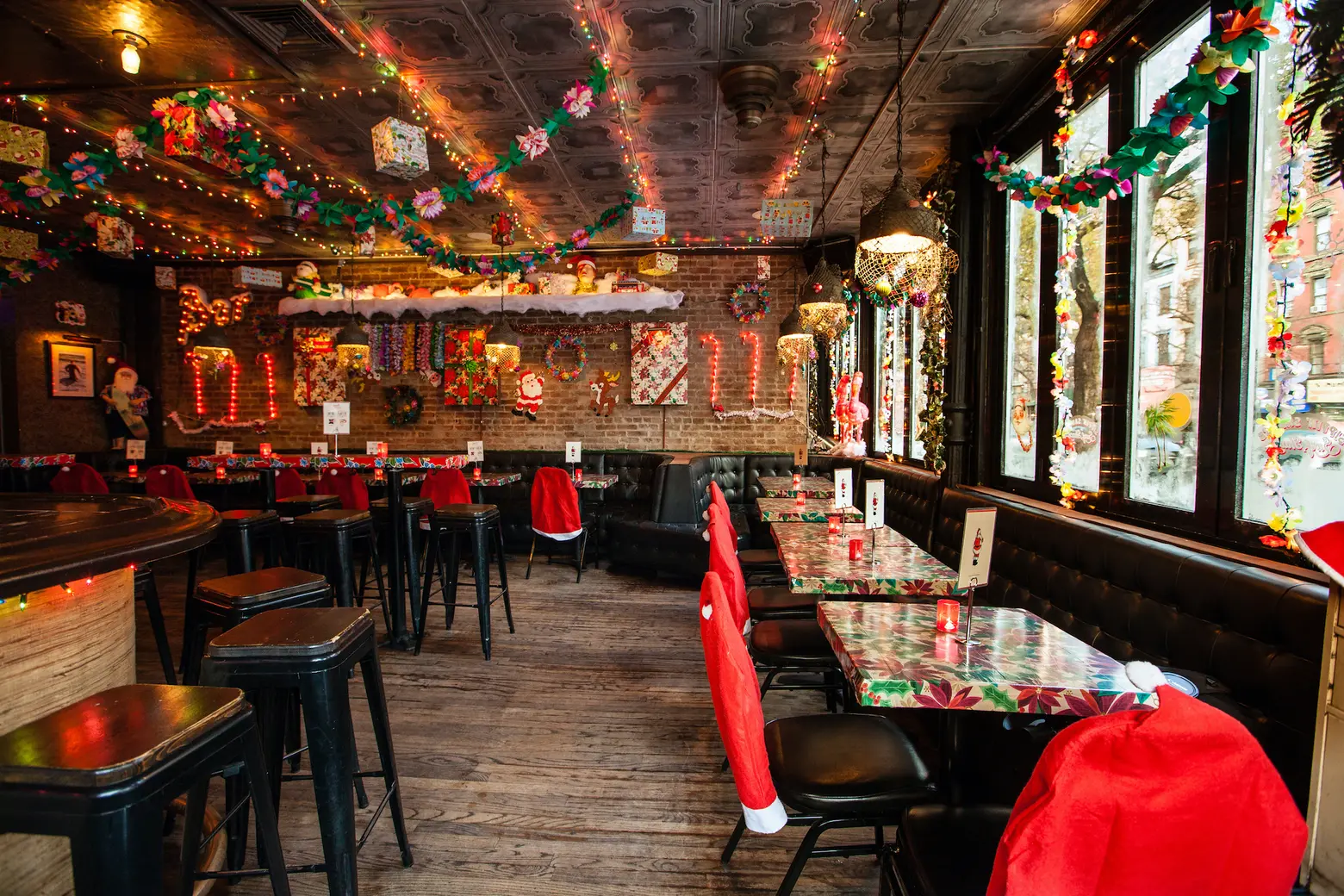 Photo credit: Cocktail Kingdom
If you prefer to spend the holidays in a warmer climate, East Village bar Boilermaker's holiday pop-up, dubbed "Sippin' Santa's Surf Shack" essentially encompasses a surfer's Hawaiian Christmas paradise. Festive tiki drinks come in Santa cups, there's an illustration of a surfing Santa on the menu, and you can gorge on burgers to offset some of the sugary booze.
RELATED: