NYC sets first-ever minimum wage for delivery workers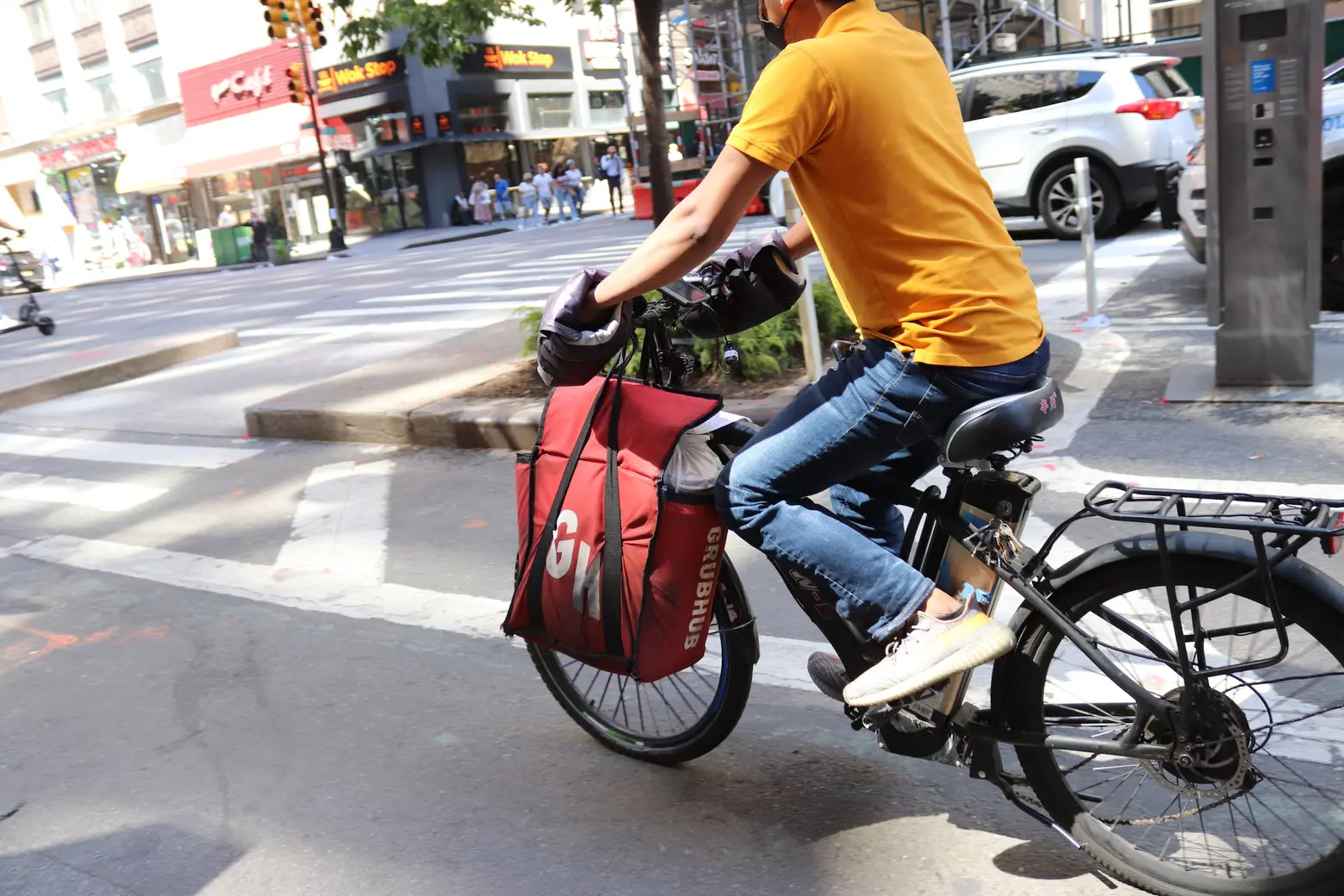 New York City has established the first minimum wage in the country for app-based delivery workers. Starting July 12, workers will be paid at least $17.96 per hour plus tips, with an increase to $19.96 per hour by April 1, 2025, Mayor Eric Adams and the Department of Consumer and Worker Protections announced this week. The new policy comes two years after the City Council passed legislation designed to improve labor conditions for delivery workers.
Under the new law, delivery companies must meet the pay model requirements through two different systems. One is by paying a flat hourly rate, which is rarely seen in the delivery industry, and the other is paying per delivery, which pays workers roughly 50 cents per minute not including tips.
"'Getting Stuff Done' for working people is what this administration is all about, and that includes some of the hardest working New Yorkers: our delivery workers," Adams said in a statement.
"Our delivery workers have consistently delivered for us — now, we are delivering for them. This new minimum pay rate, up by almost $13.00/hour, will guarantee these workers and their families can earn a living, access greater economic stability, and help keep our city's legendary restaurant industry thriving."
Despite what is seen as an achievement in the fight for labor protections for delivery workers, some workers have criticized the new minimum wage, which they say is still not enough to cover the costs of living in NYC.
NYC's estimated 60,000 delivery workers are paid roughly $7.09 per hour on average, compared to the city's $15 minimum wage. On top of that, workers pay their own health insurance, business expenses, and additional taxes.
Brad Lander, the city's comptroller, who sponsored the 2021 bill, said the original benefits laid out in the legislation have been cut down after delays and pressure from lobbyists, according to the New York Times. The actual wage increase after factoring in all of the added costs would be under $13 per hour, Lander said.
"City Hall acquiesced to the lobbying of multi-billion dollar app companies, delaying the raises owed to deliveristas six months ago and setting a subminimum wage standard that pads corporate profits off the backs of some of the hardest workers in our city," Lander said in a statement.
"Delivery workers should be paid at least the minimum wage after expenses, for every hour they work including the time spent waiting for their next delivery. Today's watered-down rule fails to require that. Hidden under regulatory double-speak, the rule's average base wage for a deliverista will be just $12.69 per hour after expenses this year, according to our office's calculations."
Lander said he opposed the gradual wage increase leading up to 2025 and instead supports an immediate increase because delivery workers already make below minimum wage.
The staggered wage increase gives delivery companies a chance to adjust to the new rates, according to a spokesperson from the mayor's office.
Delivery companies have spoken out against the city's new policies, who claim higher wages will force them to raise prices, leading to less flexibility in scheduling, according to Gothamist. Eli Scheinholtz, a DoorDash spokesperson, said that the company is even considering litigation over NYC's new pay rules.
"The city is lying to delivery workers – they want apps to fund this increase by eliminating jobs and reducing tipping while forcing the remaining workers to deliver orders faster," Josh Gold, an Uber spokesperson, told TechCrunch.
The DCWP will review and potentially revise the new policy next year.
The Worker's Justice Project, which pushed for the law, applauded the mayor's announcement.
"Today marks a historic moment for New York City," Ligia Guallpa, executive director of Worker's Justice Project, said.
"This rule will set the pay floor for all the essential deliveries who work tirelessly – whether through a pandemic, a snowstorm or wildfire smoke – and who have been denied a living wage for far too long. Now, these workers who keep millions of New Yorkers fed will know they can keep their own families fed, too. While there's still work to do, a minimum pay rate for food delivery workers will transform the lives of thousands of families across the city and deliver long overdue justice for deliveristas."
RELATED: