NYC schools will reopen in January with increased Covid testing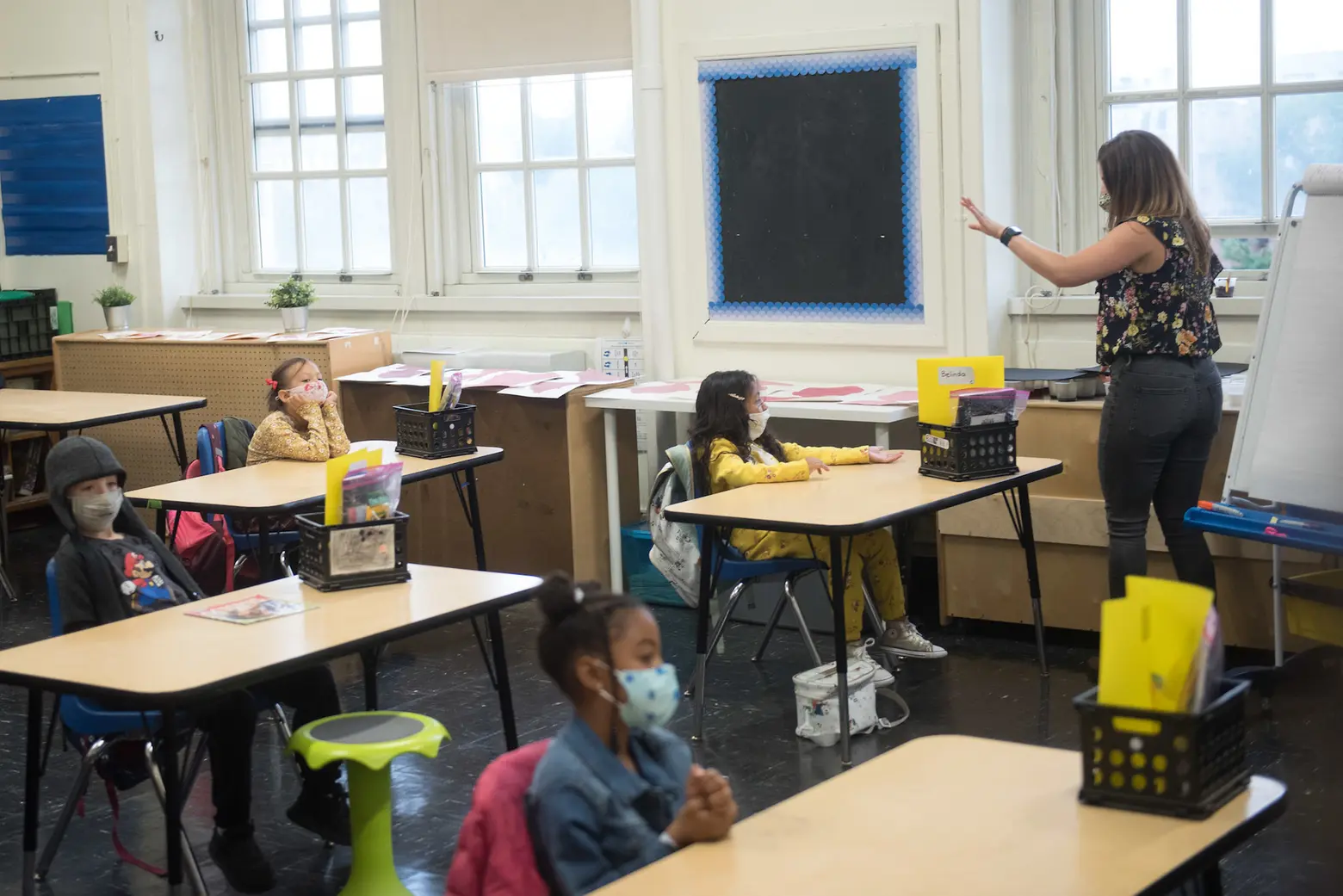 Image courtesy of Michael Appleton/Mayoral Photography Office
Despite a surge in new coronavirus cases, New York City officials said classrooms will reopen after winter break and stay open. Mayor Bill de Blasio and Mayor-elect Eric Adams announced on Tuesday public schools will reopen as scheduled on January 3 with new health and safety measures in place, moving away from the remote learning model which many schools across the country have shifted to due to the recent surge in cases. Put together by the de Blasio administration and incoming Adams administration, the "Stay Safe and Stay Open" plan utilizes a massive increase in testing that will allow classrooms to stay open even if students test positive.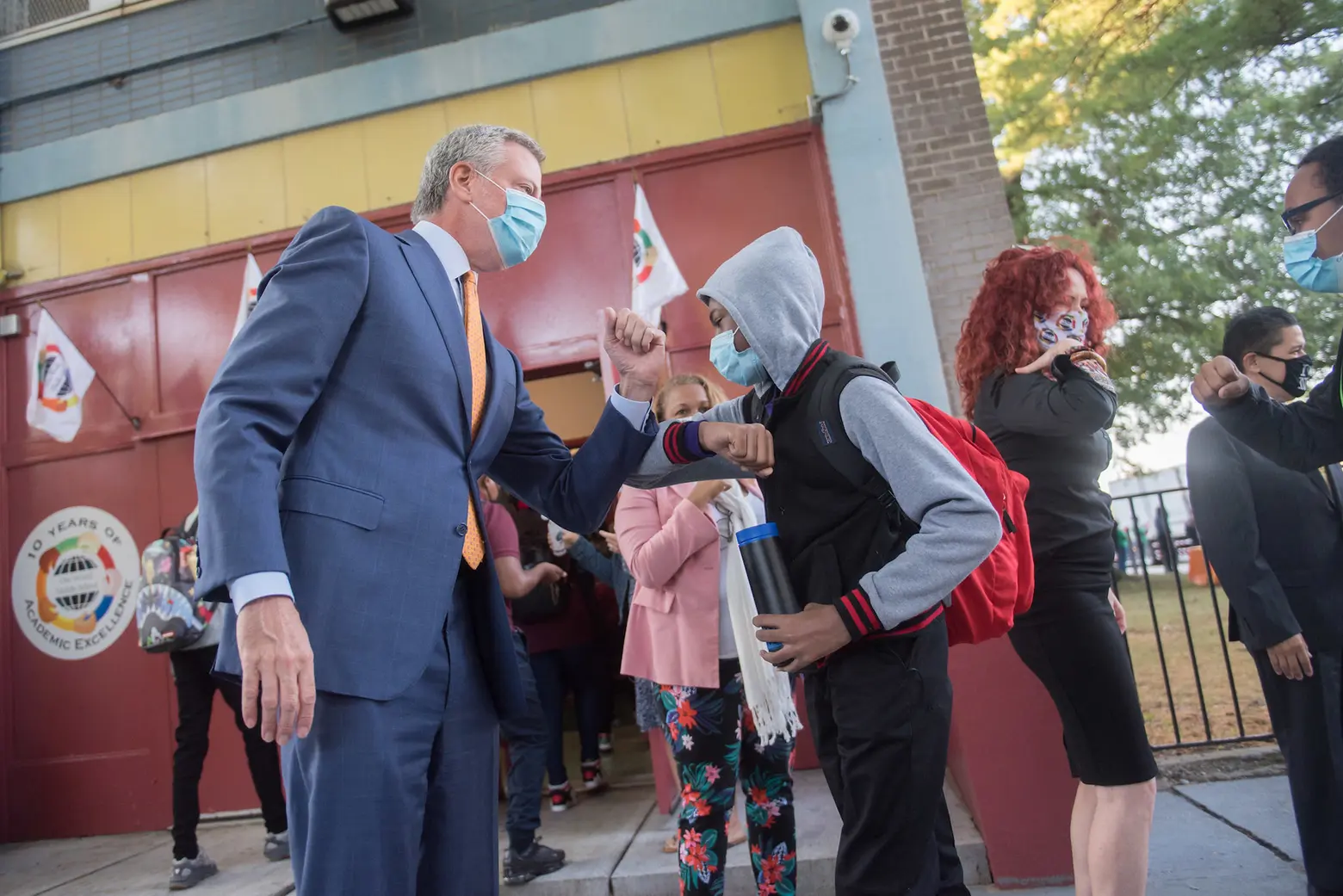 Under the plan, once a student tests positive for Covid, at-home rapid test kits will be distributed to the whole class, both students and adults, for completion at home. Those who are asymptomatic and test negative can return to school the next day. Another test must be taken within a week to confirm the negative reading.
This system makes it easier for classrooms to remain open, unlike the past plan which quarantined the entire class if one student tested positive. However, if a major outbreak is detected the school's learning model will revert back to remote.
"The numbers speak for themselves—your kids are safer in school," Adams, who takes office January 1, said in a statement. "Thanks to testing, vaccinations, and at-home testing kits we'll keep it that way. We're working closely with the de Blasio Administration and we'll be ready to bring students and staff back to the classroom on January 3. This is how we move our city forward."
Gov. Kathy Hochul appeared alongside de Blasio during Tuesday's briefing, highlighting the importance of testing. To ensure the plan works, Hochul said the state has allocated two million tests to New York City schools. Hochul doubled down on the importance of vaccination, telling parents that in order to move away from remote learning, which she called "a failed experiment," they must vaccinate their children.
"This new variant is affecting children more than the past variants. Before we always said, 'don't worry so much, it's not really affecting children.' That was a different variant," Hochul said.
"It is affecting children more, but the ones who are getting severely sick are so far only the unvaccinated children. So that should be the message you need to know right now, that children can be exposed to this – contract it, in rare cases get sick, but only those who are unvaccinated."
In-school surveillance testing will expand to include both vaccinated and unvaccinated students to better monitor the spread of the virus. However, the effectiveness of this plan relies heavily upon the number of parents who have consented to testing for their children. Only students whose parents have given consent can take part in the surveillance tests.
As Chalkbeat New York reported, of the nearly 1 million students, just 330,000 students had opted into testing as of Tuesday.
NYC Health Commissioner Dr. Dave Choksi tweeted on Tuesday roughly "98 percent of close contacts do not end up developing Covid-19."
"The 'Stay Safe, Stay Open' plan revolves around more quickly identifying the cases–the 2 percent–and ensuring they are isolating, while keeping the other 98 percent of kids in school. We will do this by significantly scaling up our testing while adjusting our classroom quarantine policies," he wrote.
Officials are encouraging all students and school staff to get tested prior to January 3 at a city-run site. Find rapid tests at nyc.gov/covidtest, by texing "COVID TEST" to 855-48, or calling 311.
RELATED: