Romantic Valentine's Day takeout and treat options from NYC restaurants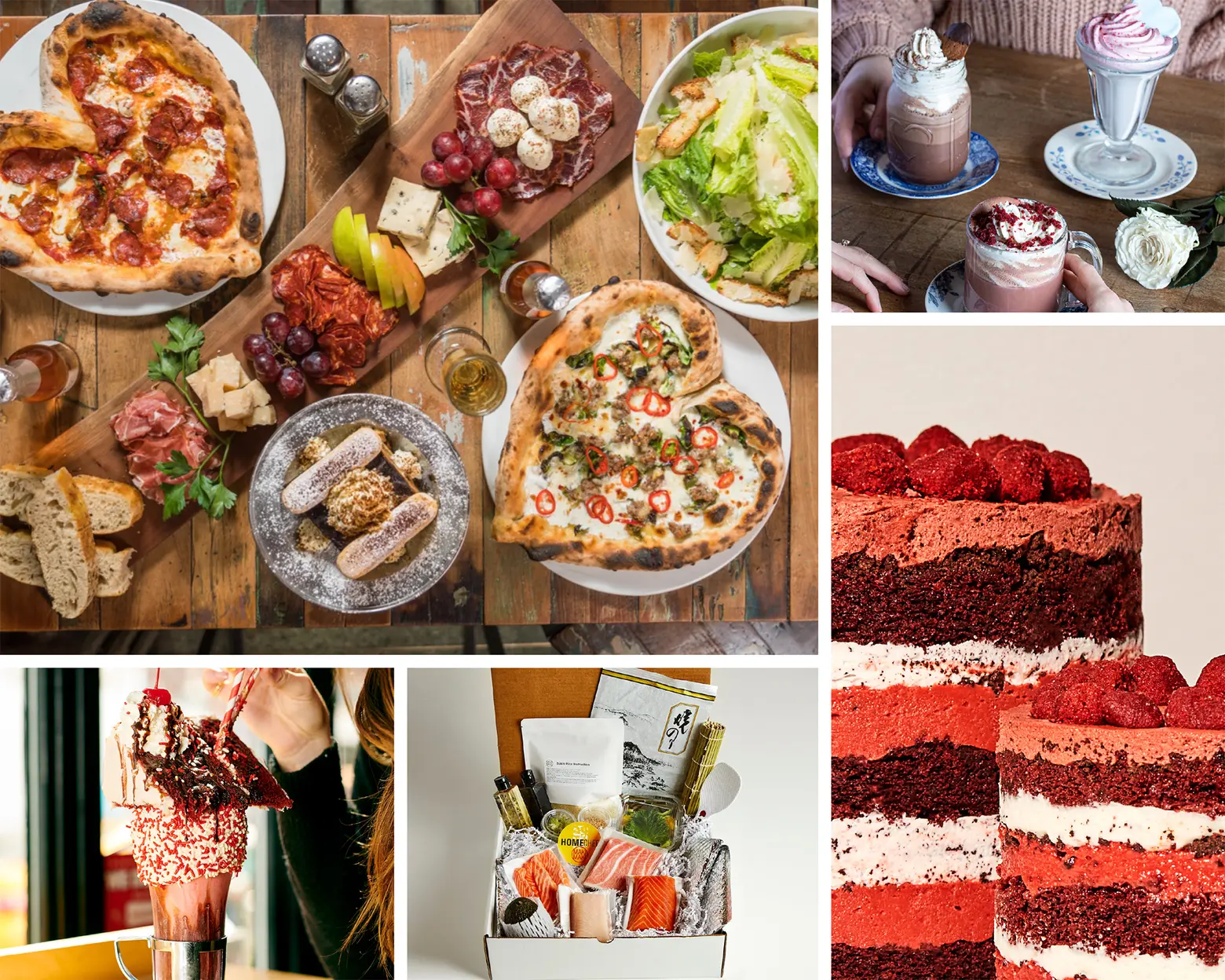 Heart-shaped pizzas, at-home sushi-making kits, red velvet cakes, sake and chocolate pairings–these are just some of the takeout offerings and treats that you can order this Valentine's Day. Since most of us will be staying home, we've put together a list of local restaurants with special to-go menus, as well as shops that have yummy holiday treats and edible gifts and even some virtual cooking classes. Ahead, check out all the options and start planning your romantic day (or weekend!).
TAKEOUT MEALS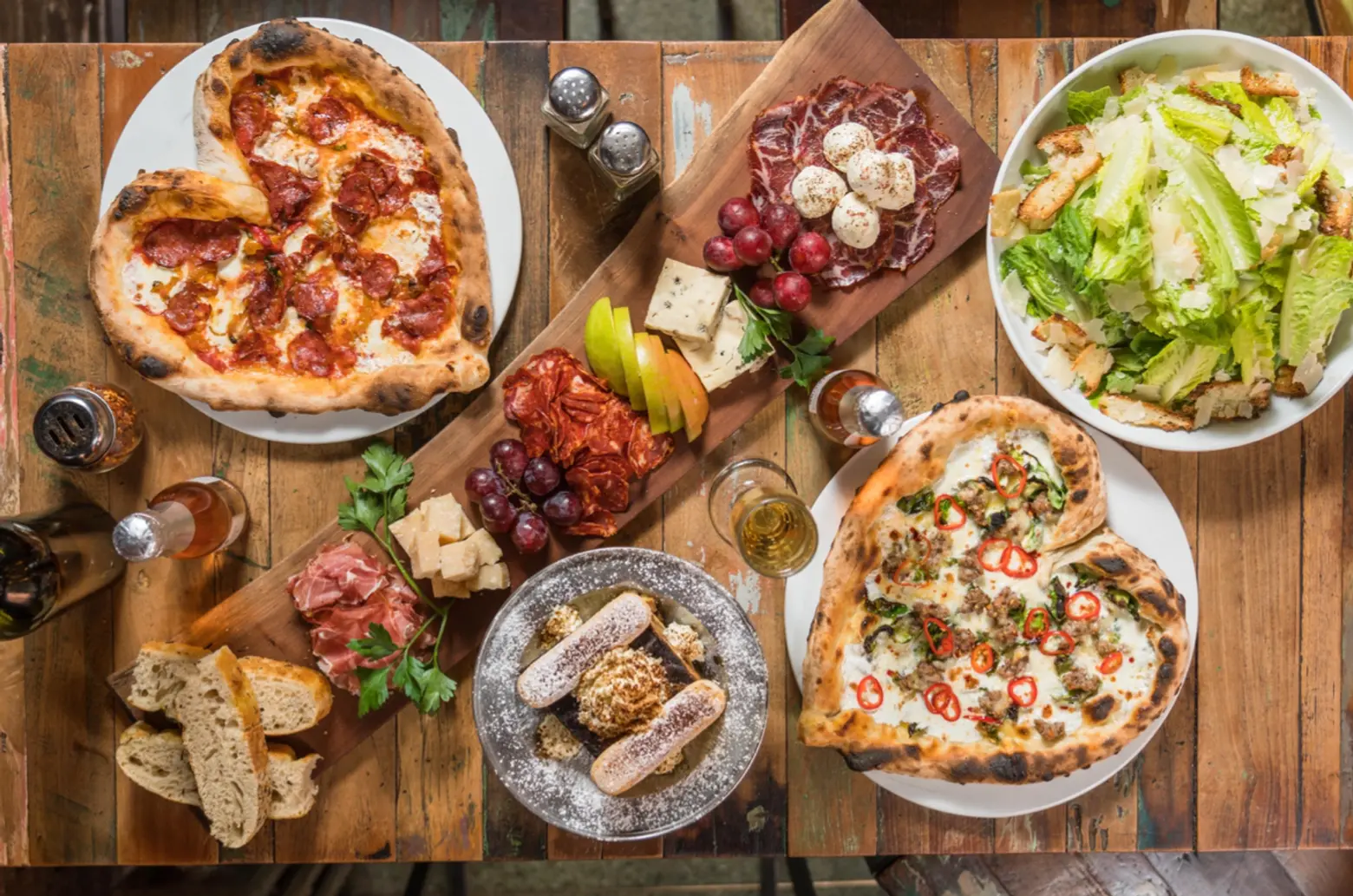 Photo courtesy of Fornino
Fornino
Greenpoint pizzeria Fornino has a special Pizza Love Fest Feast available for delivery. The $70 kit comes with an imported cheese & fruit plate, large salad, a choice of two heart-shaped pizzas, tiramisu, and strawberries. With a bottle of wine included, the kit is $95. It's available from on Friday the 12th from 4pm-7pm and Saturday and Sunday, the 13th and 14th, from 2pm-7pm.
Bubby's Tribeca
You can never go wrong with this neighborhood favorite, and they have two very cute takeout options for Valentine's Day. On February 13-14, Bubby's is offering a mouthwatering special for two that comes with a bucket of its famous crispy fried chicken, coleslaw and buttermilk biscuits, a choice of pie, and a bottle of champagne for $65. Thinking of treating your sweetie to breakfast in bed? For $12, you can pick up in-store or order online Bubby's famous pancake mix.
Socarrat Paella Bar
You can't really get on a plane this year, but take a romantic "trip" to Spain with Socarrat Paella Bar's four-course Valentine's Day dinner special. Available for takeout and delivery from their Midtown, Chelsea, and Nolita locations, the meal starts with a Campero board with all types of Spanish charcuterie (chorizo, serrano, manchego cheese, olives, and more). The tapas course includes juicy red prawns, creamy and crispy croquetas, and datiles, while for the main course, there's a choice of lobster and seafood paella or duck paella. And of course, let's not forget dessert–heart-shaped churros dipped in chocolate. The meal is available from February 11th-14th and is $140 with a bottle of Cava or $130 without. To place an order call any of the restaurants or email [email protected].
Nice Matin
This classic Upper West Side French bistro may be best known for their popular brunch, but they do dinner just as well. For Valentine's Day, they're offering a three-course menu for $59 per person that's available the whole weekend for takeout and delivery. Enjoy hors d'oeuvres such as lobster bisque, farro risotto, burrata, or smoked salmon. Entrees selections include filet mignon, duet of lamb, bucatini mentonnaise, halibut, or scallops a la Marseillaise. For dessert, indulge in a red velvet cake with raspberry puree and dark chocolate glaze or any other dessert from the menu.
Lucciola
Also on the Upper West, this Italian restaurant has put together special steak dinners for two, available for local delivery or pick up. There are several different cuts from historic butcher Debragga, including filet mignon with porcini mushrooms and a bottle of wine ($129) and a 40-ounce Fiorentina ($179).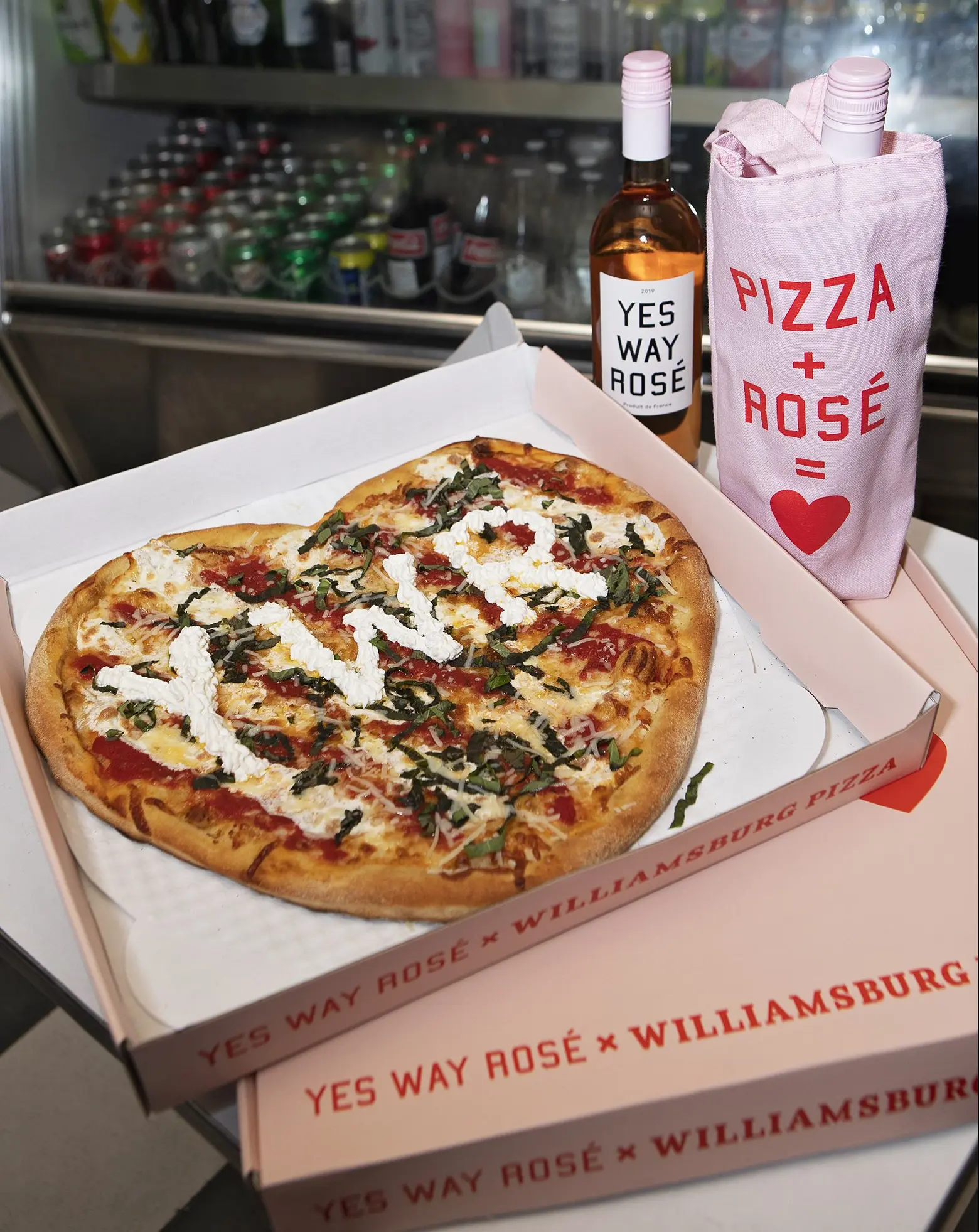 Photo by Sara Kerens, courtesy of Williamsburg Pizza x Yes Way Rosé'
Yes Way Rosé x Williamsburg Pizza
NYC-bred wine and lifestyle brand Yes Way Rosé and beloved Brooklyn-based pizza shop Williamsburg Pizza are teaming up to bring New Yorkers a limited-edition kit featuring the ultimate duo–pizza and rosé–for Valentine's Day. For $40, the kit includes an exclusive heart-shaped pizza, a bottle of Yes Way Rosé Bubbles, and a limited-edition wine tote. It's available from February 11th to 14th at Williamsburg Pizza's Lower East Side location (277 Broome Street) while supplies last.
Schaller & Weber 
Iconic Upper East Side butcher shop Schaller & Weber has put together a special $65 Valentine's Day pack that lets you create a cheese and chocolate tasting at home. It comes with four Fat Fat Fowl's St. Stephen triple cream cow's milk cheese, Jacquin Buchette aux Fleurs French goat cheese coated with dried edible flowers, Schaller & Weber's foie gras with truffles, Mifroma chocolate fondue from Switzerland ready to heat and enjoy, as well as Rustic Bakery sea salt and sea gris crackers, Beth Farm's Kitchen strawberry rhubarb jam, and a festive red and pink Gotham Dark Chocolate Bar. The pack can be picked up at the shop or delivered locally and shipped nationwide through Mercato.
Extra Virgin
This West Village neighborhood favorite has a special Mediterranean-inspired Valentine's Day Dinner for Two. The $120 meal includes hors d'oeuvres like a shrimp and Jonah crab cocktail and foie gras mousse, a white asparagus and wild mushroom salad, and a whole roasted jerk chicken with glazed carrots, cippolini onions, crisp fingerlings, pineapple salsa, and chardonnay jus. For dessert, there's a white and dark chocolate mousse parfait.
Biryani Bol
The fragrant Indian rice dish Biryani is one of those things that always tastes better when gotten from an authentic restaurant. Bring the flavor home on Valentine's Day with Chef Chintan Pandya (he got his start at Michelin-starred Indian restaurant Junoon and more recently opened three acclaimed restaurants). Pandya is offering his two-person, to-go Biryani Bol, which will be prepared in a traditional earthen pot with nine different layers of ingredients including basmati rice, spices, homemade paneer, a choice of chicken, lamb, goat, or vegetables, and then sealed with bread dough. Chicken and vegetable options are $34, lamb or goat are $36, and all you have to do is heat it up! Biryani Bol is available for pick up or delivery from Pandya's restaurants–Adda, Rahi, and The Masalawala.
Hortus NYC
This Michelin-recognized, modern Korean restaurant in NoMad has a special Valentine's Day menu for lunch and dinner on February 13 and 14. The prix-fixe meal will begin with the Hortus Royal Platter (chilled lobster tail, tuna tataki, and shrimp cocktail) and will be followed by the choice of one appetizer (truffle noodles with thai bird chili and assorted mushrooms, or sea urchin with yuzu harissa, soft shell crab, and fresh sea urchin), one main from the standard menu, and one dessert from the standard menu. For couples doing takeout or delivery, Hortus NYC is offering the meal for $170 total, complete with a 375 ml bottle of Pol Roger Champagne. To place an order, email [email protected] before February 11.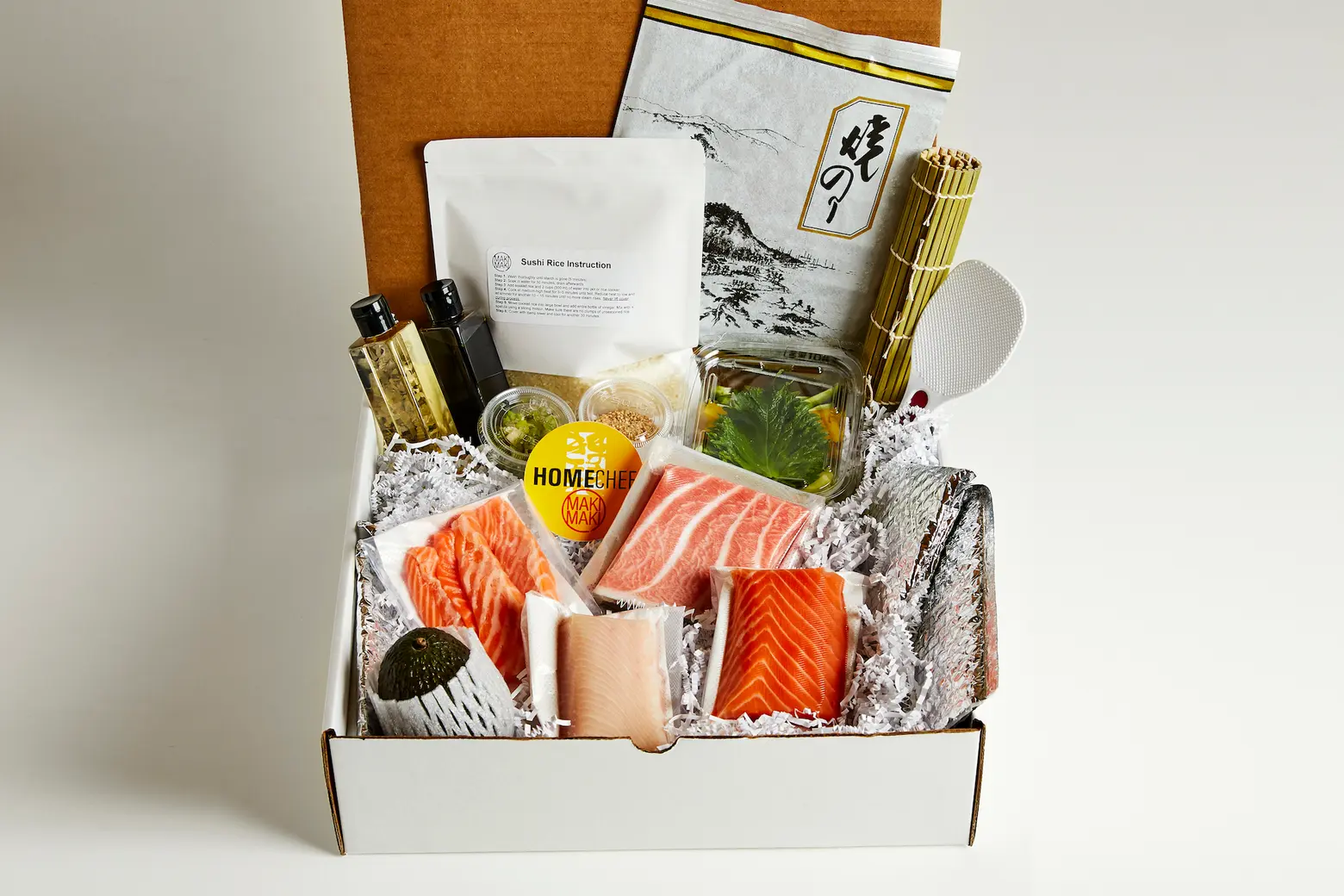 Photo credit: Rachel Vanni
MakiMaki
Sushi restaurant MakiMaki launched HomeChef, a do-it-yourself sushi-making kit to recreate your favorite rolls at home. If your Valentine loves sushi and sashimi, consider ordering either the Standard kits ($110) or the Premium kits ($150). Each comes with all the necessary ingredients to make Salmon Avocado rolls, as well as a rolling mat and nori. Order for delivery in select areas of Manhattan here or pick up at the store's 360 Lexington Avenue location.
Rosella
East Village sushi restaurant Rosella, which opened in October, is known for its locally caught fish and shellfish. As part of a Valentine's Day weekend special, the restaurant is offering a special package of dishes made to share. Asking $95 per person, the one-time menu includes citrus salad, king crab and sunchoke, four-piece nigiri, chirashi, laksa broth maitake, sake lees, and chocolate cremeux, and even a gift. The menu is available for pick-up and delivery to some locations.
Murray's Cheese
Wine and cheese–a perfect romantic pairing. If you want to spend Valentine's Day enjoying this classic combo, there are plenty of options from Murray's Cheese. We're partial to the $90 Red Wine Lover's Collection, which includes Murray's cave-aged gruyère, Murray's young manchego, Bayley Hazen blue, Piedras de chocolate, membrillo, olive oil & sel gris flatbread, and kalamata olives. And if the flavor of truffle gets you going, Murray's is taking advantage of the season with a slew of offerings.
Bar Boulud
If you're down to splurge for the holiday, world-famous chef Daniel Boulud has a three-course menu for $105 per person that can be enjoyed from your own home. Choose from appetizers like oyster soup, hamachi crudo, or ricotta gnudi, main courses like pork Osso Bucco for two, a whole butter-poached lobster, or beef tournedos, and desserts like a Paris-Valence or a geant coeur macaron for two.
The Fulton by Jean-Georges
Jean-Georges Vongerichten's restaurant at the South Street Seaport has another splurge, the $328 Valentine's Day Menu for Two To-G0. The decadent meal comes with tuna tartare with caviar, mushroom and shrimp risotto with black truffles, steamed black sea bass, preserved lemon-olive dressing, peppercorn-crusted beef tenderloin, dark chocolate and passion fruit tart, and Valentine's Linzer hearts cookies. It's available for pick up from February 11th to 14th or delivery through Door Dash.
Le District
Le District, the French market and food hall in Brookfield Place, has a special four-course Valentine's Dinner for Two To-Go for $150. You can also pick up cheese and charcuterie platters or caviar packages.
Tannat Market & Tavern
This lovely Inwood spot is offering a special Valentine's to-go menu featuring a winter salad, savory flan with mushroom sauce; honey-pepper poached pear made with citrus, pierre poivre, and verdejo; homemade stuffed pasta with ricotta, sun-dried tomatoes, and herb oil; Pao de Queijo, a Brazillian cheese bread; and hand-rolled raspberry dark chocolate truffles. The holiday menu comes equipped with wine pairings including five half glasses of natural wine, with the option of adding a half or whole bottle of sparkling wine to celebrate the occasion. The menu is available for $50/person and the following add ons are available: $25 for lamb rib, $16 for cheese course, $45 wine pairing, $20 375ml sparkling wine, and $48 750ml Champagne.
TREATS + GIFTS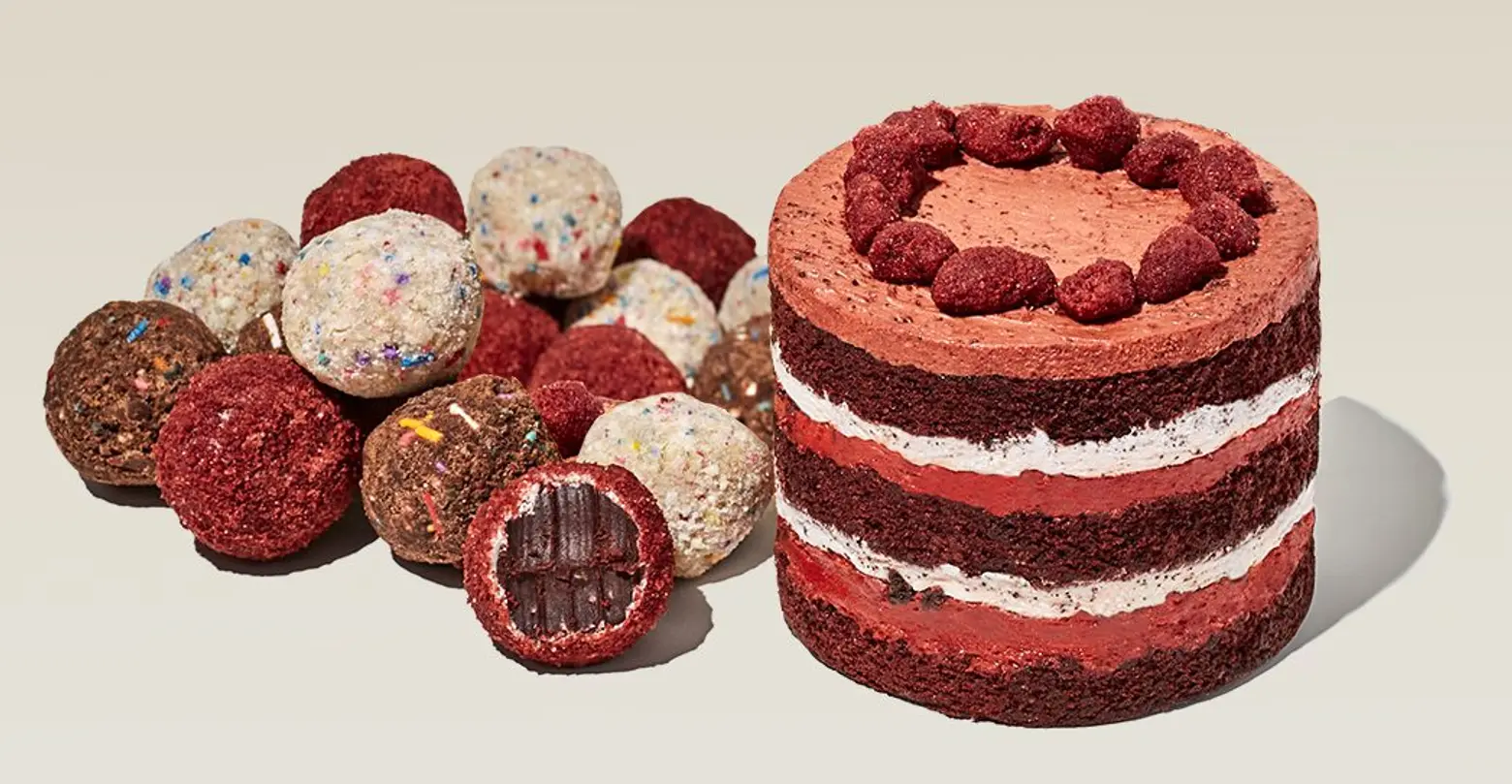 Photo via Milk Bar
Milk Bar
You really can't go wrong with anything from Milk Bar, but their new Valentine's Day Offerings have us majoring drooling. They're a mashup of two diner favorites–red velvet cake and cheesecake–and come in the form of red velvet cake, red velvet truffles, and red velvet soft serve. All of the goodies are available for in-store pickup, local delivery, and nationwide shipping.
Bien Cuit
The name of this beloved bakery in Brooklyn translates to "well done" in French, which the restaurant says "refers to both the dark, caramelized crust on our loaves and our approach to baking." For Valentine's Day, pre-order rose petal macarons, a heart-shaped pomegranate and winter citrus mousse cake, a pretty blood orange tart, and more. And if you're going to be picking up in-person at their Smith Street location, Bien Cuit has partnered with pioneering sustainable florist Molly Oliver to offer her beautiful seasonal bouquets for pick-up on Valentine's Day. Nationwide shipping is also available, but the cutoff is Sunday the 7th.
BKLYN Larder
This provisions and cheese shop in Prospect Heights is a go-to for edible gifts. They have tons of Valentine's Day options, but there are a few main attractions. The $75 Valentine's Cheese & Chocolate Gift Box comes with Goat Lady chocolate-covered goat cheese truffles, a Champlain Valley heart-shaped triple cream, a Compartes Strawberry Shortcake Chocolate Bar: A white chocolate bar that is packed full of strawberries and chunks of airy homemade shortcake, and a Fine & Raw Valentine's Day Chunky. There's also a $55 Chocolate Sampler, a $59 Dessert Box, and a fun DIY at-home raclette kit for $80.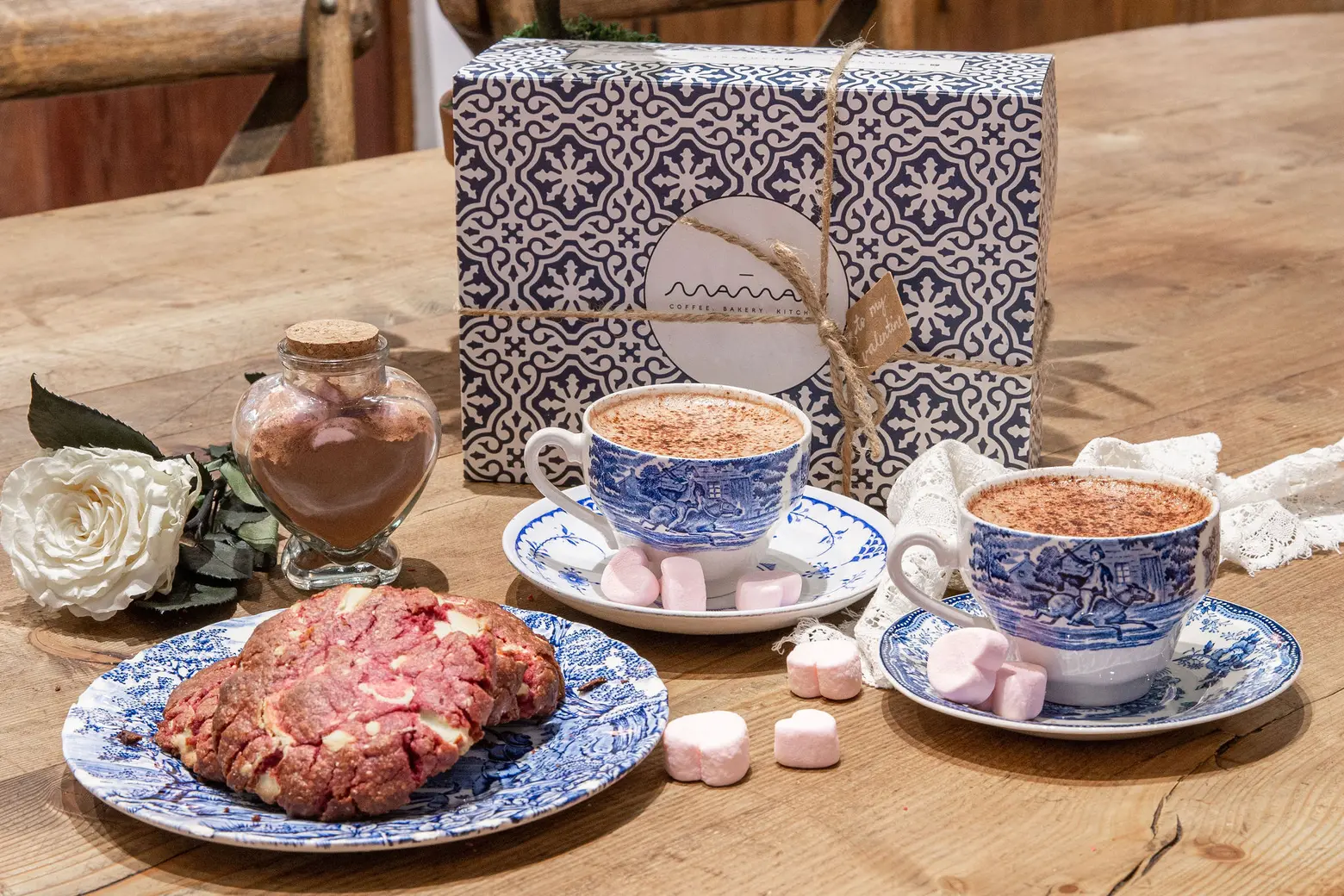 Photo by Arianna Tettamanzi, via Maman Marche
Maman Marche
From February 8th to 14th, the Lower East Side location of Maman Marche will be transformed into a Valentine's Day Pop-Up love patisserie, offering limited-edition beverages, pastries, and romantic giftable retail items. Some of what you'll find includes red velvet hot chocolate (topped with a homemade mascarpone whipped cream and red velvet cake crumbles!), white hot chocolate prepared with a fresh raspberry puree (topped with a "pink" raspberry whipped cream, homemade edible conversation hearts, and raspberry dust), and the Love Potion Hot Chocolate, a glass heart jar filled with hot chocolate mix, topped with heart-shaped marshmallows. In addition, all NYC locations will be offering festive specials including the Maman heart oreo, raspberry rosemary macarons, and white chocolate raspberry rose cookies.
Daniel Boulud Kitchen
Famed French chef Daniel Boulud adapted to the pandemic with a new nationwide-shipping concept called Daniel Boulud Kitchen, available via Goldbelly. For Valentine's Day, choose from sweet treats like the $44 Macaron Gift Box or the $115 French Sweets Gift Box that comes with traditional French lemon madeleines, cannelés de Bordeaux, pâte de fruits, and seasonal gluten-free macarons. Another fun option is the $105 French Madeleine Kit that comes with everything you need to make these delicious treats at home.
Black Tap Milkshakes
You've definitely seen Black Tap's colossal milkshakes on Instagram, and for Valentine's Day, the restaurant has partnered with Magnolia Bakery so you can bring the experience home. The Red Velvet Cake Shake Kit includes all the essentials to make two Red Velvet Cake Shakes–red velvet cake batter shakes (pre-mixed), cups with vanilla frosting and sprinkles, red and white sprinkles, two slices of red velvet cake from Magnolia Bakery, chocolate sauce, and cherries. It's available for delivery in NYC from February 11th-14th and is just $10.
Magnolia Bakery Date-Night Box
Speaking of Magnolia, available via Goldbelly for $75 + free shipping, this special will keep your sweet tooth satisfied all weekend. It comes with one large container of pink banana pudding, one classic banana pudding, and two classic cupcakes (choice of chocolate or vanilla). If you're local to one of their physical locations, you can also order any of their treats for pickup or local delivery.
La Newyorkina Heart-Shaped Churros
This Mexican sweets company located in Red Hook has special heart-shaped churros, tossed in Mexican cinnamon-sugar and served with spiced hot fudge and cajeta for dipping. You can order them for pickup and delivery through the shop or for nationwide shipping via Goldbelly. Other Valentine's Day specials include heart-shaped garabatos, boca negra cake with tequila, and a chocolate tres leches.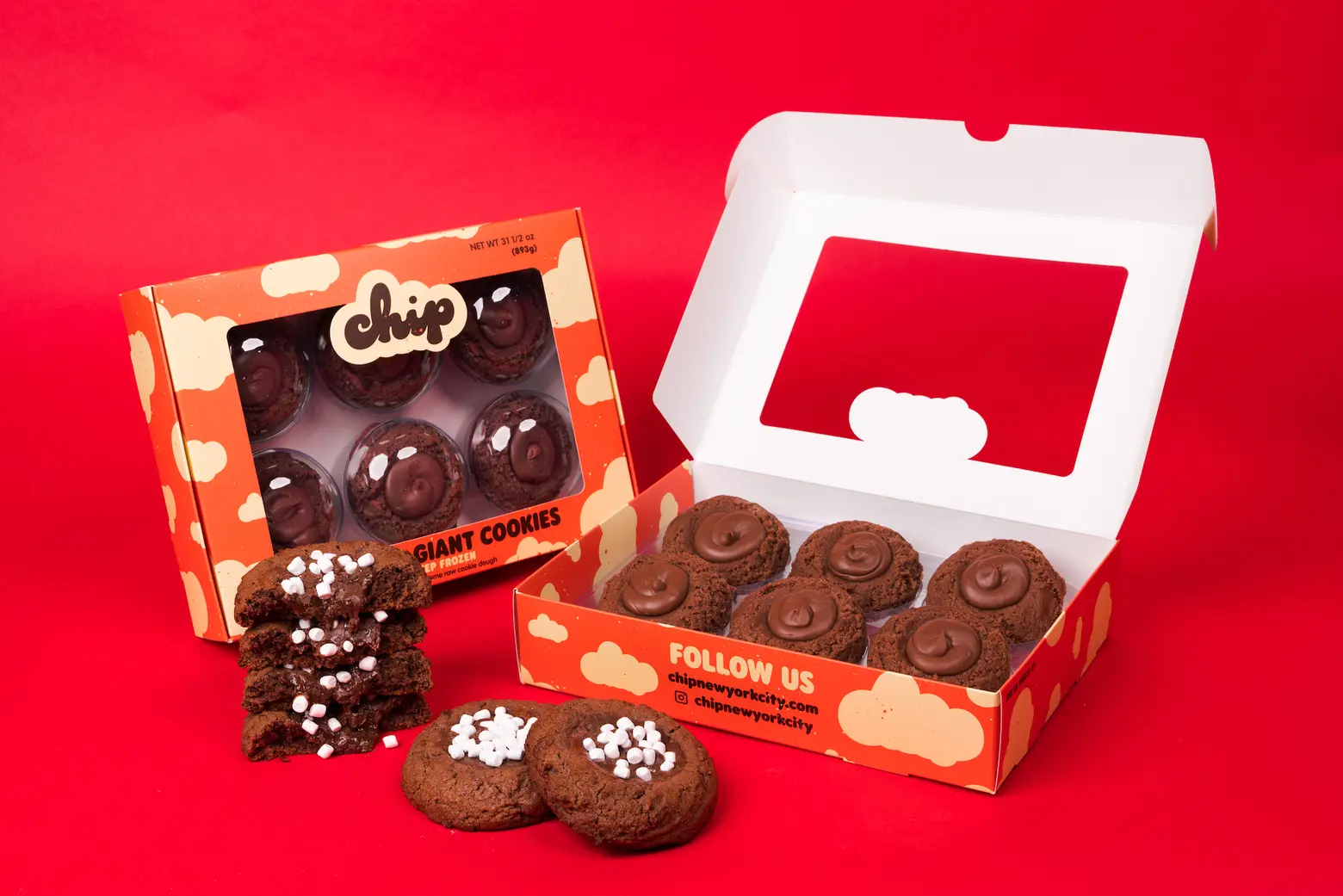 Image via Chip City
Chip City's Swiss Miss Cookies
With five locations across NYC, Chip City is known for their large, gooey cookies, and if you order them online, you'll get the ready-formed cookie dough balls, so you can still have them hot out of the oven. Just in time for Valentine's Day, they've partnered with everyone's famous hot chocolate company Swiss Miss for a special hot cocoa fudge cookie. They also have a Valentine's Variety Baking Bundle. Both of these packages make six giant cookies and are $75.
Senza Gluten
For your special someone with a gluten-free diet, Senza Gluten is offering a Valentine's Day gift basket chock-full of flourless sweets. For $43, the basket from the Greenwich Village-based bakery and restaurant includes red velvet cupcakes, mini chocolate crinkle cookies, mini chocolate pecan and walnut chubbies, heart-shaped cookies, and classic chocolate chip. The basket is available for nationwide shipping as well as pick-up from Senza Gluten located at 171 Sullivan Street. Check out the full menu of decadent desserts here.

Photo via Brooklyn Kura
Brooklyn Kura
Chocolate and sake? Yes! New York City's only sake brewery, Brooklyn Kura, has teamed up with the Brooklyn-based chocolate makers at Raaka to offer a new $56 Sake and Chocolate Valentine's Day Gift Set featuring Raaka's just-launched flavors created in collaboration with the New York Botanical Garden. The set comes with Brooklyn Kura's limited-release occidental sake, two holiday release bars of Raaka chocolate (chamomile lavender and vanlla violet) and two Brooklyn Kura-branded stemless glasses. Also available is the $100 Sake and Oishii Berry Valentine's Day Gift Set. It comes with eight Oishii omakase berries, Brooklyn Kura's Catskills sake, and two Brooklyn Kura-branded stemless glasses.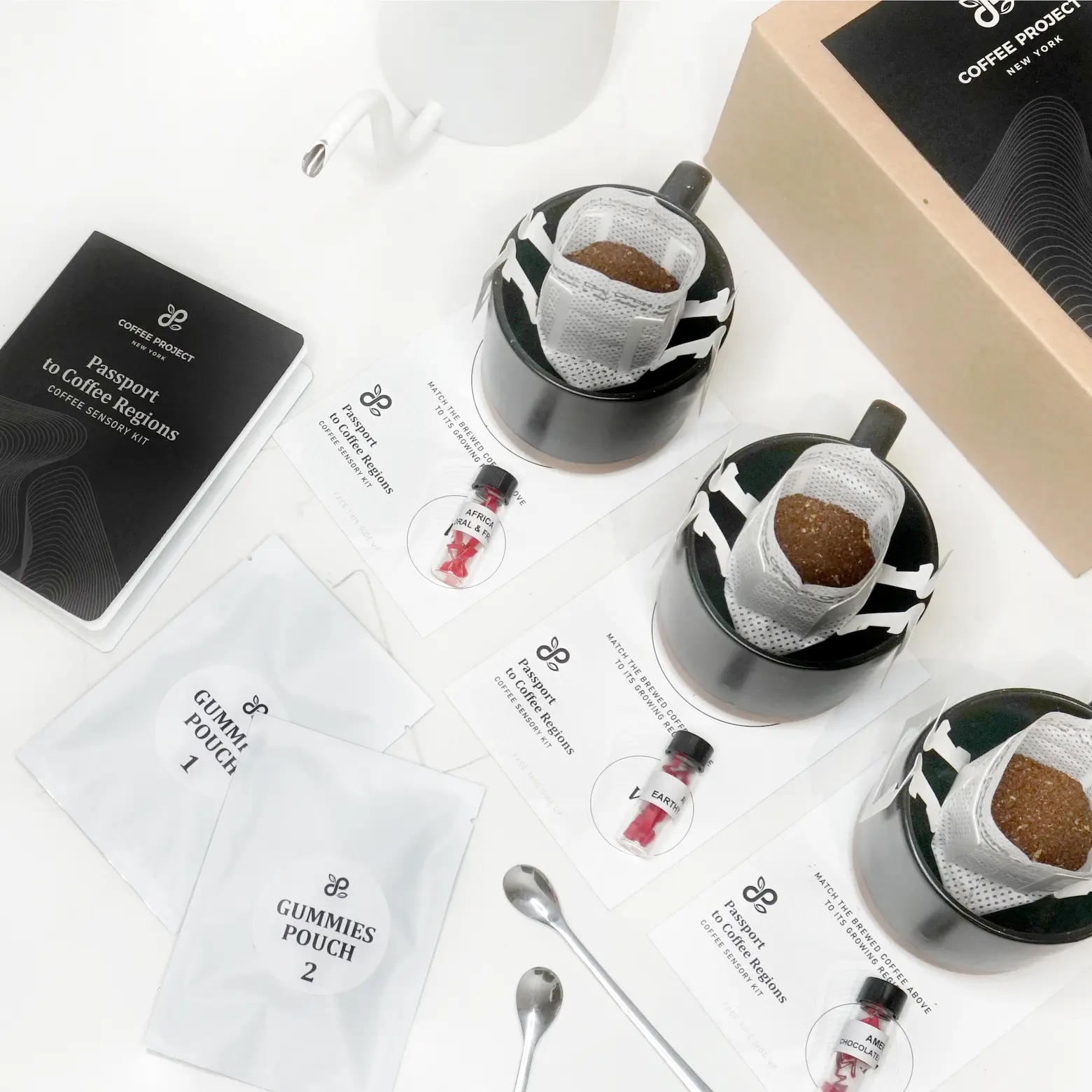 Photo via Coffee Project New York
Coffee Project New York
For your caffeine-addicted lovebird, this popular Long Island City cafe, roastery, and training center has two new Valentine's Day gift packages. The $40 Taste of Love Gift Set contains three unique coffees, passionfruit macarons from Le Petit Paris, a local French bakery based in Long Island City, and a hand-poured coffee-inspired candle. The $80 Passport to Coffee Regions Sensory Kit "is a self-guided coffee sensory kit to help people explore the three major coffee-growing regions of Asia, Africa, and America from their homes." It includes a guidebook filled with fun sensory activities such as taste-testing flavored gummies and experiencing scented sensory vials, before culminating with a coffee tasting of one coffee from each region.
VIRTUAL COOKING CLASSES + TASTINGS
Virtual dessert class with Baar Baar
Pastry chef Shagun Mittal McNorton of the modern Indian restaurant Baar Baar is joining you live from her kitchen to teach you how to make a special Indian-inspired holiday dessert. The Ragi Brownie with Raspberry and Rose Ice Cream is a dense and gooey double chocolate chip brownie made of millet flour (and completely gluten-free), topped with a tart, fruity and flowery ice-cream. For $40, participants will receive a baking kit with all the ingredients needed to make the dessert, along with the link to join the virtual class on Sunday, February 14 at 12pm on Zoom.
100 Pleats
100 Pleats is a virtual culinary platform offering a variety of cooking lessons by top chefs, and for Valentine's Day, they have two great options. On Feb. 13th from 5-6:15 pm, Chopped "Baker Boys" champion Chef Thiago Silva will teach you how to make his famous chocolate mousse with mirror glaze. The class is $49.99 per screen. And on February 13th from 6:30-7:45 pm, Michelin-starred chef George Mendes will show you how to make a simple, romantic meal that includes "a libido-enhancing" oyster and tuna ceviche, a slow-baked chicken rice, and cinnamon sugar beignets. This class is also $49.99 per screen.
BKLYN Larder Cheese and Chocolate Pairing Class
On February 11th at 7pm, BKLYN Larder has paired up with Brooklyn-based chocolate maker Raaka for a fun cheese and chocolate pairing class. For $80, you'll receive a two-person tasting kit that three delicious cheeses (L'Amuse Brabander, La Clare Ba Ba Blue, and Champlain Valley Organic Triple Cream Button) three Raaka chocolate bars (pink sea salt, bourbon cask, and coconut milk), and rustic bakery crackers.
Virtual Valentine's cooking classes with the Institute of Culinary Education
The Institute of Culinary Education has several fun and interactive ways to get in the mood. Once registered for any of these classes, participants will receive ingredient and equipment lists, as well as recipes so they can cook along with the chef. Here are the six options:
Lead image, clockwise from top left: Via Fornino; photo by Arianna Tettamanzi, via Maman Marche; via Milk Bar; photo by Rachel Vanni, via MakiMaki; via Black Tap