NYC restaurant group threatens lawsuit over indoor dining ban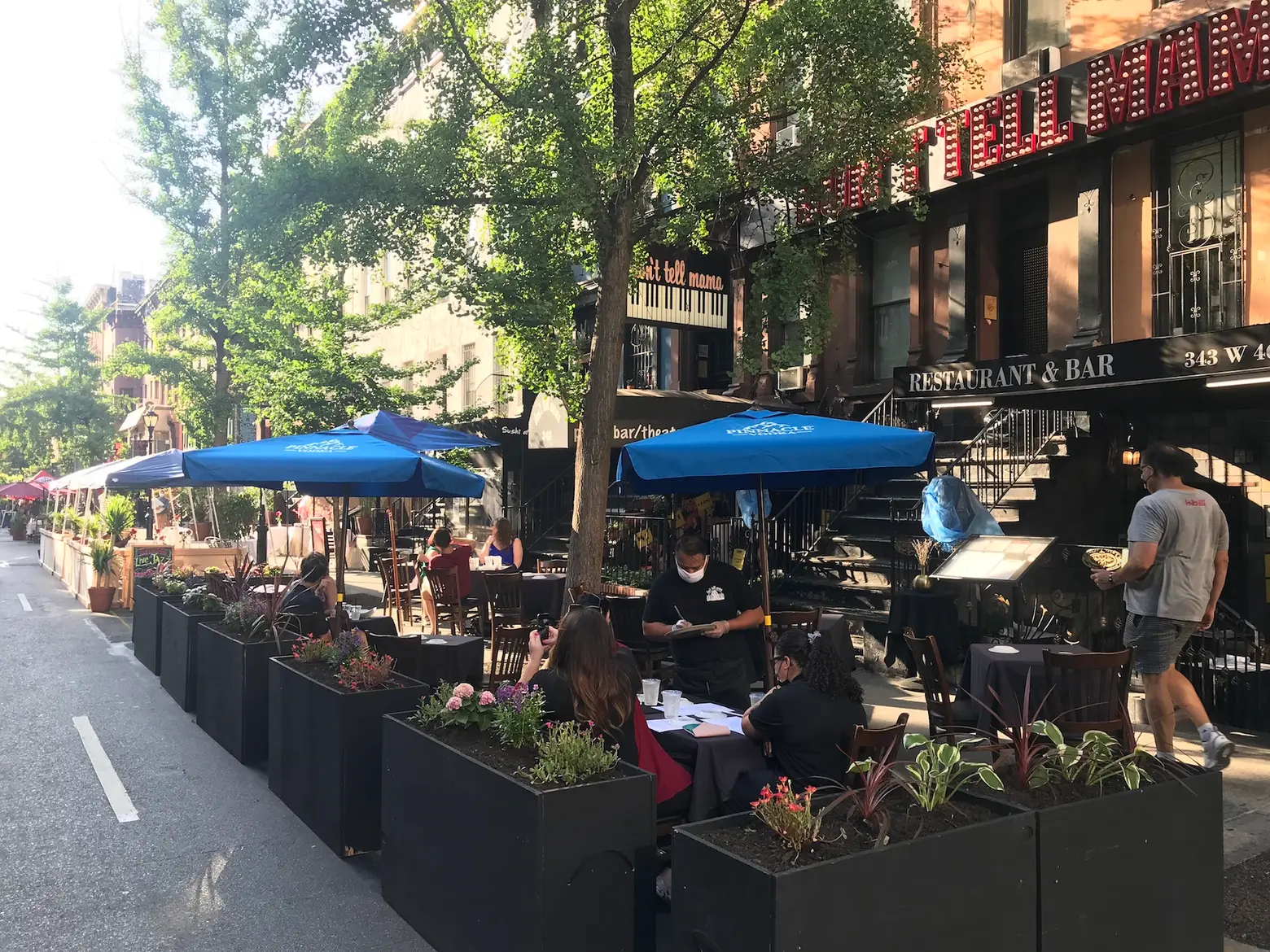 Courtesy of the Times Square Alliance
Although New York City's coronavirus infection rate hit an all-time low this week since the start of the pandemic at 0.24 percent and reopening plans for museums, schools, and bowling alleys have been announced, there is still no return date for indoor dining. The New York City Hospitality Alliance, a group representing the city's restaurants and nightlife venues, called on Gov. Andrew Cuomo and Mayor Bill de Blasio this week to develop a plan to resume indoor dining in New York City, the only region in the state to not permit it. During a press conference on Wednesday, the group said they are considering suing over the indoor dining ban, which they see as unlawful, according to Crain's.
The city was set to resume indoor dining at 50 percent capacity on July 6, but Cuomo and de Blasio put it on hold indefinitely, blaming the spike in coronavirus cases in other states. Indoor dining has been permitted in every other region for the last few months.
"Despite the fact that the City exceeds and sustains the metrics that have allowed restaurants throughout the rest of the State to reopen, government leaders have still yet to provide any guidance on when small business owners, workers and customers can expect indoor dining to return," Andrew Rigie, executive director of the NYC Hospitality Alliance, said in a statement.
"Our industry's survival over the next several months depends on government immediately developing and implementing a plan that allows restaurants in New York City to safely reopen indoors like our counterparts everywhere else in the State."
Earlier this month, more than 1,500 gym owners statewide filed a lawsuit against Cuomo and the state to allow them to reopen their businesses. On Monday, the governor announced gyms and fitness studios can reopen as early as August 24 at limited capacity with ventilation and face-covering requirements met. (New York City gyms will not be reopening before at least September 2.)
The Hospitality Alliance said the group is considering taking legal action to fight the indoor dining ban, but hope to work with city and state officials first.
During a call with reporters on Wednesday, the governor said New York City is different than other regions in regard to indoor dining because of its population and density. Cuomo also said compliance has been more of an issue in the five boroughs than elsewhere in the state.
"We have a much bigger problem in New York City today than any of the surrounding suburbs with a lack of compliance," Cuomo said. "The restaurants are much more of a problem today. The bars are a much bigger problem today than Nassau or Westchester."
The state has cracked down on restaurants and bars that have been found in violation of COVID-19 rules. The State Liquor Authority has suspended liquor licenses of 150 establishments, with a majority of those in New York City.
While the city's Open Restaurants program, which lets establishments set up seating on sidewalks, some streets, and adjacent parking lots, provided a temporary lifeline, business owners are still struggling to stay open. And as cold weather approaches and outdoor dining ends at the end of October, the industry worries it will not be able to survive without indoor dining.
"New York City has forever been recognized as the culinary capital of the world," Alfonso Zhicay, owner of Casa de Chef in Queens, said in a press release. "From every corner of the globe, individuals come to start their own businesses in New York City or visit to enjoy the culture and life that it offers. That's what so many of our restaurants represent, and if the government can't soon provide us a clear reopening plan, we risk losing it all."
RELATED: