Kimlau War Memorial becomes NYC's first landmark related to Chinese American history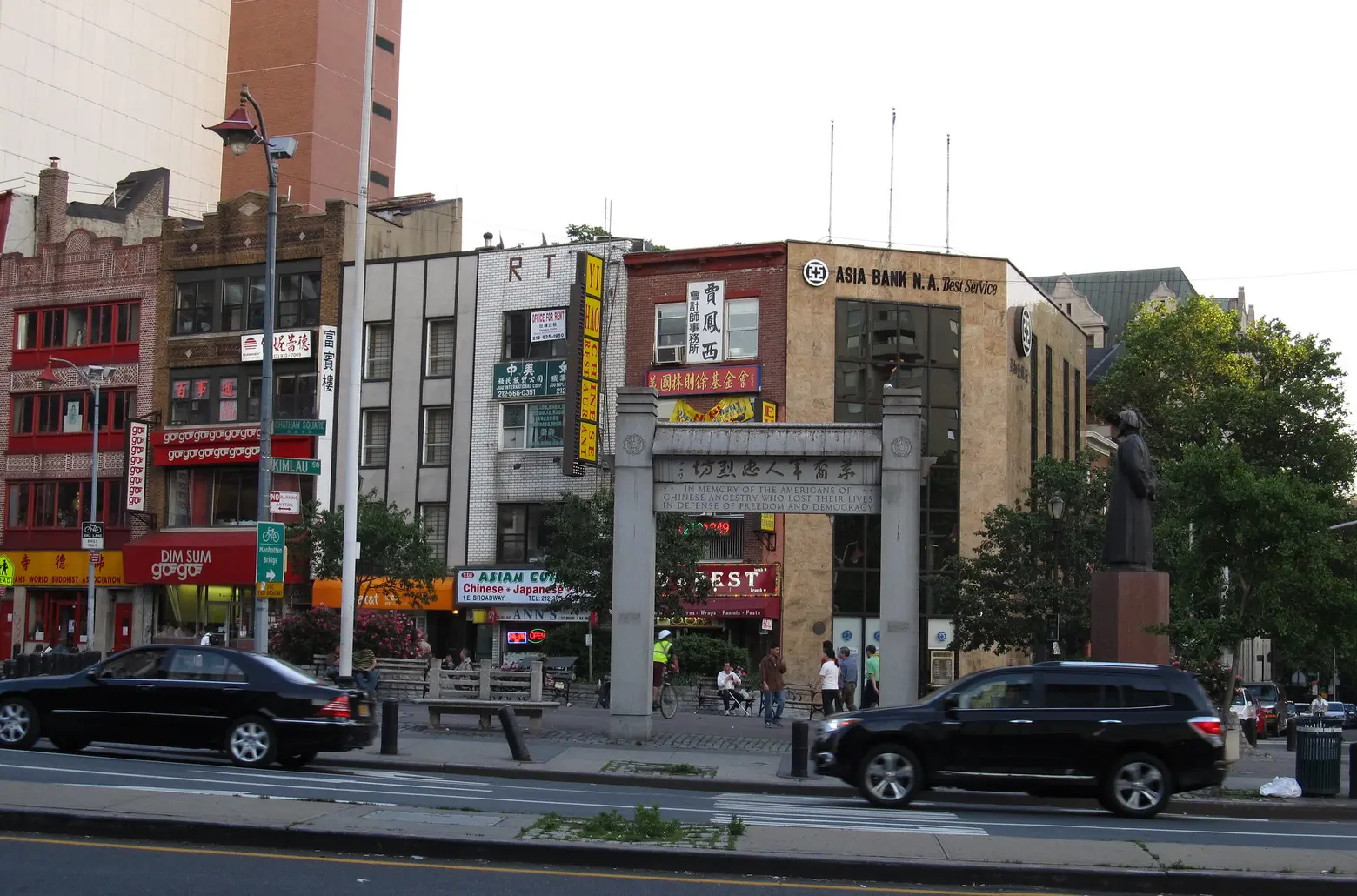 New York City gained its first landmark related to Chinese American history and culture on Tuesday. The Landmarks Preservation Commission voted to designate the Kimlau War Memorial, a tribute to Chinese American veterans located in Chinatown. Designed by architect Poy Gum Lee, the memorial honors Americans of Chinese descent who died during World War II and has served as a gathering place for veterans.
The agency first calendared the memorial last month, as the country marked Asian American and Pacific Islander Heritage Month. The landmark designation comes as the city sees an uptick in anti-Asian hate crimes.
"I think this is a historic moment for the Chinese community," LPC Commissioner Wellington Z. Chen, who also serves as the executive director of the Chinatown Partnership, said during Tuesday's meeting.
The memorial is located within Chatham Square, which was co-named Kimlau Square in 1961 in recognition of Lieutenant Benjamin Ralph Kimlau. Kimlau, a Chinese American from New York City, served as an Air Force bomber pilot in World War II and died in combat at the age of 26.
Named in honor of Kimlau, the American Legion, Lt. B.R. Kimlau Chinese Memorial Post 1291 was founded in 1945 by Chinese American veterans of World War II. In the 1960s, American Legion asked the city to pay tribute to the Chinese Americans who served with a memorial dedicated to them. In 1961, Chatam Square was renamed and a year later, the Kimlau Memorial Arch was unveiled.
Designed by Lee, who was born at 13 Mott Street in 1900 and later studied at the Pratt Institute and Columbia University, the Kimlau War Memorial was designed as a ceremonial gateway to Chinatown. The granite structure stands nearly 19 feet tall and features elements of traditional Chinese architecture and streamlined modernist design, according to Kate Lemos McHale, the director of research at LPC.
The monument, inscribed in both Chinese and English, reads: "In memory of Americans of Chinese Ancestry who lost their lives in the defense of freedom and democracy."
Flanked by two benches, the site serves as a space for reflection and remembrance. It continues to serve as an annual site of celebration to honor war veterans and as a symbol of the contributions of Chinese Americans to U.S. history.
"The arch and its two surrounding benches feature a streamlined interpretation of traditional Chinese architecture, with a peaked roof, interlocking brackets, and a symmetrical configuration," reads a report from the LPC. "The arch itself is a typical Chinese architectural element that can be used both as a physical gateway or as a decorative symbol."
While there are several significant landmarks in Chinatown, none are directly related to the history and culture of Chinese Americans.
The memorial, which is overseen by the city's Parks Department, is currently undergoing reconstruction as there are some structural issues and cracks in the granite.
RELATED: 
Editor's note: The original version of this story was published on May 4, 2021, and has since been updated.