NYC is putting gifts given to past mayors up for auction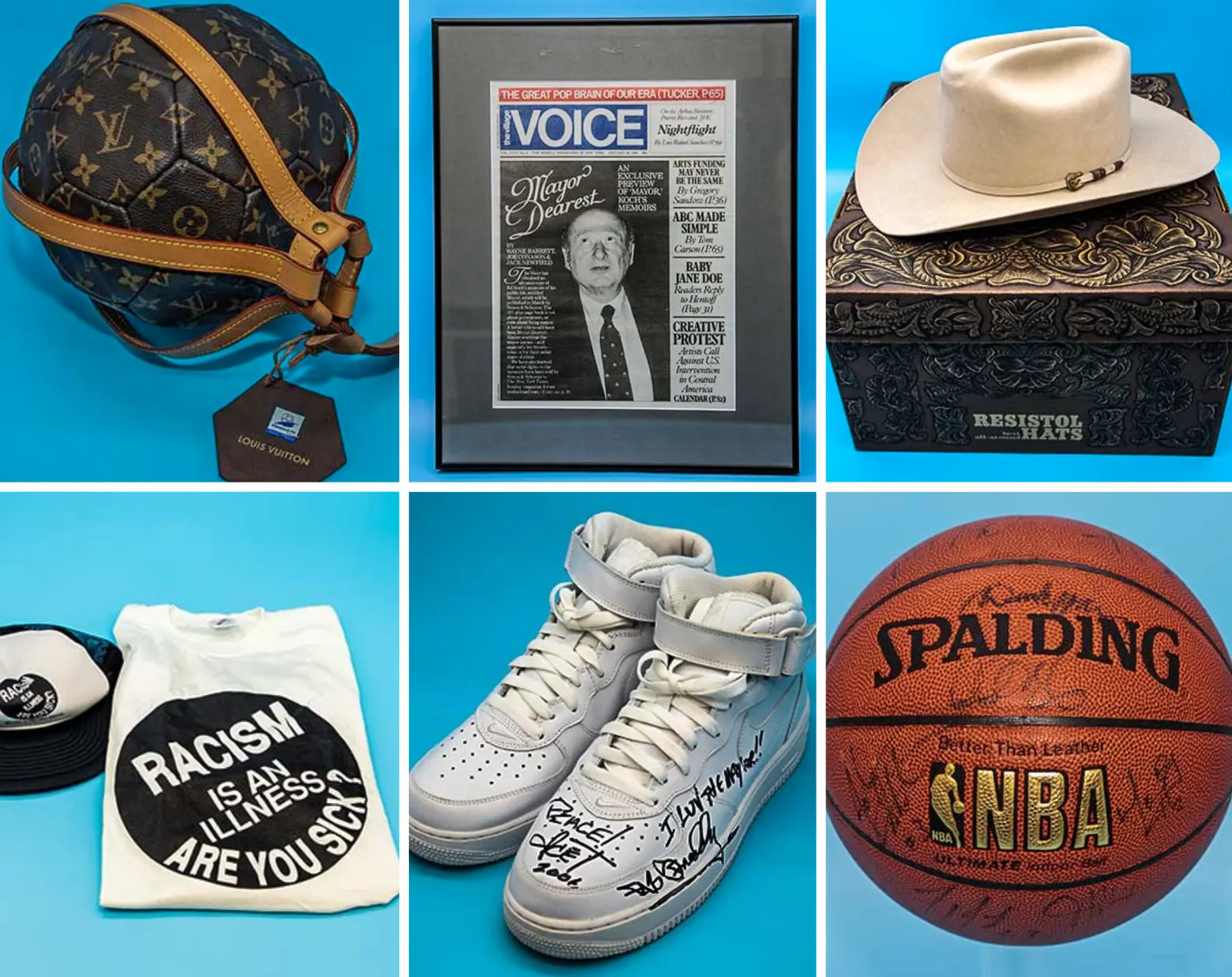 Photos courtesy of the City of New York
The city is selling gifts given to past mayors, from a basketball signed by the New York Knicks and given to Mayor Rudolph Giuliani to a paperweight gifted to Mayor David Dinkins by Diana Ross. This week, the Department of Citywide Administrative Services launched "Gifts to the City," a series of online auctions of items and keepsakes given to Mayors Koch, Dinkins, Giuliani, and Bloomberg. The auctions kick off Monday with over 50 items and will continue on a rolling basis.
Any gifts received by mayors during their term are property of the city and managed by the Department of Records and Information Services.
A framed copy of the Village Voice featuring Koch on the cover is currently asking $40. A piece of Chinese art given to Dinkins is priced at $50. A Louis Vuitton soccer ball given to Giuliani to commemorate the 1998 World Cup has a starting bid of $600.  A pair of Nike Air Force 1 sneakers autographed by Ice-T and Fab 5 Freddy and presented in 2008 to Bloomberg is priced at $147.50.
"Gifts to the City offers a unique opportunity to own a piece of history," said NYC Department of Citywide Administrative Services Commissioner Dawn M. Pinnock. "This is the first time the City has auctioned gifts to past mayors, and New Yorkers have a chance to purchase items they won't get anywhere else."
Proceeds from the auctions will benefit the Municipal Archives Reference and Research Fund, which supports projects to preserve city records.
According to the city, buyers will receive a special certificate of provenance certifying that the item sold at auction is an "authentic gift originally received by a Mayor of the City of New York."
Earlier this year, the Department of Citywide Administrative Services sold the last "Redbird" subway car for $235,700 and a retired Staten Island Ferry boat, which received the highest bid of $280,000 from "Saturday Night Live" stars Pete Davidson and Colin Jost, along with comedy club owner Paul Italia.
RELATED: