NYC increases ferry fare, but offers discounted rides for low-income New Yorkers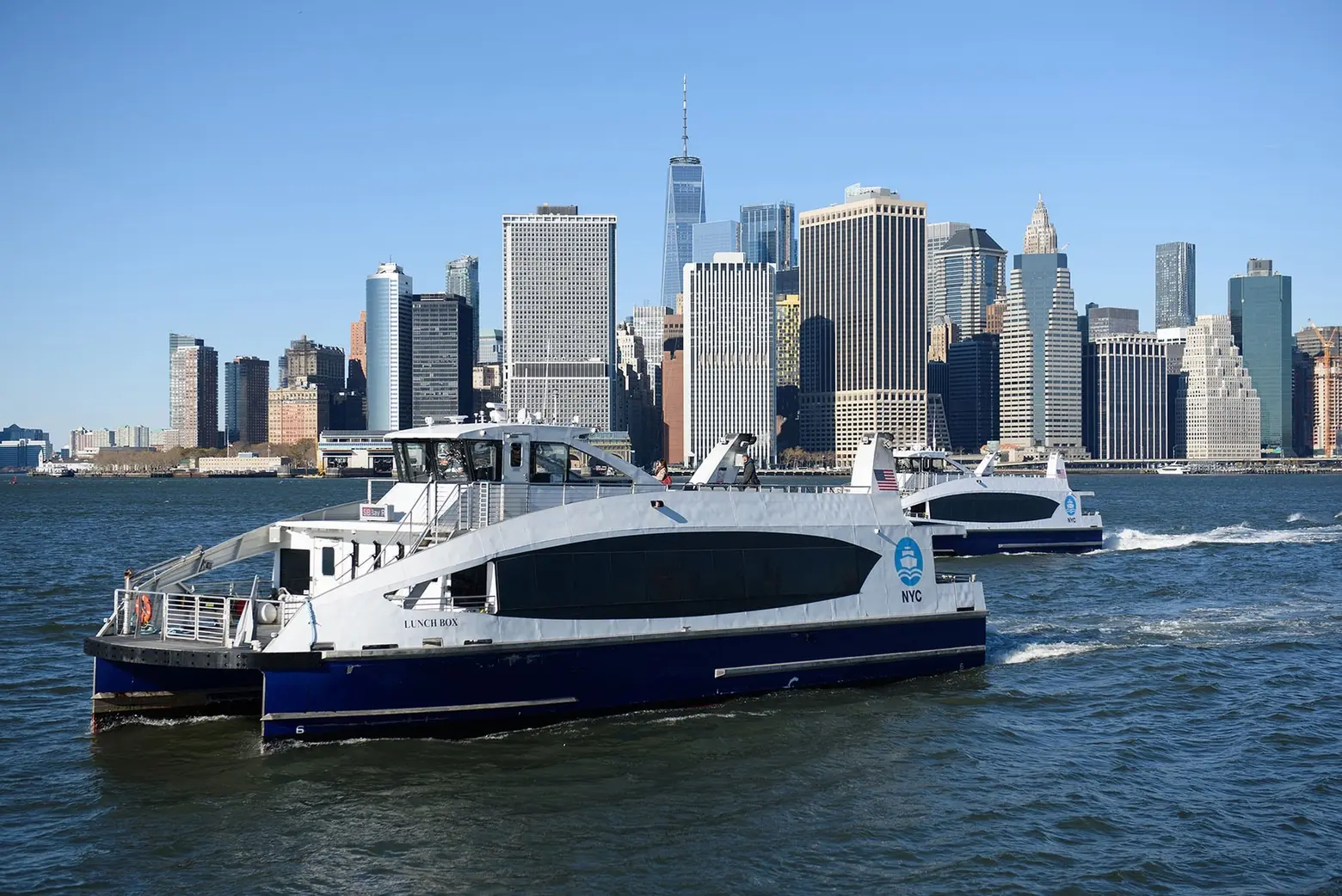 Image courtesy of NYC Ferry
New York City's ferry system will soon be cheaper to ride for some New Yorkers, but more expensive for less frequent riders. Mayor Eric Adams on Thursday revealed phase one of the city's new "NYC Ferry Forward" plan—a new fare system aimed at making the ferry more equitable and reducing the system's huge public subsidy. Beginning in September, low-income New Yorkers, seniors, and people with disabilities can purchase a single ferry ride for $1.35. The price of a single trip will increase from $2.75 to $4.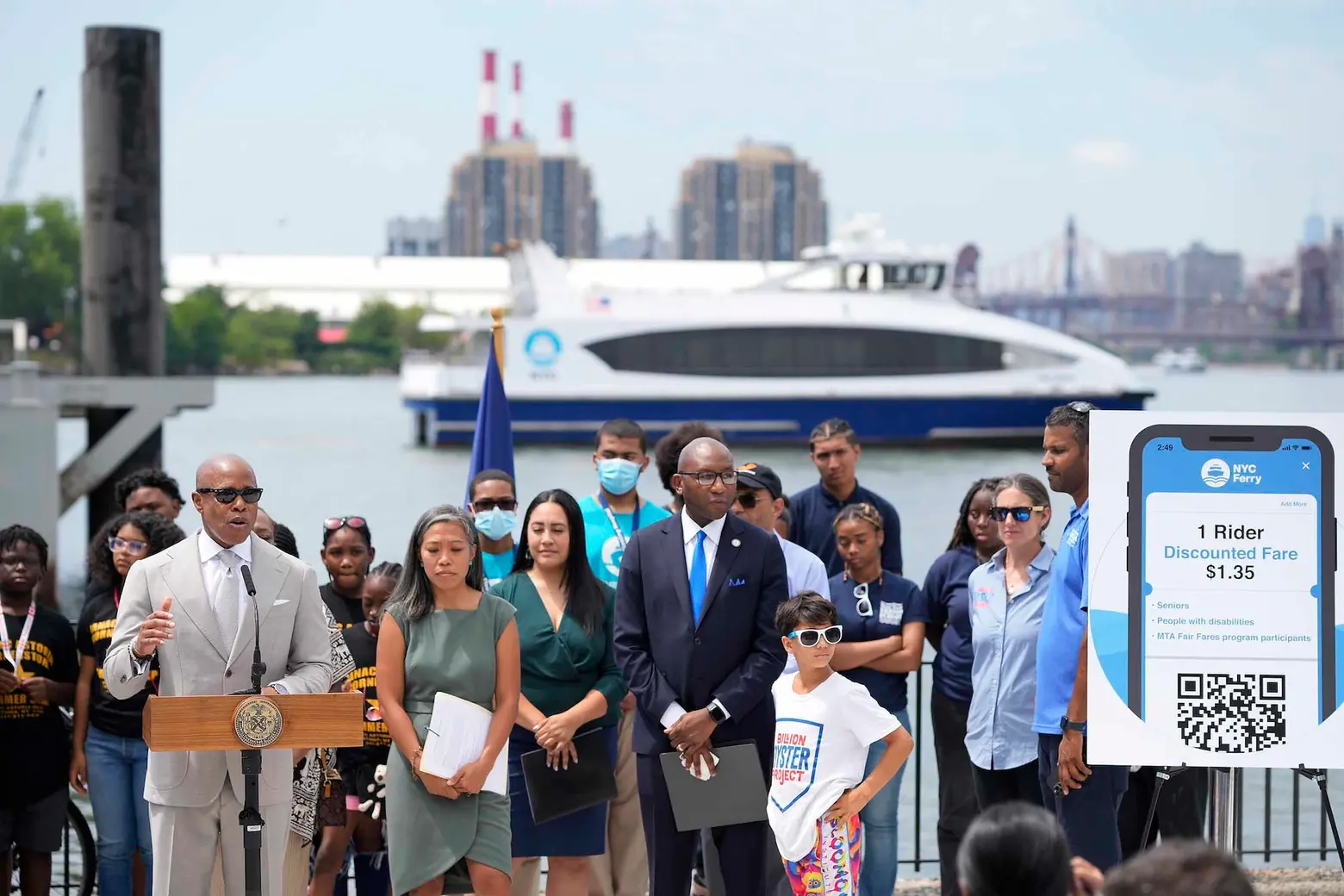 Image courtesy of Ed Reed/Mayoral Photography Office on Flickr
Modeled after the city's Fair Fares program for subways and buses, the plan includes a new fare structure, free trip vouchers, and outreach to New York City Housing Authority (NYCHA) residents. The city will send mailers to approximately 60 NYCHA developments that are in close proximity to ferry landings before the new system's launch.
As part of the new program, NYC Ferry's $1 bike fee will be eliminated to encourage environmentally-sustainable modes of transportation. This change will take effect on September 12.
"Getting around New York City shouldn't feel like you're running a 5K," Adams said. "Wherever you live in the five boroughs, we want you to have choices, and our vision for the NYC Ferry helps provide New Yorkers with those choices."
Adams continued: "More and more New Yorkers are now using the NYC Ferry to get to work and get around, so we are writing a new chapter in the history of the NYC Ferry system and of transportation in our city — one built on the three pillars of equity, accessibility, and fiscal sustainability. Our NYC Ferry Forward vision will keep our city on the map as a leader and innovator in public transportation."
The change in ferry fare pricing comes a week after it was revealed the city's ferry system failed to report almost a quarter of a billion dollars in spending over the course of Mayor Bill de Blasio's administration, according to an audit released by City Comptroller Brad Lander. The audit showed that the city spent $758 million on the ferry system but only reported $534 million, and revealed a multitude of unnecessary expenses.
Plus, the city's ferry subsidy grew to double the initial $6.60-per-trip subsidy projected by the de Blasio administration, according to the comptroller's office. In the fiscal year 2021, the city subsidy amounted to $12.88 per ride, 50 percent higher than the $8.59 EDC reported.
In order to generate much-needed revenue and increase ridership, NYC Ferry is launching the "Rockaway Rocket" later this month. Under the new shuttle program, riders can reserve a space on a ferry that will run from Pier 11 in Manhattan to Rockaway Beach on summer weekends and holidays from July 23 until Labor Day weekend. The new program is projected to generate up to $2 million in additional annual revenue, according to a press release.
Eligible New Yorkers can sign up for the discount program through the NYC Ferry website, or by mailing in an application. Once approved, riders will be able to purchase discounted tickets through the NYC Ferry app or from NYC Ferry ticket windows.
"Astoria Houses residents are grateful for the ferry. It's an added transportation option that is now even more affordable to those who need it most," Vanessa Jones-Hall, resident association president of NYCHA's Astoria Houses, said. "Not only does the ferry provide easy access to get downtown to go to work, it offers residents a nice ride along the waterway, and it allows New Yorkers to visit Astoria and see all we have to offer."
RELATED: