15 places in NYC to get latkes and takeout for Hanukkah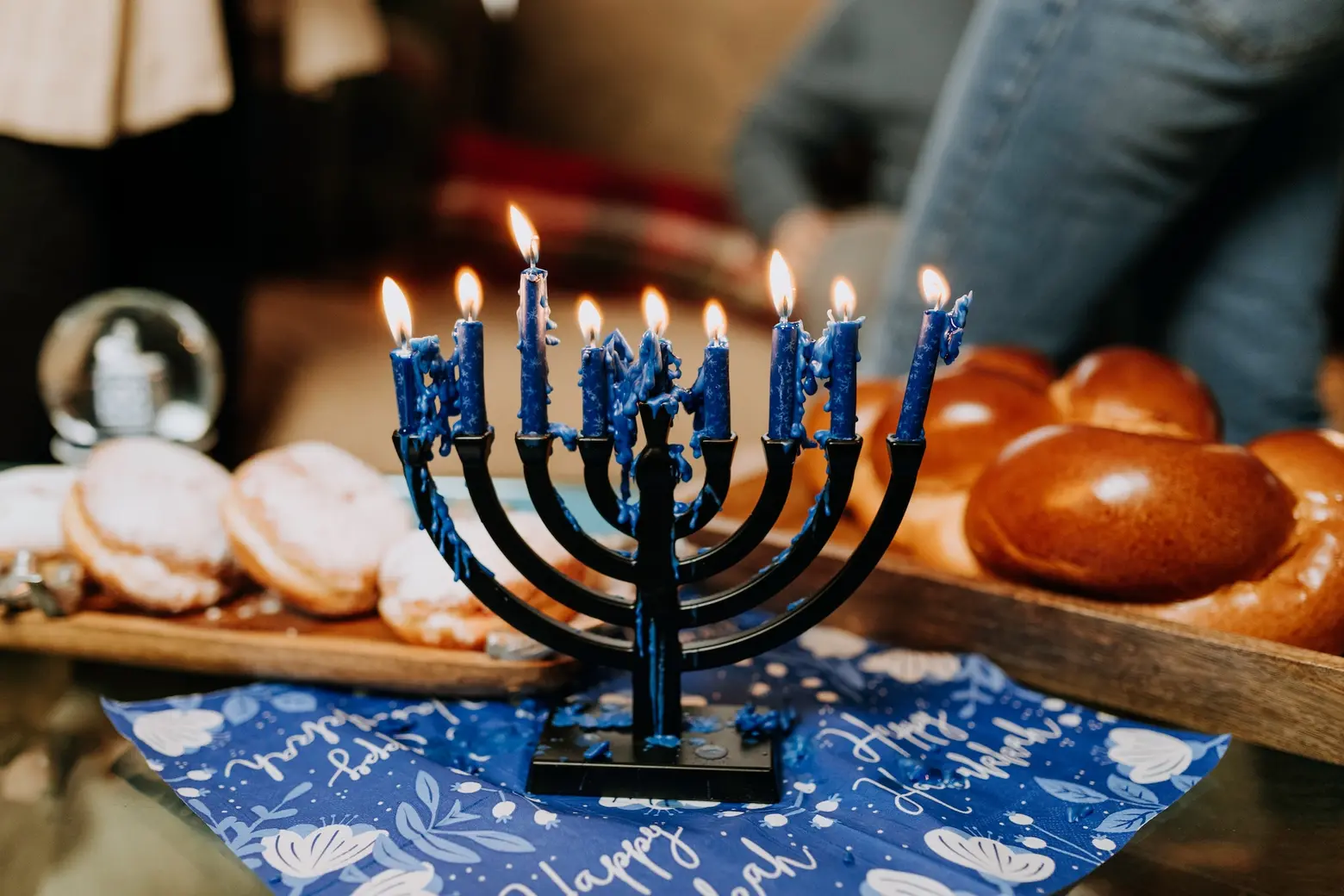 A lot of families won't be able to get together for Hanukkah this year, but that doesn't mean you can't do a little something special for the Festival of Lights. Many local New York City restaurants, bakeries, and shops are offering amazing holiday meal packages, along with latkes, sufganiyot, chocolate gelt, and more. Ahead, we've rounded up 14 great options, many of which also ship nationally if you want to include your out-of-town family and friends.
1. Russ & Daughters
Perhaps one of NYC's most classic Jewish appetizing stores, this Lower East Side mainstay has a $110 "Latkes & Mimosas" package for local pickup and delivery. It comes with 12 potato latkes, a 125-gram tin of wild Alaskan salmon roe, a container of creme fraiche, a bottle of Prosecco, and a bottle of fresh-squeezed orange juice. You can also order just the latkes hot or cold. If Russ & Daughters doesn't deliver to you, you can also order through Goldbelly (they do national shipping). There's a $145 (+ free shipping) Channukah Essentials package that comes with a 12-pack of potato latkes (fully cooked, just heat and serve), a half-pound of Scottish smoked salmon, sour cream, applesauce, two bags of chocolate gelt, and a box of Channukah candles. Also available is a 12-pack of latkes for $28.
2. Katz's
Just down the street from Russ & Daughters, this deli famous for its huge pastrami sandwiches is offering a special Hanukkah Dinner Package for $160. It serves four people and comes with pastrami, brisket, matzo ball soup, sour pickles, seedless rye bread, knishes, mini latkes, noodle kugel, mustard, and chocolate babka. You can also order eight mini latkes for $15.95. Katz's ships nationally, but they also launched their own local delivery service this year. And of course, you can always pop in.
3. Épicerie Boulud 
World-famous chef Daniel Boulud's takeout branch is offering a $250 Hanukkah Brisket Dinner for 4, which can be shipped locally. It comes with a 32-ounce Angus beef brisket, horseradish-chive condiment, winter root vegetables, twice-baked potato gratin, a choice of curried cauliflower and apple velouté soup or kale, quinoa and delicata squash with pumpkin seeds salad with cider-maple vinaigrette, pain de mie rolls, three-seed pain de Campagne loaf, and a choice of honey apple cake or chocolate coffee cake with cardamom. There's also a Hanukkah salmon dinner for 4 and a smoked salmon/crispy potato latkes platter.
4. Bread's Bakery
A 6sqft editor once lived within walking distance to Bread's Bakery, and it was a dangerous situation. If you've had their chocolate babka, you know what we're talking about. For Hanukah, Bread's has four flavors of Sufganiyot–local strawberry jam, chocolate with Nutella, coffee-infused custard, and caramel. They also are selling a dozen latkes for $25; they come with sour cream and homemade apple sauce. They're already sold out for pre-orders, but you can still shop in their Union Square or Columbus Circle stores. You can also order their famous babka and rugelach for national shipping.
5. Daily Provisions
Danny Meyer's popular and creative bakery is getting into the holiday spirit with a whole new menu that you can pickup from their Union Square or Upper West Side shops. Highlights include a four-person Hanukkah dinner for $95 (matzo ball soup, latkes, large kale caesar salad, and a roast chicken), six crispy latkes for $16 (add the in-house apple butter for $10), and six jelly cruller sufganiyot for $38.
6. Zabar's
Eli Zabar has been serving the Upper West Side since 1973. There's nothing more fun and nostalgic than walking through their narrow aisles, where you can undoubtedly get all you need for the holiday. If you want to share Zabar's with out-of-town loved ones, they ship a slew of goodies nationally via Goldbelly, including a giant challah menorha. They also have several Hanukkah gift baskets, that are filled with festive items like chocolate coins, black-and-white cookies (that are actually blue-and-white), and fruit cordials.
7. Barney Greengrass
Another Upper West Side staple since 1908, Barney Greengrass is a true classic. Their latkes are available not only in New York, but they're shipping nationally.
8. William Greengrass
This old-time Upper East Side bakery is famous for its black-and-white cookies, and for Hanukkah they've done them in festive blue-and-white. Other fun picks include seasonal Hanukkah cookies shaped like stars and menorahs, jelly donuts, latkes, and even a Hanukkah gingerbread house.
9. Liebman's Kosher Deli
When Liebman's opened in 1953, there were more than 100 Jewish delis in the Bronx; today, Liebman's is the only one left. For local delivery or pickup, you can order their potato pancakes with applesauce. For delivery farther afield, Liebman's is on Goldbelly, where they ship their famous giant potato latkes… each one is four-and-a-half inches! Choose between eight latkes ($89) or 16 latkes ($149), both of which come with a pound of apple sauce and free shipping.
10. Mile End Deli
This Montreal-style deli in Boerum Hill is famous for its smoked meats, but this year, they also have a special Hanukkah menu. For local delivery and pickup, they're offering sufganiyot, potato latkes, and all the toppings (apple sauce, sour cream, caviar creme fraiche, chopped liver, smoked salmon, and duck confit). Other holiday offerings are hot dogs in a blanket with maple mustard, chicken schnitzel fingers with jewbque sauce, matzo ball soup, and braised brisket. Mile End also ships nationally via Goldbelly. Here, you can order a dozen latkes for $45 or two dozen for $65. Toppings can also be added.
11. Shelsky's of Brooklyn
With locations in Park Slope and Cobble Hill, Shelsky's opened in 2011 with the goal of reviving "an old tradition that never really died." For local delivery and pickup, you can order traditional fried potato latkes, sweet potato and celery root latkes, gluten-free latkes, Grandma Yetta's chunky applesauce, regular and horseradish creme fraiche, and sufganiyot. Other offerings include chocolate gelt boxes, rugelach, and all your appetizing needs. Shelsky's also offers nationwide shipping.
12. BKLYN Larder
This specialty retail cheese and provisions shop in Park Slope has reasonably priced latke options (four for $12, twelve for $32), along with festive Hanukkah meat and cheese boards, braised brisket and roasted chicken, house-made jelly donuts, and lots more. For national shipping, they also offer their Hanukkah meat and cheese board, as well as a Hanukkah chocolate basket.
13. Gertie
This all-day restaurant in Williamsburg is selling a $30 "Hanukkah Jackpot Box" that comes with three Sufganiyot filled with blood orange jam, five latkes with apple and sour cream and onion dipping sauces, five Jewish cookies (rugelach, grammy's sugar cookies, and one raspberry jam streusel bar), chocolate gelt, and a dreidel. You can also order the Sufganiyot on their own or a pastry box. It's pre-order only, and you can pick up Friday-Sunday.
14. Edith's
Edith's, a new artisanal Jewish American eatery, opened as a pop-up at Paulie Gee's classic Greenpoint pizzeria in August. You can pre-order five of their signature latkes, which come with house-made applesauce, house-cultured creme fraiche, and an optional trout roe add-on. Currently, they're sold out for nights one and two, but there is availability for the last night.
15. Elegant Affairs Caterers
This Manhattan- and Long-Island based caterer is offering delivery of their Yukon Gold potato pancakes to residents in NYC, Long Island, and the Hamptons via delivery for Hanukkah. It's $36 for two dozen, and they come with green apple chutney. Other holiday offerings include challah bread, potato kugel with caramelized onions, chicken matzo ball soup, and slow braised brisket.