The best 2021 Halloween happenings and spooky spectacles in NYC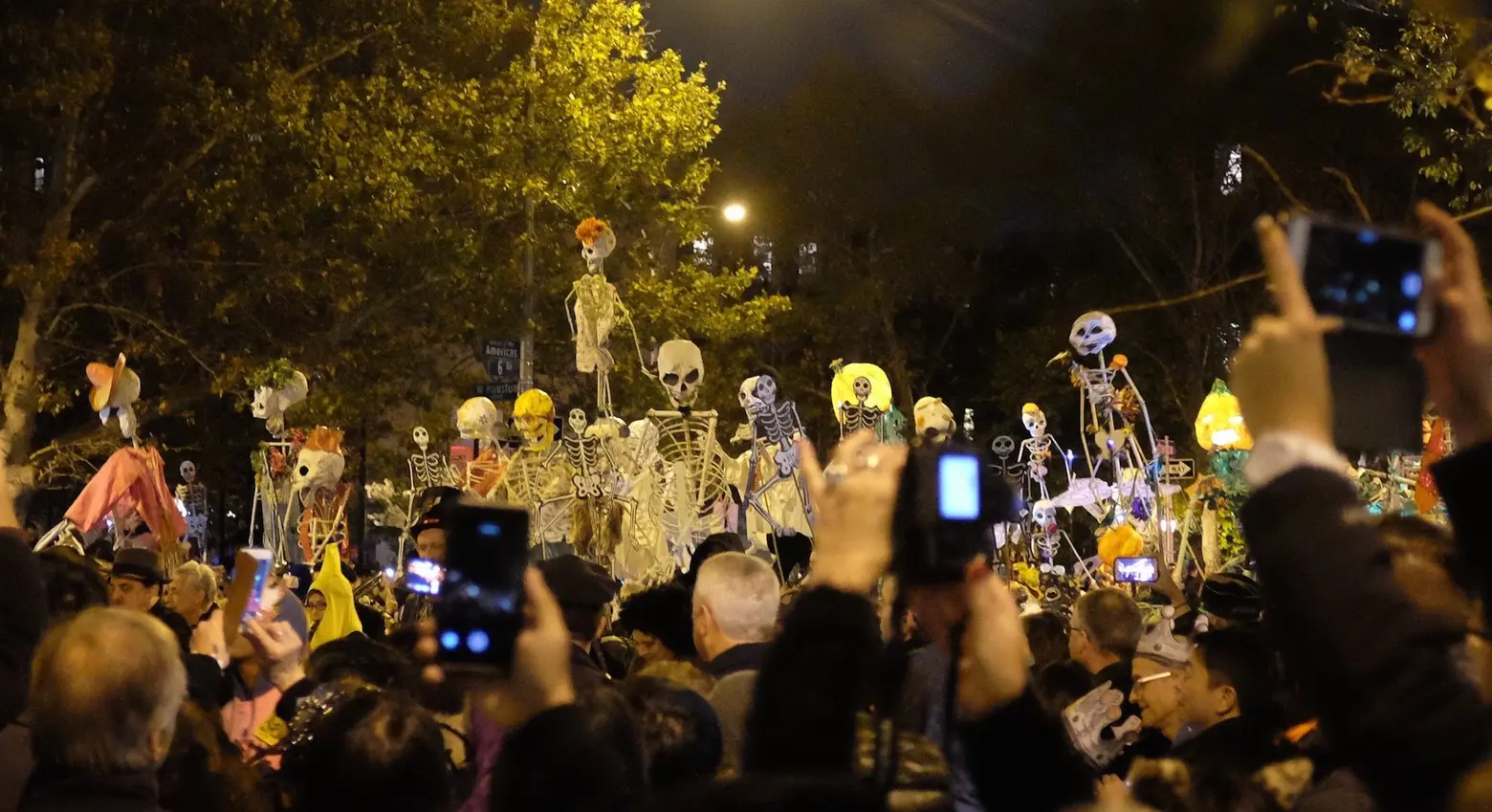 New York City really shows its creative side for Halloween, and after a year of laying low, everyone's ready for some trick-or-treat action. The epic Village Halloween Parade is back on, parks and pumpkin patches are putting their fall bounty on display, and our favorite gathering, shopping, and dining spots are stocking up on candy and planning fun events. For the best ideas, browse our list of Halloween haunts and happenings from family-friendly to wicked and wild.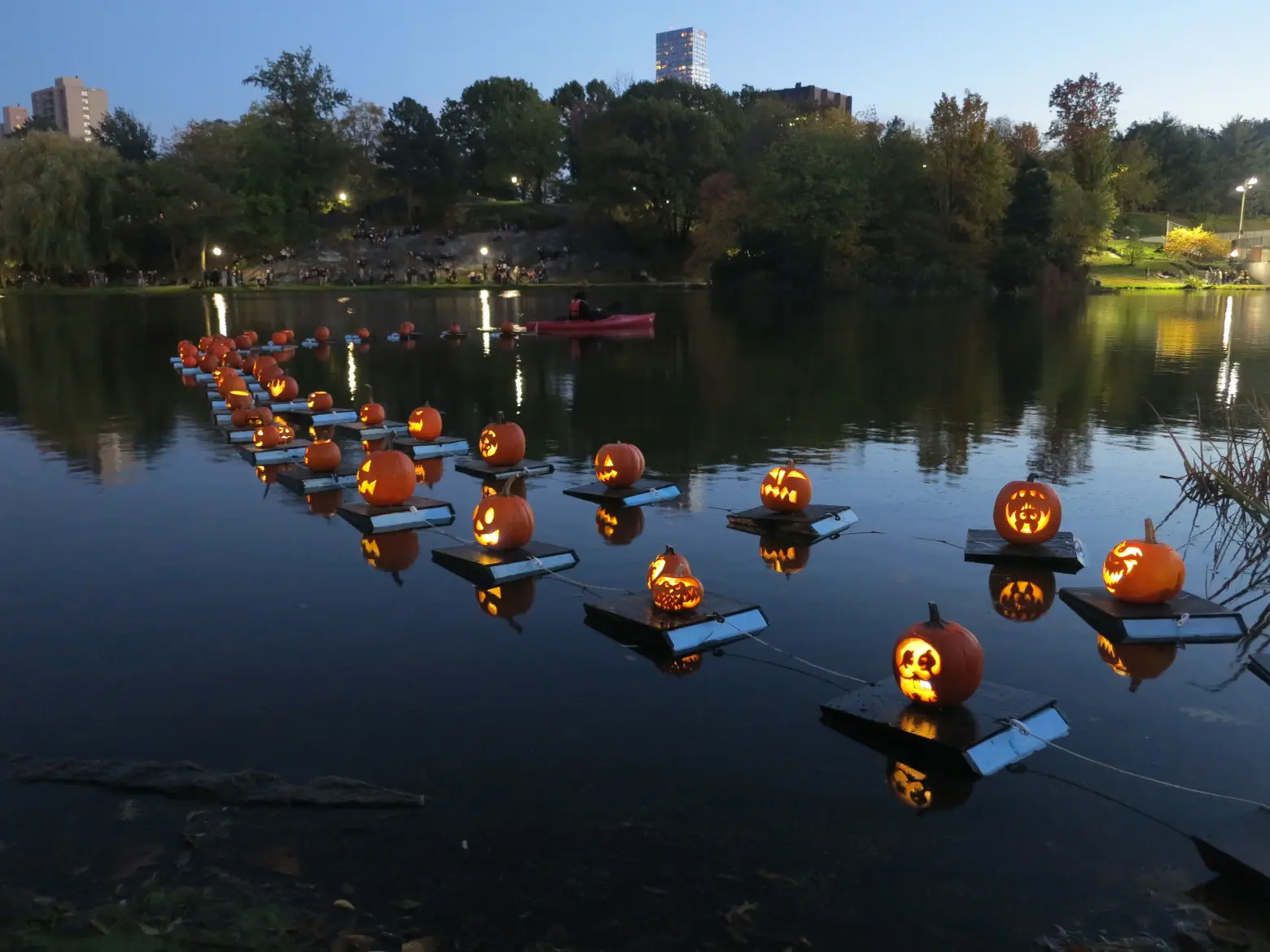 Image courtesy of the Central Park Conservancy.
Family-friendly fun
Pumpkin Flotilla: Halloween on the Harlem Meer in Central Park
October 28, 4-8 p.m.
This Central Park celebration includes pumpkin carving, crafts, spooky stories, a costume parade, a festive pumpkin patch and the park's signature Pumpkin Flotilla where you can watch the pumpkin you've carved set sail across the Harlem Meer at twilight. The Conservancy is also hosting a free trick-or-treat scavenger hunt around the Harlem Meer on Wednesday, Oct. 27th from 4:00 to 6:00 p.m. Check-in is at the Charles A. Dana Discovery Center.
New York Botanical Garden's Scarecrows & Pumpkins Takeover
September 18- October 31
Silly scarecrows, larger-than-life puppets, and giant pumpkins are taking over the New York Botanical Garden this Halloween season. Mark October 23 and 24 on your calendars to "behold the behemoths" and take in the gargantuan gourds during the NYBG's Giant Pumpkin Weekend. In addition to seeing some of the largest pumpkins in the world, you'll be able to watch a pumpkin carving demonstration from professional Adam Bierton. In the Everett Children's Adventure Garden, 100 silly scarecrows are standing along the trails of the garden and supertall puppets, commissioned by Chilean American puppeteer Lucrecia Novoa, parade along the paths. The garden recommends purchasing timed-entry tickets in advance.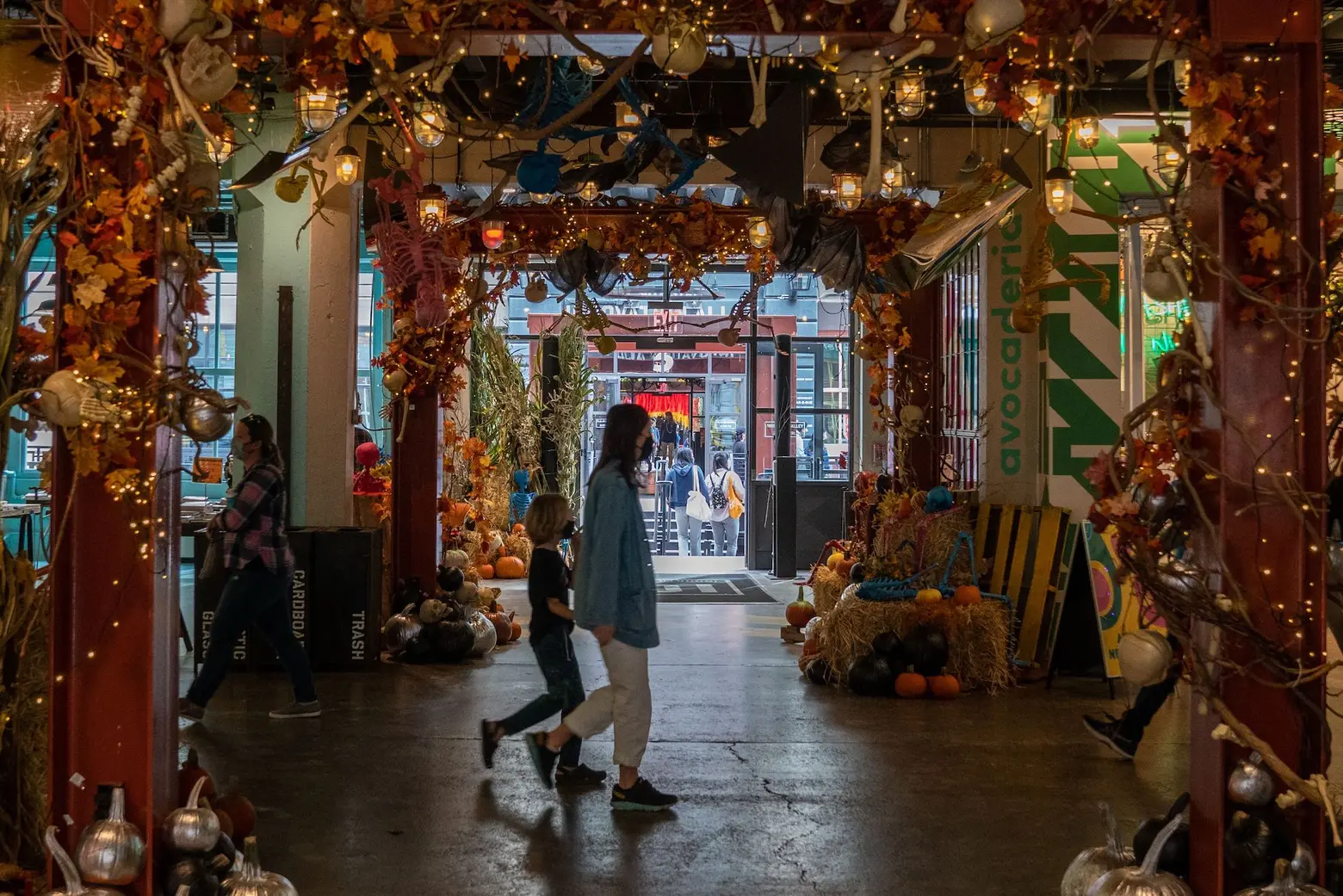 Courtesy of Industry City
Industry City Kids' Monster Mash Halloween Party
October 23
From 10 a.m. to 4 p.m., join IC in celebrating the spooky season at this kids' Halloween bash surrounded by fall decorations and Halloween-themed music from Rock & Roll Playhouse. Also at IC: Pumpkin decorating at Sahadi's includes goodie bags, hot apple cider, and coffee/cocktails for over-21 kids.
Boo at the Zoo
October 2-October 31
Another local favorite is Boo at the Zoo at the Bronx Zoo, with family-friendly Halloween festivities every weekend in October. Events include a magician with animal-inspired tricks, entertainment from stilt walkers and puppets, an eerie graveyard of extinct animals, a pumpkin trail, scavenger hunts, pumpkin carving demos, and more. Tickets, which cost $39.95 for adults, $34.95 for seniors, and $29.95 for children aged 3 to 12 years old, are required and must be reserved in advance.
Bronx Night Market: Halloween at Fordham Plaza
October 30, at 4-10 p.m.
The foodie favorite destination is celebrating Halloween weekend as well as their season finale at Fordham Plaza with a costume contest, trick or treating, a bloody pie eating contest, a DJ and a band. The Fordham Flea is also spooking out and saying farewell to summer on October 31 from 12-7 at Fordham Plaza with more costume contest and candy action, kids karaoke and more.
Over in Brooklyn, the Prospect Park Zoo is also "going batty" every weekend leading up to Halloween. Zoo-goers will enjoy festive games and crafts, while also learning about the urban bats that live in Prospect Park. Tickets cost $9.95 for adults, $6.95 fr children, and $7.95 for seniors.
The Merchant's House Museum
October 28 – 31
Manhattan's most haunted house is bringing back in-person events this October. Located in Greenwich Village, The Merchant's House Museum will host a candlelit ghost tour exploring the strange occurrences reported at the home since the last surviving member of the Tredwell family died in the house nearly 100 years ago. The spooky tours, which cost $45 for non-members, take place October 28, 29, and 30. On Halloween, the museum will put on a concert, "Chant Macabre: Songs from the Crypt," with classical songs about ghosts, ghouls, and goblins from the Bond Street Euterpean Singing Society.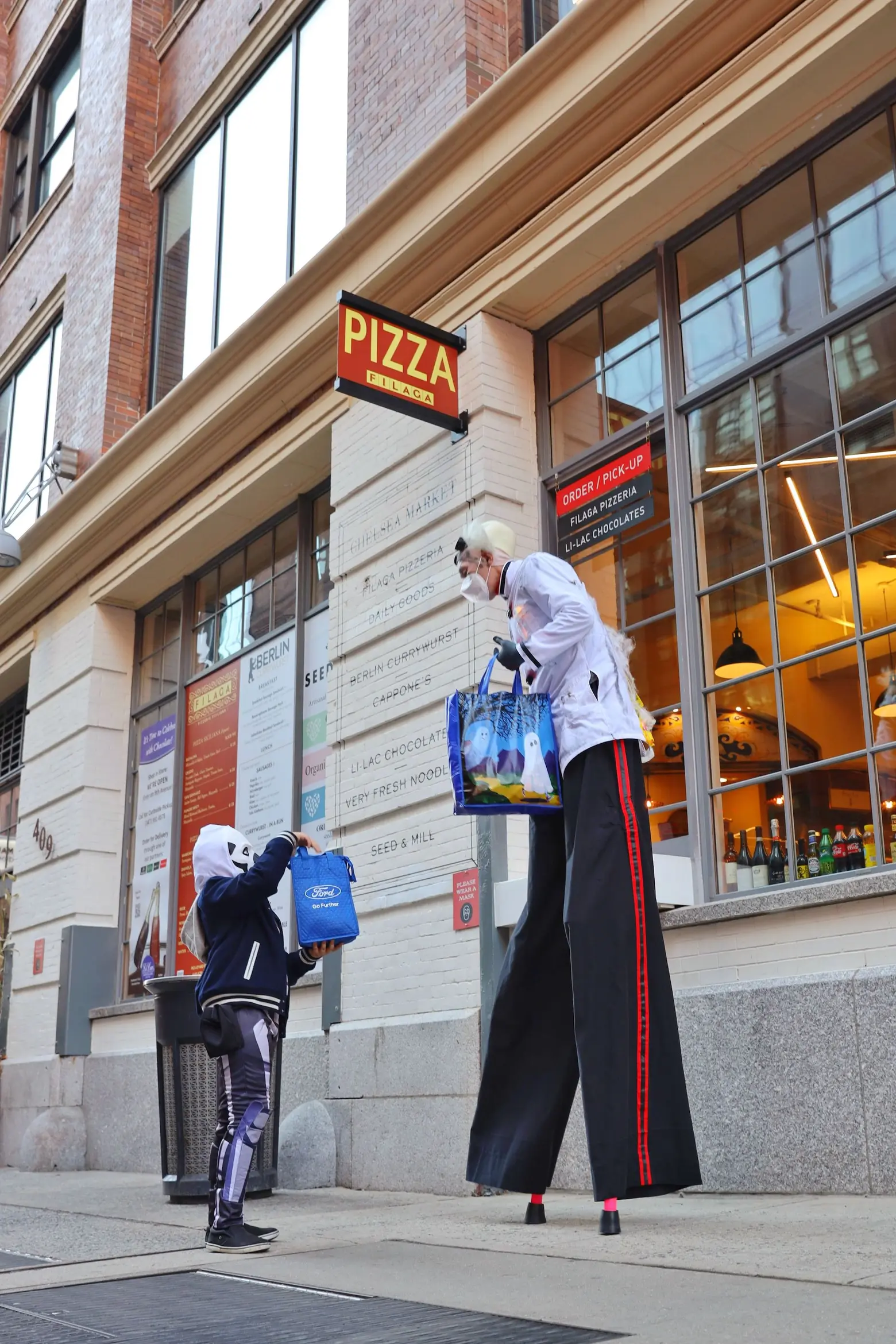 Courtesy of Chelsea Market
Live giant pumpkin carving at Chelsea Market 
Friday, October 29 from 10 a.m. – 4 p.m.
As part of Chelsea Market's spooky neighborhood celebrations, on-site pumpkin carvers will work their magic on a giant pumpkin. On Halloween, stilt walkers will roam the market handing out candy, and Li-Lac Chocolates will tempt grown-ups with Halloween chocolates.
Pumpkin Point on Governors Island
October 23-24 & 30-31, 10 a.m.-6 p.m.
On October's last two weekends, Pumpkin Point on Governor's Island's Nolan Park will once again become a fall harvest wonderland. Visitors can stroll the vast pumpkin patch and pick out a perfect specimen to take home, create Halloween and seasonal arts and crafts and enjoy story-telling, live music, and more. Vendors will be on hand offering seasonally-inspired treats and autumn brews. Click here for ferry tickets.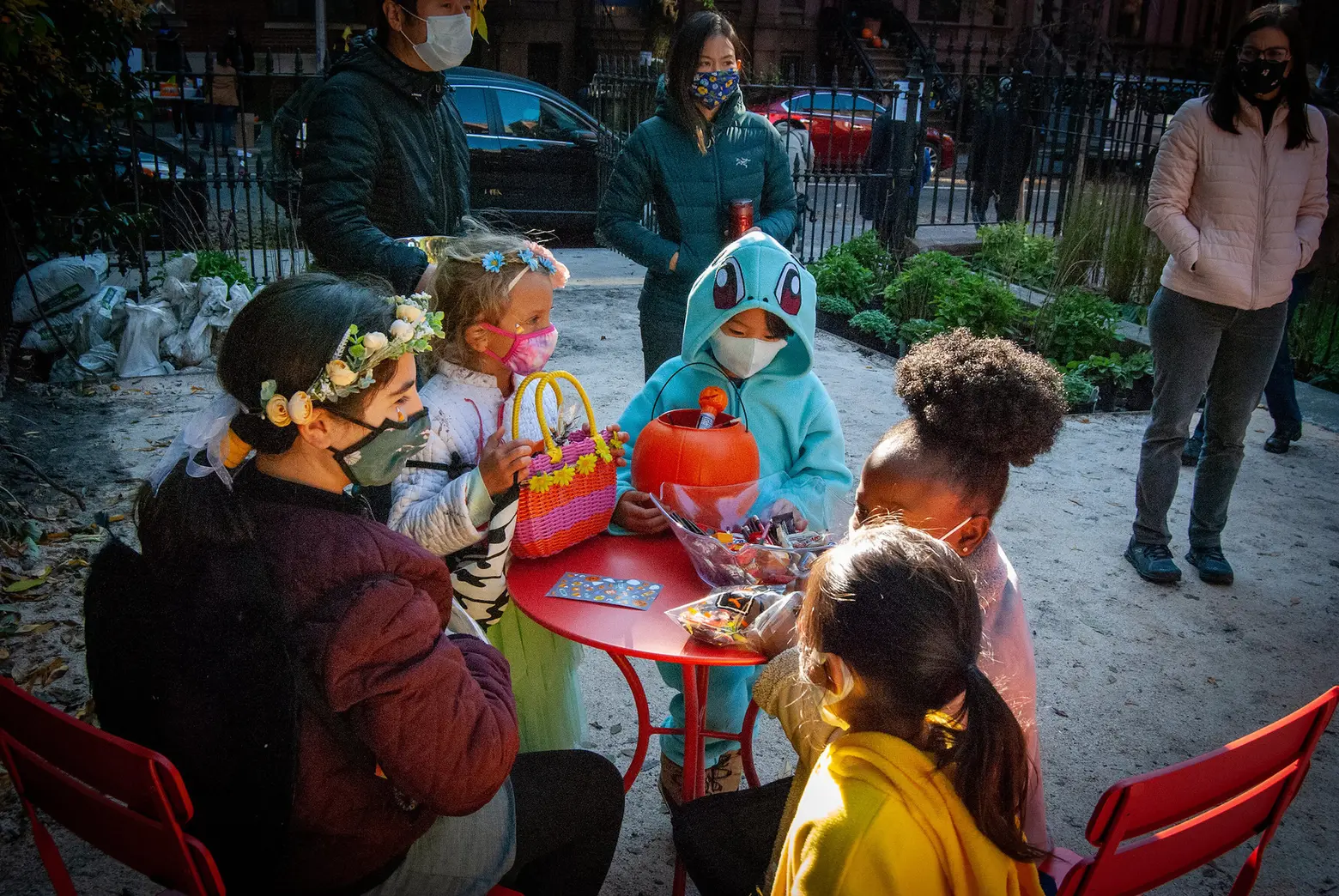 Photos by Canidus Photography
Halloween at Brooklyn Conservatory of Music
Sunday, October 31 from 4-6 p.m.
Be sure to make Brooklyn Conservatory of Music atn58 Seventh Ave in Park Slope a stop on your trick-or-treating route. The whole family is invited to Boo!KCM, a free celebration featuring a ghoulish performance, a haunted musical garden, and oodles of candy.
BAMBoo!
Sunday, October 31, 2- 5 p.m.
Celebrate in the streets of Brooklyn at BAM's Halloween block party! The outdoor festival on Lafayette Avenue between Ashland Place and St. Felix Street offers trick-or-treaters pre-packaged goody bags stuffed with candy, toys, crafts and more, and kids can grab treats from car trunks decorated for the occasion. For COVID-19 safety information, please visit BAM's Safety Protocol page.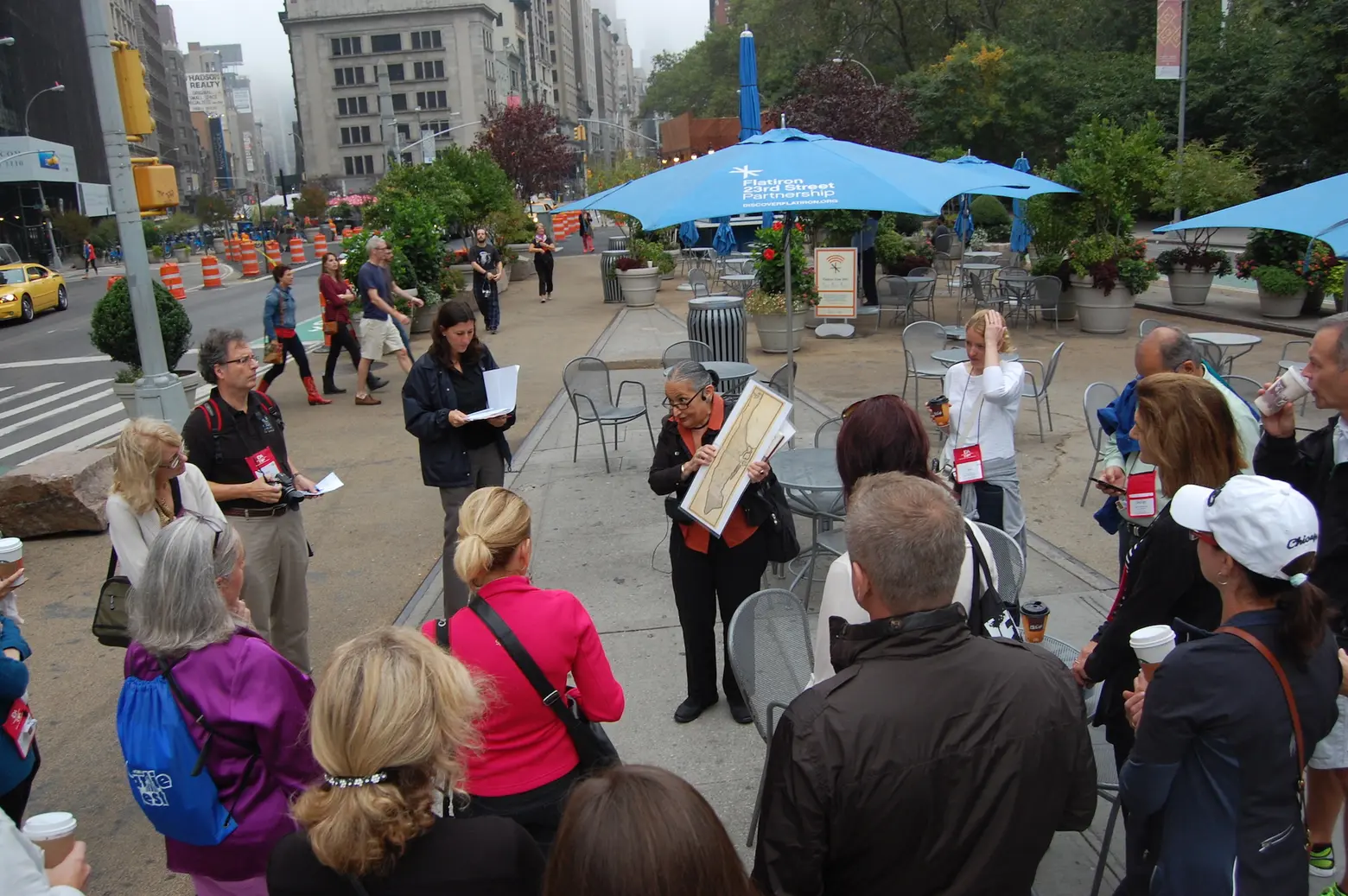 Photo: Flatiron/23rd Street Partnership
Haunted Flatiron: Chasing Ghosts, Monsters, and Superheroes
Sunday, October 31, starting at 11:00 am
In keeping with the season, the Flatiron/23rd Street Partnership offers free, spooky walking tours that unlock the secrets of the historic Flatiron District. "Haunted Flatiron: Chasing Ghosts, Monsters and Superheroes," visits storied and celebrated sites like New York's Eden Musée, once the home of the wax display "Chamber of Horror" and Abracadabra costume shop, and learn about the appearances of the iconic Flatiron Building in scary movies. Visit the Flatiron/23rd Street Partnership site for more details.
Halloween on the Farm
October 31
If you love a corn maze, a pumpkin patch, and a chance to experience the season's harvest bounty, the Queens County Farm Museum, one of the oldest farms in New York, is your Halloween HQ. This year's Halloween celebration includes the famous three-acre Amazing Maize Maze, spooky hayrides, trick-or-treating with farm animals, a haunted farmhouse, ghastly crafts, food vendors, a DJ dance party, and more. Costumes encouraged! Tickets ($20) must be purchased online in advance, see the calendar for details.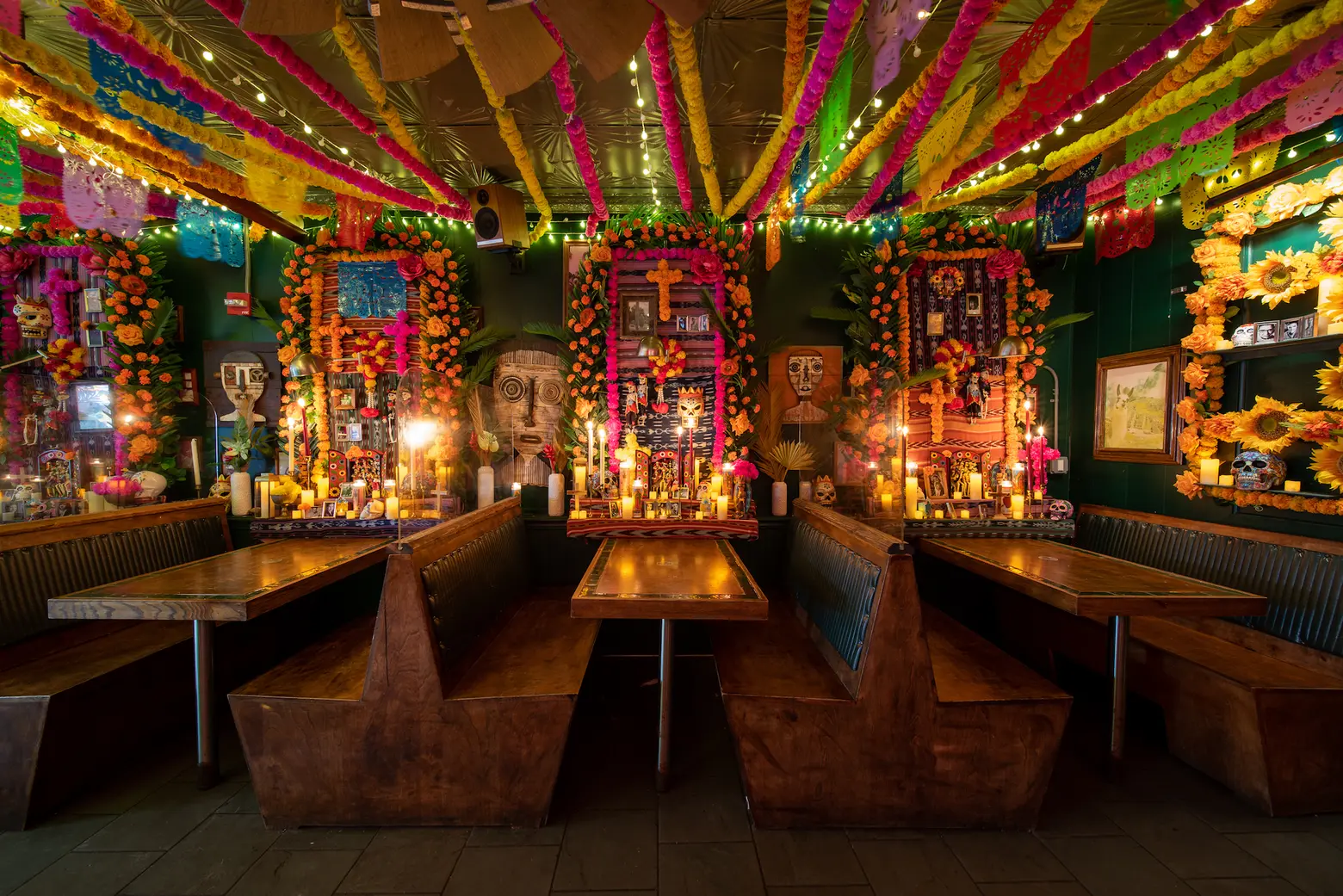 Credit: Front of House
Offbeat hauntings and scary soirees
Coctelería de los Muertos pop-up
October 5 – mid-November
In honor of the Mexican holiday of Dia de los Muertos, drop by the festive new pop-up at The Garret Coctelería at 349 Broome Street. Come for the custom-built altars honoring pop icons we've lost (think: Marilyn Monroe, The Notorious B.I.G., Jimi Hendrix, Amy Winehouse, and more), over 5,000 feet of marigold flowers, an abundance of candles and string lights; linger for seasonal cocktails like Weeping in Queens (White rum, pumpkin puree, orange bell pepper, cane, pumpkin spice rum, peach preserves).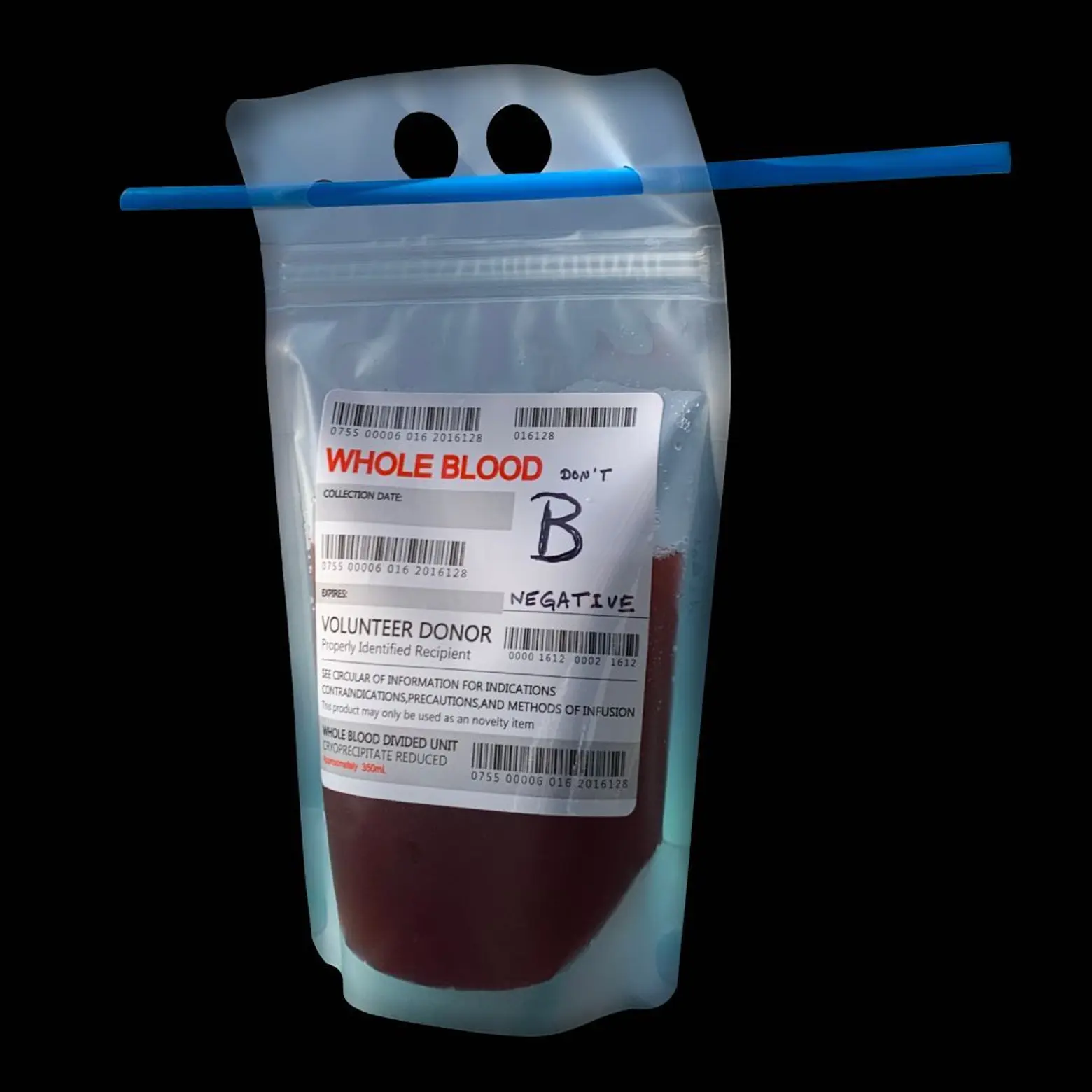 Transylvania Transfusion cocktail. Image courtesy of Time Out Market.
In the same vein (sorry!)…for three dark days (October 29-31), The Bar at Time Out Market at 55 Water Street in Dumbo gives daring drinkers a chance to sip cocktails from a blood bag: The "Transylvania Transfusion" cocktail combines vodka, sake and fresh fruit juices, delivered via a bag of type "Always B Positive" "blood" (straw included).
Fang-tastic Costume Party at Snug Harbor
Friday, October 22, 6 p.m. – 10 p.m.
Gather your ghouls and goblins and head to Staten Island's Shinbone Alley at the Snug Harbor Cultural Center & Botanical Garden for a costume party (best costume wins a prize!) brought to life by Staten Island's local bands the Flesh Junkies, Clutter, and Anjoli Chadha. Admission is $10 ($8 for Snug Harbor Members).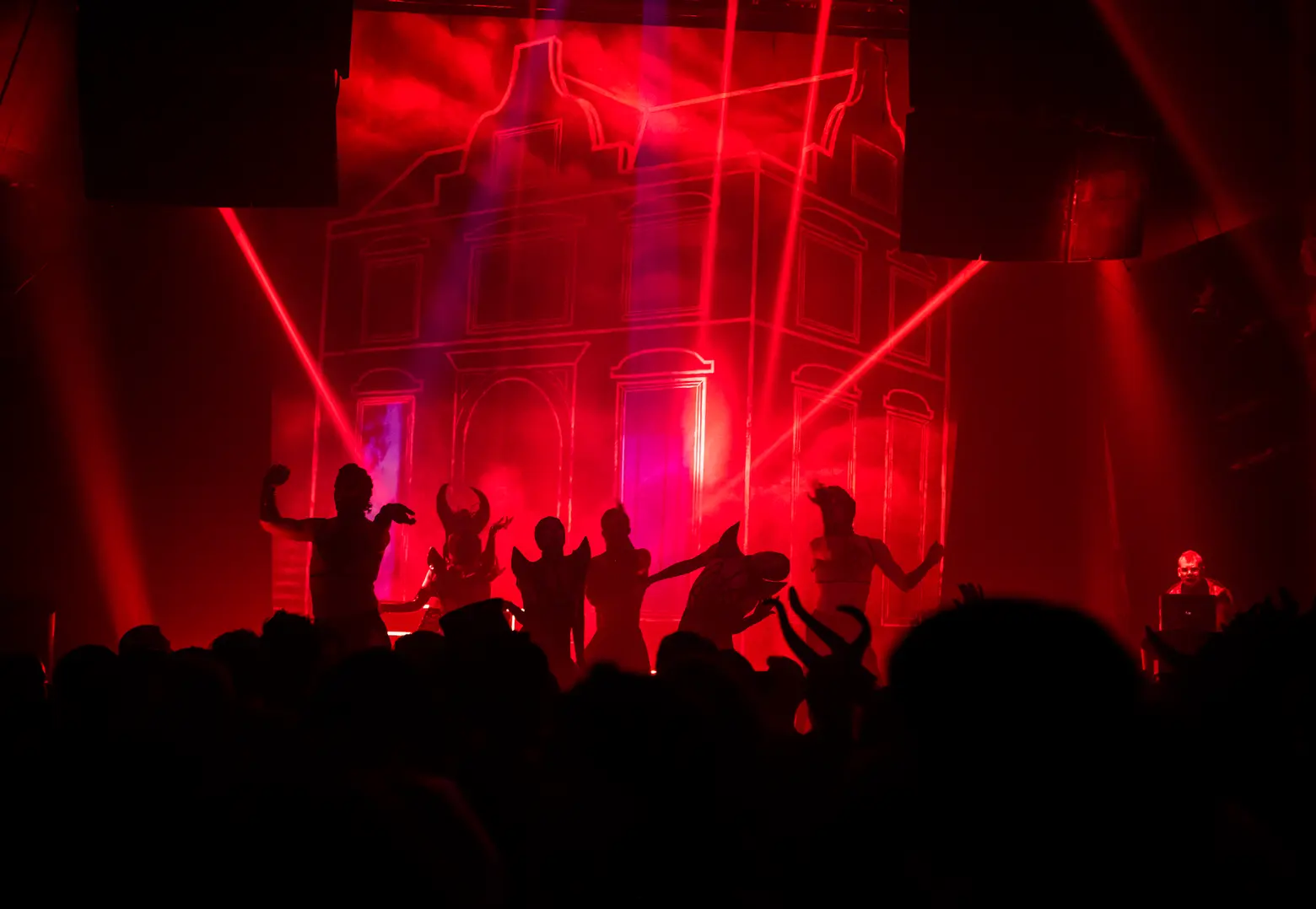 Jenny Anderson for The McKittrick Hotel
The Witches' Ball at the McKittrick Hotel
October 29, 30 and 31
This Halloween, descend into darkness, dancing, and debauchery at The McKittrick Hotel–home of the infamous "Sleep No More" immersive experience–for a late-night dance party that lets you explore multiple floors of the hotel, complete with live performances, and free-flowing libations from an open bar all night long. Dress up to "dazzle, bewitch or betray," or "as the damned soul that has wandered astray…come sparkling, come broken, come scantily clad…" Tickets are available here.
Halloween Haunted Hop 2021 by New York Night Train with Jonathan Toubin 
October 31, 8 p.m. – 4 a.m.
The 16th edition of the Haunted Hop by New York Night Train genius Jonathan Toubin will have you bopping back and forth between TV Eye and Trans Pecos music venues on Bushwick's Weirfield Street for 24 bands, DJs, performances, a costume contest, visuals, decor, and more.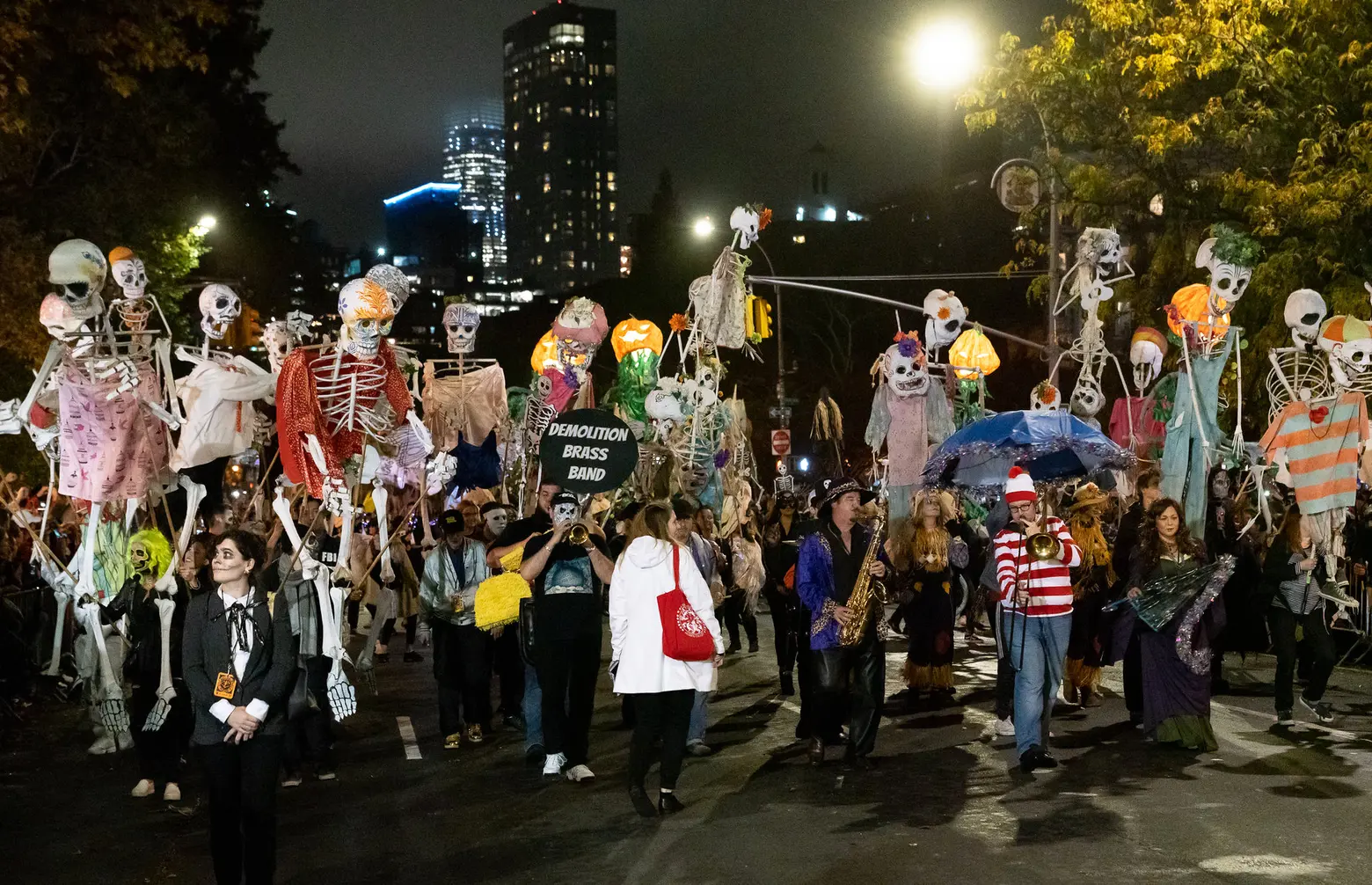 Photo of 2019 Village Halloween Parade by Steven Pisano on Flickr
Parades
Village Halloween Parade
Sunday, October 31
The 48th Village Halloween Parade is officially on this year. The annual parade began as a small neighborhood gathering in 1973 and has grown to include over 50,000 participants, with comedian Randy Rainbow as this year's grand marshal. You must wear a costume to march; line up on 6th Avenue between Spring Street and Broome Street starting at 6:30 p.m; the event begins at 7. Participants and spectators are encouraged to wear a mask during the parade.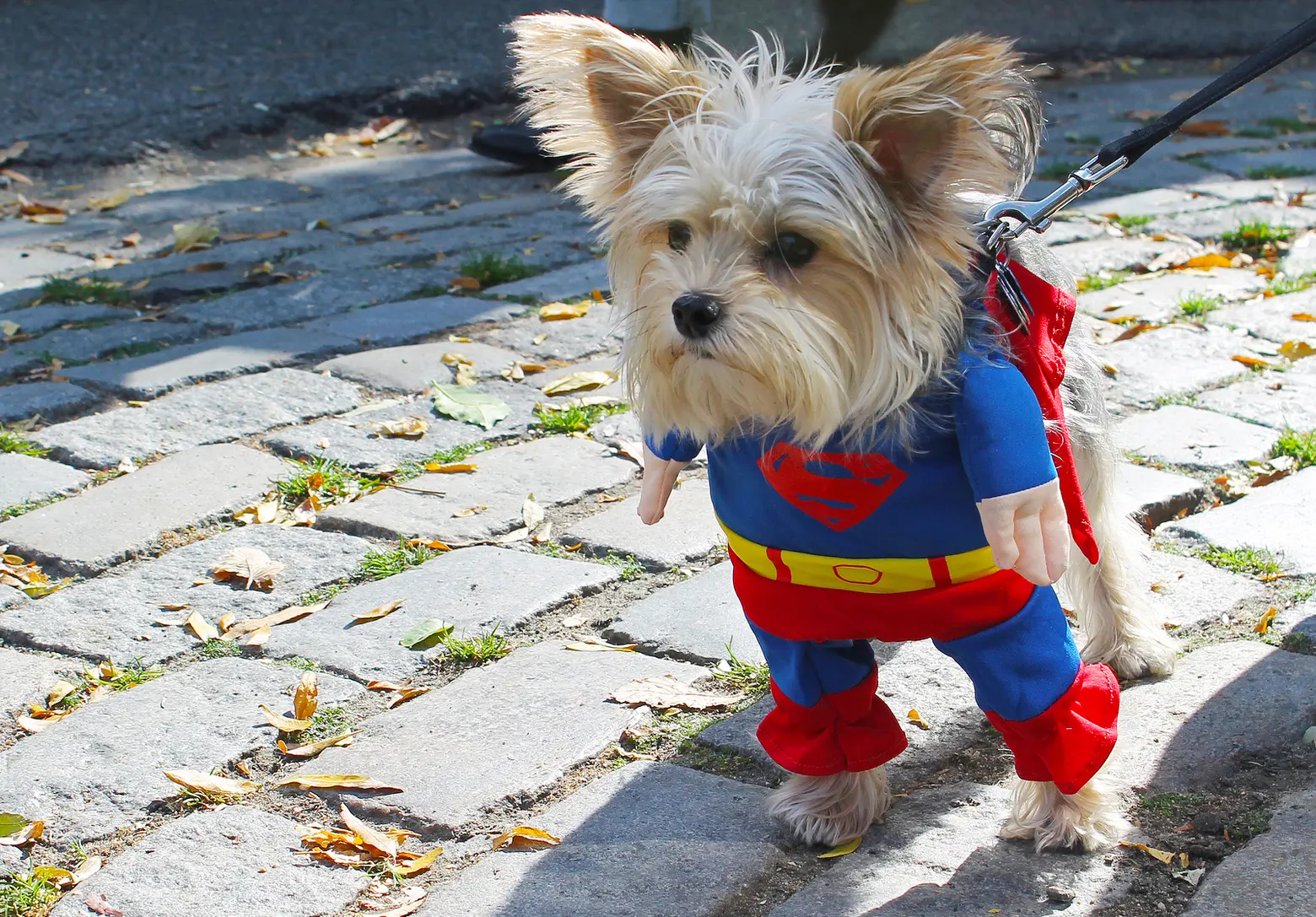 Photo credit: Photo by istolethetv via Flickr
Tompkins Square Halloween Dog Parade
Saturday, October 23 from noon – 3 p.m.
This highly-anticipated annual event moved to the East River Park Amphitheater several years ago, but it's still where you'll find some of the most creative costumes you've ever seen on four legs along with hundreds of dogs in costumes competing for exciting prizes–and thousands of spectators. No need to register in advance; the event is free.
The Elizabeth Street Garden in Nolita is hosting their 2nd annual Halloween Pet Parade on October 31 from 2 – 4 p.m., with a runway, prizes and a raffle. Register your fierce fur-friend to stroll the catwalk here ($20).
In Brooklyn, the 23rd annual Great PUPkin Dog Costume Contest and dog parade is live again after last year's virtual event; the contest happens on Saturday, October 30th at noon in Fort Greene Park. Pre-registration ($12) is required.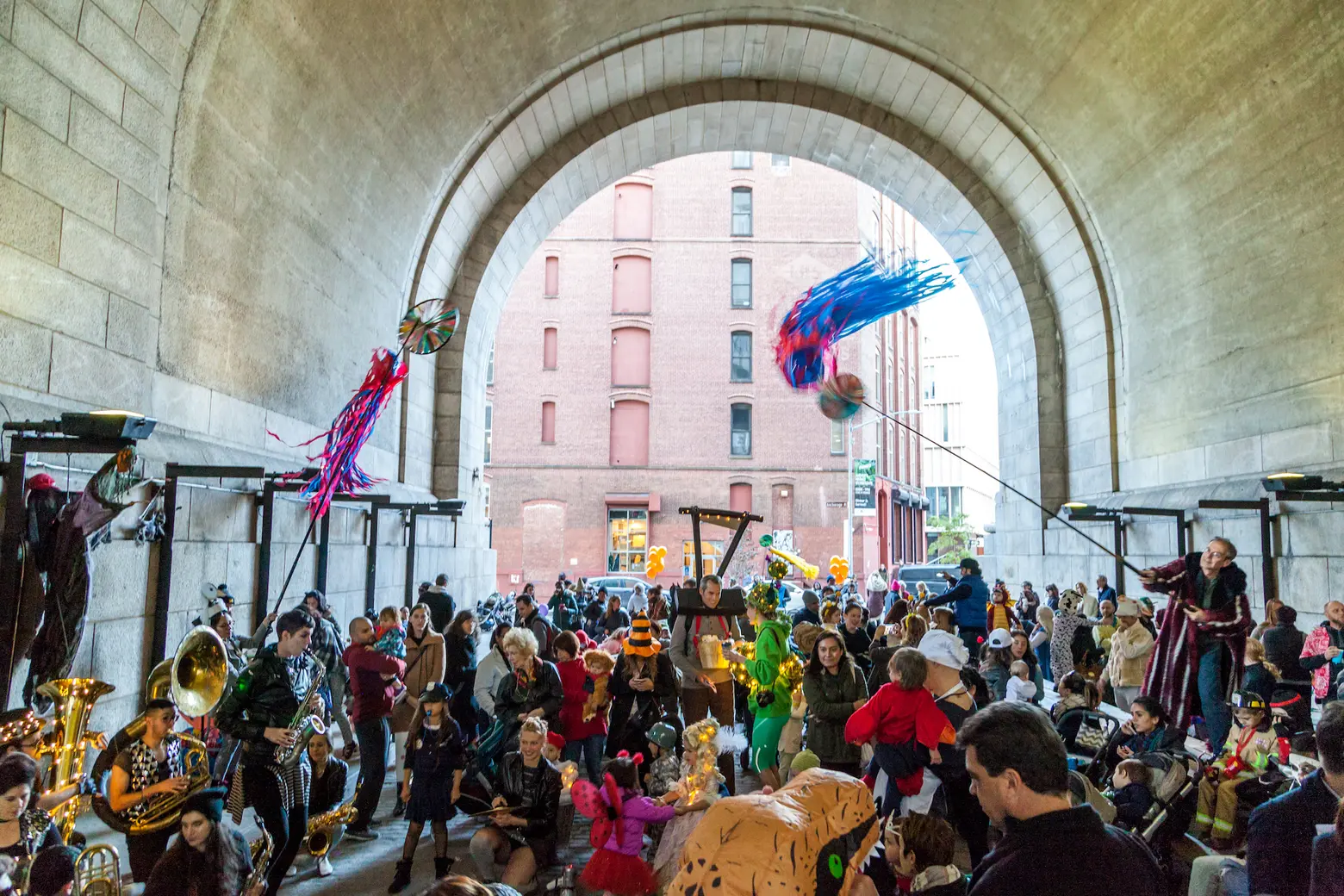 Photo by Noemi Trusty
Dumboween "March to the Arch"
Sunday, October 31 at 3:00 p.m.
All are invited to join the annual Halloween "March to the Arch." Starting at Washington Street between Front and Water Streets, costumed participants will parade through Dumbo and Brooklyn Bridge Park to the Dumbo Archway behind live music and life-sized puppets. After the march, a seasonal celebration happens in the Archway from 3:30 p.m. to 6:00 p.m., with arts and crafts, Legos, a photo booth, a costume contest, and candy galore. The beer and wine kiosk in the Dumbo Archway will be open, offering seasonal beers on tap. More than 40 Dumbo businesses will be ready for trick-or-treaters on Halloween from 3 p.m. to 8 p.m.
Children's Coney Island Halloween Festival & Parade
Saturday, October 30, from 11 a.m. to 2 p.m.
Coney Island will host the 11th annual Children's Halloween Festival and Parade at Maimonides Park. Children ages 3-14 and their families are invited to enjoy a free day of fun with magic shows, bounce houses, caricature art, crafts, a special performance by the Brooklyn United Marching Band and a costume contest, in addition to the parade down the historic Riegelmann Boardwalk. Registration opens at 10:30 a.m. on-site the day of the event; all children who participate will receive a two-hour unlimited ride wristband for Luna Park in Coney Island after the parade.
RELATED: