NYC Condos Designed by Pritzker Prize Winners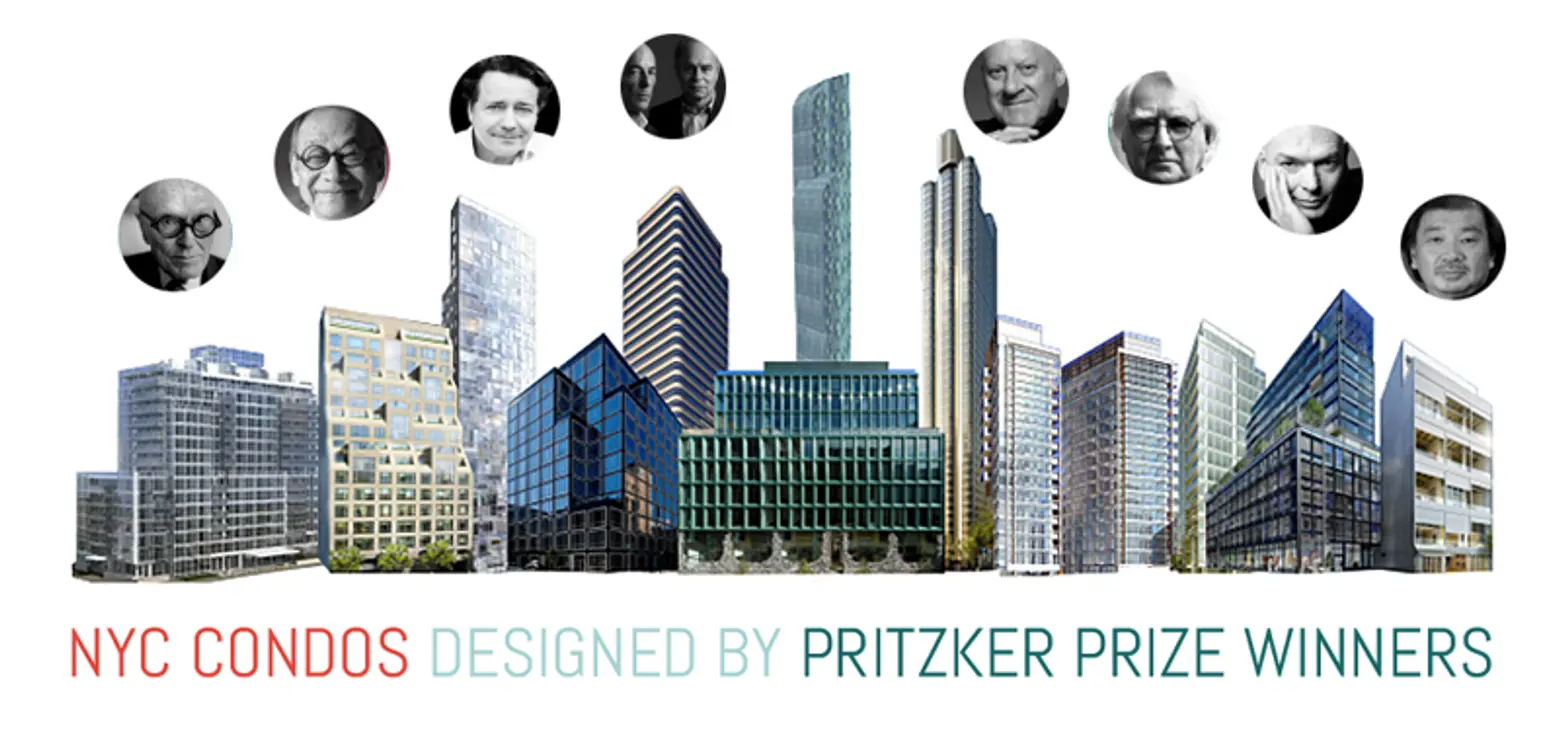 The Pritzker Architecture Prize is architecture's most acclaimed honor. Since 1979, the award has been given away annually to honor one living architect whose built work demonstrates consistent and significant contributions to humanity and the built environment. New York City is home to structures built by 12 of the 36 past winners — ranging from Philip Johnson to I.M. Pei to this year's winner, Shigeru Ban — and currently holds 14 residential examples of their work. One other fascinating tidbit is that condos designed by Pritzker Prize winning architects are selling on average a whopping 44% higher (price/square foot) than those their respective neighborhoods, and 47.5% higher than the Manhattan market average. But are they worth the money? Learn more about them all ahead.
PHILIP JOHNSON – 1979 LAUREATE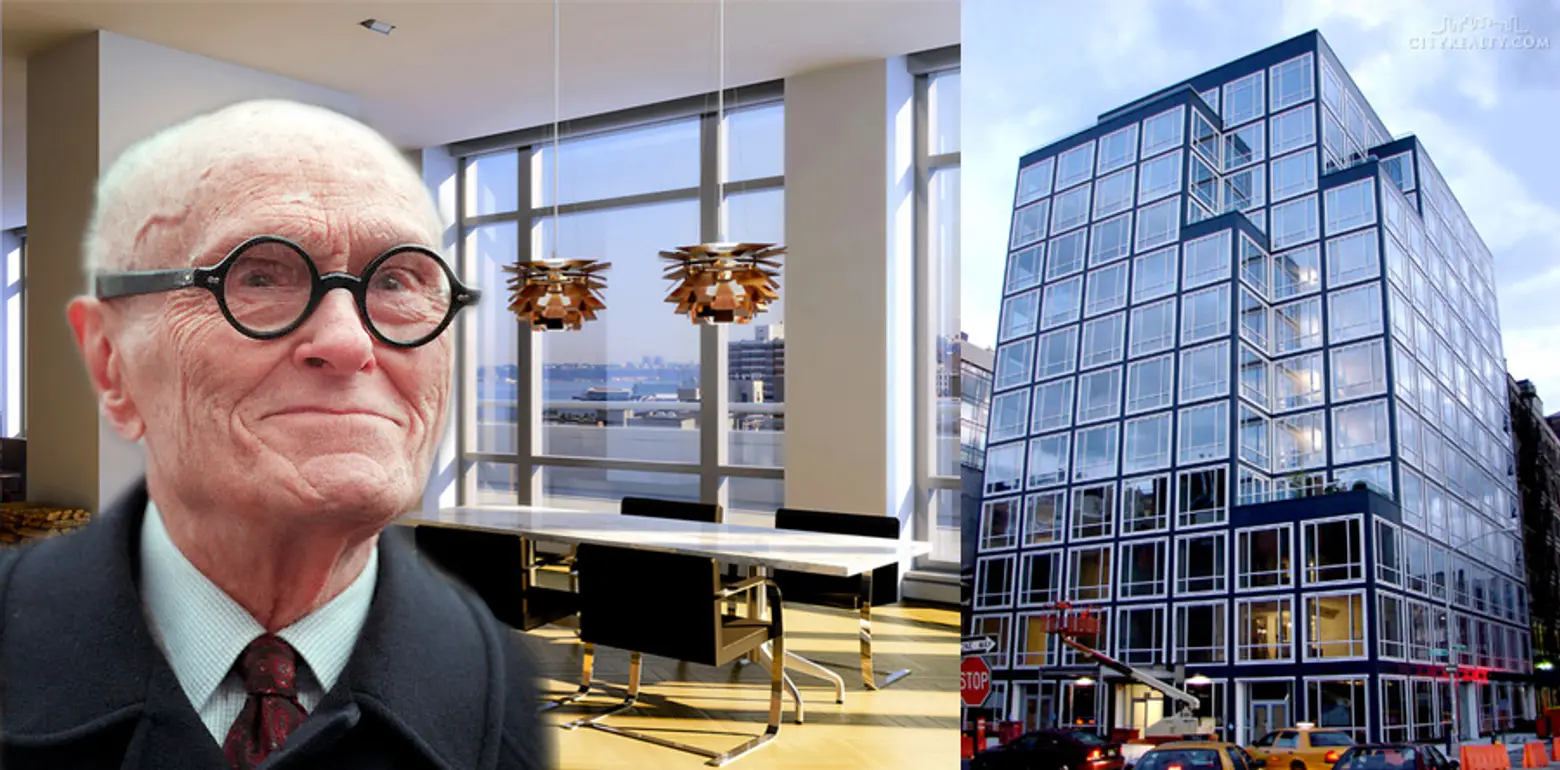 Philip Johnson's most iconic construction is without doubt the Glass House located in New Canaan, CT. But less than 10 years ago, Johnson brought his dramatic use of glass to Manhattan with his Urban Glass House. The 12-story residential building was finished in 2006 (a year after Johnson's death — he was 98 years old) with the help of his partner Alan Ritchie. Its simple, modern, and streamlined form makes it well-suited for its SoHo/TriBeCa locale.
Units: 40 Apartments
Finished: 2006
Average Price/Sq ft: $1,227
Finished in 2004, the 32-story Metropolitan was designed and sized to emulate prewar residences. The units feature everything from high ceilings to large entry foyers and spacious rooms. This 326-foot-high tower is purely modern with horizontal banding, dark windows, and rounded corners. The banded crown that tops off the structure is softly lit at night.
Units: 89 Apartments
Finished: 2004
Average Price/Sq ft: $1,388
I.M. PEI – 1983 LAUREATE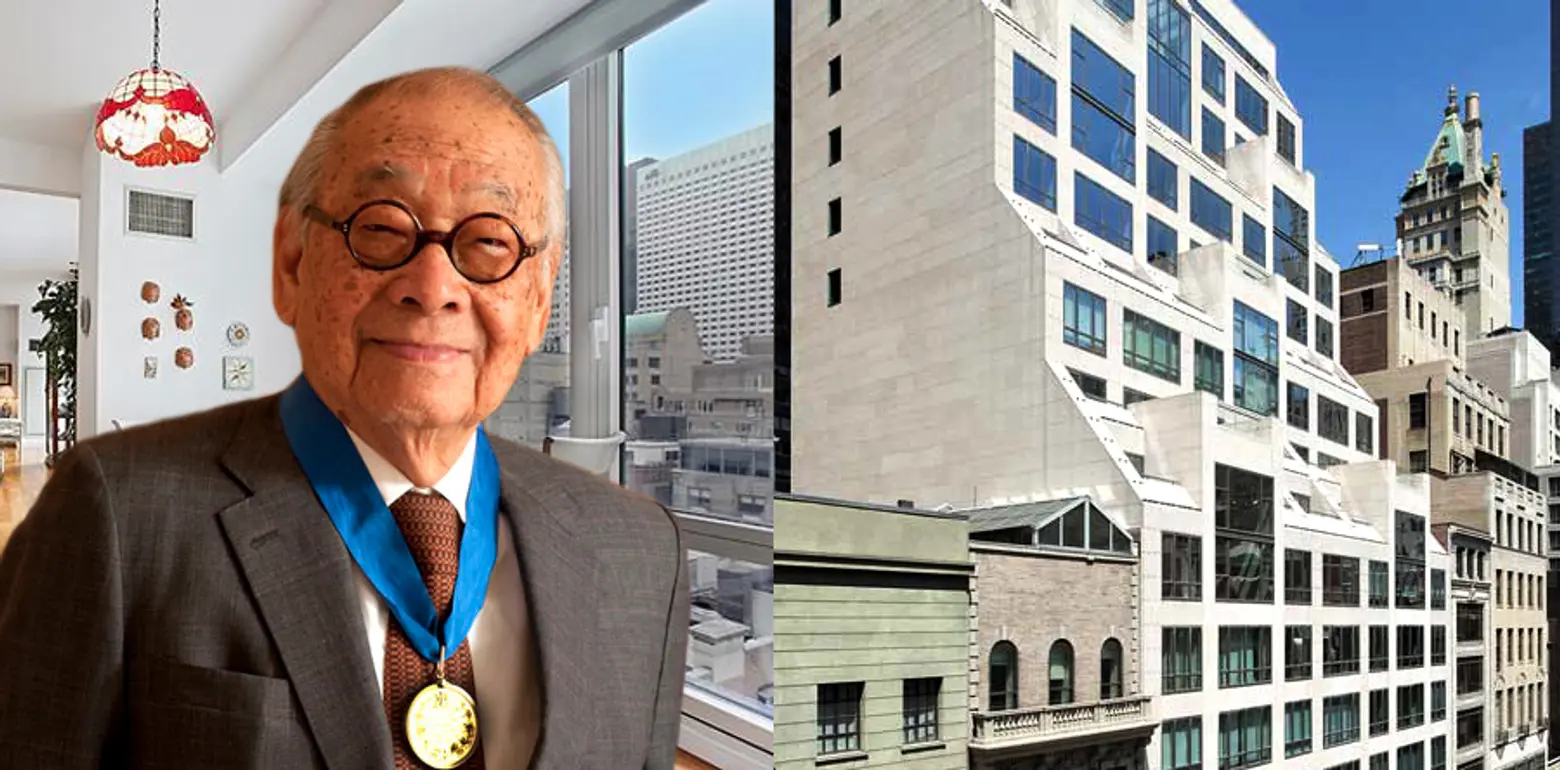 I.M. Pei is often cited as the 'Master of Modern Architecture'. The Chinese-born architect bucked the Beaux-Arts trend as a student and spent his youth studying the works of emerging architects such as Le Corbusier. Pei even  befriended Bauhaus architects Walter Gropius and Marcel Breuer in his youth — two relationships which would later inform his style. Pei's New York construction, the Centurion, is one of the city's most recognizable residences. Located at 33 West 56th Street, the building features a stepped facade, ceilings measuring 10 to 17 feet, and exquisitely designed interiors with oversized windows and teak floors. Residents can also find respite in the Centurion's private water garden. 
Units: 48 Apartments
Finished: 2009
Average Price/Sq ft: $2,457
The Kips Bay Towers project is one of the first major works designed by Mr. Pei. The 21-story building mirrors much the architect's work with its strict geometry and clean use of concrete. Though probably unintentional, the tower also echoes the time's Brutalist sensibilities, which were characterized by strong indentations and a roughness.
Units: 1118
Finished: 1961
Average Price/Sq ft: $850
RICHARD MEIER – 1984 LAUREATE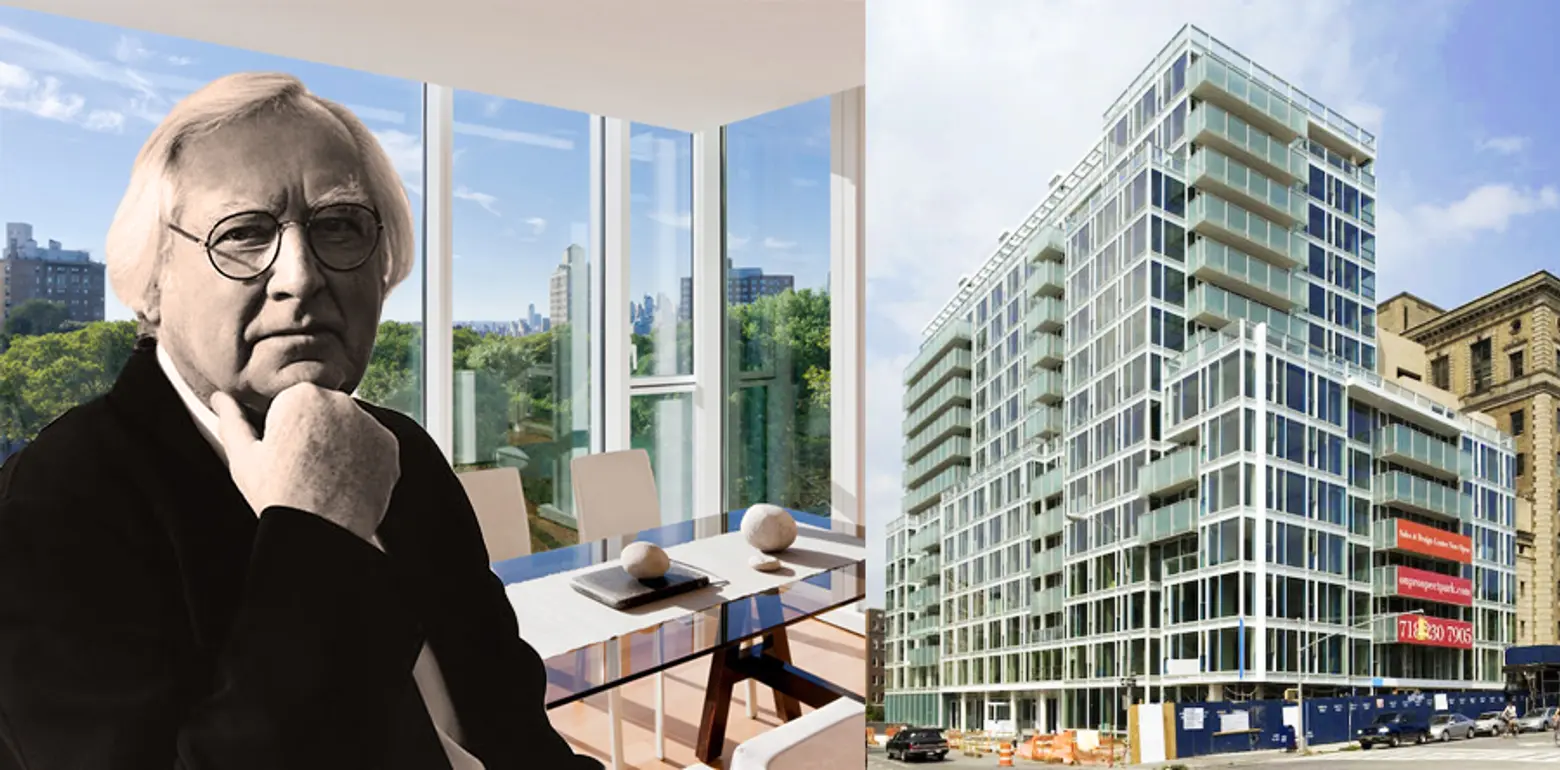 Richard Meier is known for his innovative use of glass and light, and the three structures he's designed for the Big Apple don't stray from his defining aesthetic. The Pritzker winner boasts the most NYC residential constructions, and On Prospect Park is the only Pritzker Laureate-designed building in all of Brooklyn. On Prospect is a strictly geometric form, rising 15 stories high with sweeping views of the Prospect Park, the harbor, and the skyline. Apartments have open living plans and floor-to-ceiling windows that flood rooms with natural sunlight. The Brooklyn Museum of Art, the Brooklyn Public Library, and the Brooklyn Botanic Garden are just a minutes away.
Units: 96 Apartments
Finished: 2008
Average Price/Sq ft: $913
176 Perry Street was the second of three mid-rise residential condominium buildings facing the Hudson River designed by Meier. It and 173 Perry Street were both completed in 2002. The façades of these buildings combine floor-to-ceiling windows encased in white steel with slim green spandrels, and the southwest corners of the Perry Street towers have small green-glass balconies. The white steel elements of the Perry Street towers protrude a bit, giving the buildings a nice texture that sits well within the hip and chic locale.
Units: 29
Apartments Finished: 2002
Average Price/Sq ft: $2,778
165 Charles Street is another Meier building that overlooks the Hudson River, and is in close proximity to his 173 & 176 Perry Street designs. Each floor of the building hosts two river-facing apartments with large terraces, and the homes even feature minor fixtures and finishes that Meier designed himself.
Units: 31 Apartments
Finished: 2005
Average Price/Sq ft: $2,808
CHRISTIAN DE PORTZAMPARC – 1994 LAUREATE

Christian de Portzamparc is a French architect known for his bold and artistic landmark designs, and de Portzamparc's One57 tower is no different. Rising more than 1,000 feet above 57th Street just south of Central Park, the building is currently the tallest residential tower in the Western Hemisphere. The top portion of the structure, which has a private entrance on 58th Street, contains 92 condominium apartments that feature interiors designed by Thomas Juul-Hansen. In the tower's lower floors is the Park Hyatt's new U.S. flagship, a 210-room hotel slated to open some time in 2014.
Units: 92 Apartments
Finished: 2013
Average Price/Sq ft: $3,783 (2014 closings only)
NORMAN FOSTER – 1999 LAUREATE

Norman Foster is one of Britain's most prolific architects of his generation, and his beautiful buildings can be found across the globe. His design for 50 United Nations Plaza is a glittering glass tower topped off by a 10,000-square-foot, two-story penthouse. The United Nations Secretariat building is visible from every floor of Foster's design, but anyone who can see this beautiful building from their window should give thanks.
88 Apartments
Finished: 2013
Average Price/Sq ft: $2,799 (based on available units)
HERZOG & DE MEURON – 2001 LAUREATE

Herzog & de Meuron's most recognizable design may be the Beijing National Stadium, but they also have an impressive residential building right in the thick of Noho, located on a cobble-stoned street. 40 Bond Street hosts ultra-modern luxury condos that really emphasize clean lines and natural light. The exterior was designed to look "as if it's a wet cast iron skeleton dipped in sugar," giving it a luminesce that changes color and tone throughout the day. The gate of the building was inspired by New York graffiti, and the same "gritty" forms can be throughout the building and within the apartments.
Units: 31 Apartments
Finished: 2007
Average Price/Sq ft: $2,566
JEAN NOUVEL – 2008 LAUREATE

French architect Jean Nouvel knows how to make his mark on the built landscape. His design for 100 Eleventh Avenue stands out even in architecturally diverse Chelsea. The tower hosts 72 apartments, ranging from 890 to 4,675 square feet, and feature specially designed windows that frame the surrounding cityscape and allow for ample natural light. Its prime location also puts it just a stone's throw away from the High Line Park, as well as some of the city's best restaurants and shops.
Units: 72 Apartments
Finished: 2010
Average Price/Sq ft: $1,952
40 Mercer is the first of Nouvel's projects to be completed in New York. With its deep blue rooftop and its Mondrianesque red and blue facade, this residential building defies context and is one of the new, unofficial landmarks of Soho. Lucky residents also get a "sky garden" on the seventh floor, and a private garden for relaxing amidst the neighborhood hoopla.
Units: 41 Apartments
Finished: 2006
Average Price/Sq ft: $2,399
SHIGERU BAN – 2014 LAUREATE

The winner of this year's Pritzker, Shigeru Ban's work ranges from luxury residences to chapels to disaster relief design. Like all of his buildings, his Metal Shutter Houses put innovation at the forefront with a facade of motorized, perforated metal garage-like shutters that can be opened and closed by residents. Ban's design sits in what many have called "the epicenter of modern architecture," which refers to the neighboring buildings by Frank Gehry and Jean Nouvel. The building is also in walking distance to the High Line Park.
Units: 9 Apartments
Finished: 2008
Average Price/Sq ft: $2,327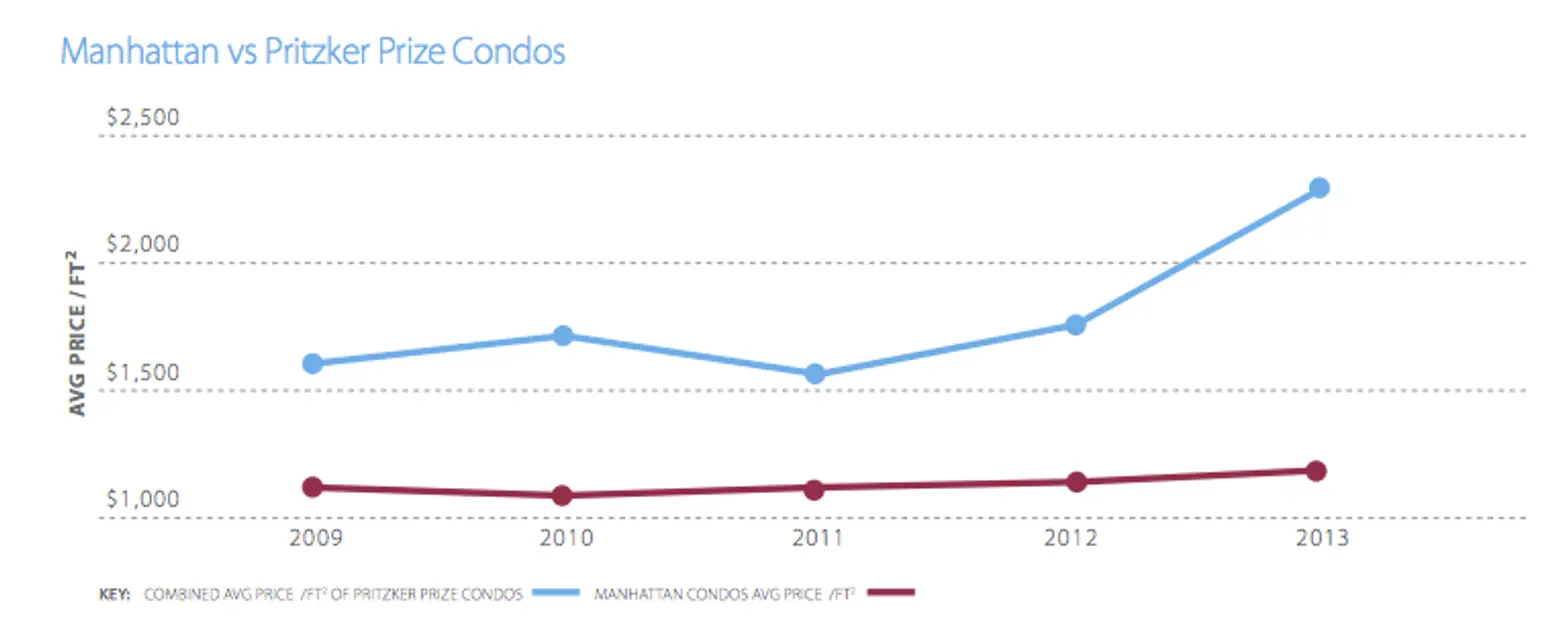 Source: Weekly Market Snapshot