NYC commission kills application for shadow-casting towers next to Brooklyn Botanic Garden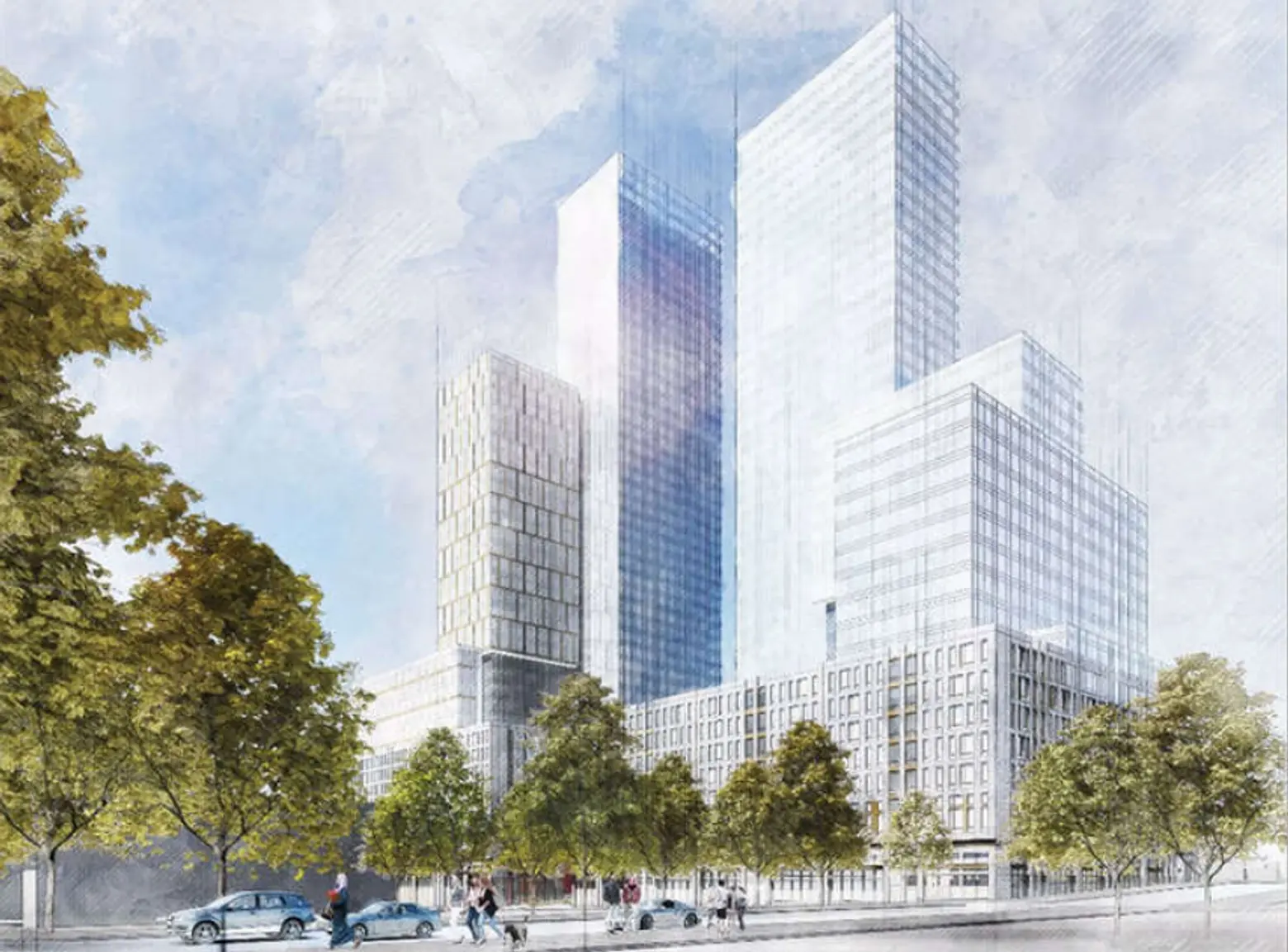 Rendering: NYC Department of City Planning
The City Planning Commission this week voted unanimously to reject a rezoning application that would allow for two high-rise towers in Crown Heights next to the Brooklyn Botanic Garden, ending the uniform land use review procedure for the project. First unveiled by developers Continuum Companies and Lincoln Equities in 2019, the plan called for a pair of 34-story towers with over 1,500 units of housing on a lot at 960 Franklin Avenue. The commission's decision came after a more than a two-year campaign against the project by the garden, which claimed the towers would block necessary light from shining on its greenhouses.
In February 2019, Continuum released a plan for two roughly 400-foot-tall towers with more than 1,500 apartments, half of which would be priced below market rate.
Located on the site of a former spice factory across from the 52-acre green space, Brooklyn Botanic Garden officials argued the development would block light from shining on the site's 23 greenhouses and nurseries and put rare plants at risk. According to the garden, the development's construction would affect 20 percent of its collection, including endangered and extremely rare orchids, cacti, and bonsai trees.
Other opponents of the plan said the buildings are out of scale with the rest of the neighborhood and would also block sunlight from nearby Jackie Robinson Playground. Current zoning rules in the neighborhood cap building heights at seven stories, or 75 feet.
Mayor Bill de Blasio late last year also announced his opposition to the high-rise towers, claiming the project would "harm the research and educational work carried out by one of his city's prized cultural institutions." Brooklyn Borough President Eric Adams, City Council Speaker Corey Johnson and Majority Leader Laurie Cumbo, and the Municipal Art Society (MAS), also opposed the project.
"Today's unanimous vote at City Planning is a victory for everyone who calls Crown Heights home and all those who use Jackie Robinson Playground and the Brooklyn Botanic Garden," Elizabeth Goldstein, president of MAS, said in a statement.
"The rejection of the 960 Franklin Avenue proposal sends a powerful message to developers that the City will not be railroaded into overturning its own carefully considered zoning regulations."
The developers put forth a revised proposal in February that would reduce the height of the complex to 17 stories and offer 279 affordable units, instead of the original 789 affordable units. But CPC Chair Marisa Lago said their new plan was not submitted with enough time to review it.
Continuum last week sued the Commission, alleging the officials refused to consider a "reasonable alternative" to the project, according to the Real Deal.
Continuum has previously said it plans to proceed with constructing an as-of-right residential tower that complies with current zoning rules. This could result in a 518-unit condo building with no affordable housing units and with all residences priced at the market rate.
"Since entering the public review process in 2019, this project has faced fierce opposition from thousands of community members who sought to protect BBG," Adrian Benepe, the garden's president and CEO, wrote in a letter to garden supporters. "The Garden's petition opposing the development was signed by more than 60,000 community members, and rallies at BBG in 2020 and 2021 drew hundreds of protesters and neighborhood leaders."
He added: "It's not completely over yet. Some of you may know that the developer filed a lawsuit last Friday that intended to block the Commission's vote today. While they weren't successful using that avenue to stop the vote, we anticipate the developer may file future lawsuits to try to push through another oversized project. We will continue to keep you updated on any news of this."
RELATED: