NYC bus stops that are too close together slow down service, report says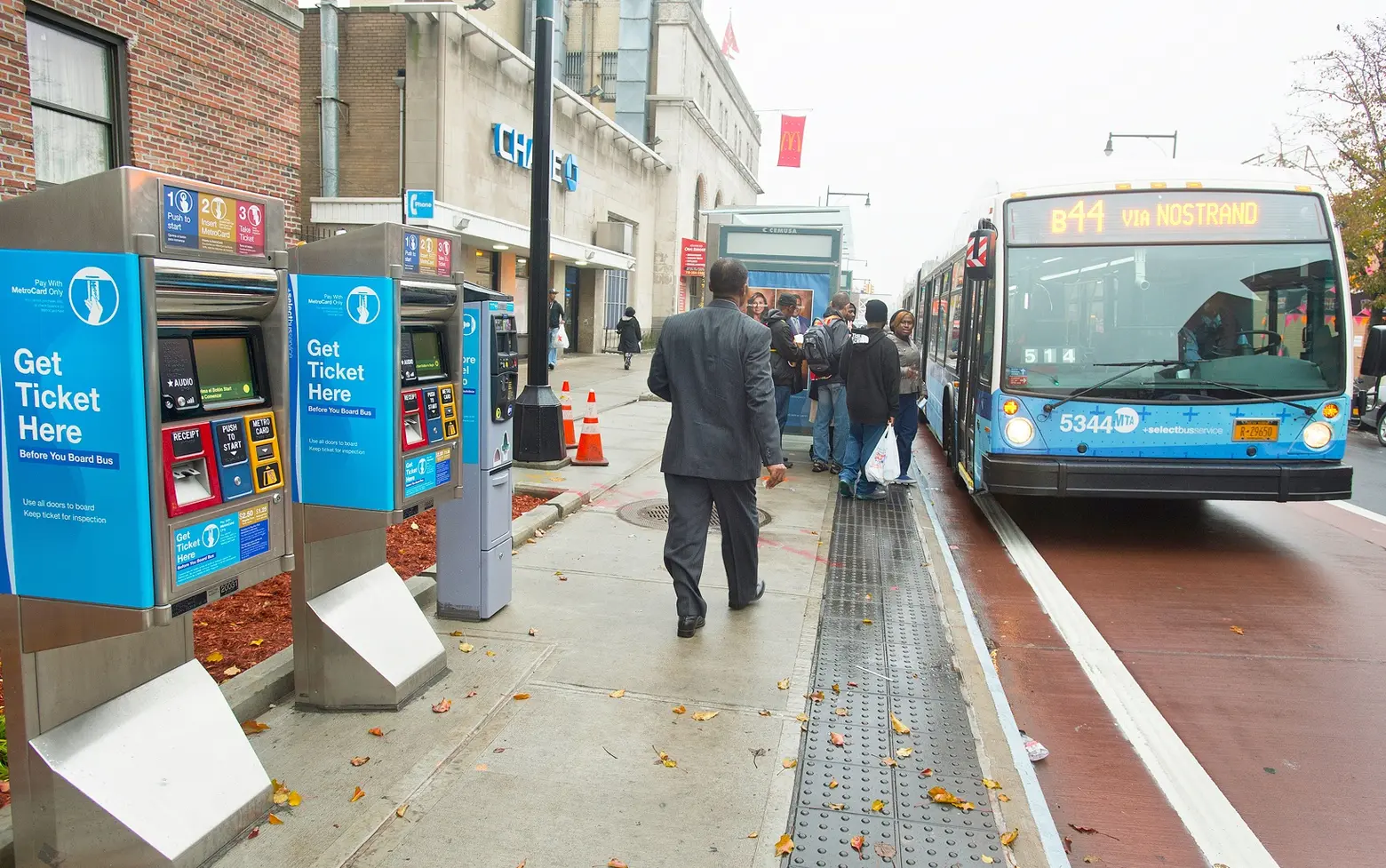 A group of transportation experts released a new report yesterday identifying a simple way to improve bus service: space bus stops farther apart. While frequent bus riders have likely already identified this as a frustrating problem, the advocates found that 32 pairs of bus stops throughout the five boroughs are within 260 feet of one another—even though the MTA's own guidelines stipulate stops should be at least 750 feet apart and international standards suggest 1,000 feet or more. As part of their new report, the Tri-State Transportation Campaign decided to bestow the worst culprits with a cheeky "Cozy Award," as Gothamist first reported.
"Our analysis of the city's closest bus stops not only shows that there are too many stops within a block or less of one another; it shows that the overall trend of bus stops is that they're too close together, slowing bus speeds for everyone," said Nick Sifuentes, executive director for Tri-State Transportation Campaign, told Gothamist. "The logic behind balancing bus stop spacing is simple: the more time a bus spends at stops, the less time it spends getting people where they need to be."
Two stops along the Bx26 route on East Gun Hill Road in the Bronx took first place as the "coziest" pair of bus stops in the city, spaced only 207 feet apart. Second place went to stops on the B54 in Brooklyn. The distance between a stop at Myrtle Avenue and one at Vanderbilt and Clinton Avenues was only 210 feet. All in all, the study estimates that half of all MTA bus stops are more closely spaced than the agency's 750-foot minimum.
"New York has closer bus stop spacing than most cities around the world, which together with congested city streets contribute to extremely slow bus speeds," Craig Cipriano, senior vice president for Buses at NYC Transit, said in a statement. "Our borough bus network redesigns are examining this issue so that we can reduce customer wait and trip times while still allowing convenient access to nearby stops."
The current redesign plans don't yet stipulate how the agency plans to deal with "cozy" bus stops or which may be considered for elimination, but a spokesperson told Gothamist that a final draft of the Bronx redesign would be available this month. Public feedback around that project found 63 percent of customers prefer fewer stops while 37 percent want more stops.
Hopefully, Sifuentes noted, "2019 could be the only year we'll be issuing Cozy Awards at all."
[Via Gothamist]
RELATED: