Noroof Architects Transformed This $1.6M Historic Bed-Stuy Home With Modern Appeal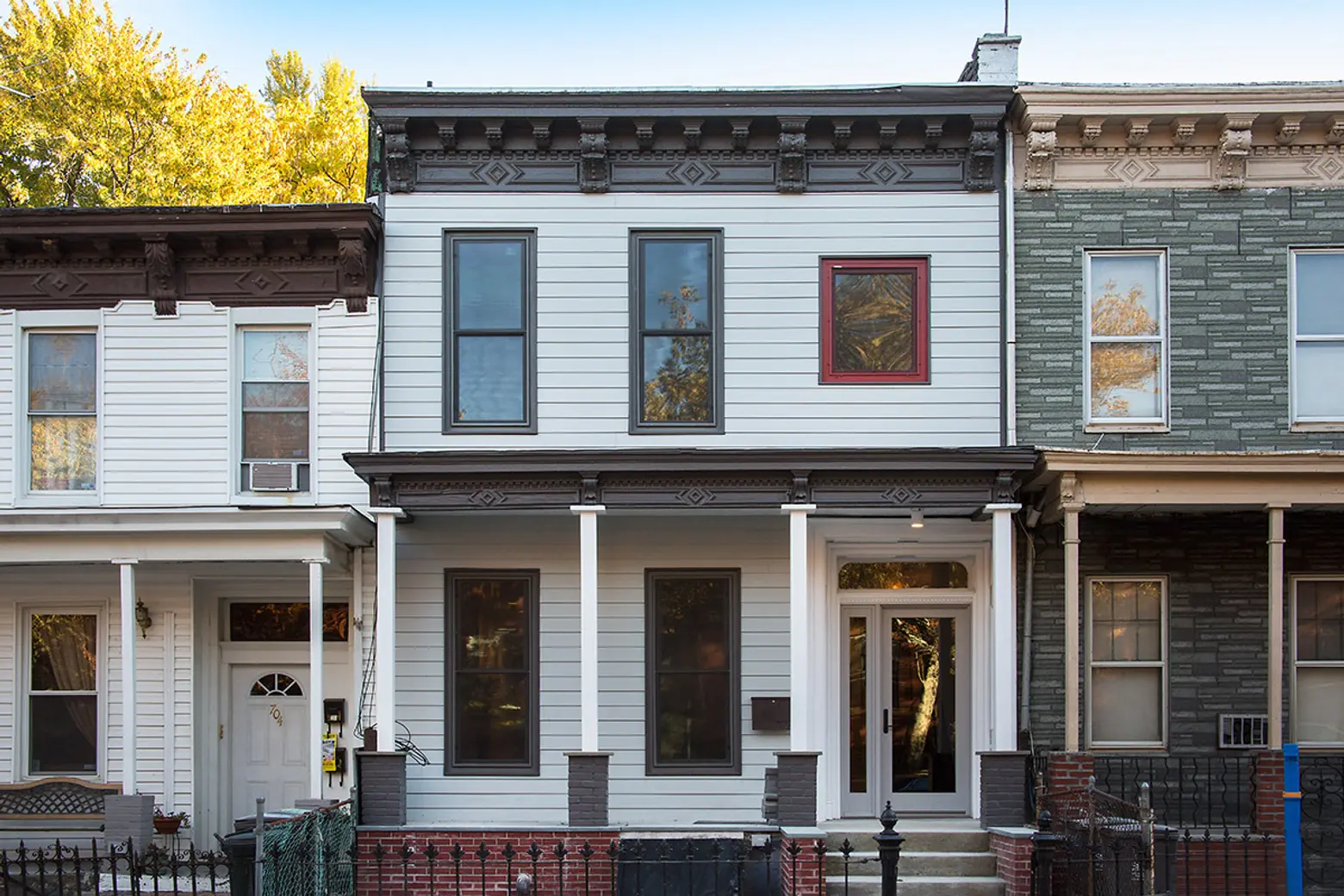 No matter how lavish, developer and flipper renovations rarely hold a candle to the custom designs executed by architects for their clients' homes–even more so when the architects are the clients and the homes are their own. This unassuming townhouse at 702 Monroe Street in Bedford-Stuyvesant, on the market for $1.635 million, is a prime example.
In this case, the innovative pair behind architecture firm noroof (they received national recognition for their "Slot House" and specialize in designing small spaces) worked their creative and practical magic on a comparatively compact historic Brooklyn townhouse with a unique front porch and a lot of potential charm. Based on love and respect for the porch as a gathering, sheltering and enhancing element, they've named the resulting project "porchouse," an elegantly-designed home with a clean, modern interior that's perfect for family living–with plenty of curb appeal.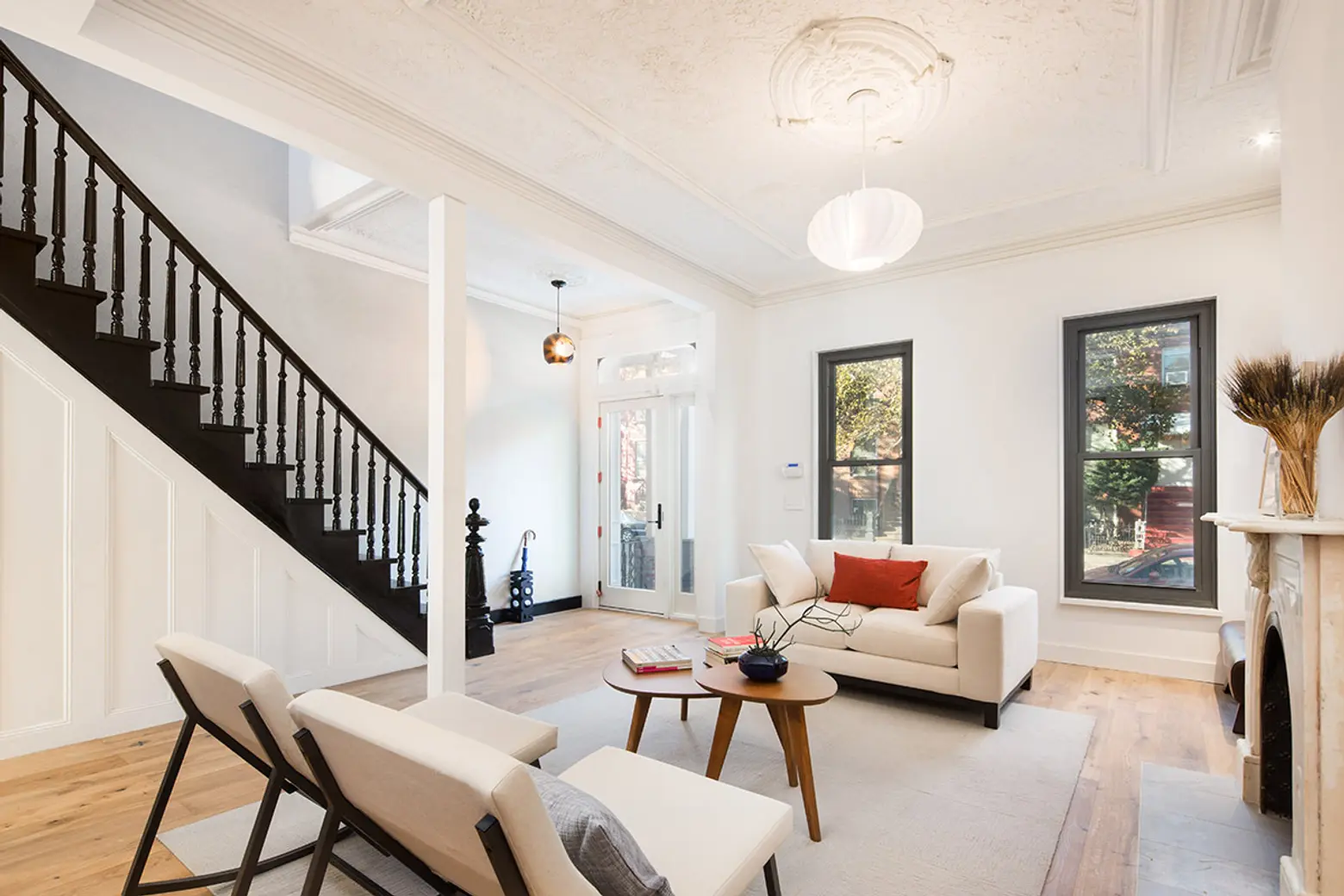 6sqft interviewed noroof partners Margarita McGrath and Scott Oliver on their growing body of work specializing in similarly challenging projects–some of their insights explain why this home is appealing for so many reasons. The complete renovation of this 1879 wood frame house attempts to preserve the home's character while playing up its positives: 20-foot width, over 2,500 square feet of living space on three floors, high ceilings and a south-facing garden–and, possibly most of all, a covered front porch with its original cornice and trim.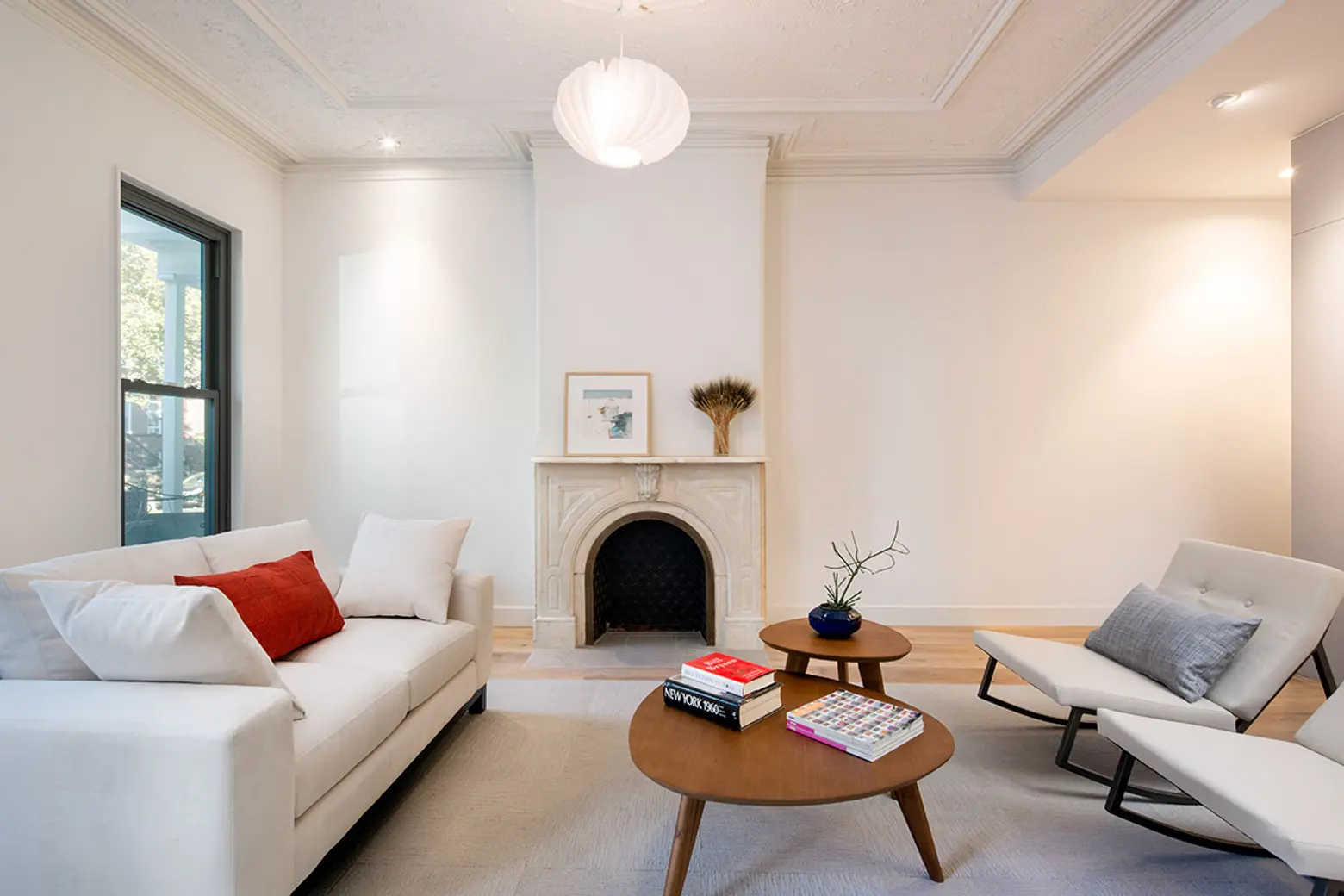 The architects describe the home's design as "'M-ustic' –The rustic details of the original house are combined with a practical, modern approach to details and material palette." An open floor plan takes advantage of the home's width; the front room and hall are a nod to the historic interior with decorative molding and an original decorative marble mantel. And here, too, is the built-in flexibility: Tucked into this floor is the potential for a nanny/guest suite with a full bath, mini kitchen and closets; the front room could be used as a bedroom and there would still be sufficient living and dining space.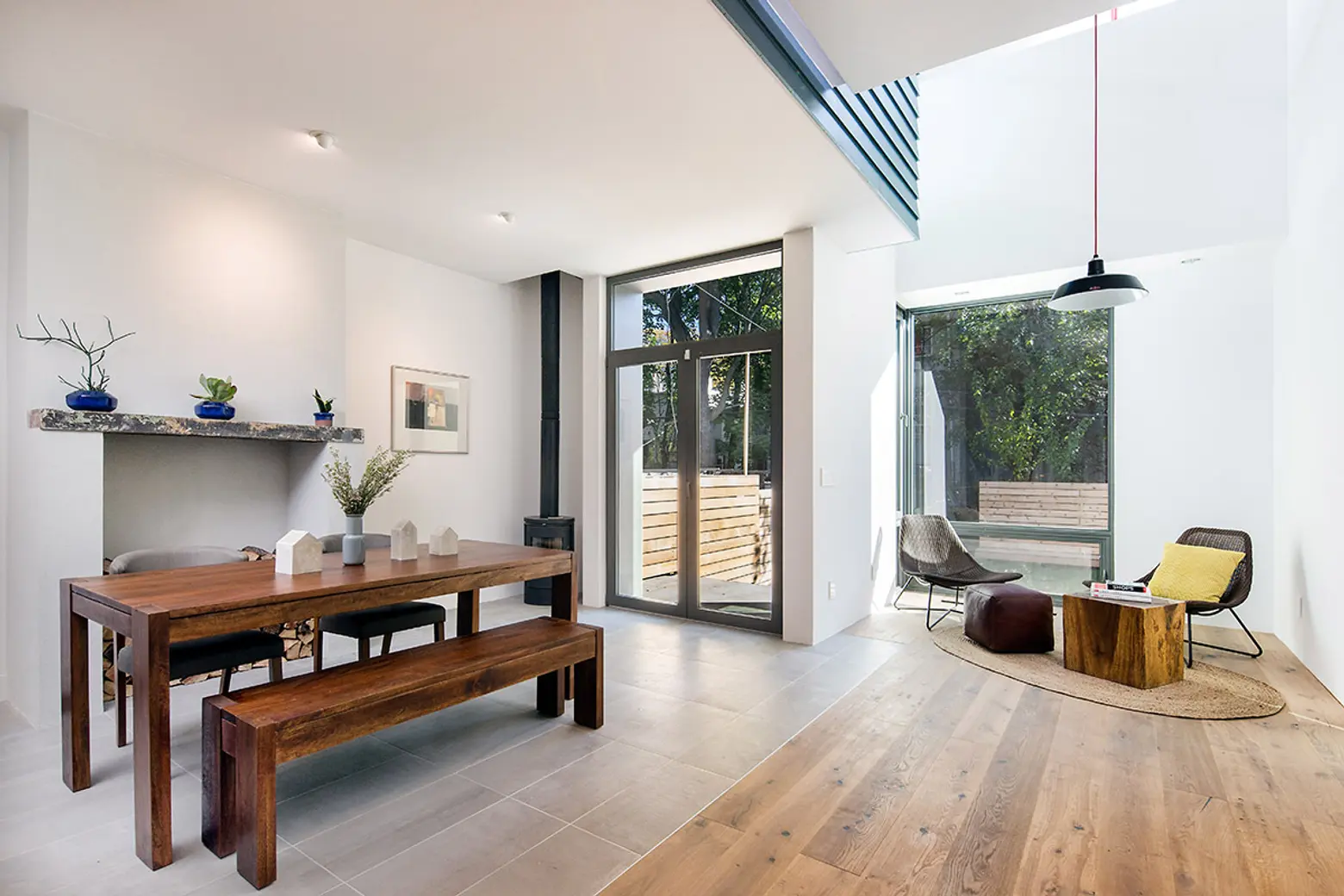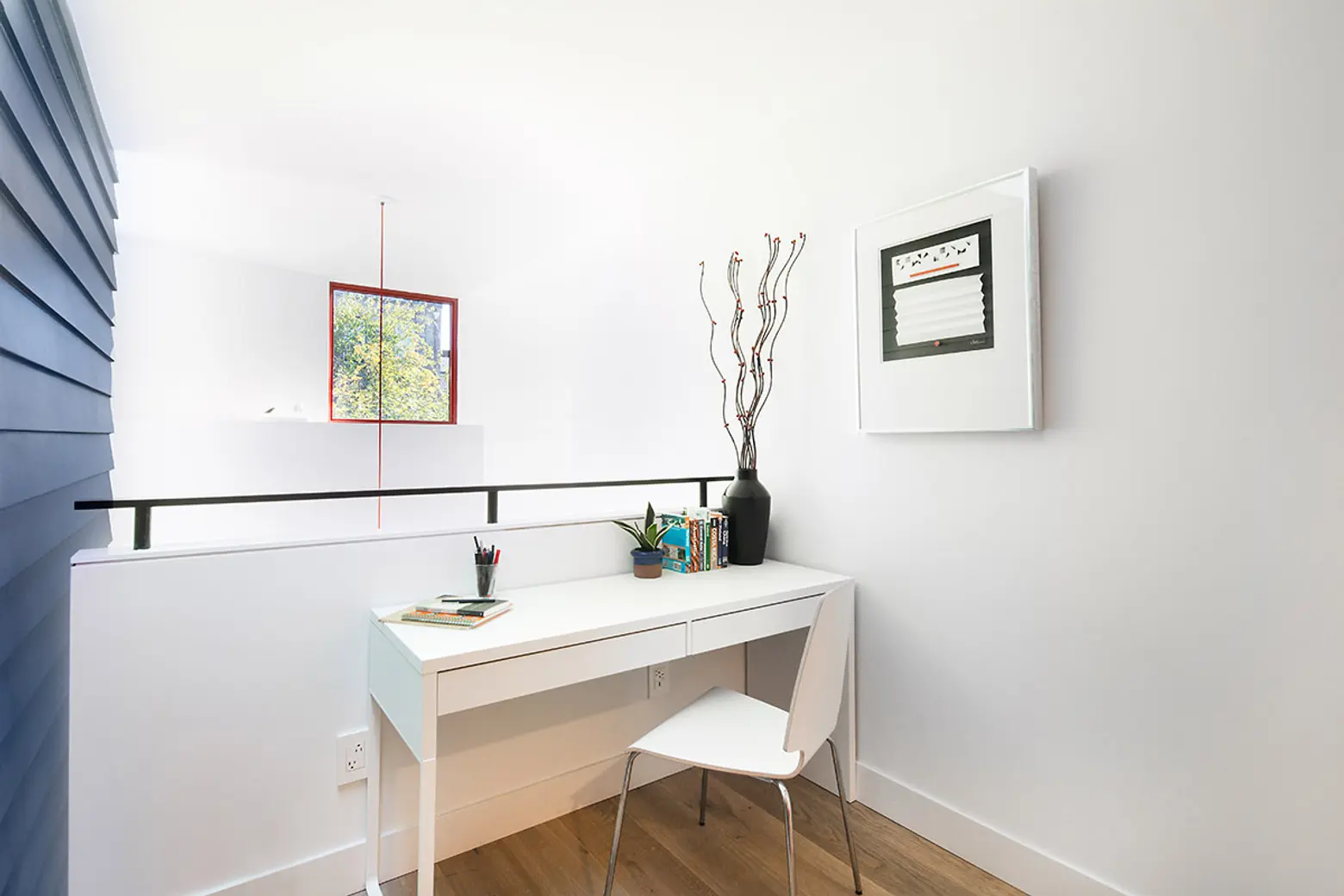 The home's original extension at the back of the house became a double-height space, with an interior dining area below overlooked by a study/office above.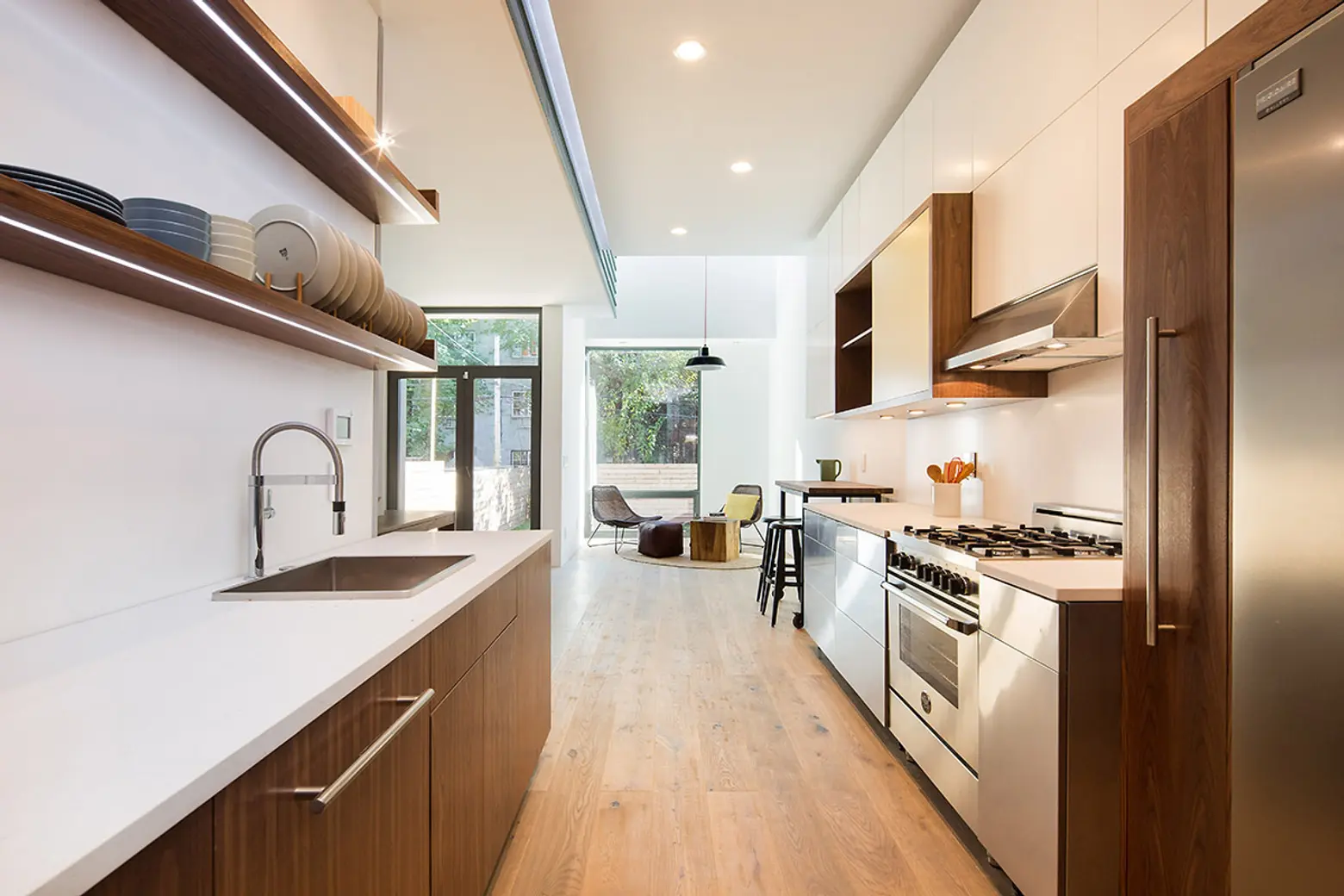 A custom chef's kitchen doesn't cut corners with appliances or finishes; an extra deep sink, plenty of storage, custom walnut and white lacquer cabinetry and a spacious butler's pantry are set up for cooking and entertaining.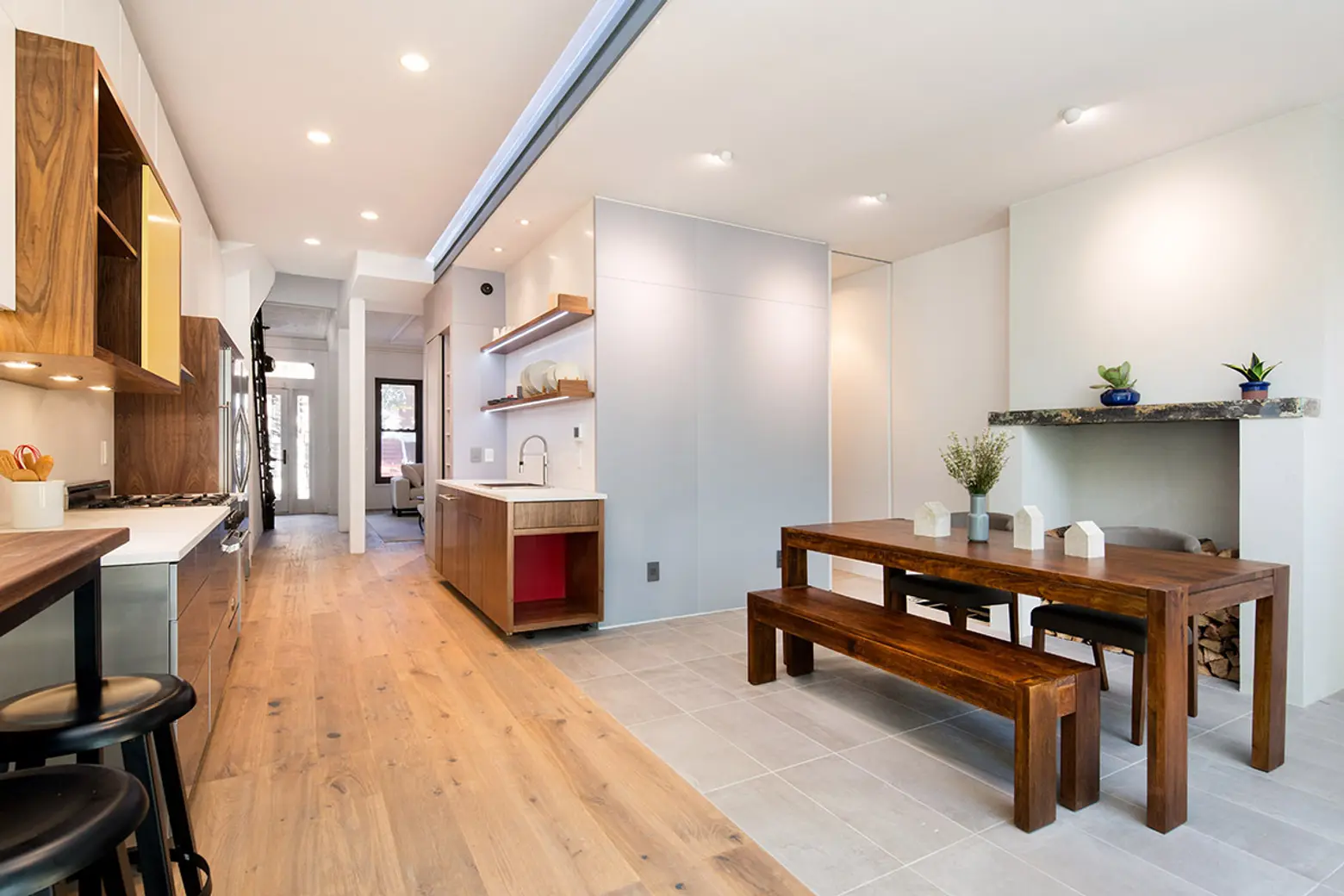 At the rear of the house, the aforementioned extension/dining area is unique as it is charming, with an original bluestone mantel and a wood burning Morsø stove; a wall of glass with double doors opens into the verdant backyard with pavers, grass and built-in seating.
According to the architects' description, "The front porch informs the addition that faces the south garden, an interior portico that shelters the place of gathering in the dwelling–an 'interior porch.' The back porch is created by opening up the ground floor and condensing the services into a simple grey box–a modern element that finds equal footing with the original stair that curls up to the second floor."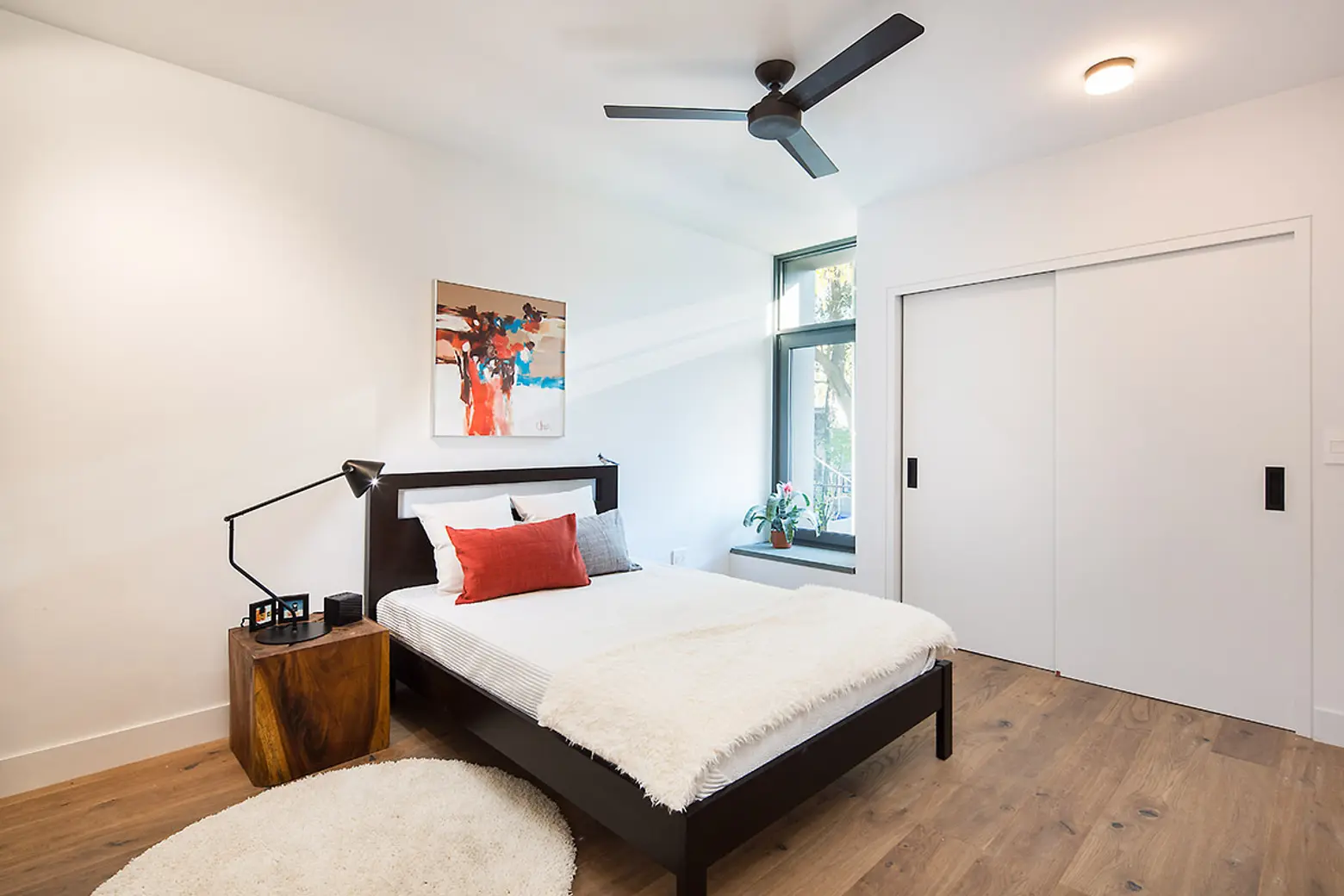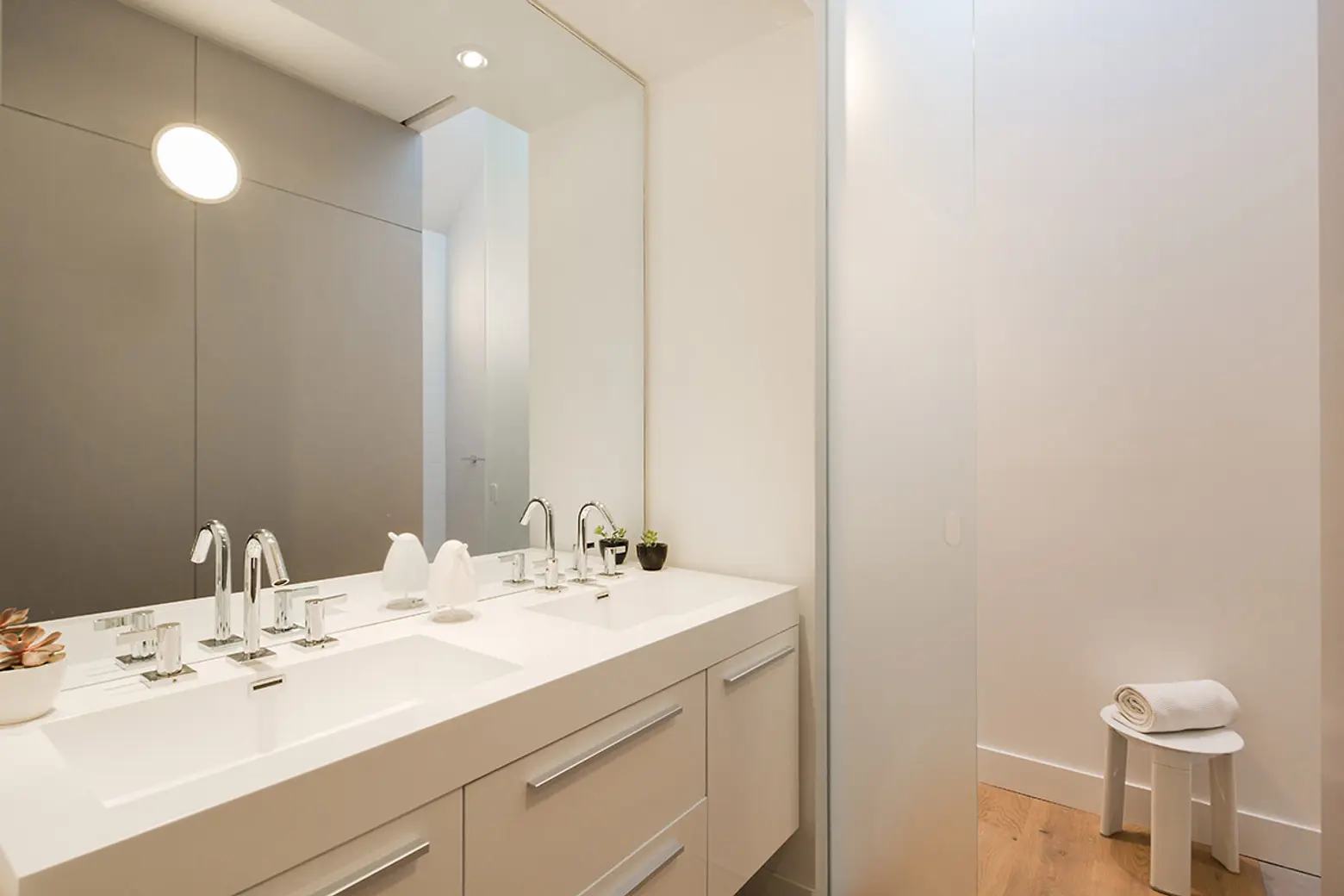 Three bedrooms can be found on the top floor, including a master suite with generous closets, a laundry room and office space, all lit from skylights and windows throughout. As the architects describe, "A conical skylight floats over the original stair, providing a view to the sky and distributing a swath of light that changes throughout the day and seasons."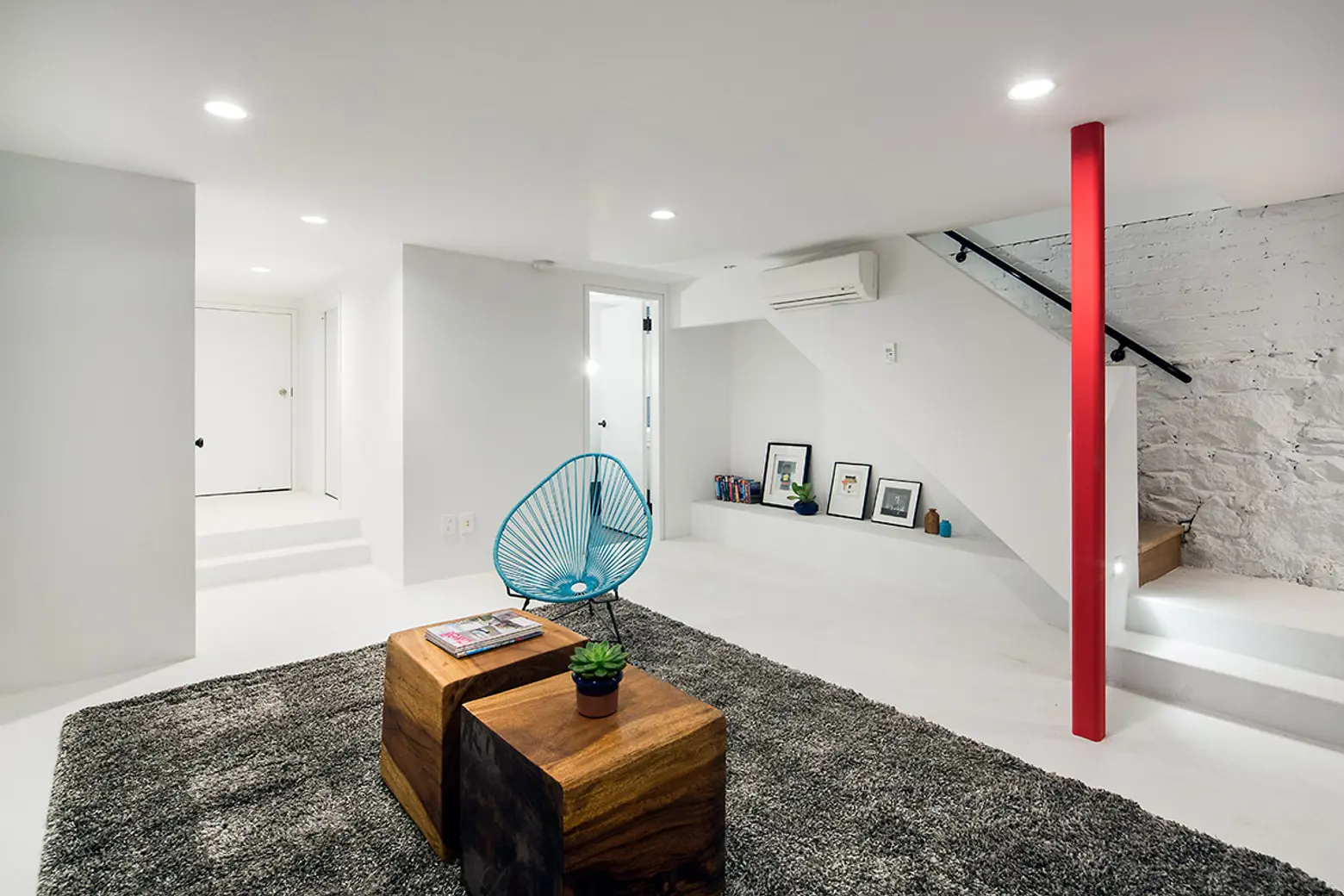 The basement level offers even more flexible living space as a media room or playroom plus storage.
While there is respect for the historic home, the home's infrastructure is all new and designed for optimal functionality, including a new roof membrane, new electric and plumbing and a zoned ducted HVAC system throughout. The buzzy and eclectic–the block features many similar diminutive historic wood frame homes–Bedford-Stuyvesant neighborhood grows daily with new restaurants, cafes, and community spaces (and new neighbors), and the J and Z trains are three blocks away.
[Listing: 702 Monroe Street by Lindsay Barton Barrett, Cristina Criado and Christina Abad for Compass]
RELATED:
Images courtesy of Compass