NJ yoga, pilates, and martial arts studios can reopen for indoor classes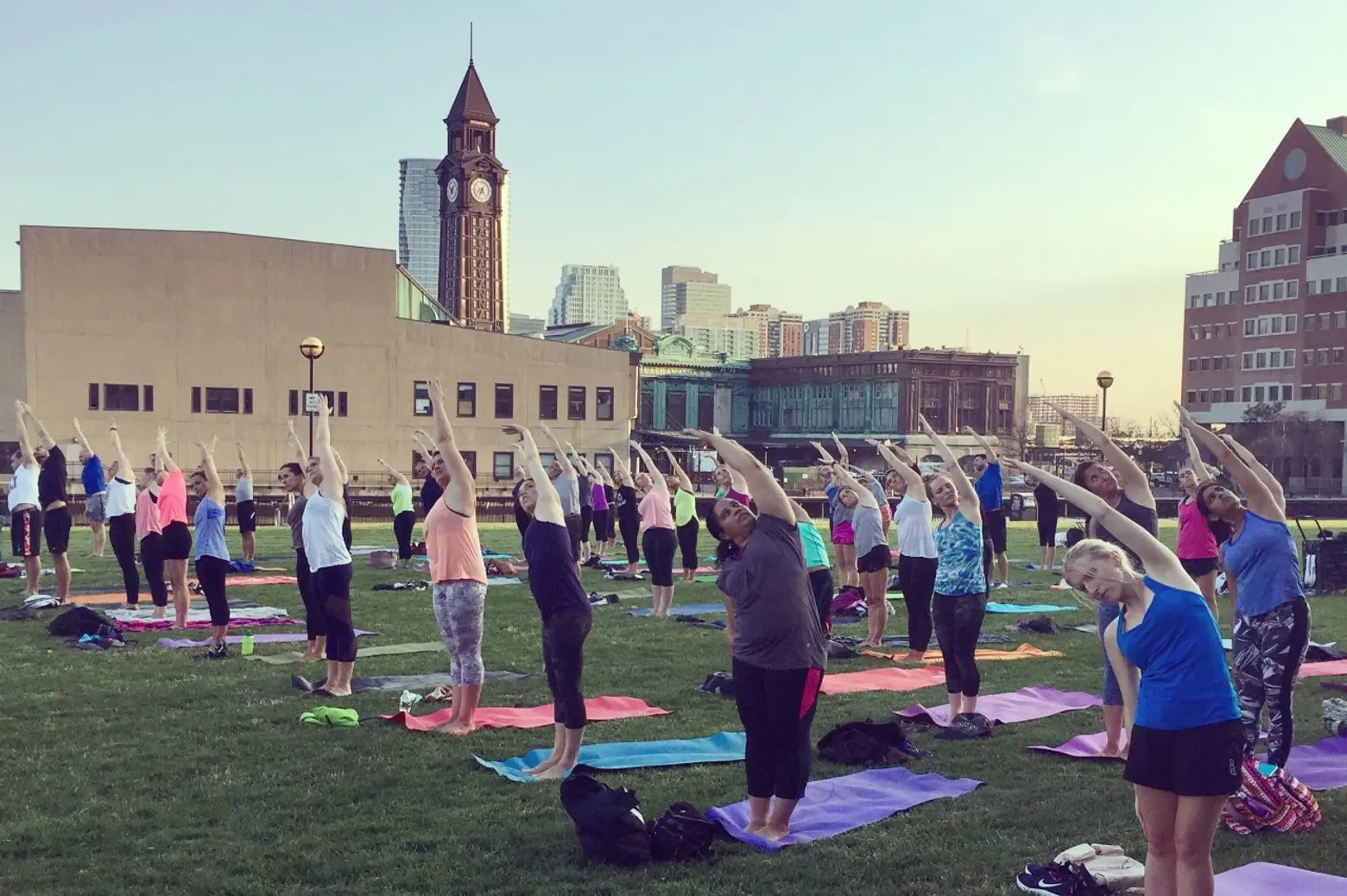 A yoga class at Pier A in Hoboken courtesy of the City of Hoboken
Some fitness studios in New Jersey can resume indoor classes at limited capacity, Gov. Phil Murphy announced on Wednesday. The governor clarified an executive order issued this week that allowed for outdoor control drills and practices to resume for "high-risk" organized sports, including football, cheerleading, wrestling, and others.
Yoga, pilates, and martial arts studios can open at 25 percent capacity with social distancing measures in place and all participants and instructors wearing masks. Contact drills and sparring indoors will not be allowed indoors but can take place outside.
"We know everyone wants to get back to their old workout routines, but we have been clear through the guidance we have released that outdoor activities are safer than indoor activities, and that spans everything from exercise to dining," Murphy said during a press conference on Wednesday.
"And where we can believe that activities can be done safely indoors with social distancing and masking we have allowed for those activities to resume with limited capacities."
Gyms and health clubs remain closed except for one-on-one individualized training or for small groups of one family.
Many fitness centers have pivoted their operations to provide outdoor, socially-distanced workouts. In May, Hoboken Mayor Ravi S. Bhalla signed an executive order that allowed fitness clubs to use city fields, parks, and even parking lots for outdoor workouts.
In New York, gyms, which have been closed since mid-March, have not been cleared to reopen. While fitness centers were originally expected to reopen under the state's phase four of reopening, Gov. Andrew Cuomo said last month the state is still studying whether droplets of the virus can be spread by air conditioning. Amusement parks, arcades, bowling alleys, casinos, and movie theaters remain closed statewide, as Democrat & Chronicle reported.
New York City entered the fourth and final phase of reopening on Monday, but no malls or cultural institutions will be able to reopen as of yet. Indoor dining in the city has also been postponed indefinitely. Low-risk outdoor arts and entertainment, like zoos and botanic gardens, outdoor film and movie productions, and professional sports without fans all are allowed to reopen.
RELATED: