New Yorker Spotlight: Carol Paumgarten of Steps on Broadway on Training World-Famous Stage Stars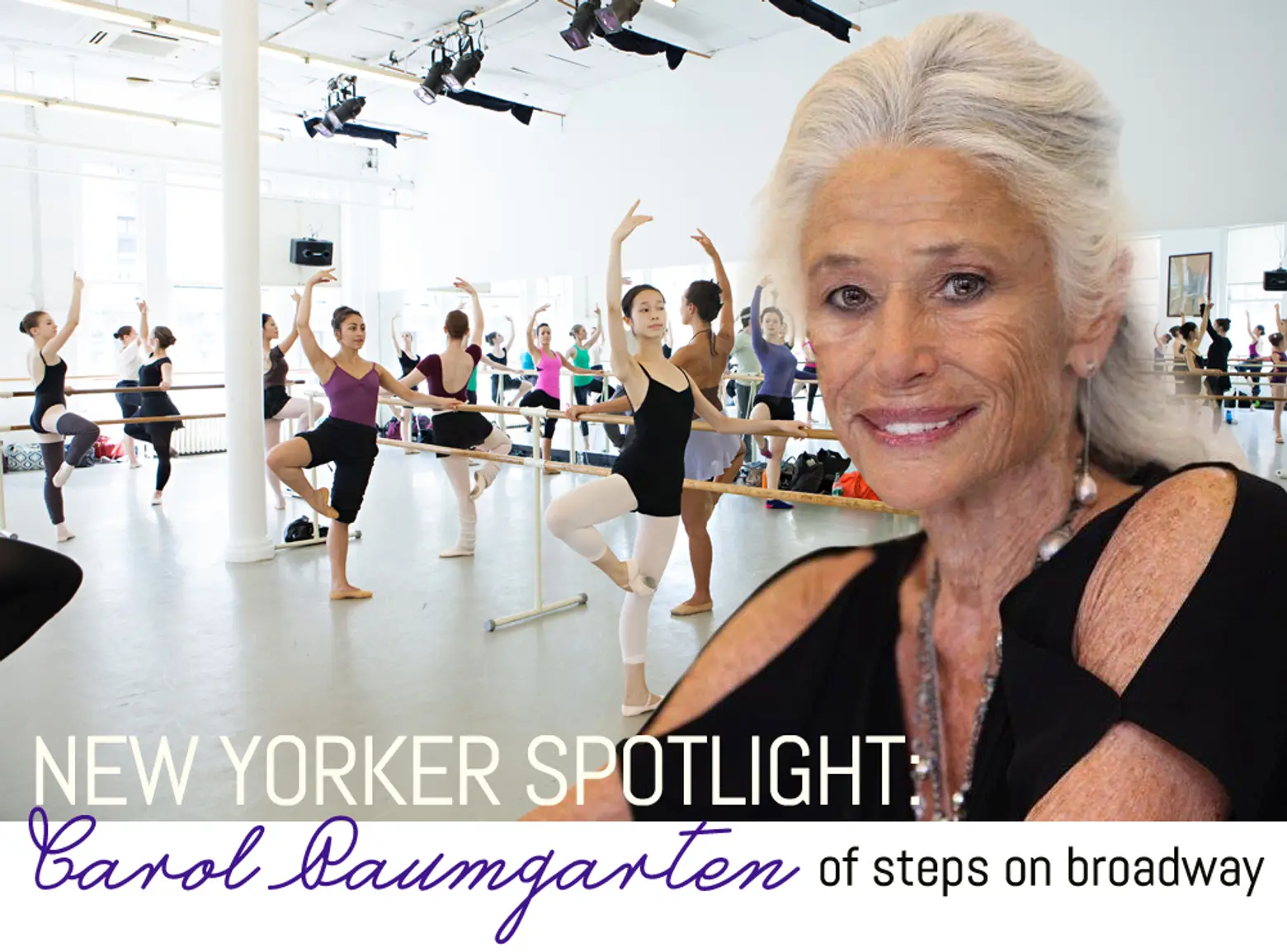 Atop the hustle and bustle of 74th Street and Broadway, three flights of stairs above the busy Fairway Market, is the famous dance studio Steps on Broadway, renowned for its teachers, dancers, classes, and, of course, the large flag that hangs outside the building.
Presiding over the studio is owner and artistic director Carol Paumgarten. Carol opened the studio with a partner in 1979, and over the years developed Steps into a much sought-after studio for professional dancers, budding stars as young as two years old, and anyone who just feels like dancing. The studio is part of a larger world of dance that sits center stage on the Upper West Side. With Lincoln Center and the musicals of Broadway right down the street, there's a lot of movement and creativity happening in this neighborhood.
We recently spoke with Carol to find out how Steps on Broadway made the leap from a small studio with a few classes to a dance institution known worldwide.
What is your earliest memory of dance?
Truth be told, I was not a dancer. I was a skater and was quite serious when I was tiny. I did the test. I did a little jingle with Dick Button. I then gave that up and went on and played tennis. That was serious. I went to the nationals in the 15 and under division and represented Philadelphia when I was 13. Billie Jean King's partner beat me.
I discovered dance very late. I went to an Alvin Ailey rehearsal and saw Judith Jamison in Revelations; I was completely spellbound. Because I was athletic, I said ok, I am going to go take a class. I went to the Ailey studio, which was at 59th Street and 3rd Avenue at that point. I dared to go in and then walked away. And then dared to go in again and then walked away. I ended up finally taking a modern class that ignited me. At the meager age of 27, after my second child, I said this is what I want to do. I want to immerse myself, and I want to work in that world. So, I worked with a dance company, and then my former partner and I decided to make a school.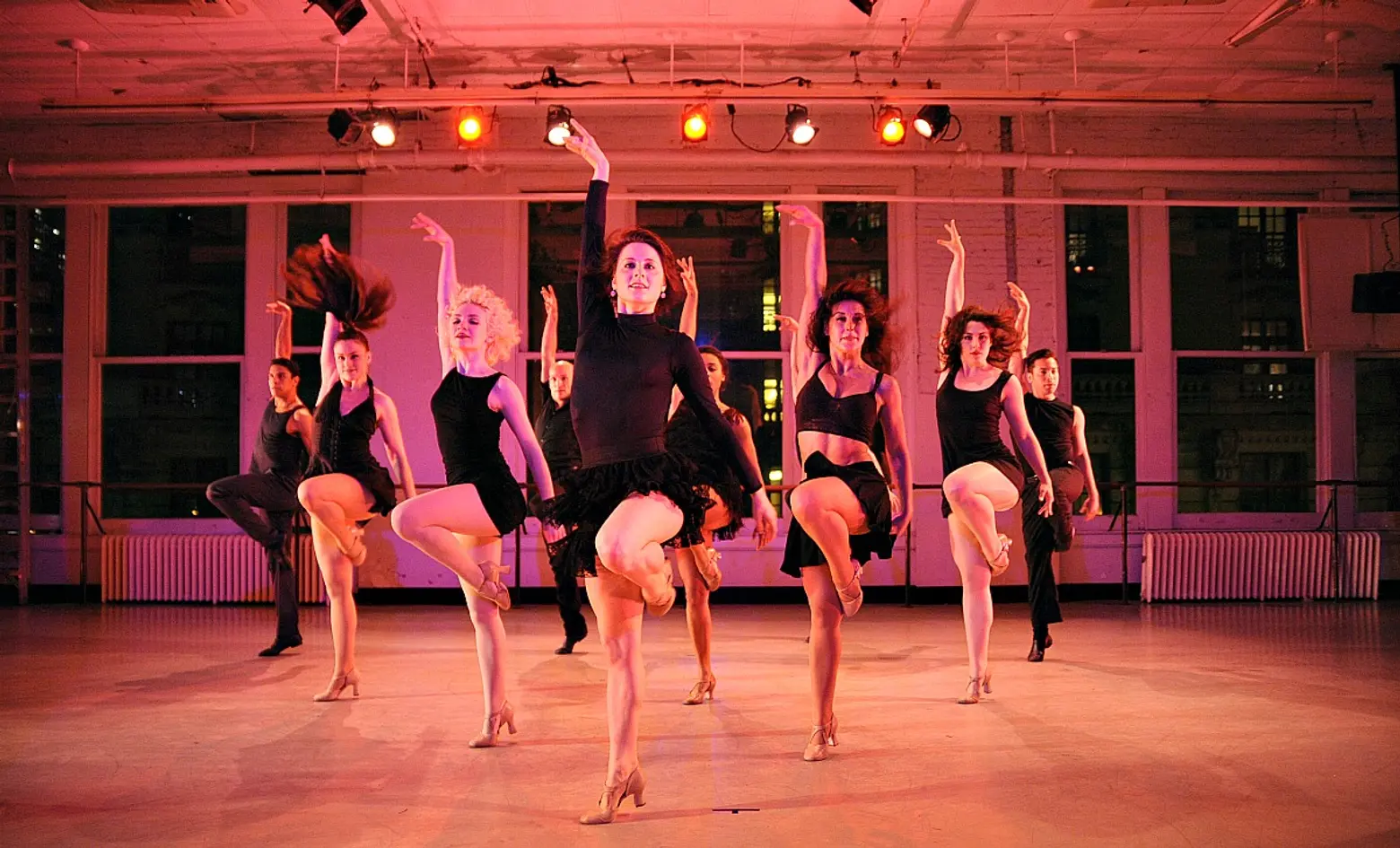 A performance in studio 2, which turns into the Studio Theater, via Eduardo Patino NYC
What was Steps like in the early days?
I have been in the business since 1979 and started in a small studio on 56th Street and Broadway. We had seven classes a day. Knowing that we would lose the lease, we took on a space near Lincoln Center that was a famous ballet school. After that, I decided we had so many teachers coming to us and there was such a need in the city for a bigger space. In 1984, for the very first time, we opened up with different techniques co-existing together on 74th and Broadway. Not just a ballet studio, but jazz, tap, theater, dance, flamenco, and hip hop–everything was happening simultaneously in different studios. That was the only way to survive.
Why did you move the studio to the Upper West Side?
The ballet world and the performing arts really center around the Upper West Side. Think about it–Lincoln Center and the New York City Center. Then, of course, when we were looking to expand and this space came to our attention, it was in the most perfect location. We had to build everything from the studios to electricity. It had nothing–no floors, no ceilings. It was a shell of a space.
Image via Sofia Negron Photography
The studio has a bird's eye view of the Upper West Side. How has the neighborhood changed over the 30 years Steps has been here?
It's become more upscale. You see these brand stores. Barney's New York is nearby.
How has the studio evolved over the last 35 years?
It was originally a tiny school, and then when we moved here and had this floor with five studios. We had to generate turnover every hour and a half. It gave us the ability to have a full curriculum. The premise has gotten much bigger than just open classes in that we now have a VISA program, a conservatory program, lectures, demonstrations, a non-profit entity to support the development of emerging artists, and we do community outreach. It's gone far beyond what it was originally.
It requires the administration of 25 full-time employees and 120-130 work studies who work behind the desk and clean at night in exchange for classes. There are about 130 faculty members, and that is the draw. The whole thesis/mission here is the development of the art. We have had many stars come through here from the New York City Ballet, Kirov Academy of Ballet, and Broadway. We're known because we have very good teachers. I am totally grateful and in awe of them all. Steps is well known across the world as an epicenter for dance. In addition to classes, we are very interested in the development of the art form and the dancer.
Can you describe Steps on Broadway today?
Coming through that circuitous little passageway between the watermelons and the pomegranate and all the madness of Fairway, dancers wend their way up here. We have more than 3,000 students a week from all over the world. It's like a womb for many people who have danced here and gone up through the system. I've seen a turnover of three generations.
We have one mission and three visions. There's Steps on Broadway, which has open classes. One day you can come here and hear French, Russian, Chinese, Swedish, and Italian. Then we have the School at Steps, the children's program, which is an entity unto itself. There are about 800 students in that. These are kids who come and study. Some are more serious and some are recreational. Some of them are going to be the next generation of dancers. Then we have Steps Beyond, which houses the performing outlets. We have faculty performances, guest artists, and lectures.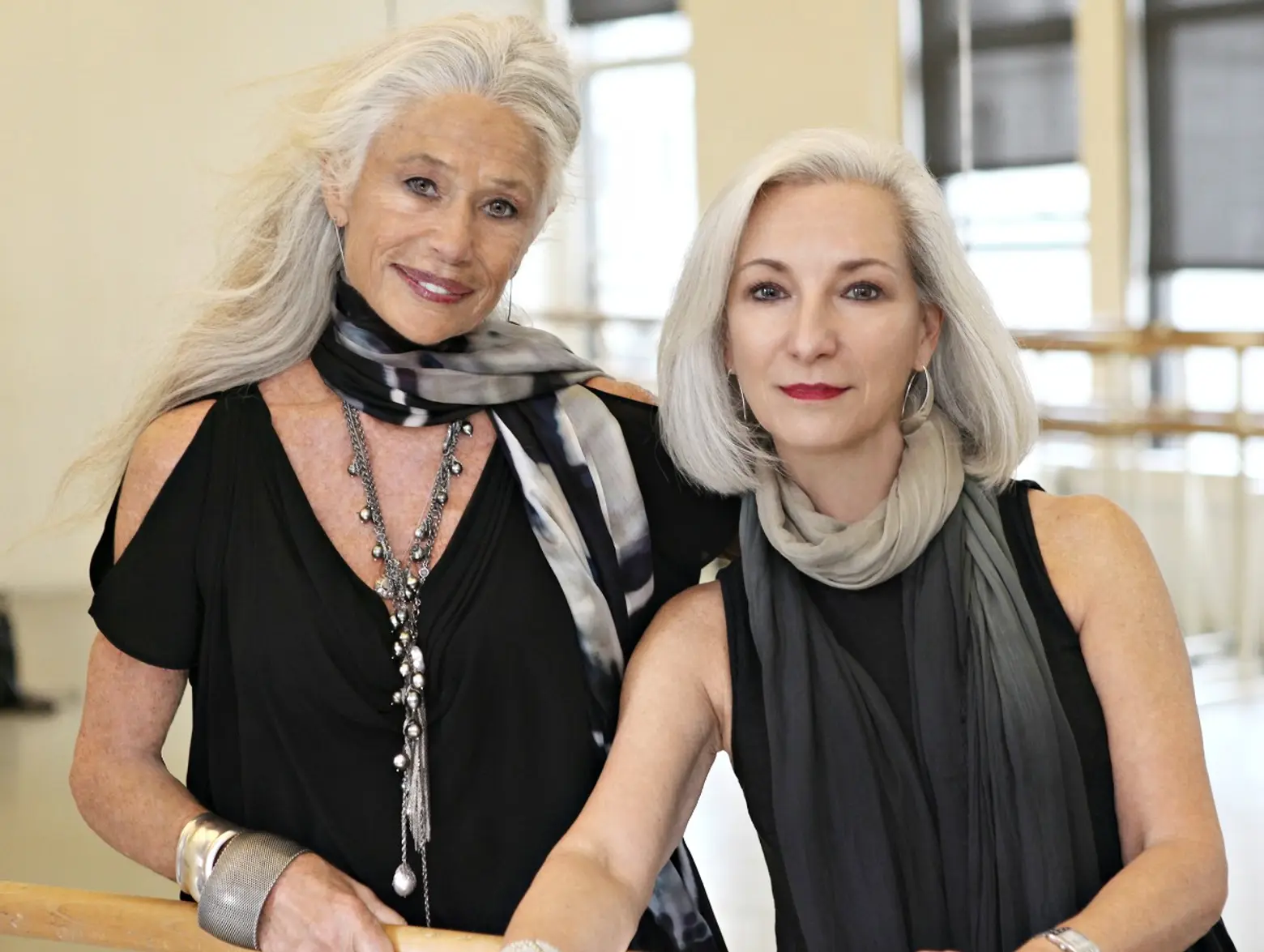 Carol Paumgarten (L) and Steps Co-Artistic/Managing Director Diane Grumet (R), via Lisa Crosby
What do professional dancers come here to work on?
The stars, ballet dancers and those on Broadway, need to take a class every day. The body is a machine; it needs to be oiled. They come for a specific teacher. The other dancers are coming eagerly wanting to get work and go out there and have a career. Then we have the civilians at night who come after work and love it.
Do the younger students benefit from seeing the professionals?
Absolutely. It's enthralling for them to come and take class in their tiny pink leotards and then sit in the doorway watching the stars.
What is one thing most people don't know about dance?
I think there is a huge misconception that there's not a place for everyone at a dance school of this nature. Everyone has a place here. We offer classes in all levels–from beginner to the ultimate beginner and all the way up.
When walking around the city, do you study people's movement?

I am totally aware wherever I am in the presence of someone who is a dancer. I have spotted dancers in countries all over the world. It's the way they carry themselves; there's a demeanor.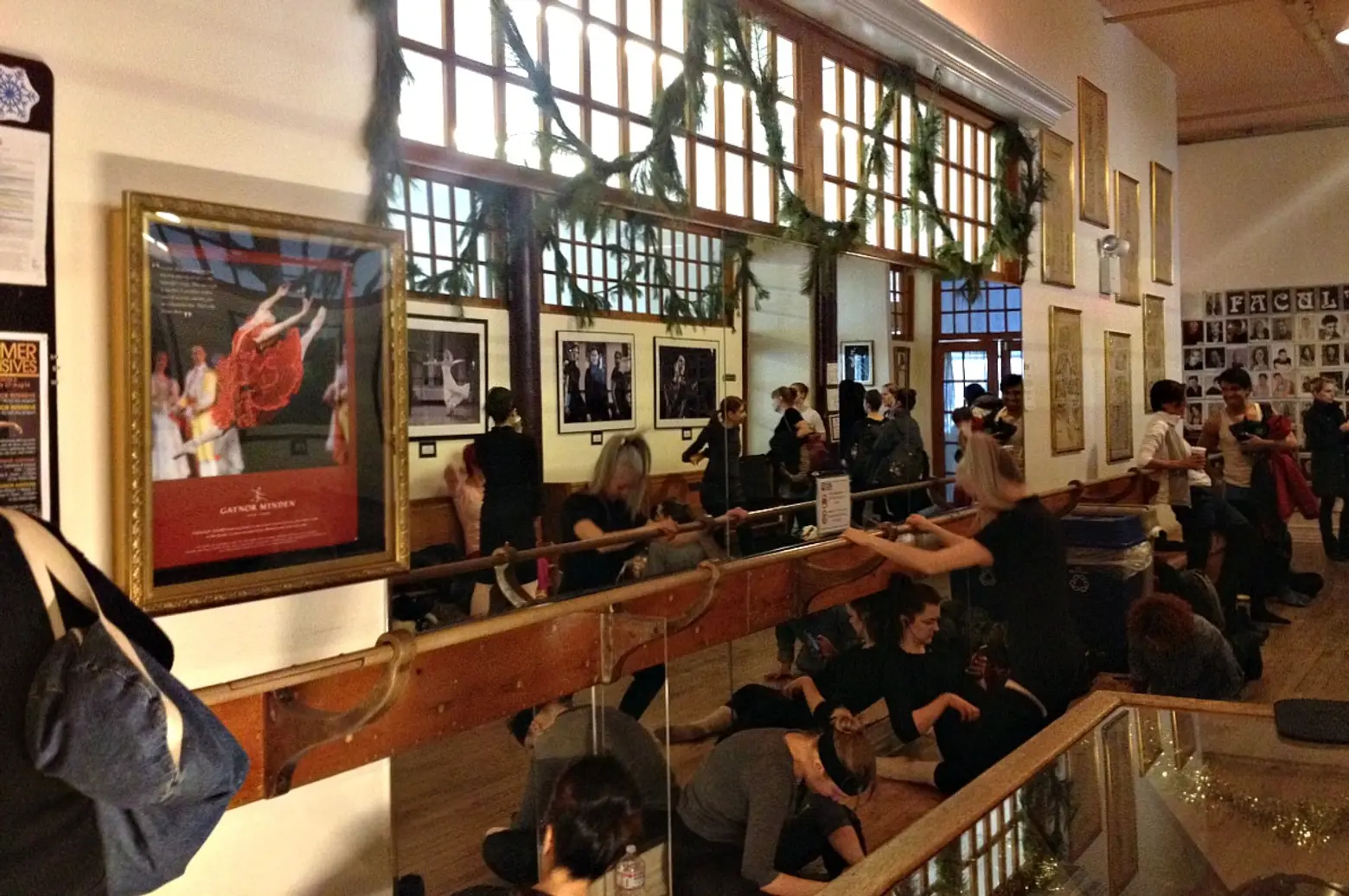 Dancers warming up via 6sqft
You mentioned 6sqft applies to dance. What does it mean for a dancer?

The name is sort of an interesting convergence with the origin of the ballet barre. When someone is at the barre, the length they need is at least the length of their leg. Maybe it's a little less than 6sqft, but you can warm up the body in 6sqft.
What have you learned about dance over the years?
It's extraordinary, magnificent. The control of the body is so admirable. Dance is another level of focus. I do know that a good dancer doesn't necessarily make a star. It's a very long training period, and then there has to be that other dimension that's beyond technique.
What does dance mean to you?
It's a whole way of being. It's not a profession. It's an art form. I think it's a way of seeing things. If more people in the world danced, we would have more peace in the world.
***
[This interview has been edited]
Steps on Broadway
2121 Broadway
New York, NY 10023