Vaccines coming to Grand Central, Penn Station, and more subway and train stations
With vaccination rates declining, the state is continuing to come up with incentives for New Yorkers to get the shot, from free Yankees and Mets tickets to free admission to museums. The latest is a partnership with the MTA to bring vaccines to busy subway, LIRR, and Metro-North stations, including Grand Central and Penn Station. Those who receive the one-shot Johnson & Johnson vaccine at these locations will receive a free seven-day MetroCard or two free one-way trips on the LIRR or Metro-North.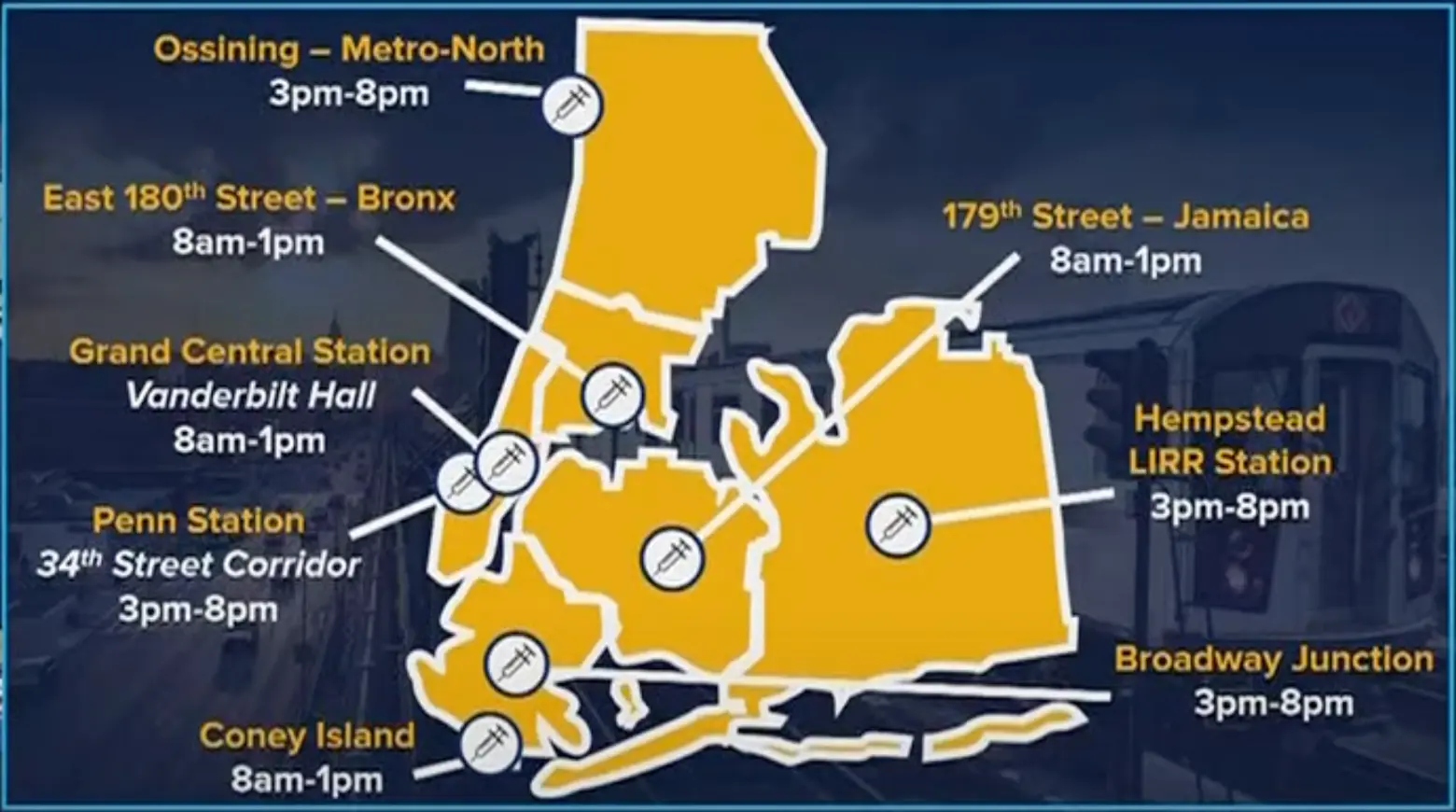 Image of map from Governor Cuomo's 3.10.21 press conference
On May 7, the subway saw its highest single-day ridership since the pandemic began, totaling 2.3 million trips. This puts ridership at about 37 percent of pre-pandemic levels. And this number is expected to increase in the coming weeks. With most state-mandated capacity restrictions in New York to be lifted on May 19, the New York City subway will resume 24-hour service on May 17.
The walk-up, pop-up vaccine hubs at MTA train stations will be available from Wednesday, May 12 to Sunday, May 16. The sites will serve up to 300 walk-ins per day on a first-come, first-served basis. The various transit stations will offer vaccines at different hours since the goal of this pilot program is to see where and when it's successful.
"New Yorkers may struggle to take time out of their schedules to get the vaccine, so we're bringing it directly to them at these new sites in MTA stations," said Governor Cuomo in a statement.
In addition to serving the public, the hope is that MTA workers will also take advantage of these convenient vaccine hubs. A recent report in The City showed that 41 percent of the MTA's 70,000+ employees have received at least one vaccine dose, which is on par with city- and state-wide rates.
RELATED: