New rooftop terrace with glass pavilion and one-acre farm opens at the Javits Center
Photo credit: © Albert Vecerka/Esto
A one-acre working farm opened at the Javits Center rooftop this week, providing a genuine farm-to-table experience for visitors of the convention center. The farm will include over 50 crops and 40,000 pounds of fruits and vegetables, which will be used in meals served on-site. The 200,000-square-foot rooftop, which also includes an enclosed glass pavilion, outdoor terrace, and a solar farm, is part of a $1.5 billion expansion project that has added a total of 1.2 million square feet of event space at the Javits Center.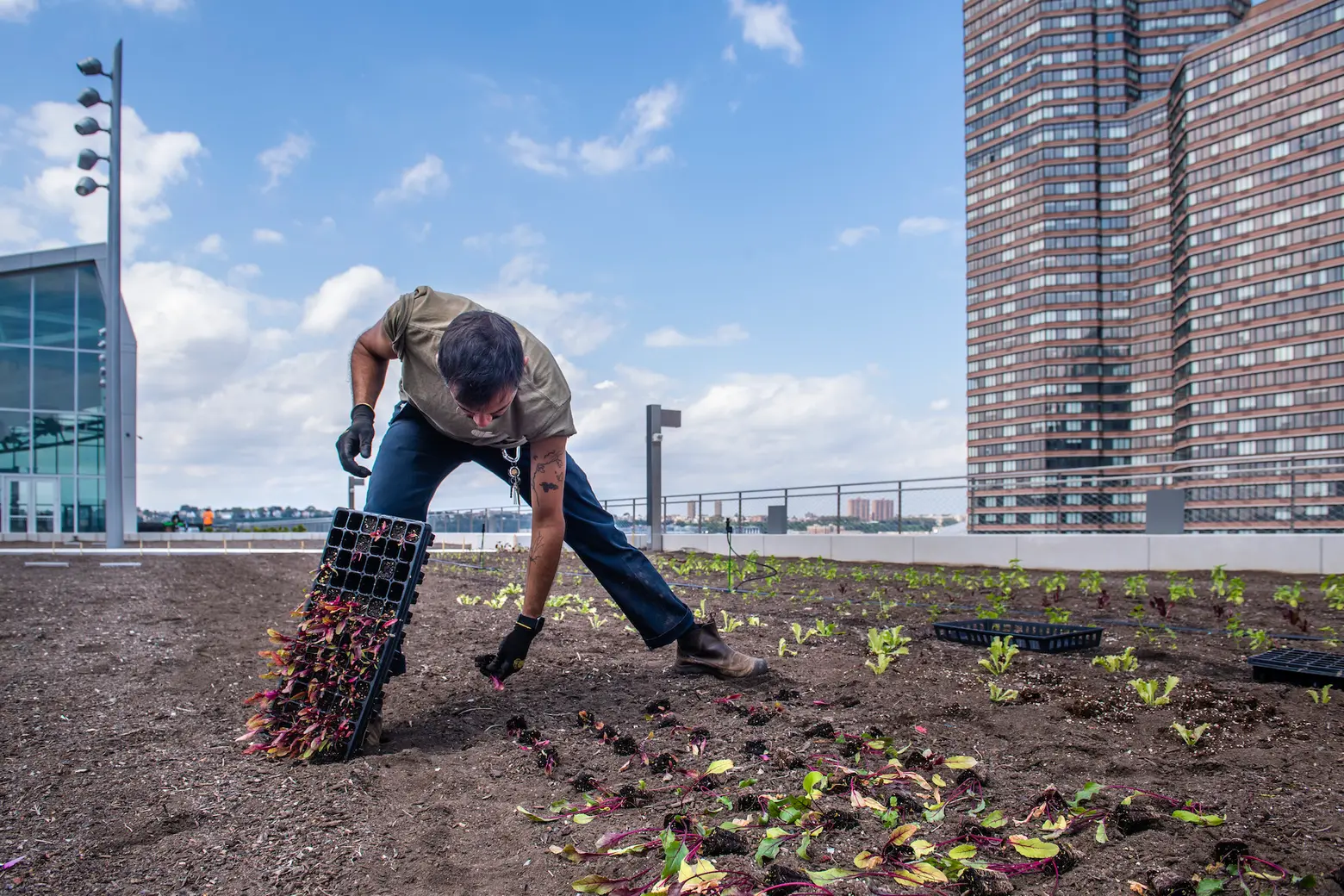 Orion Ashmore of Brooklyn Grange Farm plants beets on the rooftop garden at the Javits Center in New York on Sept. 8, 2021. Photo courtesy of the Javits Center
Brooklyn Grange, which currently operates the world's largest rooftop soil farms across three NYC rooftops, will manage the Javits Center farm and the greenhouse, which can host gatherings or meals for up to 25 people.
Next to an outdoor terrace and an orchard with apple and pear trees is the glass pavilion, which measures 15,000 square feet and can host 1,500 guests year-round. Sustainable features include more than 3,000 solar panels, making it the largest solar farm in Manhattan, and two underground retention cisterns to capture and treat rainwater for irrigation.
The new farm makes the Javits Center's existing green roof–which measures nearly seven acres and serves as a habitat for birds, bats, and bees– even greener. Designed by FXCollaborative, the convention center's bird-friendly roof opened in 2014 after Javits was named one of the deadliest buildings in the city for birds.
Since refurbishing the building with patterned glass that birds interpret as obstacles, avian deaths dropped there by 90 percent. According to Javits Center, the building's energy consumption has also dropped by 26 percent.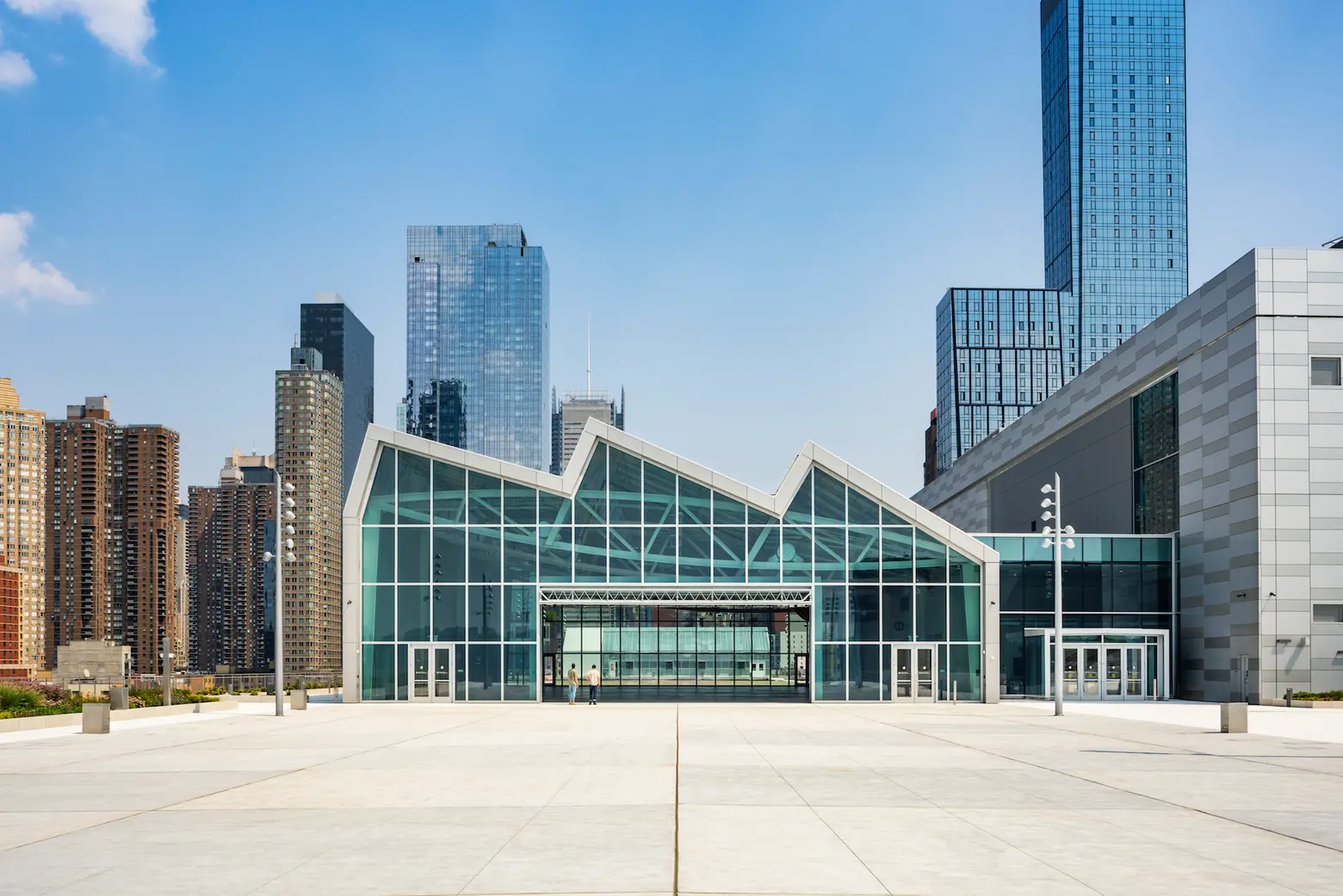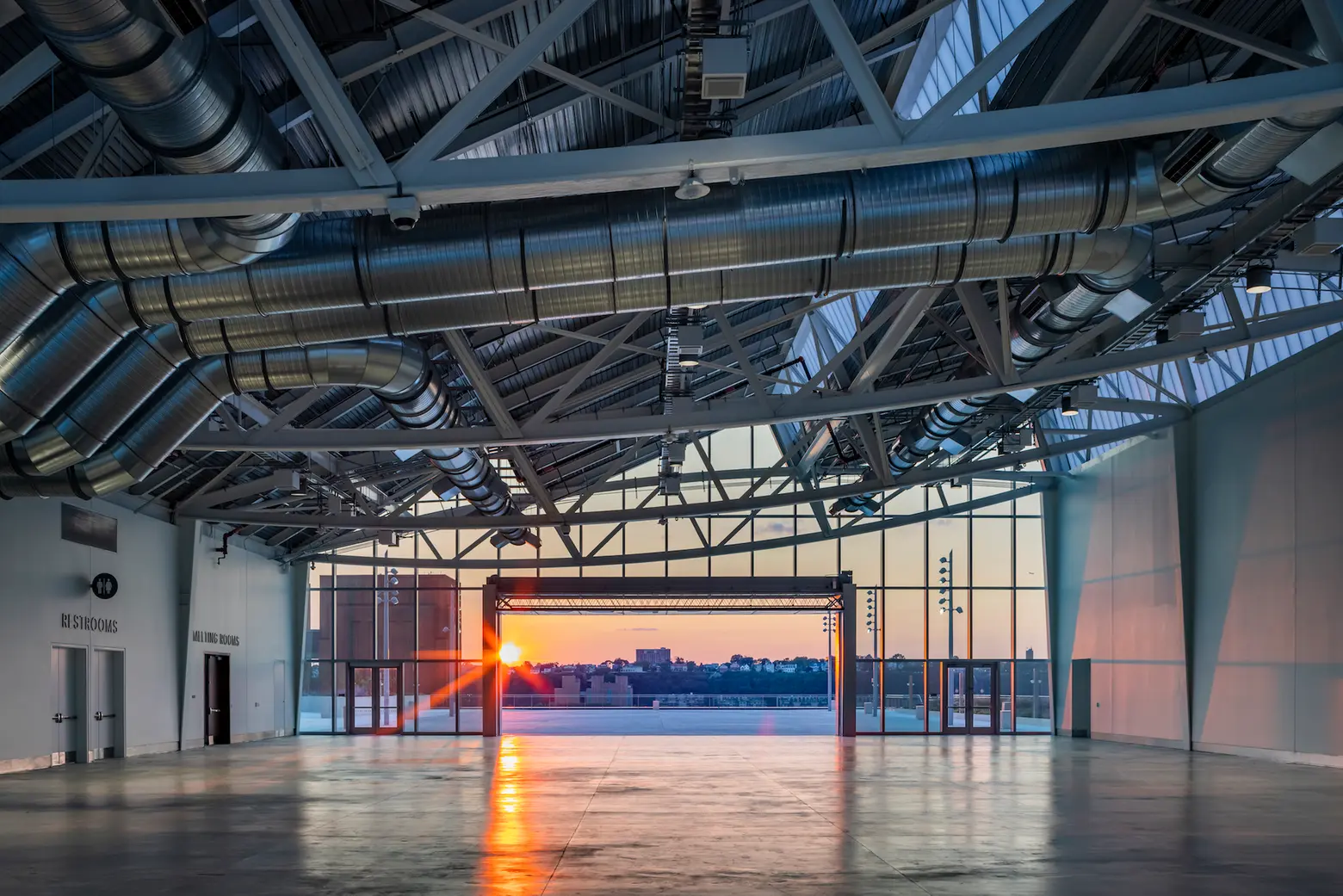 "This new rooftop is one of the most exciting event spaces in New York City in more than a generation," Alan Steel, president of the New York Convention Development Corporation, said. "With stunning skyline views and state-of-the-art technology, the rooftop table experience for our guests while enabling our staff to push the boundaries of sustainability and further explore how to improve the quality of life for our neighbors – those with wings and those without."
Developed by the New York Convention Center Development Corporation, an arm of the state's Empire State Development, along with a Lendlease and Turner joint venture and architectural firms TVS, the four-year, $1.5 billion expansion increased the amount of front- and back-of-house areas for events by more than 50 percent.
The project, which mostly wrapped up in May, included a new exhibit and meeting room, a separate entrance for events, and a new four-level "truck marshaling facility," which should reduce area congestion. All new spaces are equipped with the latest technology in lighting fixtures and heating and cooling technology.
Between January and July, the Javits Center was the largest coronavirus vaccination center in the country, helping to administer more than 640,000 vaccines in less than six months. Now as the city is reopening once again, events have taken place at Javits, like the SALT Conference and the Nest Summit, which is part of Climate Week NYC.
"The Javits Center has played a critical role in New York's fight against COVID-19, and with this new expansion, it will continue to serve as one of the Empire State's greatest economic assets," Kevin Younis, executive deputy commissioner of Empire State Development, said. "With the construction of a one-of-a-kind rooftop pavilion, along with a one-acre rooftop farm, the Javits Center will continue to attract dynamic events that support New York's economy while serving as a model of sustainability for other venues and buildings throughout the country."
RELATED: