Moscow-based Meganom reveals designs for 1,001-foot skinny supertall in Nomad
Joining the ranks of supertall, super-skinny skyscrapers like 432 Park, 111 West 57th Street, and 125 Greenwich Street comes 262 Fifth Avenue in Nomad (h/t Dezeen). The first U.S. project by Moscow-based firm Meganom, the residential tower will soar to 1,001 feet, which will make it the tallest structure between the Empire State Building and One WTC, stealing the title by a longshot from the 777-foot 45 East 22nd Street. The architects say the project "will include several 'firsts' in terms of its design and environmental sustainability features," and that it will boast "a striking arched observation deck" at its top.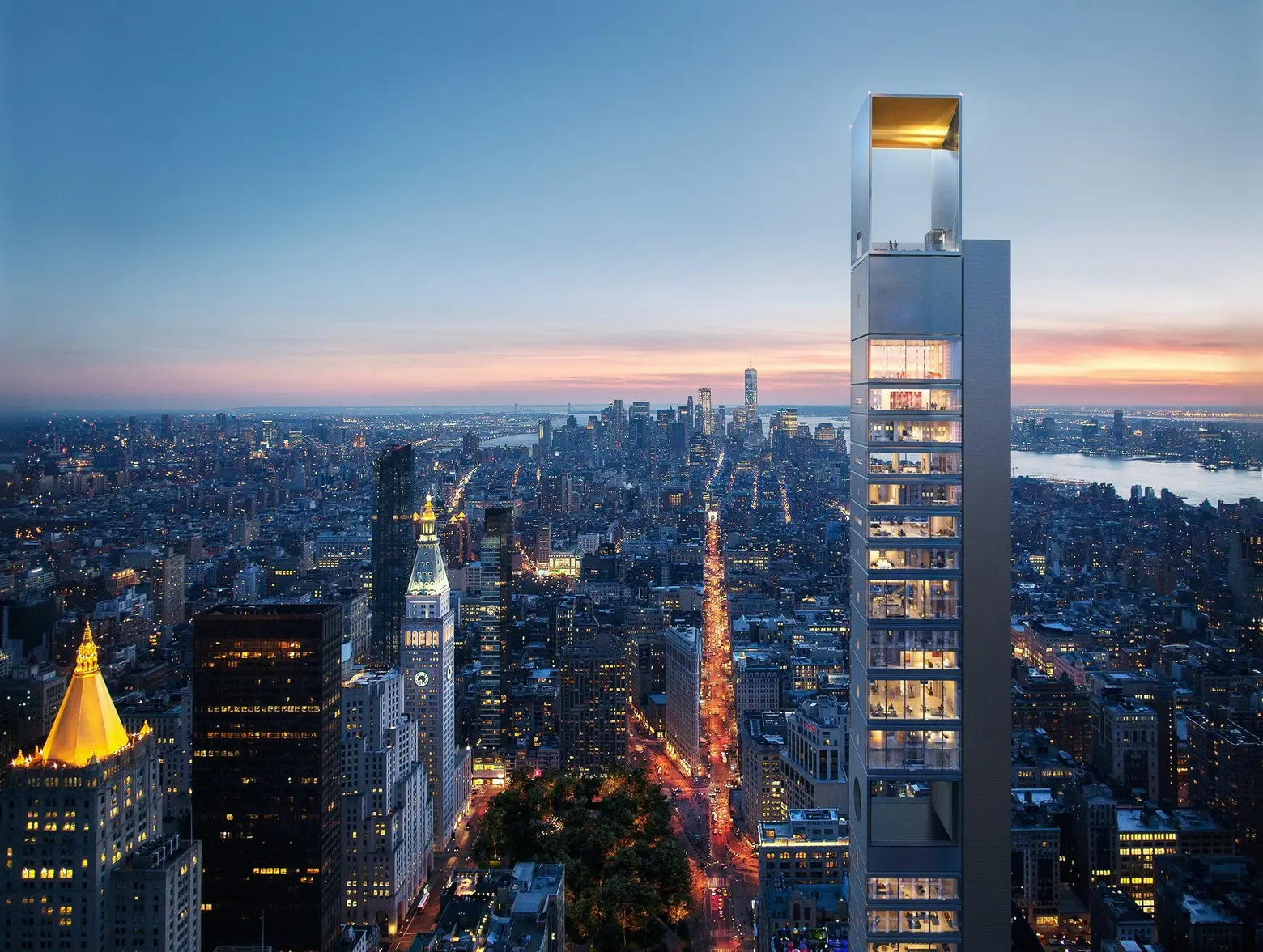 Plans for the tower first came to light in September, when Five Points Development, a new US-based venture led by billionaire Israeli developer Boris Kuzinez (he's credited with turning Ostozhenka Street into Moscow's version of Billionaires' Row), submitted plans for a 54-story, 928-foot mixed-use tower. Though the height has certainly changed, demolition is already underway at the site on the corner of 29th Street and Fifth Avenue, where two vacant pre-war buildings are being razed. A third, historic 12-story building will be integrated into the new structure's base.
Kuzinez has worked with Meganom on several projects, including Tsvetnoy Central Market in Moscow. The firm's other big Moscow commissions are the Pushkin State Museum of Fine Arts extension, the renovation of the Kremlin Museum, and a new masterplan for Gorky Park.

For this design, they've created an aluminum and glass tower with large perforated porthole windows on the eastern facade and floor-to-ceiling windows on the north and south sides. According to the architects, "The form of the skyscraper is inspired by a unique structural system that separates the building's functioning core from its living spaces, creating expansive, unobstructed, column-free and [customizable] full-floor residences – an inventive design solution unprecedented in a New York high-rise."
[Via Dezeen]
RELATED:
Renderings via DBOX