Met Museum will open a 3,500-square-foot science and art play space for young visitors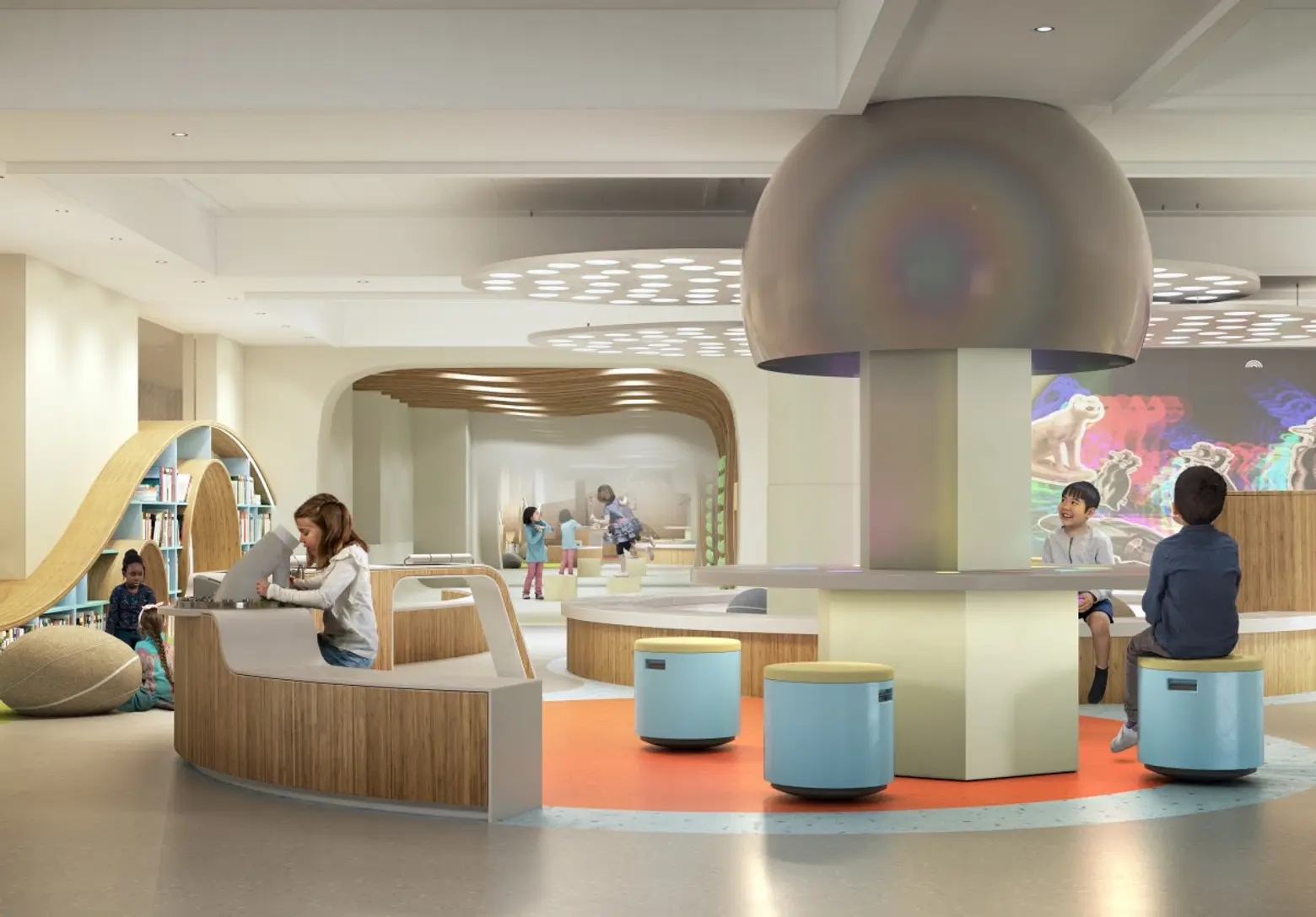 Rendering of 81st Street Studio, designed by KOKO Architecture + Design. Image courtesy of Brick Visual
The Metropolitan Museum of Art has announced it will open the 81st Street Studio, a free science and art play space for the museum's youngest visitors, on September 9. The newly-designed space will occupy a 3,500-square-foot area in the Ruth and Harold D. Uris Center for Education at the Upper East Side museum; children aged 3 to 11 can enjoy interactive play to create new experiences and inspire exploration of the museum's vast collection.
Designed by KOKO Architecture + Design, the 81st Street Studio is, according to the museum, an "interdisciplinary, multisensory drop-in discovery and play space that supports science learning in everyday life through art and materiality."
Kids and their caregivers will be able to use digital and analog experiences that encourage making, investigation, critical thinking, and appreciation for the diverse attributes of various materials. Bluecadet, an experience design firm, served as a strategic digital design partner.
Drop-in, self-directed art and science will be offered during museum hours. A non-circulating children's library will feature books on related subjects, and scheduled storytelling sessions will be led by Met staff.
The studio will use seven interactive stations and the children's library to feature a rotating selection of materials. The inaugural activities will be inspired by wood, for example, allowing kids to explore a variety of wood types and finishes and participate in woodblock carving and drum making, as well as digital tools to learn more.
Another highlight is a music station, designed by music and audio brand Yamaha, that will show young visitors how materials influence sound through a variety of instruments. Kids can also pick up a Met Field Guide which guides young explorers through the scientific aspects of The Met collection and Central Park while collecting stickers and badges.
81st Street Studio was conceived by Heidi Holder, The Met's Frederick P. and Sandra P. Rose Chair of Education, in consultation with other museum departments.
"With its focus on interdisciplinary learning through the five senses, the 81st Street Studio is a further catalyst for how The Met engages with all visitors," Holder said in a statement, "It positions the Museum as a place where visitors can make delightful discoveries, take risks, and ask questions, activities that are imperative to reimaging the future role of museums in our communities."
The 81st Street Studio will open on September 9th with a children's festival. This full-day event will offer science- and art-based activities, play, games, music, and more in addition to introducing the creative new space.
RELATED: