Inside Peachy Keen, a '70s-inspired Times Square restaurant with funky decor and comfort food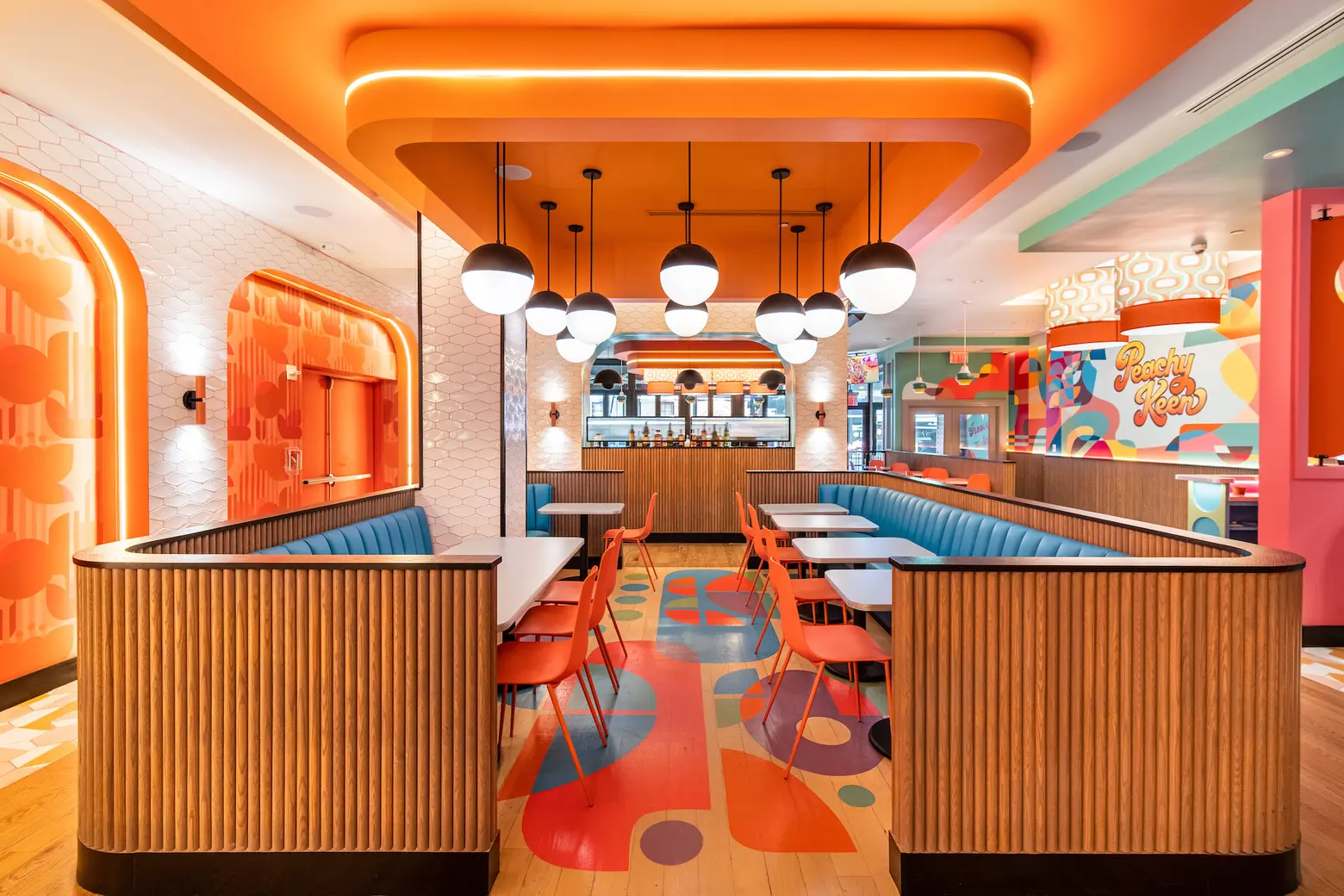 All photos courtesy of Alejandro Ramos
An over-the-top dining experience bursting at the seams with color, patterns, and nostalgia opened in Times Square this summer. Peachy Keen is a sprawling restaurant with exaggerated 1970s-inspired interiors, decked out in a vibrant color scheme of coral, turquoise, orange, and pink with design elements like white ceramic tiles with pink grout and neon signs. The team behind the delightfully retro restaurant's design is Wid Chapman Architects, the hospitality experts who designed New York City hot spots like Dhamaka and the restaurant inside 70 Pine Street. Serving up inventive comfort food and funky cocktails, the all-day eatery is massive with a little over 140 seats, but pockets of tucked-away seating and banquettes provide space for private moments, too. Ahead, hear from architect Wid Chapman on how Peachy Keen's colorful menu inspired the restaurant's technicolor vibe, as well as the firm's design process and his favorite thing to order from the new restaurant.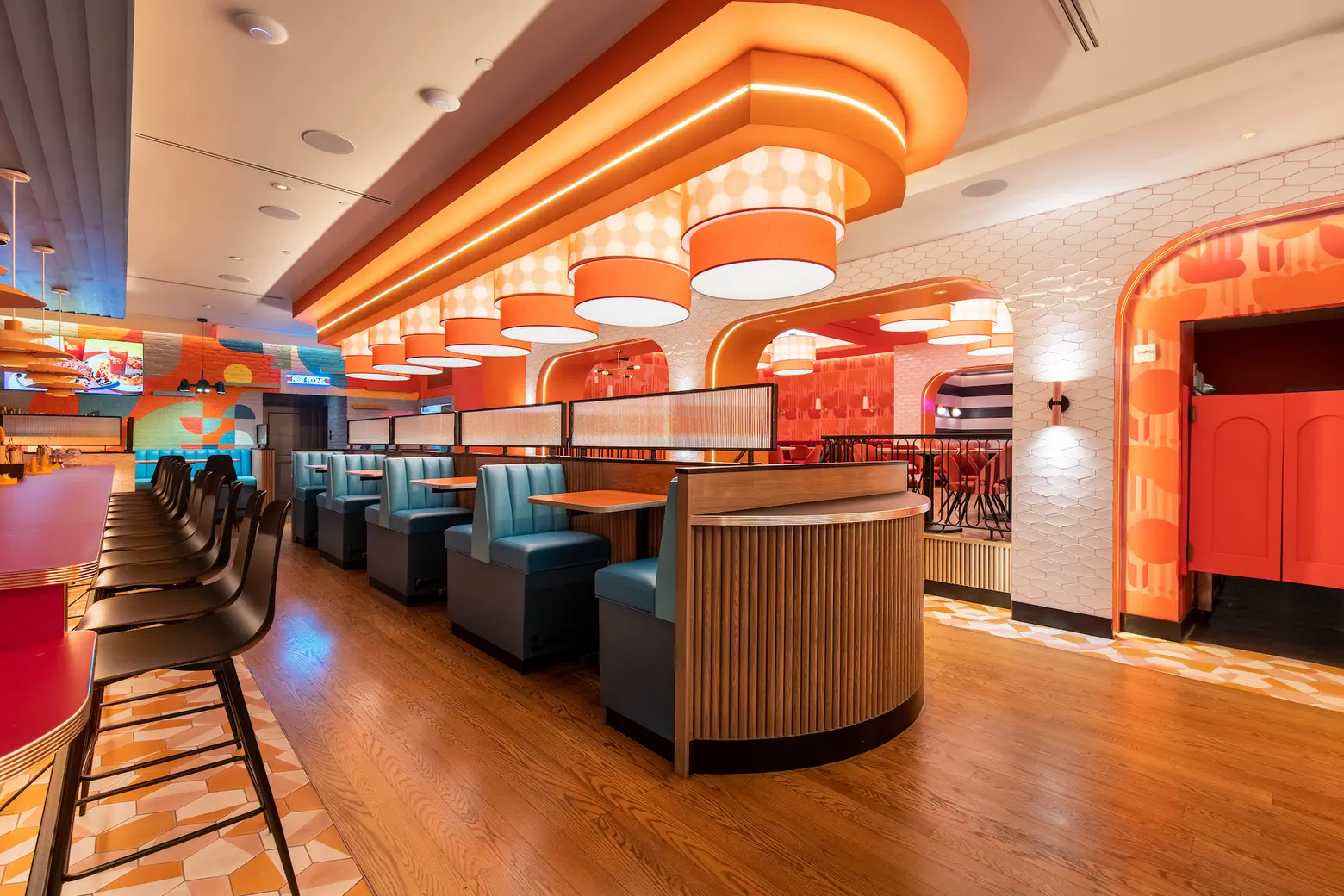 Tables and banquettes are wrapped in oak tambour in front of a 14-seat raspberry-tinted bar.
Can you walk us through Wid Chapman Architects' typical design process? What's usually the first step?
We start with understanding the client's vision. This includes everything from cuisine, location, diner experience, and thematic/identity/brand the client is seeking to establish and develop.
What was the inspiration behind Peachy Keen's design? How much does a restaurant's menu influence the interiors?
The '70s was our big inspiration, the client wanted a vibrant, welcoming place that was an homage to the glamour, glitz, and theatrics of their location at Times Square/Broadway. They wanted the restaurant to feel inviting to a broad range of clients, from families to friends and everything in between. Their menu was bright and colorful so it only seemed appropriate that the restaurant reflected the same.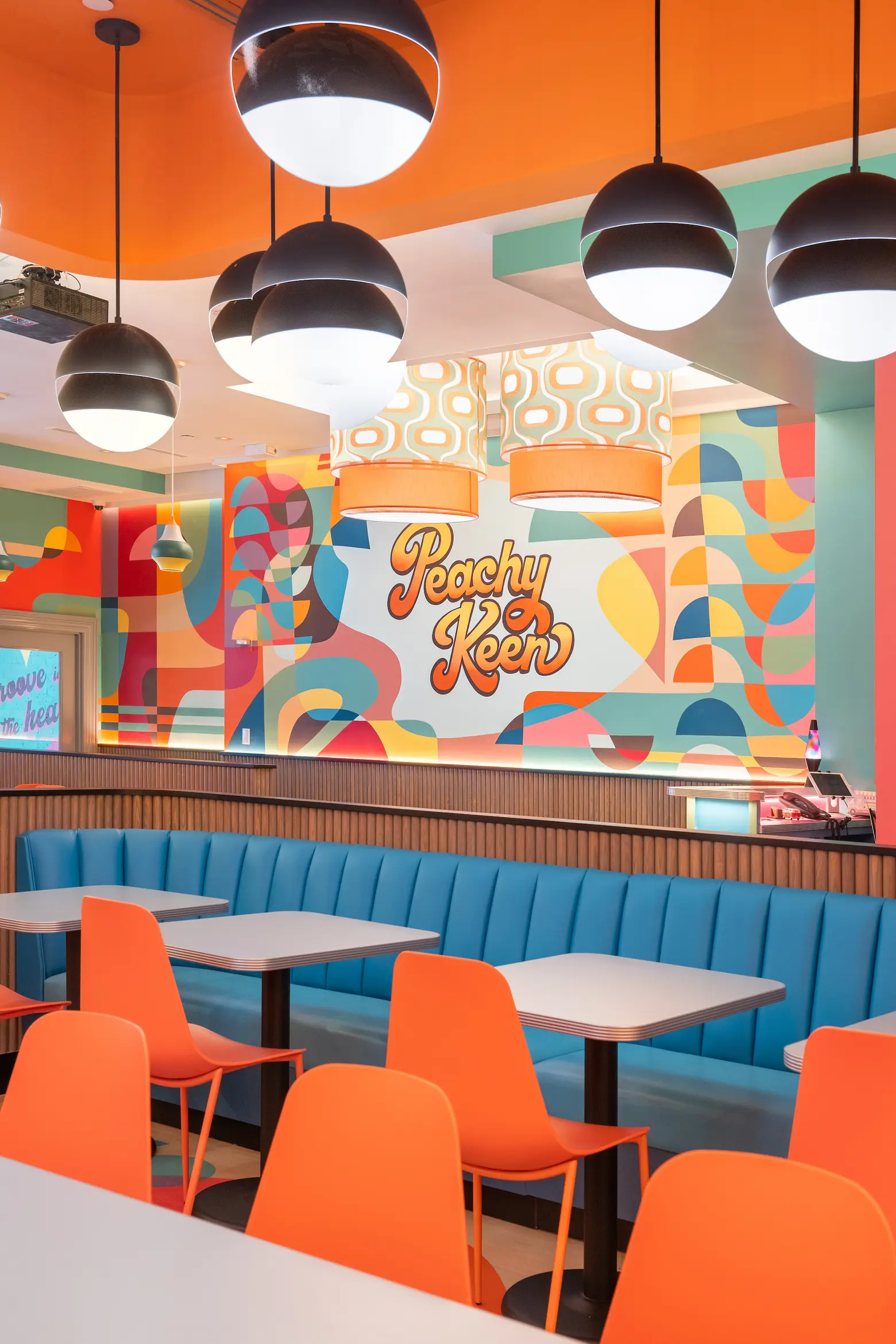 Peachy Keen guests are welcomed with a custom hand-painted mural by Sean Maze of Burning Sun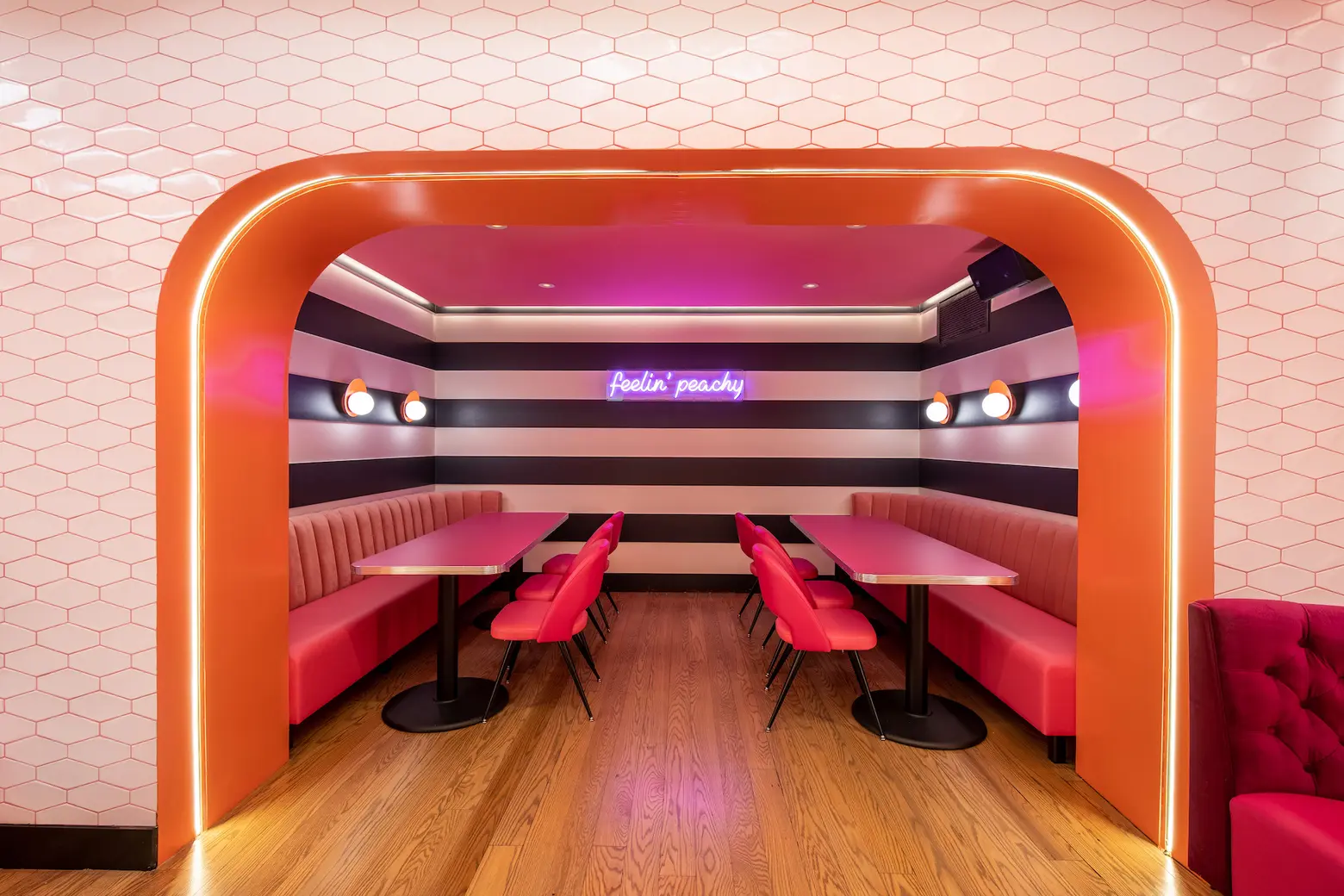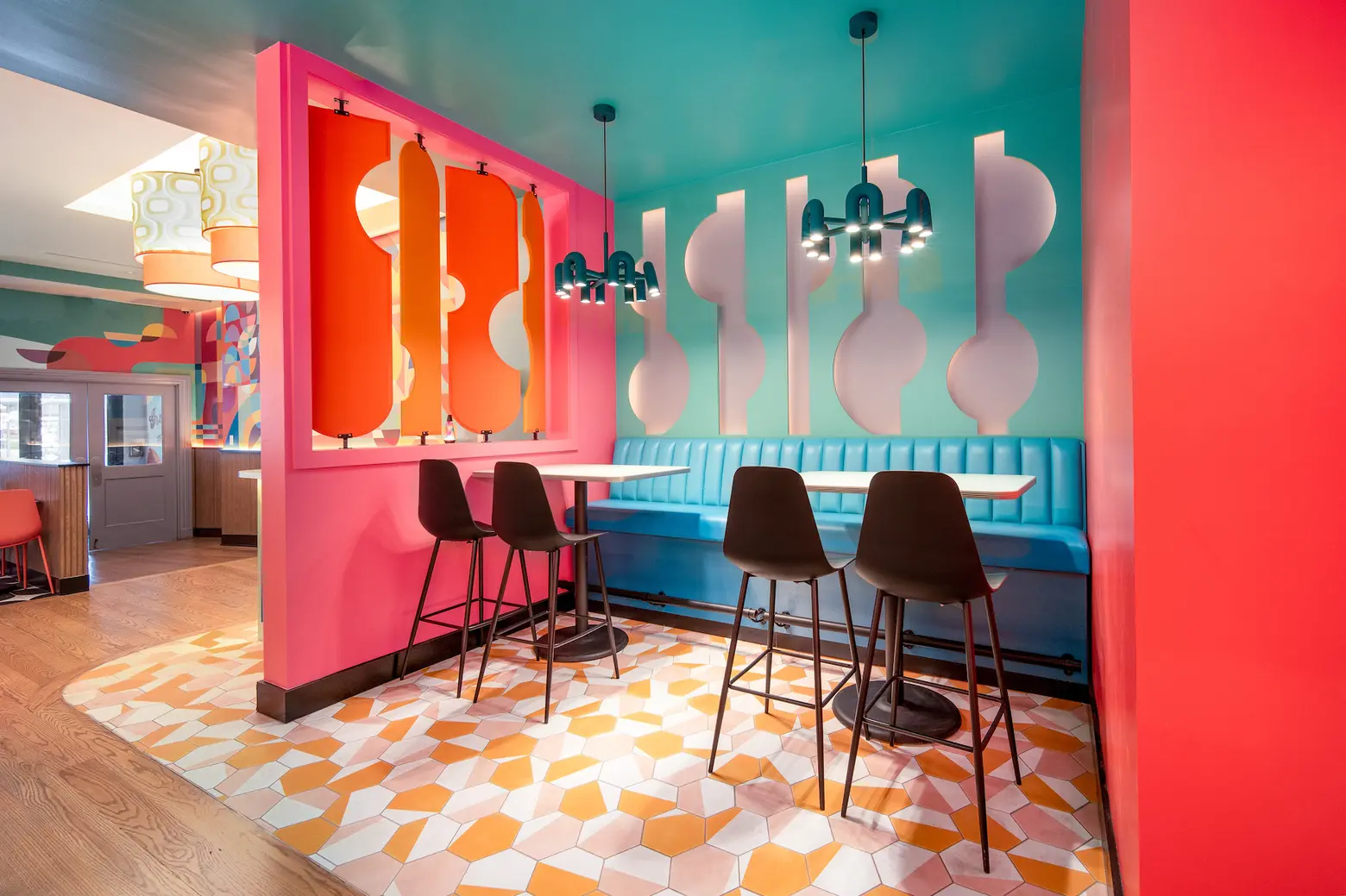 What's the significance behind the hand-painted mural by Sean Maze?
The hand-painted mural incorporates the brand and name in a fun and artisanal fashion. The hand-painted features add warmth and some vintage experience to hark back to the '70s.
There are several different types of seating areas throughout the restaurant, from the banquette and high-tops to the bar seating. What's the reason behind this?
One of our hallmarks as a firm is to create layered experiences providing diners with a rich interior that maintains interest and invites clients to enjoy different vantage points. So dining at Peachy Keen always feels fresh and memorable.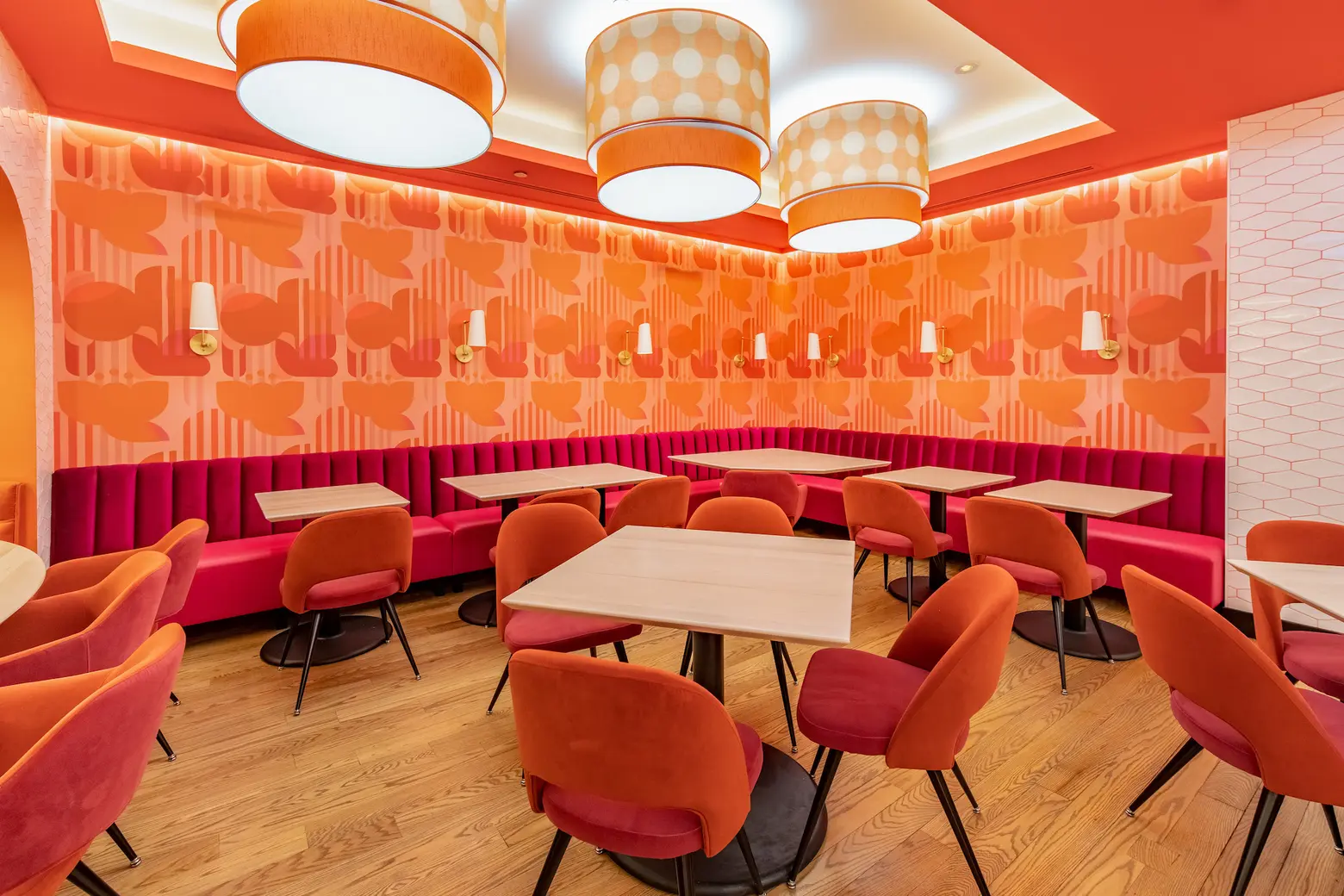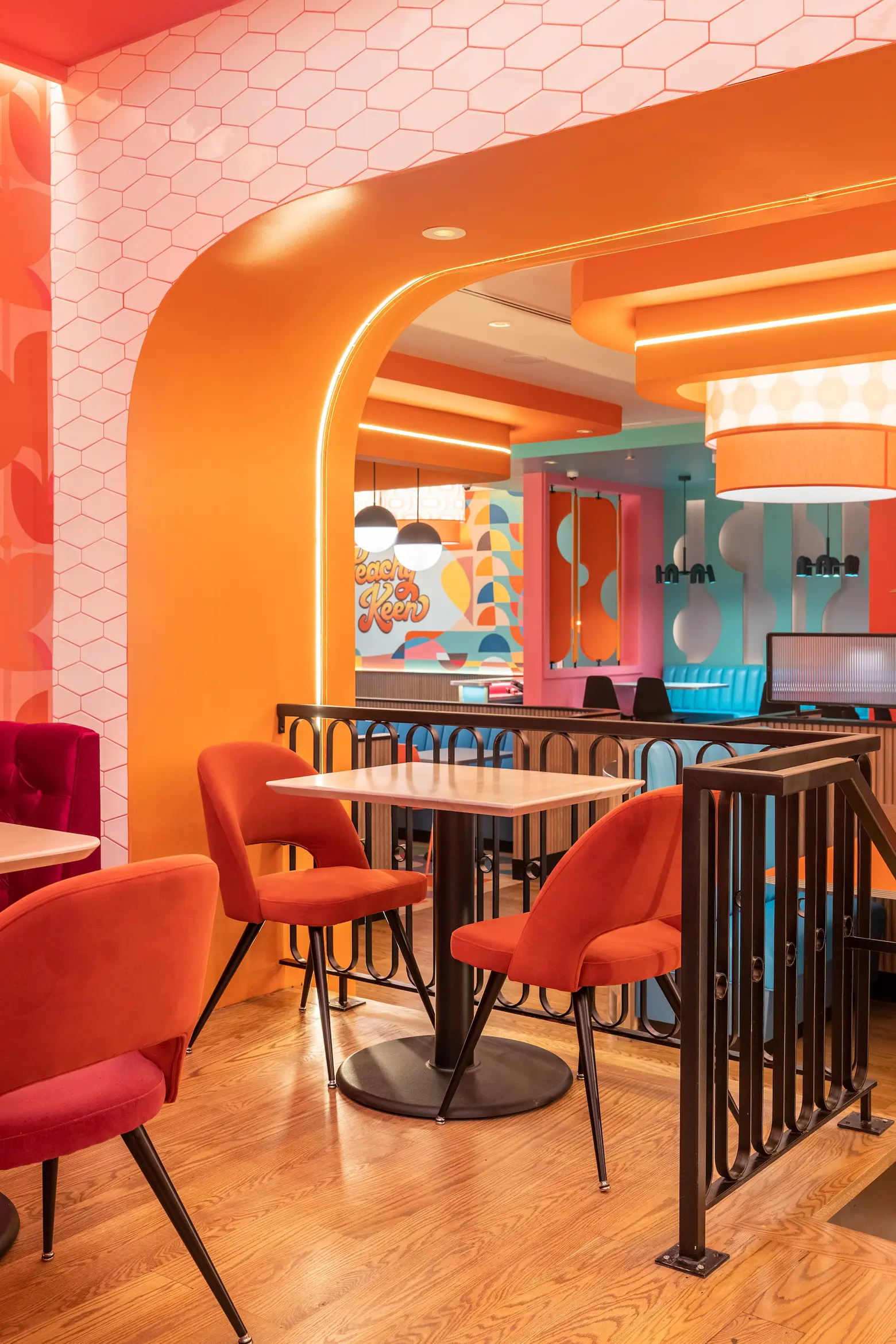 Describe in a few words what you hope diners feel upon entering Peachy Keen.
We want diners to feel fun and flair at Peace Keen. We want them to think of this restaurant as a go-to whether it's for Sunday brunch, a pre-theatre dinner, to celebrate to just to relax and unwind.
The biggest challenge the team faced while completing this project?
This is a bold and vibrant restaurant, hitting the right tones to ensure it felt fun and inviting versus loud and overbearing was a fine balancing act. We spent a great deal of time working on the color layering and materials to ensure we achieved a mood and feel that would work for different diners and different dining moments.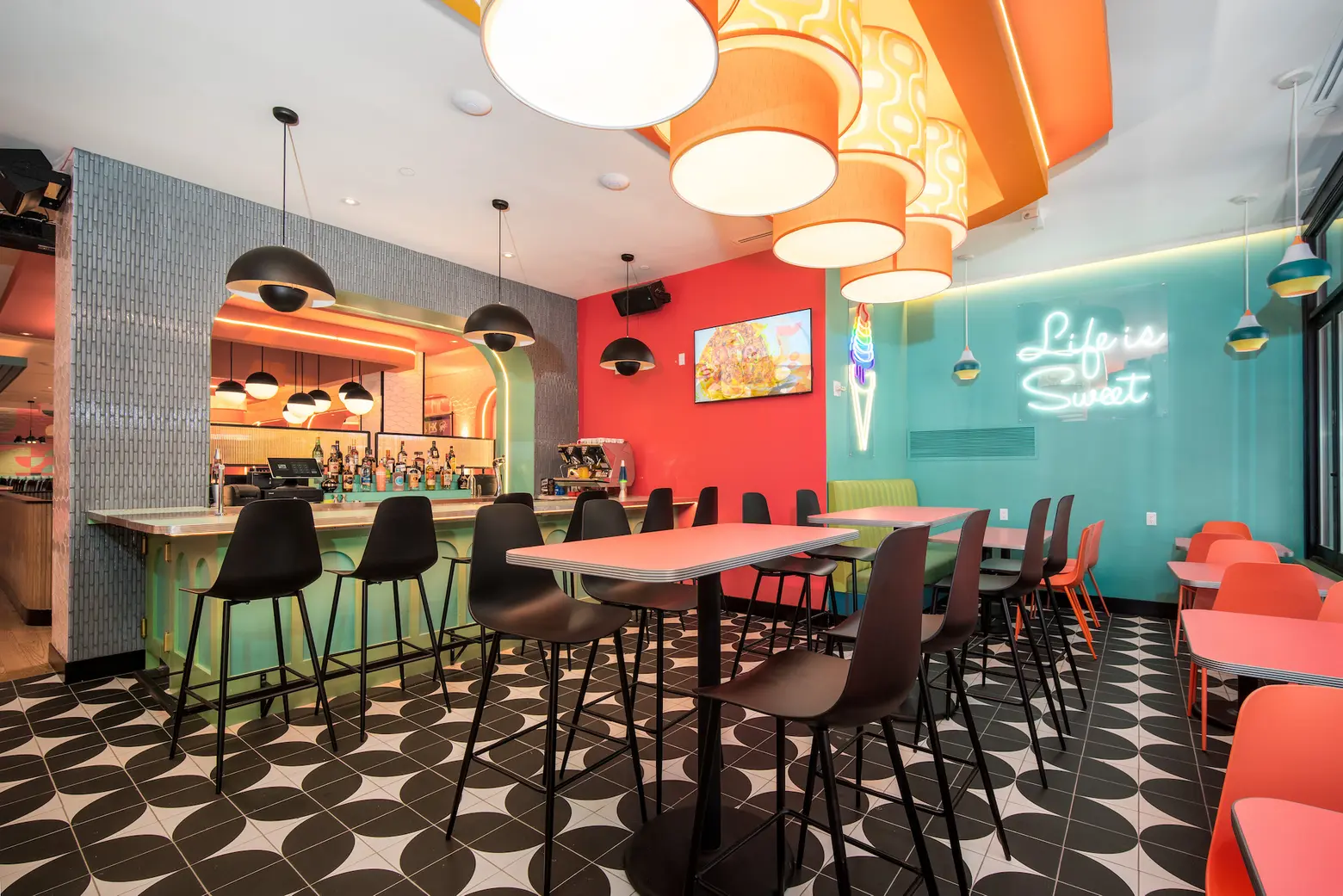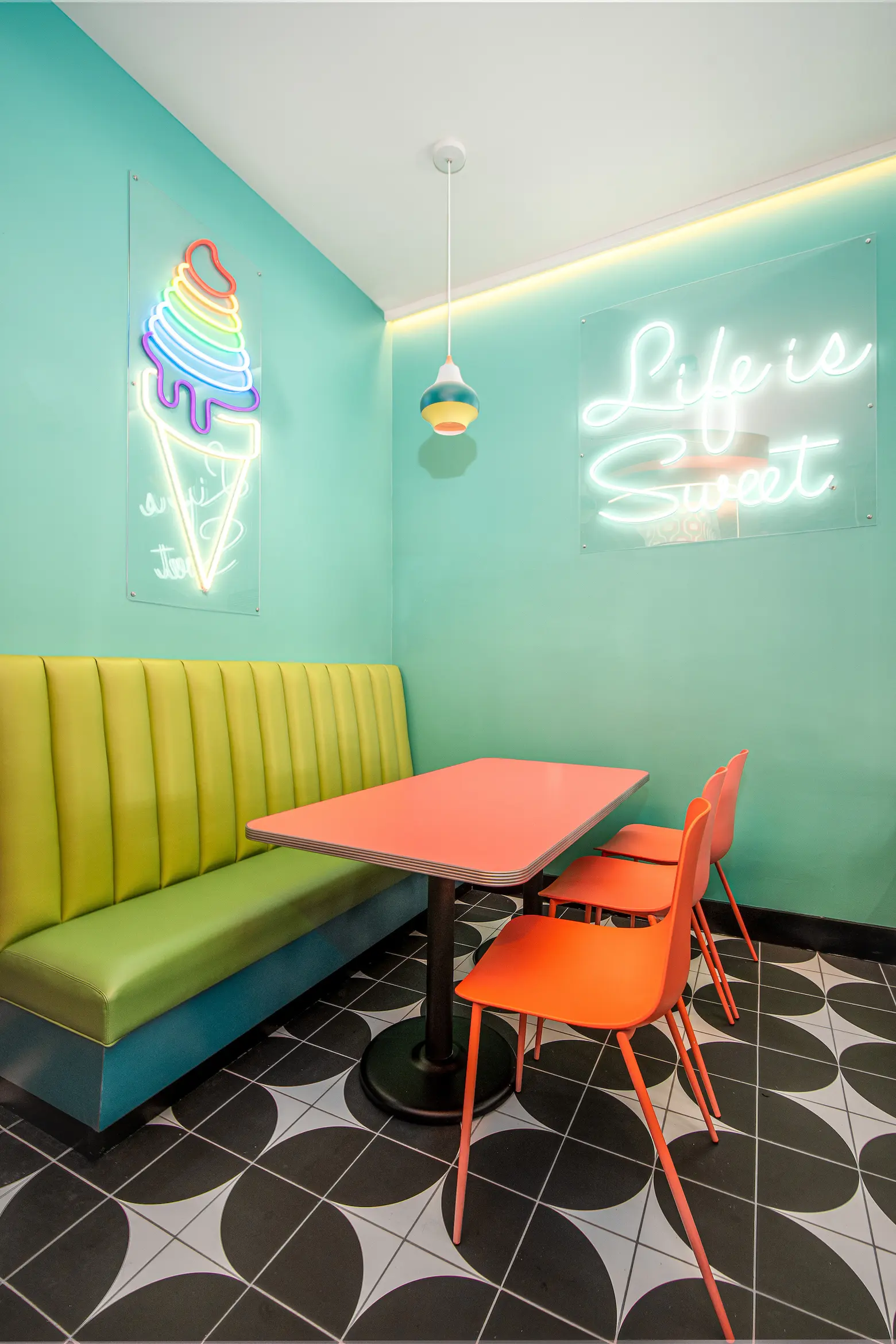 How did Peachy Keen differ from the firm's other NYC projects? 
It's certainly one of the most colorful but we are very comfortable with color. The chance to build multiple dining environments is one of our hallmarks but each time it produces something unique.
Favorite thing to order from Peachy Keen? 
The Hippy Dippy and Truffle Mac and Cheese.
+++
Peachy Keen is located at 325 West 44th Street. It is open Monday through Thursday from 11 a.m. to 12 a.m., Friday from 11 a.m. to 1 a.m., Saturday from 9:30 a.m. to 1 a.m., and Sunday from 9:30 a.m. to 12 a.m.
RELATED:

All photos courtesy of Alejandro Ramos