The best ways to celebrate Halloween 2020 in NYC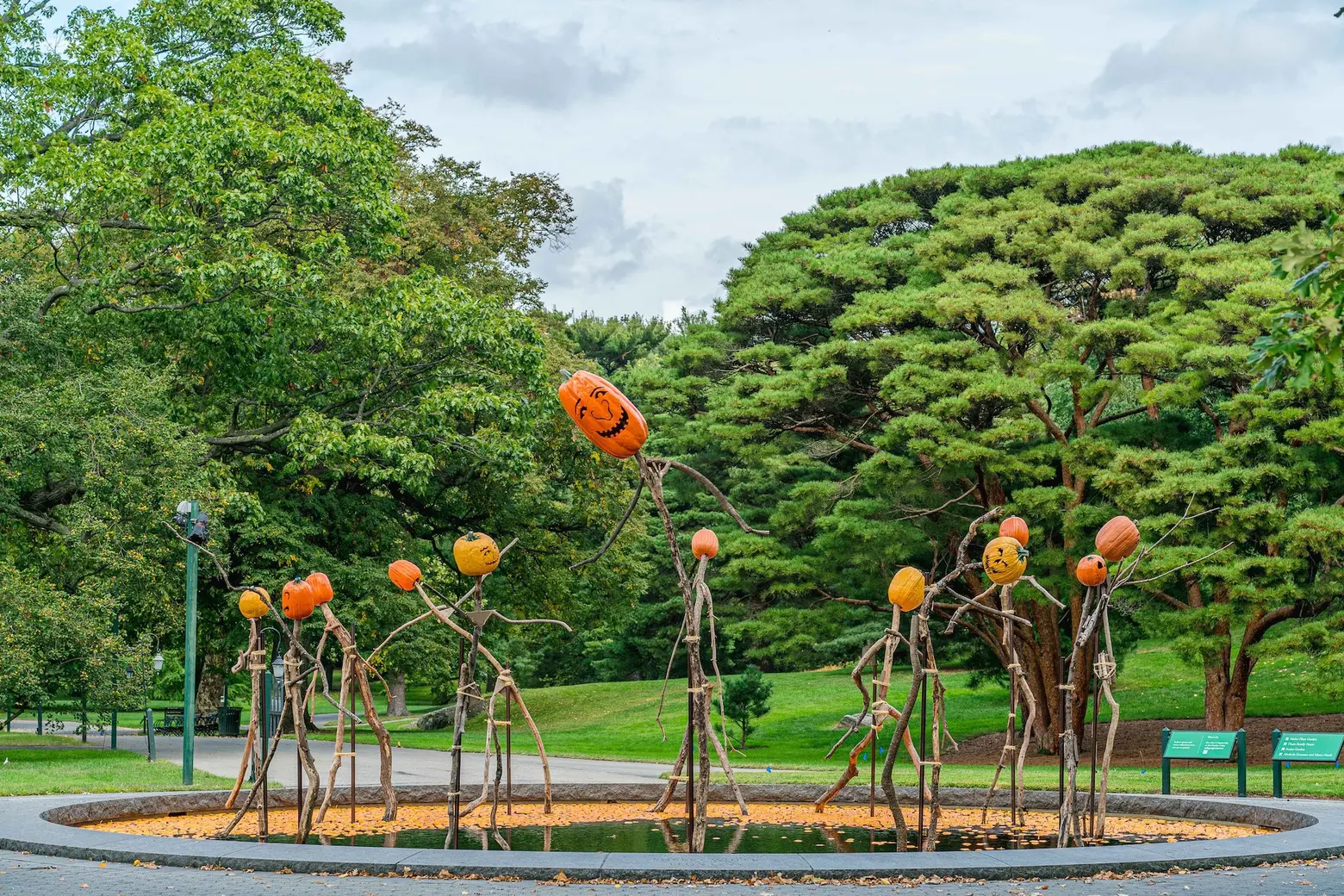 Photo of pumpkin-headed scarecrows courtesy of NYBG
Although it's already been a scary year, there are still ways to have some old-school spooky fun in New York City this Halloween. Sadly, popular events like the Village Halloween Parade and the Tompkins Square Dog Halloween Parade have been canceled and traditional trick-or-treating has been deemed a high-risk activity because of the coronavirus pandemic. But there are a number of fall-friendly, socially distanced events still taking place across the city, like a Día de Los Muertos celebration at Green-Wood Cemetery, virtual ghost story readings from the Merchant's House Museum (considered Manhattan's most haunted house), and eerie hayrides and pumpkin picking at the Queens County Farm Museum.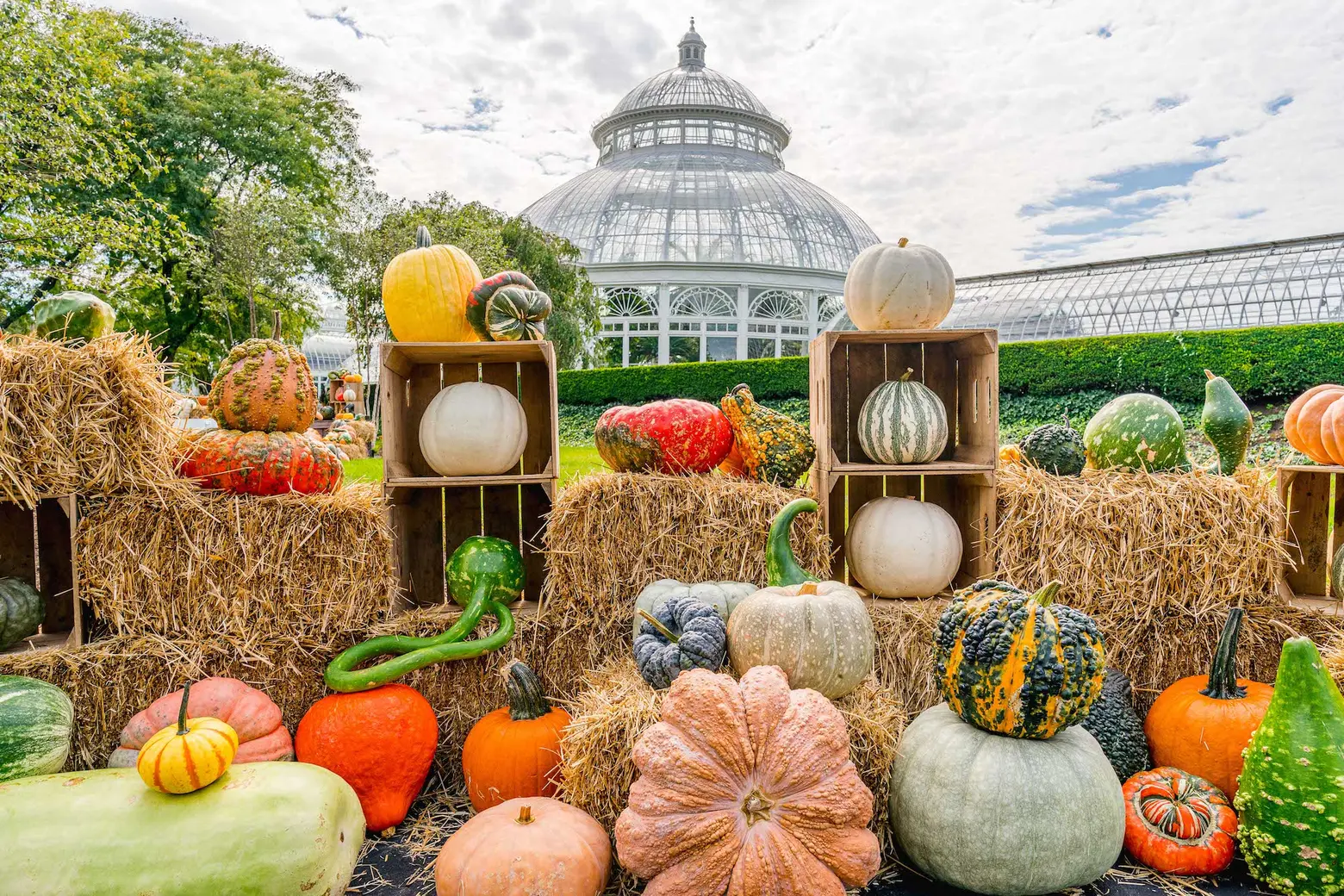 Photo of Great Pumpkin Path courtesy of NYBG
New York Botanical Garden's Great Pumpkin Path
Fordham, Bronx
The New York Botanical Garden has transformed into an autumn wonderland. Visitors can walk along the Great Pumpkin Path on the lawn of the Enid A. Haupt Conservatory, snap photos of the pumpkin-headed scarecrows, and take in the beauty of the Kiku, or chrysanthemum, display. On October 24, some of the world's largest pumpkins (with some weighing 2,000 pounds!) arrive at the Bronx garden and will be on display until November 1. Other fall activities this month include a scavenger hunt for kids and leaf-peeping at the Thain Family Forest, the largest uncut expanse of New York's native woods. Because of the pandemic, the garden launched a timed-entry ticketing system. Advance purchase of timed tickets is required and can be done here.
Boo at the Zoo
Bronx Zoo, Prospect Park Zoo
The Bronx Zoo's annual Boo at the Zoo returns this year, offering family-friendly activities most days until November 1. The Halloween festivities include a magician putting on animal-inspired tricks and reading minds, costumed stilt walkers and puppets, a ghostly graveyard filled with extinct animals, pumpkin carving demonstrations, scavenger hunts, and more. This year all guests must buy tickets in advance, which cost $39.95 for adults, $34.95 for seniors, and $29.95 for children ages 12 and under.
In Brooklyn, the Prospect Park Zoo is "going batty" this Halloween. Guests can go on a spooky scavenger hunt, visit tombs of extinct animals, and learn about the zoo's creatures that only come out at night. Buy tickets, which cost $9.95 for adults, $6.95 for children ages 12 and under, and $7.95 for seniors, in advance here.
Día de Los Muertos at Green-Wood Cemetery
Greenwood Heights, Brooklyn
The historic Green-Wood Cemetery this year will celebrate Día de Los Muertos (Day of the Dead), a Mexican holiday that honors friends and family who have died. Following tradition, the cemetery invites visitors to bring personal offerings, like flowers, photos, and notes, to a community altar, which will be designed by artist Scherezade Garcia. The event, which runs from October 23 to November 1, is free, but all visitors must wear face coverings and keep a distance from others. On October 28, Green-Wood will host "The Cult of Santa Muerte: Origins and Rituals of Mexican Death Culture," a virtual conversation with Brooklyn-born historian and death artist Maria Del Carmen Rivas. Register for the free event here. And on Sunday, November 1, the cemetery will host a Día de Los Muertos celebration for families, with arts and crafts available on a first-come, first-serve basis.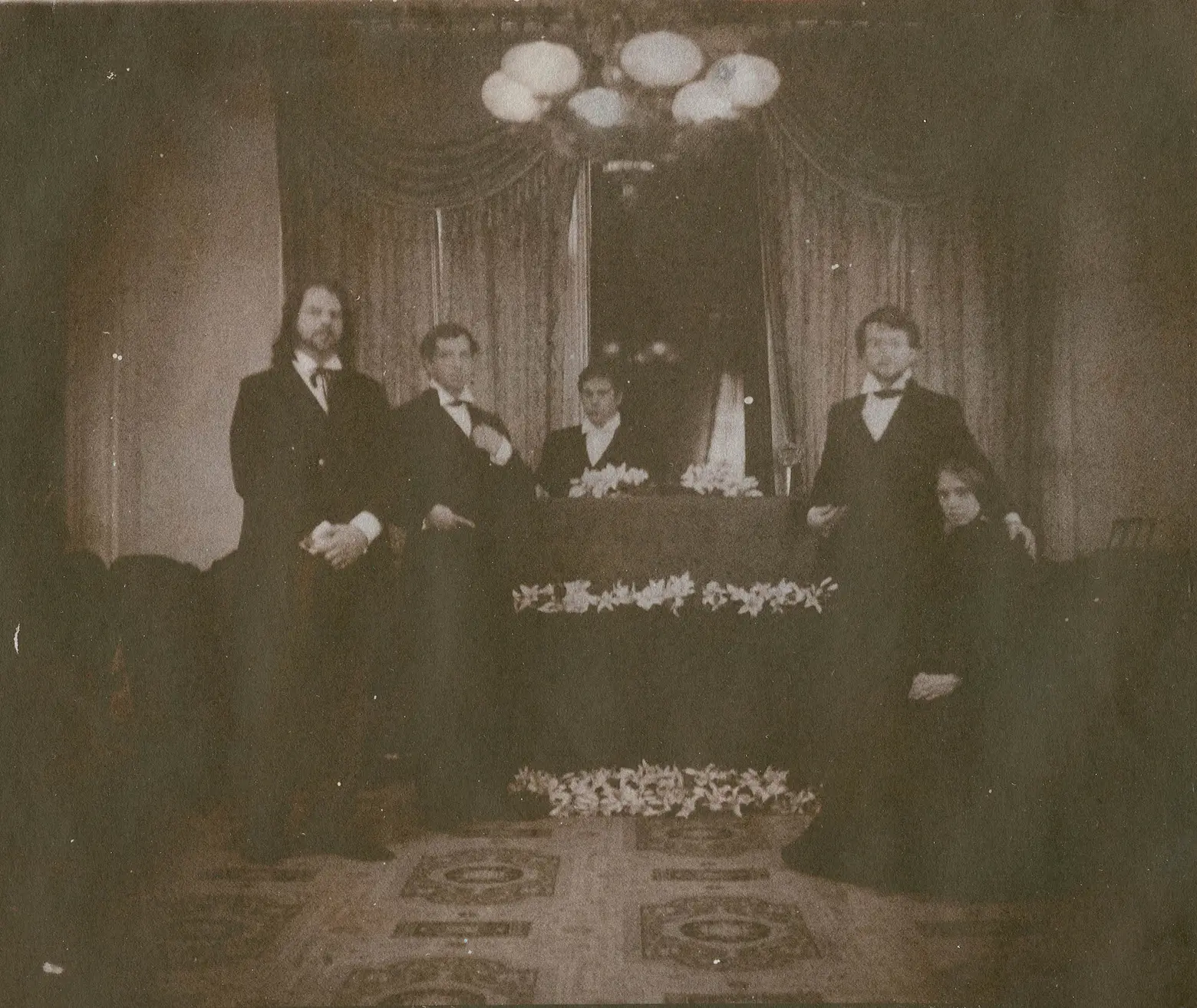 Photo credit: Hal Hirshorn
The Merchant's House Museum
Greenwich Village, Manhattan
Considered "Manhattan's most haunted house," the Merchant's House Museum celebrates spookiness all year round. In spite of the pandemic, the museum will still be hosting a number of spirited experiences during the month of October, with a majority available online. Events include a Facebook Live reading of scary stories written by Mark Twain and Louisa May Alcott, a free online lecture about paranormal activity at the site, and a virtual presentation about the strange happenings at Merchant's House Museum over the last century. For two nights only, on October 29 and October 30, Dan Sturges from Travel Channel's Paranormal Caught on Camera series will join the presentation to answer any experts about otherwordly activity at the museum. And on Halloween, there will be a virtual party with ghost stories, party games, and lessons on how to make a "witch's brew."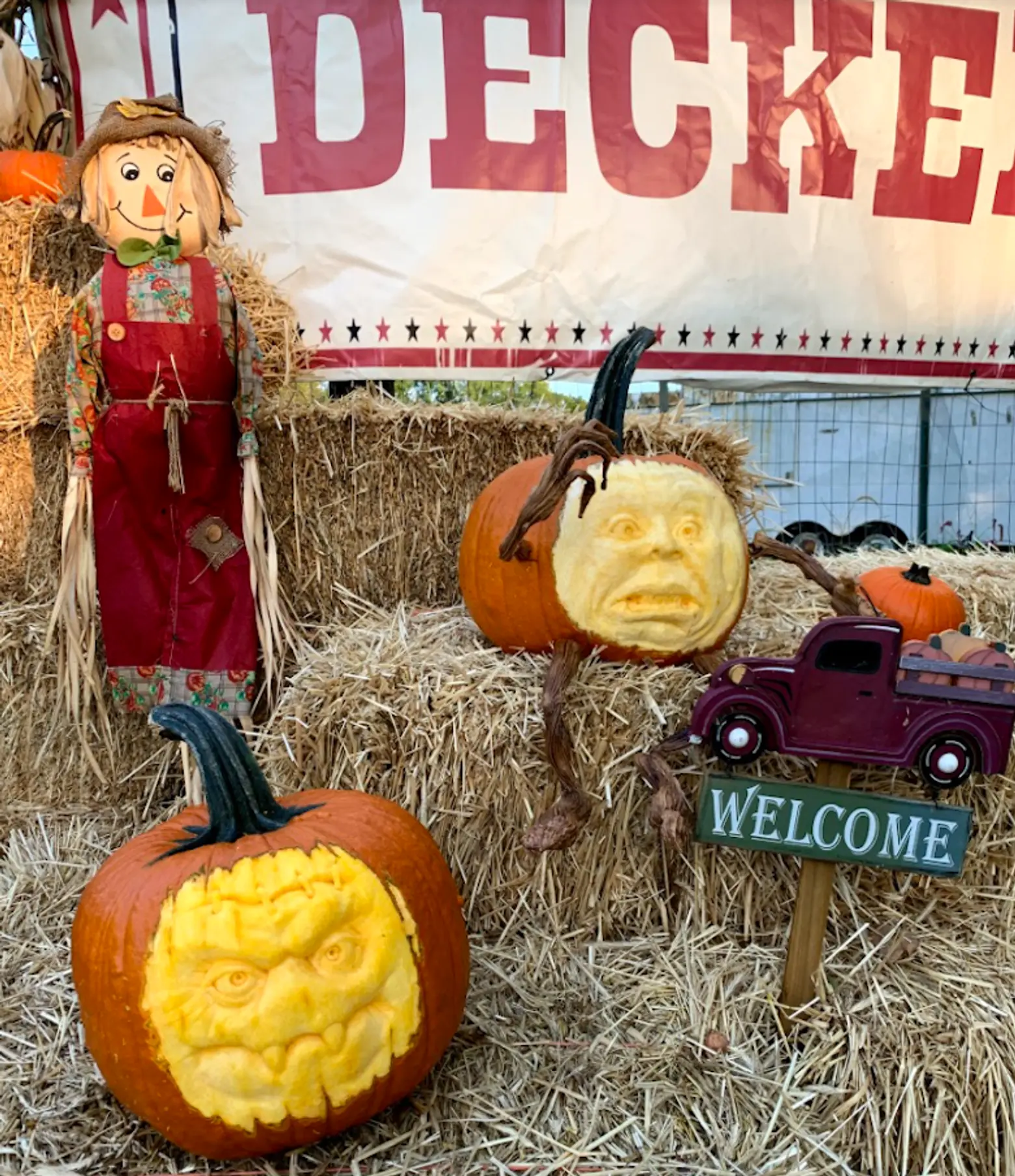 Courtesy of Historic Richmond Town
Halloween in Richmond Town
Richmond, Staten Island
On Staten Island, the 100-acre living history museum Historic Richmond Town is inviting families to celebrate October 31 at its Decker Farm, which has been adorned with festive decor. From 11 a.m. to 5 p.m., visitors to the museum can pick their own pumpkins, watch an expert pumpkin carver, enjoy educational Halloween-themed activities, and listen to a reading of scary stories from 1940s radio dramas. There will be Halloween music, live performances, and every adult ticket purchase includes two drinks from The Flagship Brewing Co. and popcorn. Tickets to the event will go on sale on October 15.
Paranormal Historical Investigations at the Morris-Jumel Mansion
Washington Heights, Manhattan
At Manhattan's oldest house, visitors will learn the basics of ghost hunting and possibly even communicate with its former residents, including Eliza Jumel, wife of Aaron Burr. Perfect for some pre-Halloween spooking, the Morris-Jumel Mansion, built in 1765, will host three paranormal historical events throughout the month of October. During the three-hour event, guests will learn how to use paranormal detective equipment and explore the history of the mansion and its residents. Due to COVID-19, the museum is limiting the number of participants to 12 people per event. Investigation events for the public occur regularly September through May and private paranormal investigations are available year-round.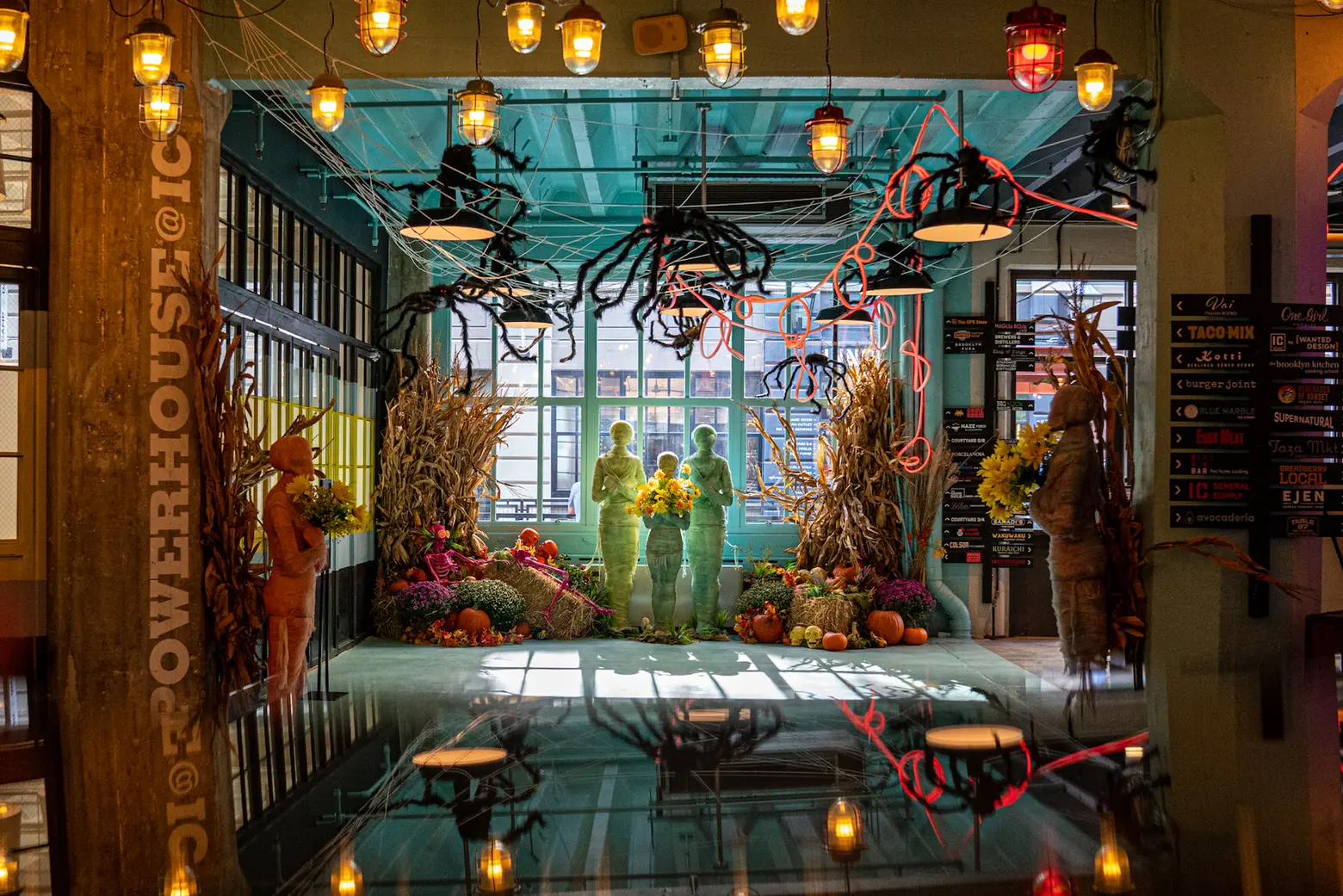 Courtesy of Industry City
Industry City
Sunset Park, Brooklyn
Scary skeletons and eerie mummies have taken over Sunset Park's Industry City. Now covered in creepy cobwebs and creatures, the waterfront complex is hosting an outdoor Halloween Pumpkin decorating party on October 24 and October 25. Hosted at Sahadi's under tents with heat lamps, the event costs $10 and provides kids with pumpkins, decorating materials, hot cider, and a goodie bag. For adults, expect an outdoor bar serving seasonal cocktails, like blood orange mimosas, bourbon spiced hot cider, and spiked hot cocoa. Tickets can be purchased here.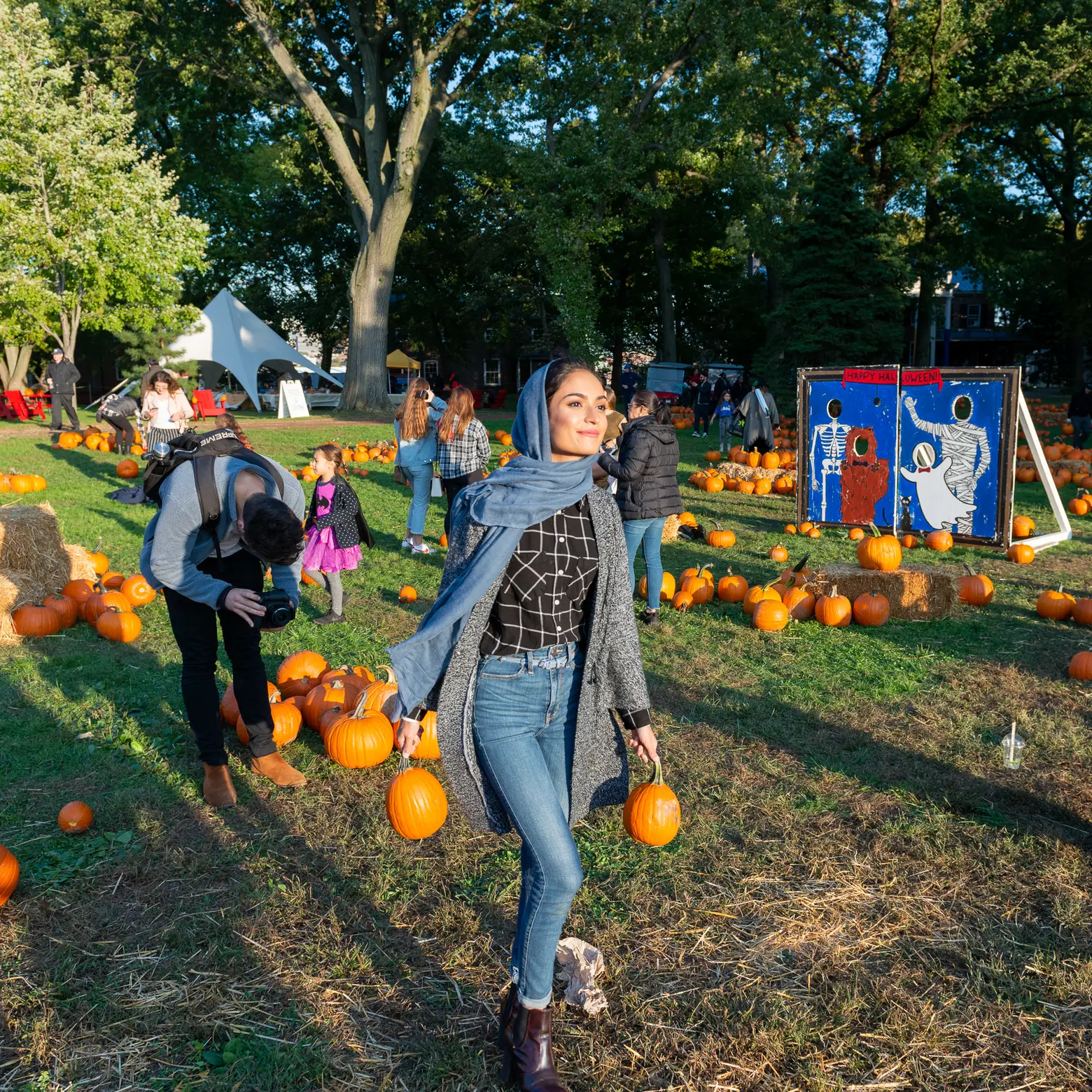 Photo by Trey Pentecost
Pumpkin Point on Governors Island
Governors Island
One of the few pumpkin patches in New York City returns this month. Governors Island's Pumpkin Point will be open from October 24 through November 1 across from Nolan Park, located within the island's historic district. There will be fun fall decorations and thousands of pumpkins to choose from, with every visitor entitled to one pumpkin for free. Pumpkin Point will be open during the island's public hours, 10 a.m. to 6 p.m. Governors Island, accessible via ferry, will close for the season on November 1.

Courtesy of Queens County Farm Museum
Halloween on the Farm at Queens County Farm Museum
Floral Park, Queens
What better way to spend a Saturday in autumn than at one of the oldest farms in New York. The Queens County Farm Museum, which dates back to 1697, is offering a number of fall-friendly events this year, like the Amazing Maize Maze  (a challenging 3-acre corn maze), pick-your-own pumpkin, and a new immersive floral installation. On October 31, the museum is going all out for Halloween with hayrides, trick-or-treating with farm animals, and spooky crafts. Advance tickets are required, cost $20, and can be purchased here.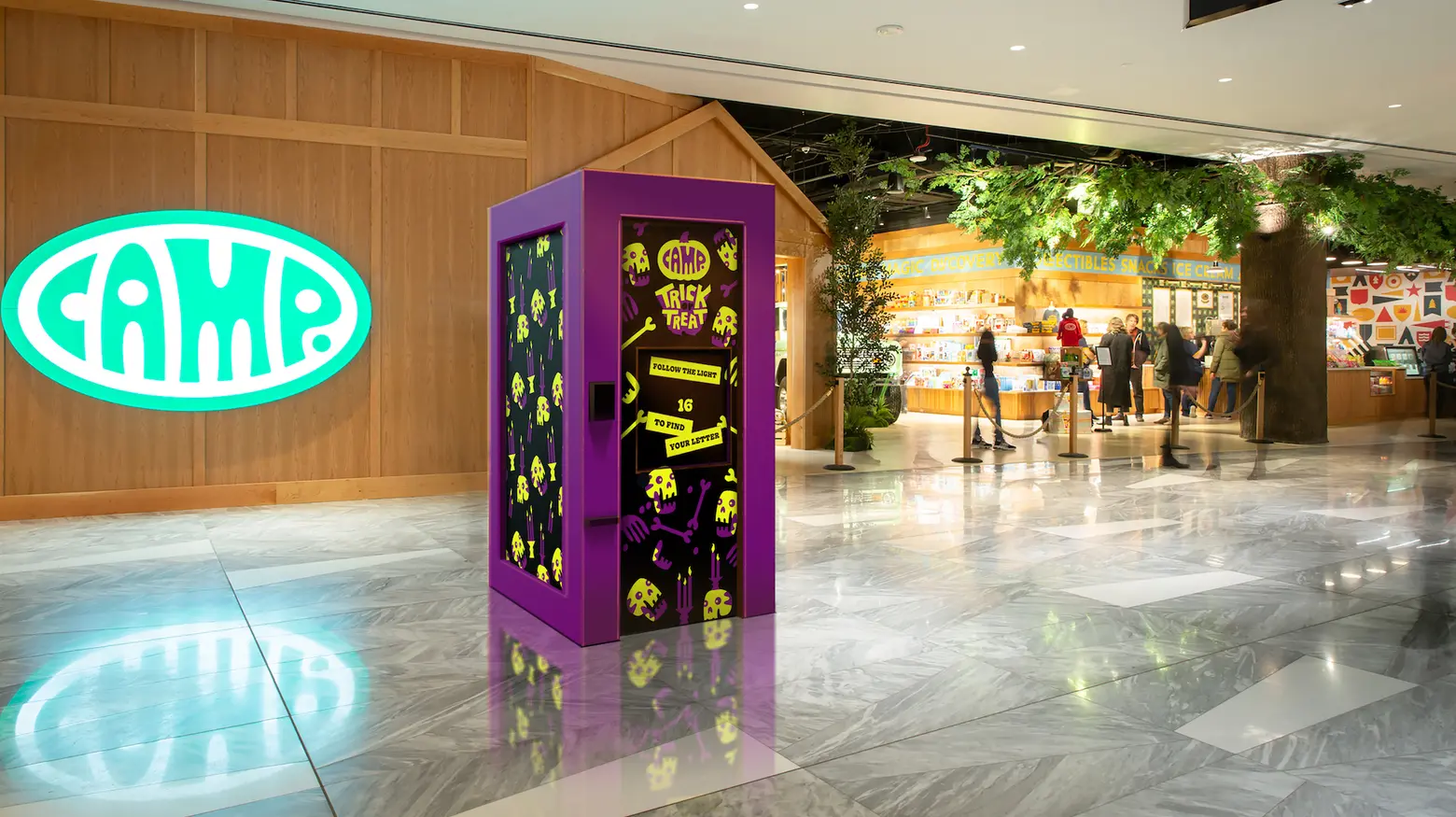 Courtesy of Related Companies
Touchless trick-or-treating and Halloween Fright Fest screenings at Hudson Yards
Hudson Yards, Manhattan
Related Companies may have cracked the secret to trick-or-treating safely this year. From October 25 to November 1, families are invited to explore a mystery adventure at The Shops at Hudson Yards. Trick-or-treaters will be given a map leading to 18 mystery doors across Hudson Yards, which are all able to be open with a "magic" bag and hand out a treat (or trick!). Tickets are $30 and include a candy bag and a special Halloween gift from CAMP, the interactive play space and toy store at The Shops.
Hudson Yards will also be showing spooky movies on their Backyard Big Screen, located in front of Vessel. In partnership with Tribeca Film Festival, Hudson Yards' Halloween Fright Fest includes free screenings on October 30 and 31 of The Birds, The Addams Family, Coraline, and the Bride of Frankenstein. Learn more here.
Halloween and Dia de los Muertos at the Brooklyn Children's Museum
Crown Heights, Brooklyn
Closed since March 14, the Brooklyn Children's Museum will reopen its indoor exhibits to the public just in time for Halloween. The family-friendly museum is hosting a special Halloween event on Saturday, October 31 that includes trick-or-treating on the roof and throughout exhibits. Kids can make their own masks, enjoy a spooky Animal Adventures workshop, and do a print-making activity with fall produce. Sessions, included with the $13 general admission, are being held at 10 a.m., 12:30 p.m., 3 p.m., and 5 p.m.
On Sunday, November 1, guest curator and teaching artist Mincho Vega will be on hand to celebrate Dia de Los Muertos by building an ofrenda (or altar) on the museum's roof to honor ancestors. Included in the cost of admission, the event will take place at 10 a.m., 12:30 p.m., 3 p.m., and 5 p.m. Find more details here.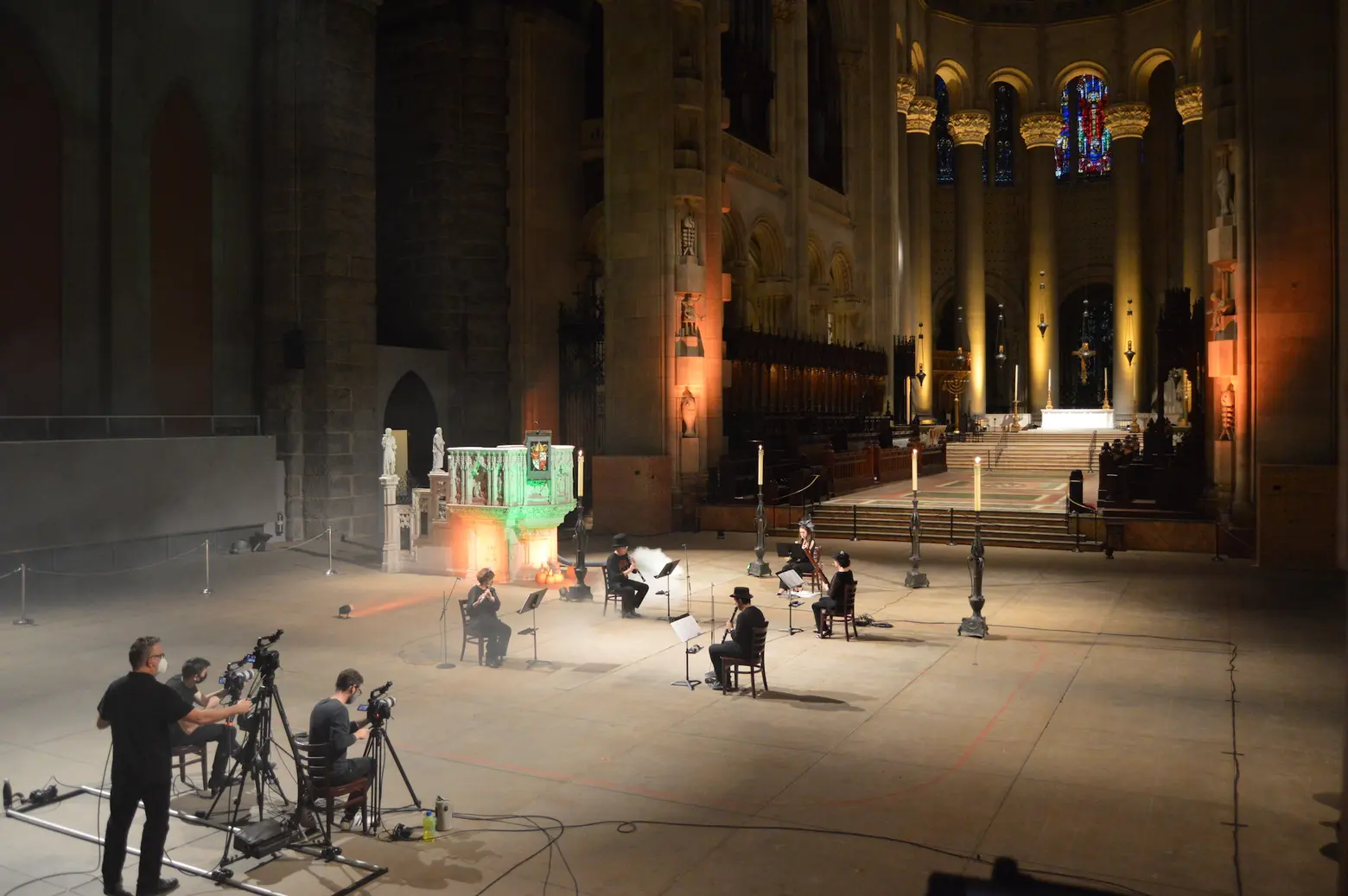 Photo credit: Cathedral of St. John the Divine
A spooky concert hosted by The Cathedral of St. John the Divine and the New York Philharmonic
Virtual
The Cathedral of St. John the Divine and the New York Philharmonic have teamed up this Halloween to put on an eerie performance. On October 31, a free streamed performance of classically spooky compositions by Musorgsky, Saint-Saëns, and others will be available to watch on Facebook at dusk on Halloween. The performance, the Philharmonic's first Halloween show since its founding in 1842, was recorded in the historic Gothic-style cathedral in Morningside Heights. In addition to the concert, the Cathedral of St. John the Divine is hosting virtual tours of its crypt on Friday, October 30. And on October 31, the Cathedral, along with the West 111th Street Block Association, is hosting an outdoor, socially-distanced Halloween festival for families, including trick-or-treating, live music, and costume contests.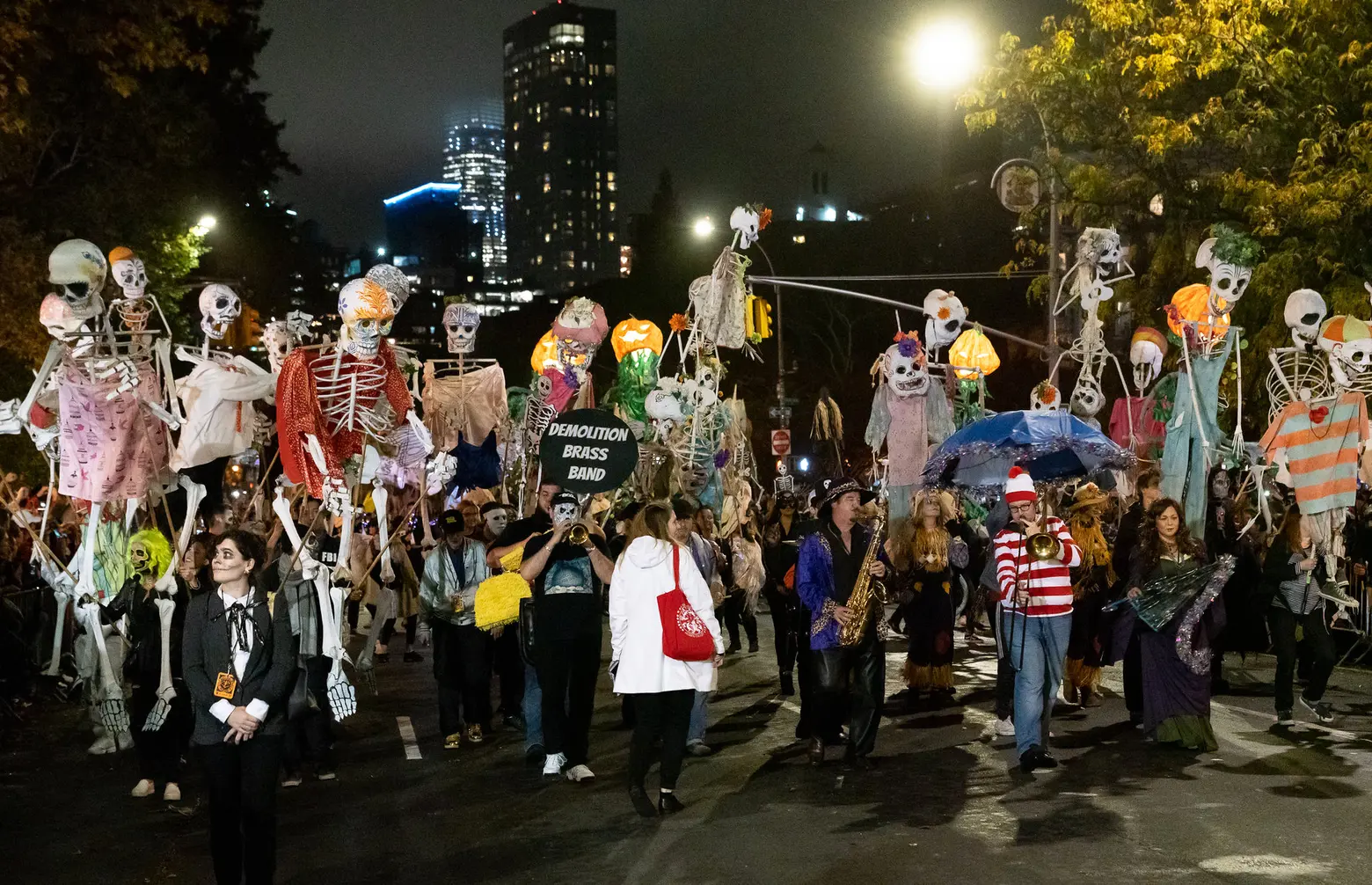 Photo of 2019 Village Halloween Parade by Steven Pisano on Flickr
Virtual parades
Like so many of the city's favorite annual events, this year's Village Halloween Parade and the Tompkins Square Halloween Dog Parade have been canceled because of the coronavirus. But organizers of both events are keeping the parades alive with online events. This year's Village Halloween Parade will include a parade of mini puppets designed by 30 artists, available to stream at home here. And on Halloween evening at 7 p.m., NY1 will air a special program featuring highlights of prior parades, with Pat Kiernan and Jamie Stelter sharing their own favorite memories of the event.
On Saturday, October 24, all costumed furry friends and their owners can participate in a virtual Tomkins Square Halloween Dog parade and compete for the most creative looks.
Instead of its annual in-person After Hours Halloween Masquerade party, the New York Public Library will be hosting a virtual parade. Between now and October 28, the library invites bookworms across the city to dress up in costumes inspired by a book or author. Project Runway star Tim Gunn will be ready to react to the most page-turning submissions and pick his favorites. Those who hope to participate in the virtual should share their costumes on social media using the hashtag #NYPLHalloween.
Halloweek with Atlas Obscura
Known for its guides to the world's weird wonders, Atlas Obscura is taking it up a notch for Halloween this year. The website is hosting a virtual "Halloweek" event, with five full days of "otherwordly online" experiences. Starting October 26,  you can hear scary stories, learn about creepy creatures, take a tour of the house featured in Twilight, and make DIY Victorian Hallowe'en crafts. Learn more about each event and purchase tickets here.