Finalist proposals unveiled for new climate change center on Governors Island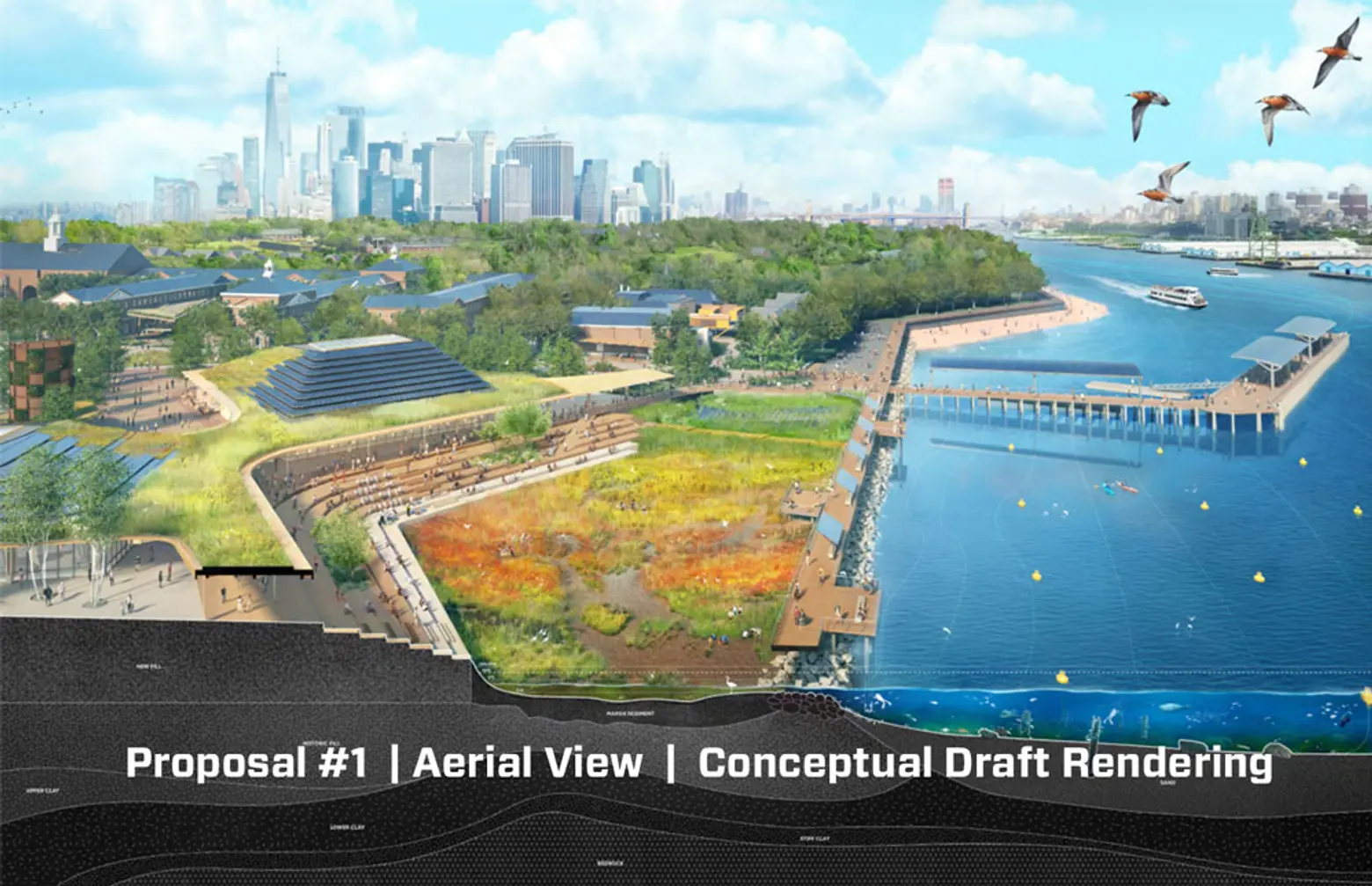 Conceptual rendering of Proposal #1. Credit: Trust for Governors Island
Mayor Eric Adams and the Trust for Governors Island on Wednesday unveiled the three finalists for the city's global competition to design a state-of-the-art research institution on Governors Island dedicated to climate solutions. The so-called Center for Climate Solutions will create 7,000 permanent jobs, approximately $1 billion in economic impact, and develop innovative ways for New York City and the rest of the world to address the climate crisis, according to the city. The winning design team will be announced next year.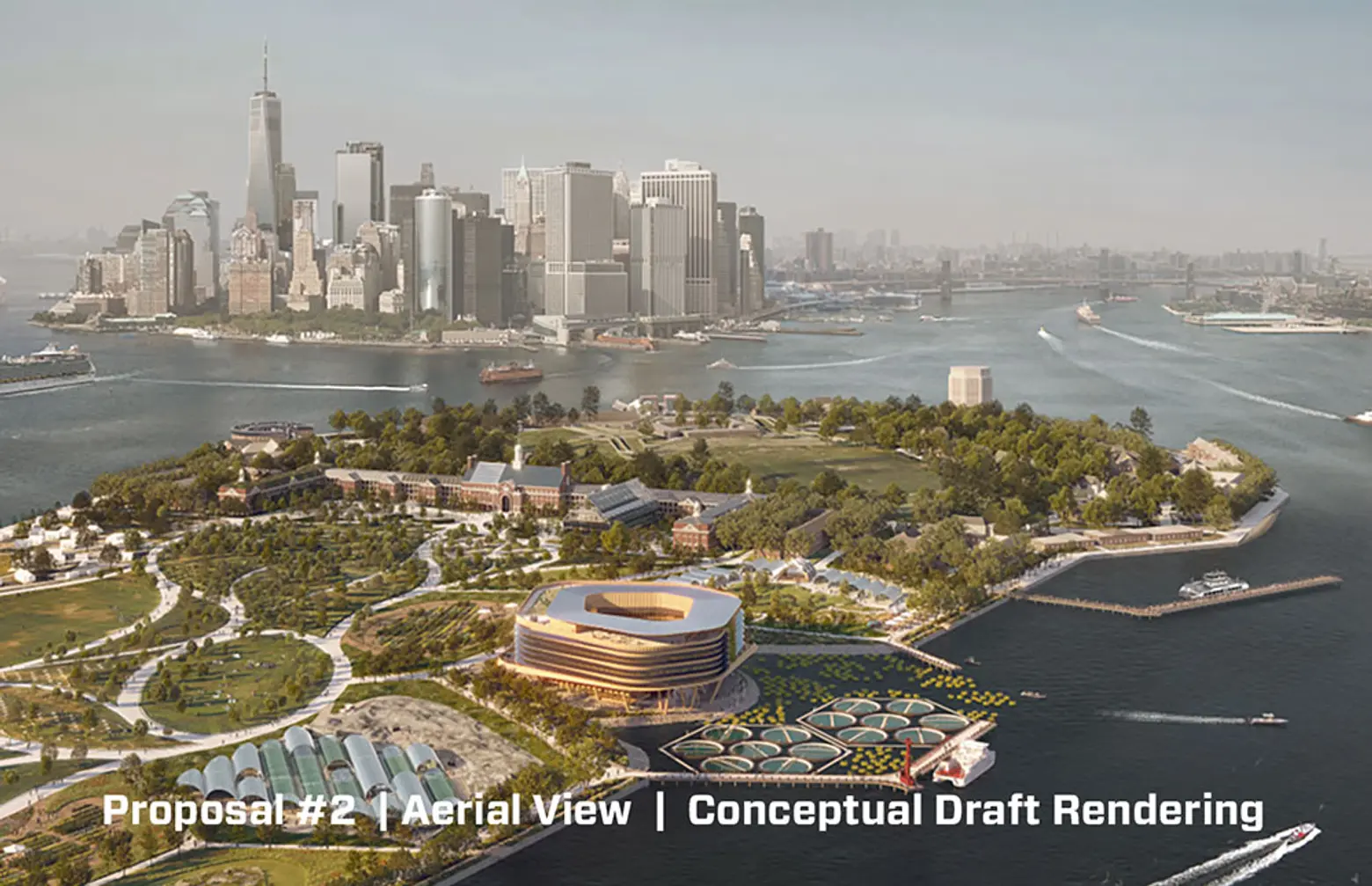 Conceptual rendering of Proposal #2. Credit: Trust for Governors Island
Following the competition's previous phase in December 2021, finalists were invited to respond to the city's request for proposals (RFP). The three finalists began developing their proposals in April 2022 as part of Adam's "Rebuild, Renew, Reinvent: A Blueprint for NYC'S Economic Recovery" plan.
Proposals were received from the following university-led teams:
Coastal Cities Impact Team, led by Northeastern University, in partnership with Woods Hole Oceanographic Institute, Fordham University, Cooper Union, Manhattan College, Johns Hopkins University, Jackson State University, the University of Puerto Rico at Mayagüez, University de Los Andes, Pontifica University Catolica de Chile, Imperial College London, Ben-Gurion University, University of Ghana, Ashesi University, University of Tokyo, and additional non-profit and on-Island partners;
New York Climate Exchange, led by Stony Brook University, in partnership with International Business Machines Corporation (IBM), Georgia Institute of Technology, Pace University, Pratt Institute, University of Washington, Duke University, Moody's Corporation, Rochester Institute of Technology, State University of New York (SUNY) Maritime College, Oxford University, Brookhaven National Laboratory, URBS Systems, General Electric (GE), and additional business, nonprofit, and on-Island partners; and
New York Coastal Climate Center, led by the City University of New York and the New School, in partnership with Barnard College, Cary Institute of Ecosystem Studies, Columbia University, Cooper Union, New York University, University at Albany (SUNY), Massachusetts Institute of Technology faculty, and additional nonprofit and on-Island partners.
The three finalist's proposals include programs for K-12 students, undergraduate and graduate-level programs, adult education and workforce training programs, incubator and accelerator spaces for nonprofits and businesses in the climate field, and public programming for Island visitors, according to a press release.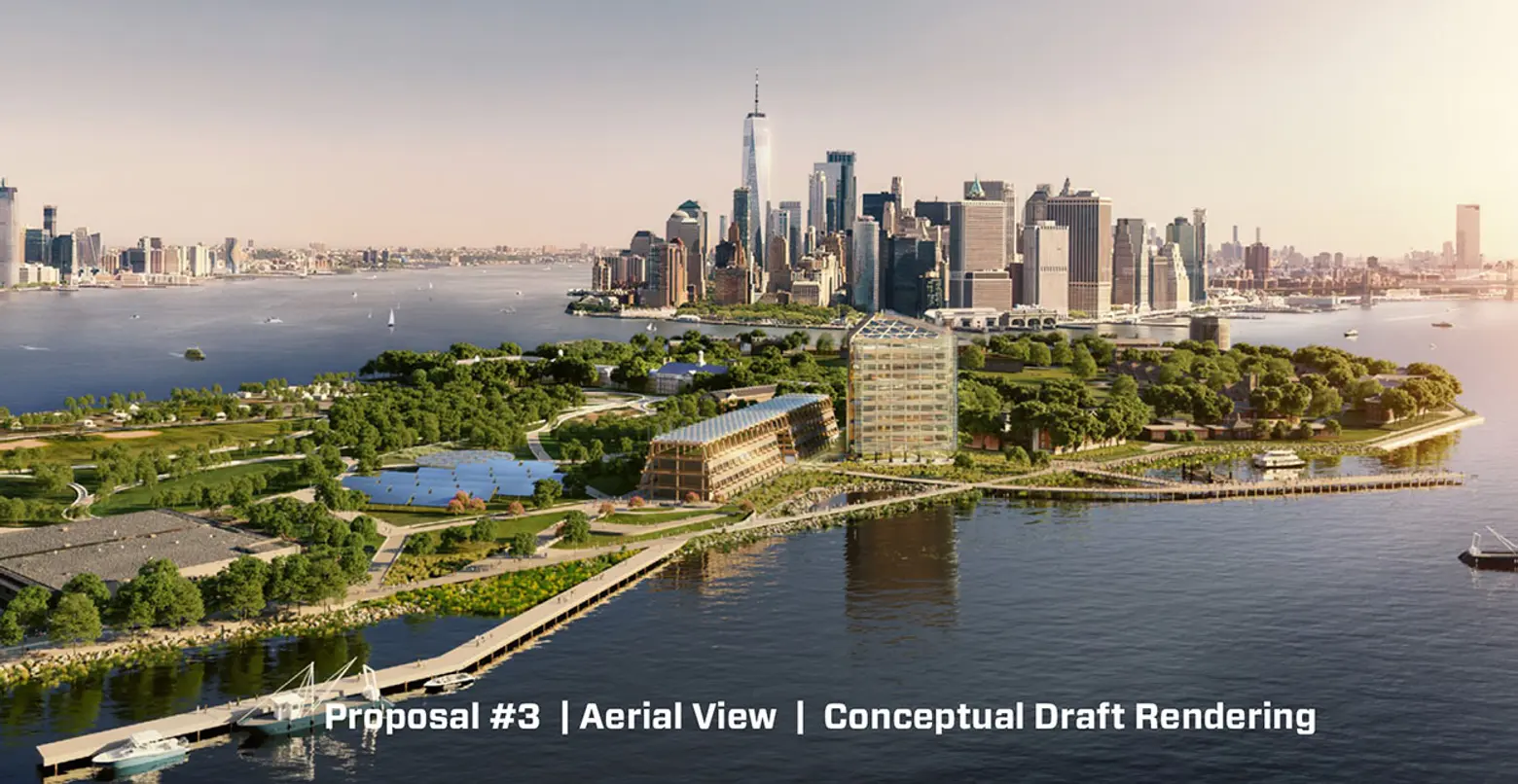 Conceptual rendering of Proposal #3. Credit: Trust for Governors Island
"Under our administration, New York City will be a global leader in studying and tackling climate change while rapidly growing our green economy – and the Center for Climate Solutions on Governors Island is at the heart of that vision," Adams said.
Adams continued: "These finalist proposals reflect our bold vision for a climate hub that will train and employ the next generation of climate experts, not only creating economic opportunity for New Yorkers but also positioning us at the cutting edge of critical research and at the front of the line to benefit from the big ideas that will emerge from here."
A committee made up of members from the Trust for Governors Island, the Mayor's Office of Climate and Environmental Justice, the Mayor's Office of Equity, and the NYC Department of City Planning will work to select the winning proposal. The winning design is expected to be selected in 2023.
The city first began seeking proposals for the climate center in October 2019, lobbying for the creation of a "major center for climate adaptation research, commercialization, conversation, and policymaking," as 6sqft previously reported.
The Trust revealed its initial proposal in September 2020. The massive project involves the rezoning of Governors Island's southern end, making space for approximately 4 million square feet of development.
The Island's rezoning has received criticism from environmentalists and other community members, according to Gothamist. A September 2021 lawsuit filed against the rezoning effort says that the project "violates both the letter and the spirit of the deed," referring to the original transfer of the Island from federal ownership to the city. The case is ongoing in Manhattan Supreme Court.
There will be a community briefing held on the three final proposals on November 14. Interested participants can RSVP here.
RELATED: