Express service on the F train beings today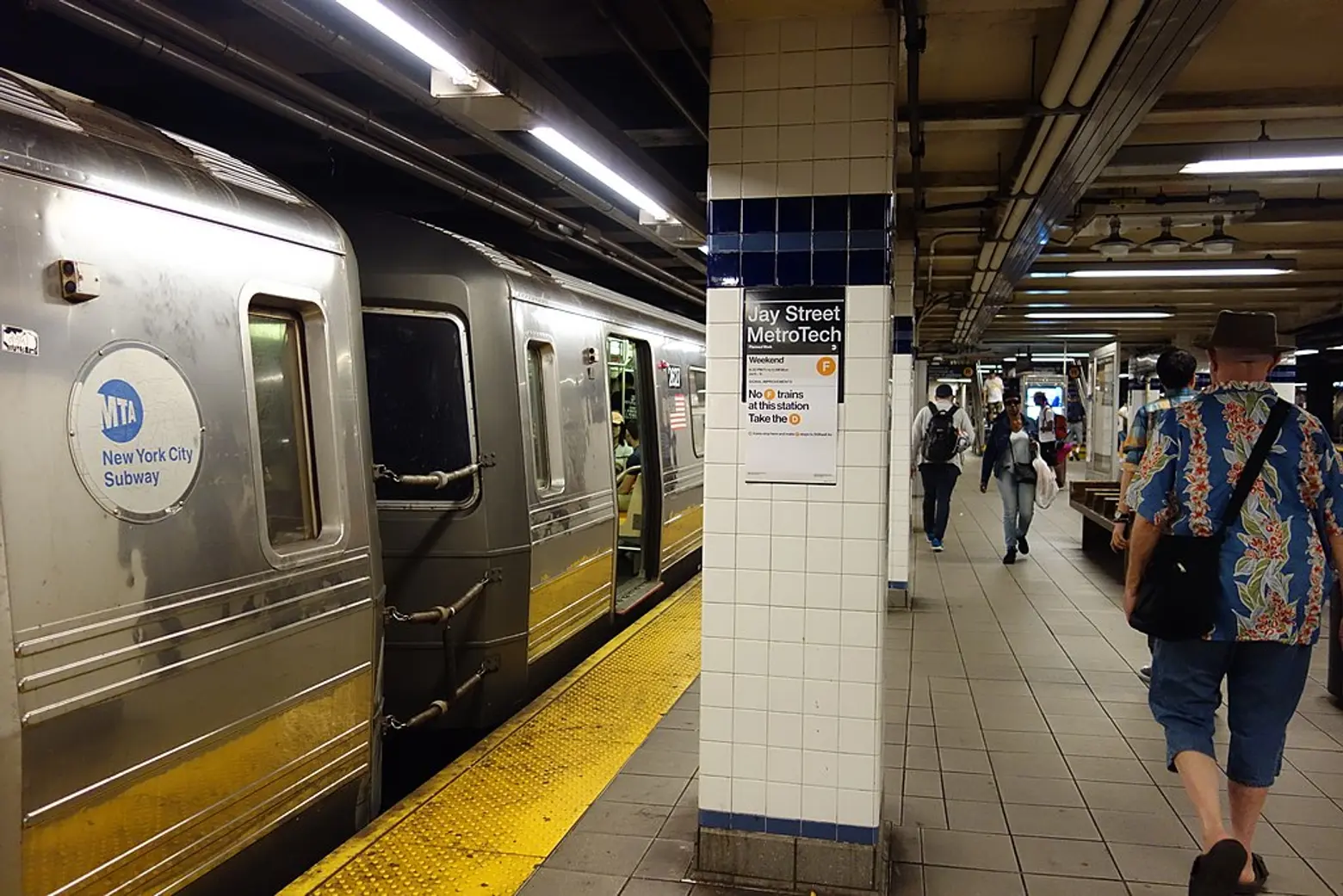 As of today, the MTA has added four express trains to the F line during morning and evening rush hours. Two F trains will run express between the Church Avenue and Jay Street-MetroTech stations, stopping only at Seventh Avenue, during the morning and evening rush hours. Additionally, two Manhattan-bound trains will run express from Church Avenue between 7 and 7:30 a.m. and two Coney Island-bound trains will run the express route between 5 and 5:40 p.m. Previously, as the Daily News reports, the F train's route was the longest in the whole subway system without an express option.
The new diamond F Brooklyn route will be the first since the 1970s, and it has been a point of contention between neighborhoods like Windsor Terrace, Park Slope, Carroll Gardens and Cobble Hill and their neighbors further south. Brownstone Brooklyn residents will lose some service when the express trains bypass their stations; some believe the six stations in those neighborhoods are too busy to bear a reduction in service. According to amNY, MTA board member Andrew Albert said, "Those neighborhoods have grown exponentially since the last time we had F express. It's bypassing too many people. What's going to happen to the wait times for the people at Bergen, Carroll and Smith-9th?"
Albert has proposed running express F service only between Coney Island and Kensington. Councilman Brad Lander, who represents neighborhoods that express trains will skip, called the change "a sad form of F train polarization." In a letter this Sunday, he told his constituents that "the MTA has said they cannot add trains because of the current signal system."
Commuters coming from areas around Coney Island, however, have been calling for faster subway service for years. South Brooklyn representative Councilman Mark Treyger praised the proposal for finally taking constituents' demands into consideration: "With thousands of additional housing units coming on line and the expansion of amusements, faster and more reliable transit service is a necessity, not a luxury, and is a matter of transit equity for Southern Brooklynites."
Last week, the MTA released data that the on-time performance rate of subways reached 84 percent on weekdays in August, up from just over 68 percent last August (the highest on-time performance in six years). However, the Daily News reports that the F line "continues to be dismal," with just 63 percent of trains running on time in July. The MTA has said, though, that the express service additions will benefit more than half of all F train rides and that some riders will be able to cut about an hour from their commute each week.
This story was originally published on July 11, 2019
RELATED: