Dreamy Scandi-chic Soho studio renting for $5K deserves a big hygge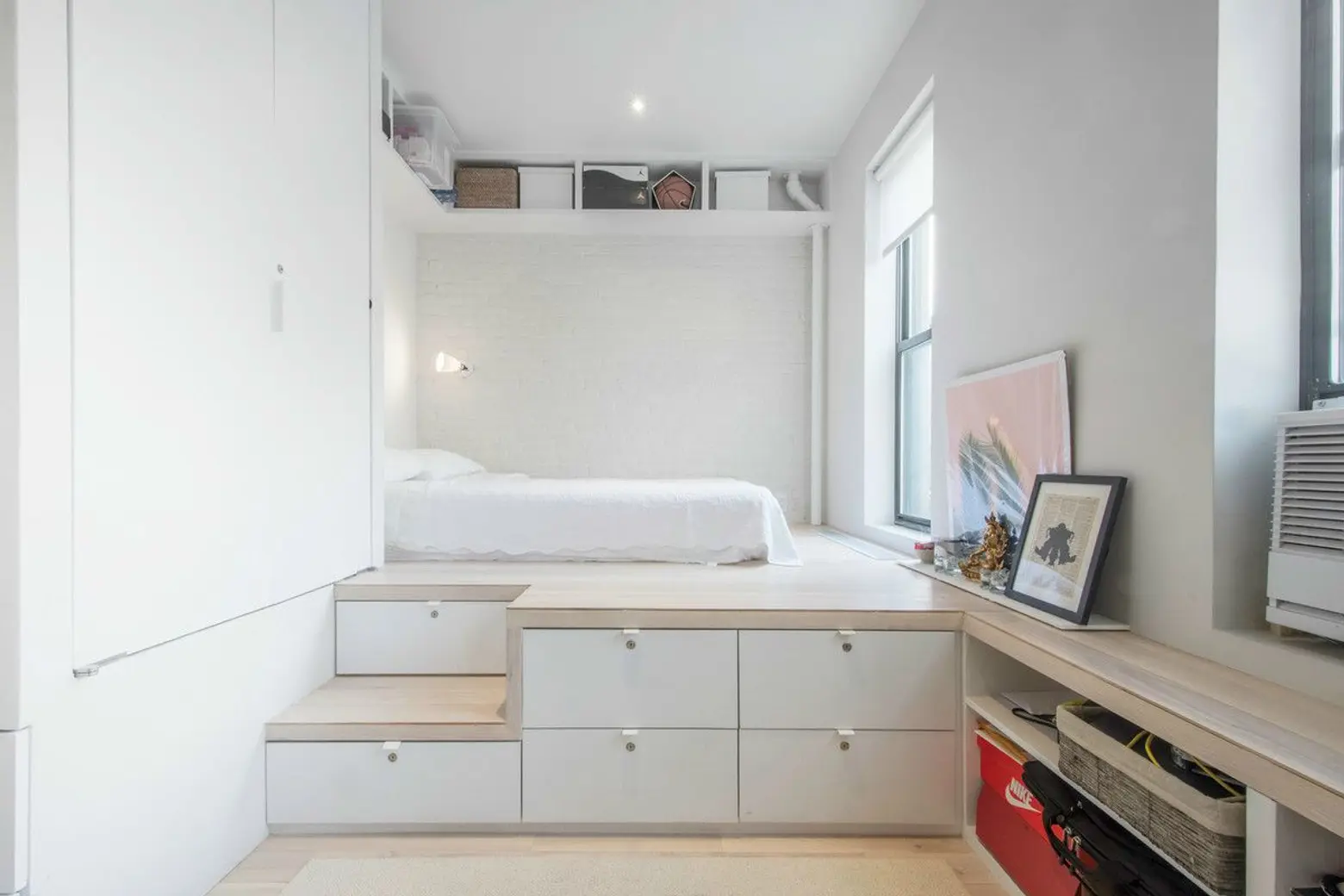 Other than "expensive," (at $5,000 for a diminutive studio), we really can't think of a better description for this clean and cozy pad than hygge, the Scandinavian super-meme that has recently been sweeping the lifestyle and interiors world. Pronounced "hoo-guh," and defined as "a concept, originating in Denmark, of creating cosy and convivial atmospheres that promote wellbeing," it pretty much sums up this sweet studio at 110 Thompson Street.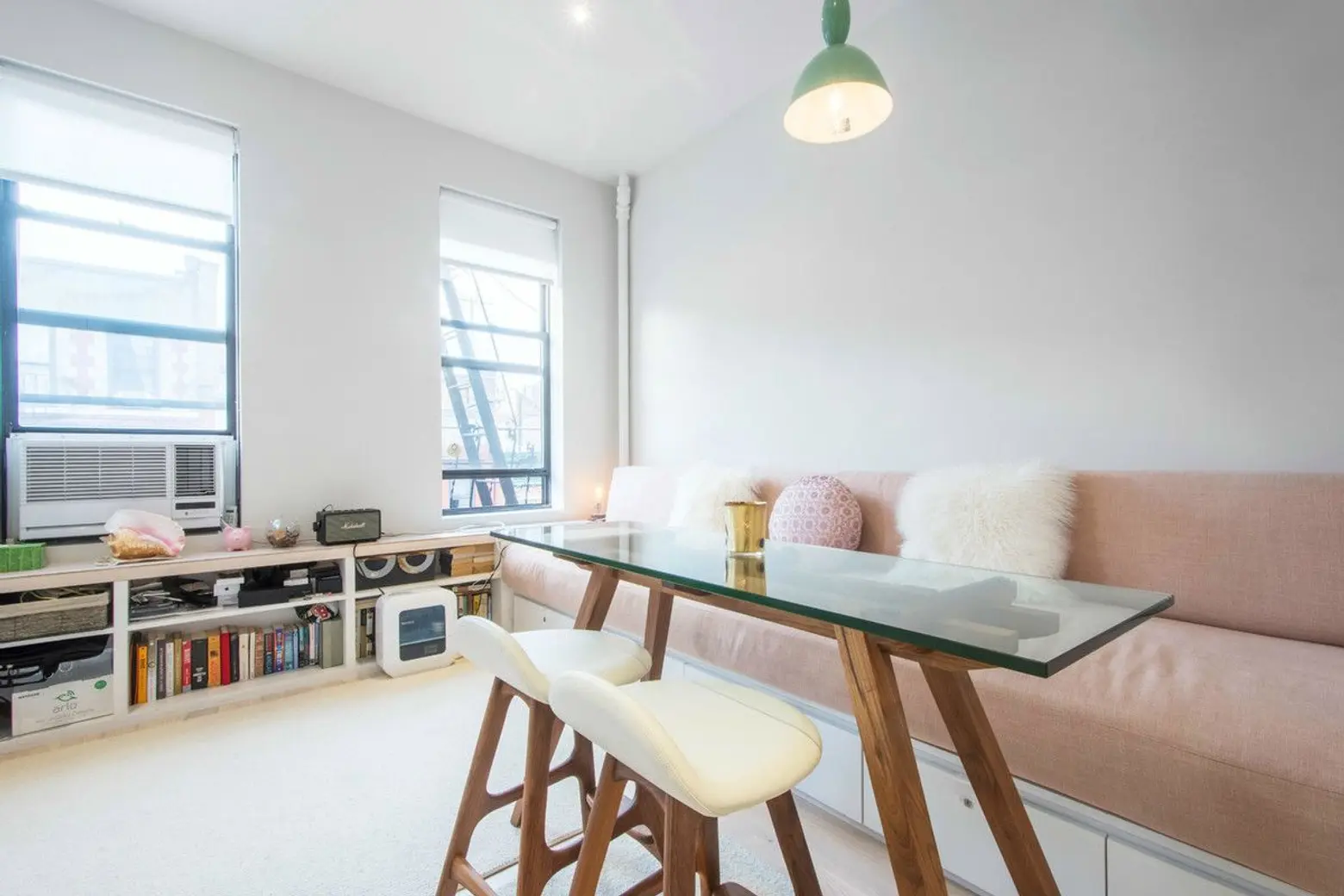 We aren't told the size of this lovely furnished lair–co-ops don't have to divulge that detail–but we can see that every square foot is as carefully-designed and useful as it is easy on the eyes. Modern Scandinavian design hallmarks like pale plank floors, bright white walls, natural wood, pops of pastel and tons of cozy textiles would make this a hard space to leave.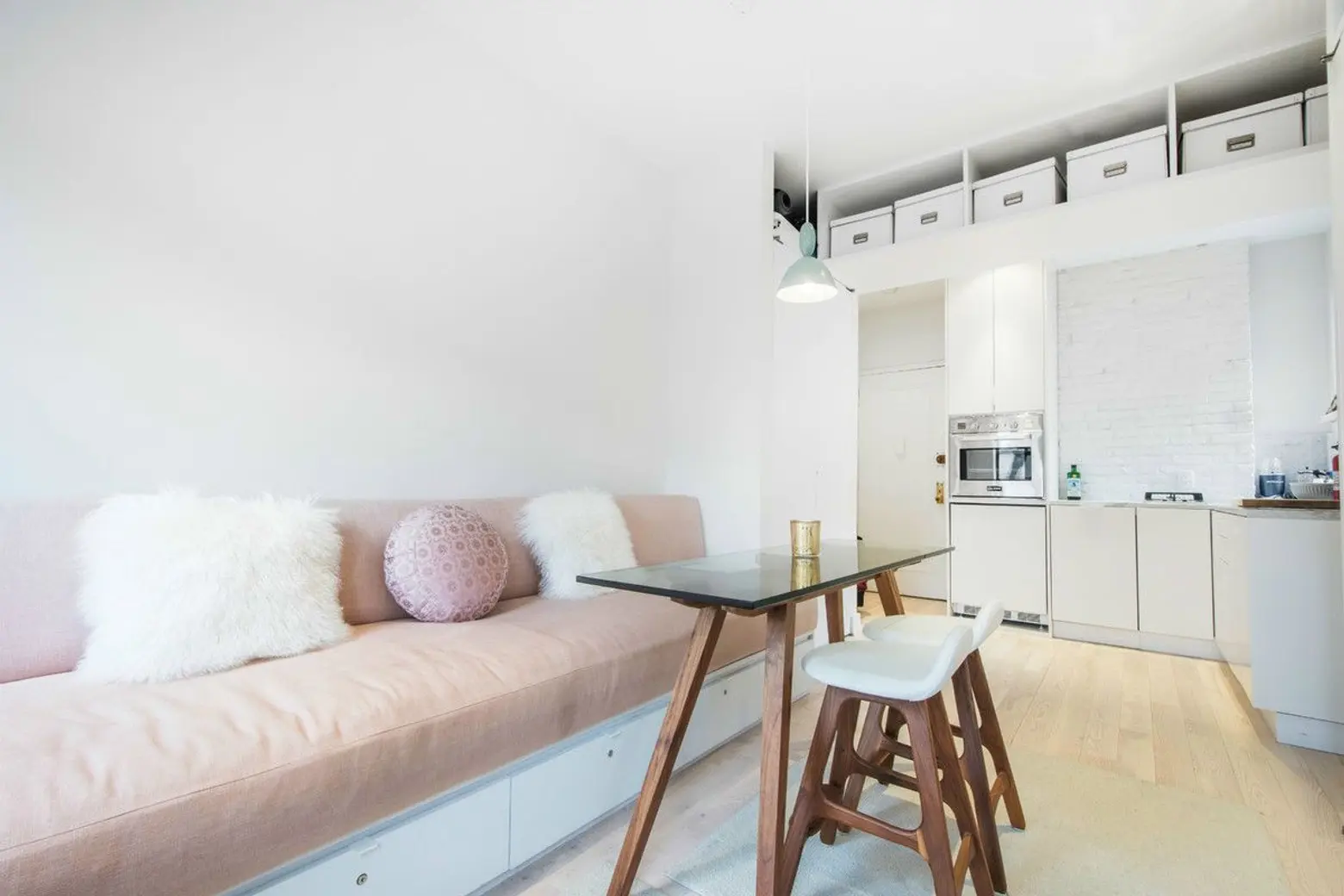 Also on-trend: A custom sofa of palest pink and white-painted exposed brick walls. What makes the studio so much brighter than just-right white paint, though, is the brilliant way custom storage solutions have been elegantly integrated at every turn, making places to keep your stuff and gorgeous design one and the same. Just a few examples are the minimalist pull-out drawers beneath the sofa and open storage up and out of the way above the kitchen.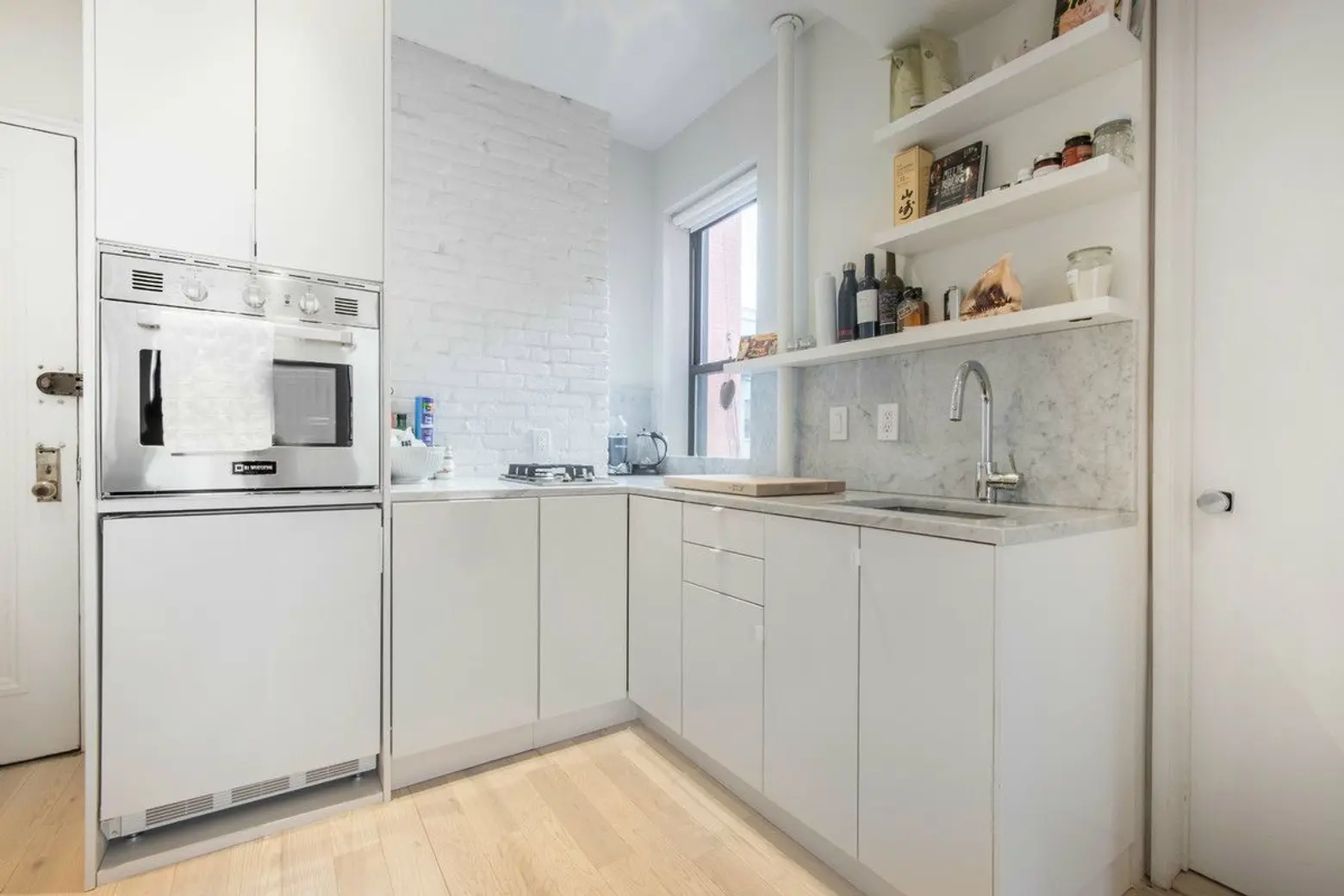 Cooking and dining defy the lack of elbow room by making what's here a study in understated luxury and clutter control. White marble countertops and backsplash accent sleek white cabinetry accented by jewel-like appliances and fixtures.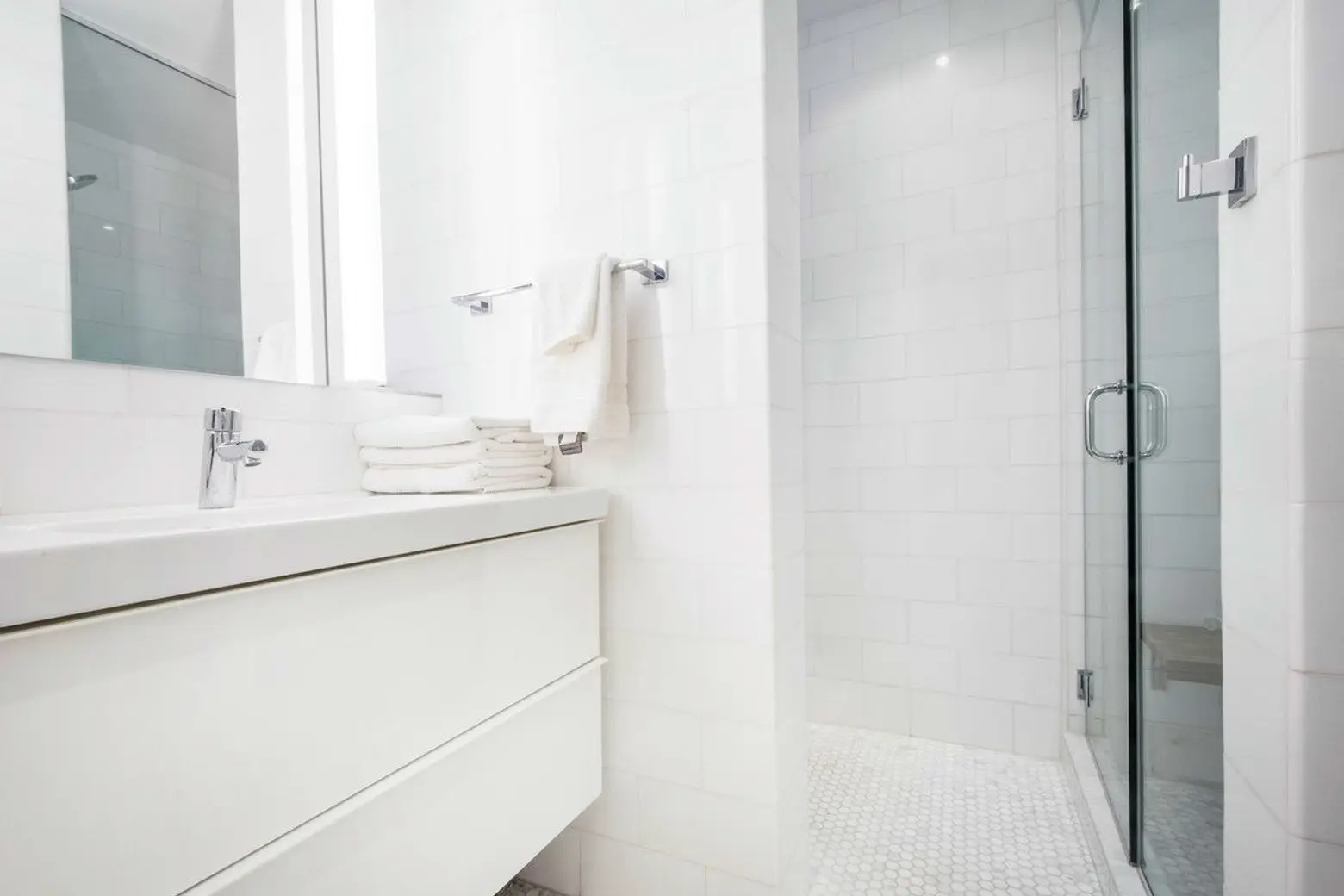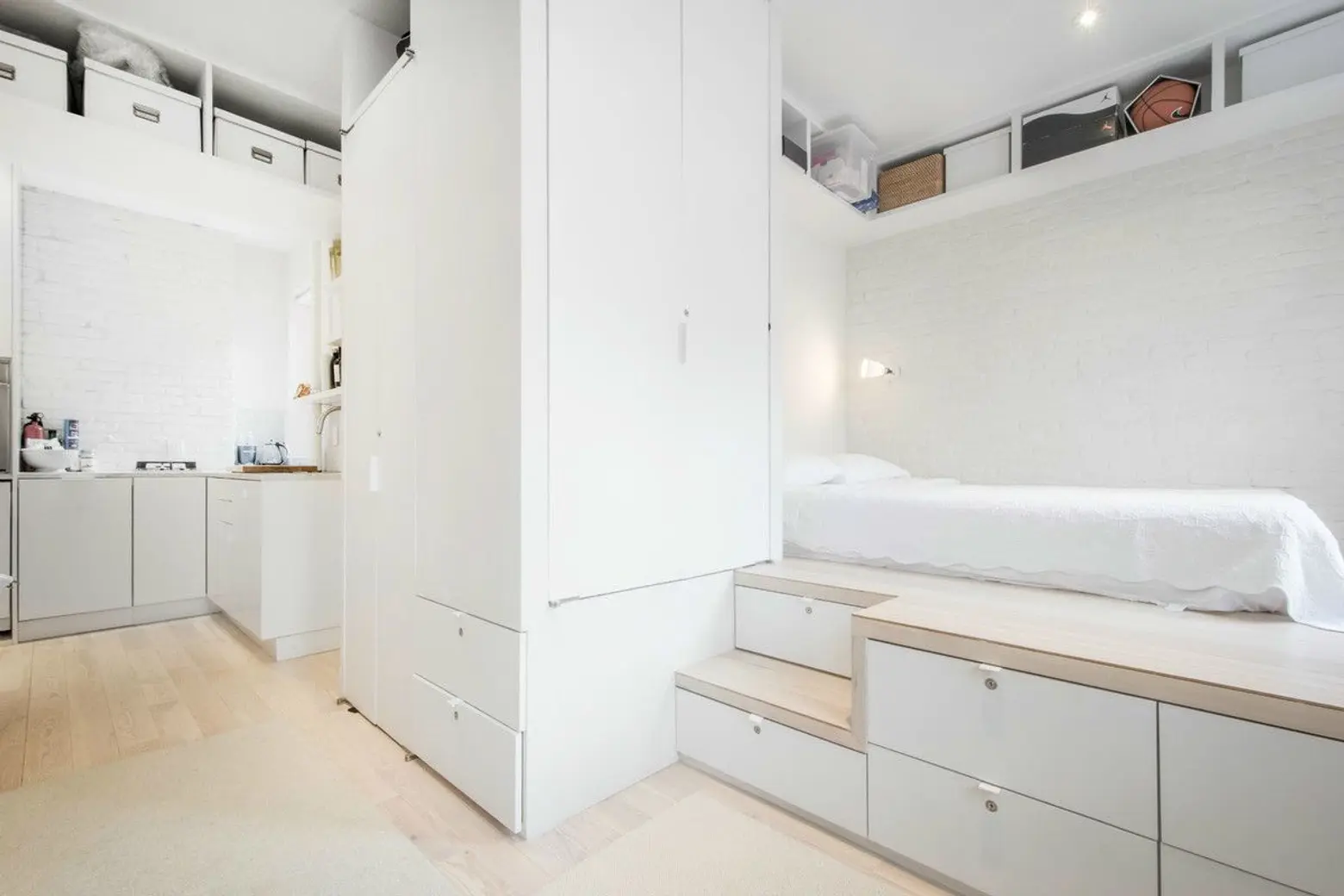 The bath is a sanctuary in glowing white tiles and glass. But perhaps the most charming facet of this love letter from small-space living is the heavenly sleeping platform that's filled with clever storage spaces while inviting the sweetest of dreams. While it's just around the corner from the rest of the apartment, the transcendent plane in the home's signature pale wood, brick and white is tucked into a serene corner that seems almost a world away.
[Listing: 110 Thompson Street #5A by Ilan Bracha and Melissa Rose Bickerstaff for Keller Williams]
[At CityRealty.com]
RELATED:
Images courtesy of Keller Williams.