De Blasio resists plan to pedestrianize Rockefeller Center during upcoming holiday season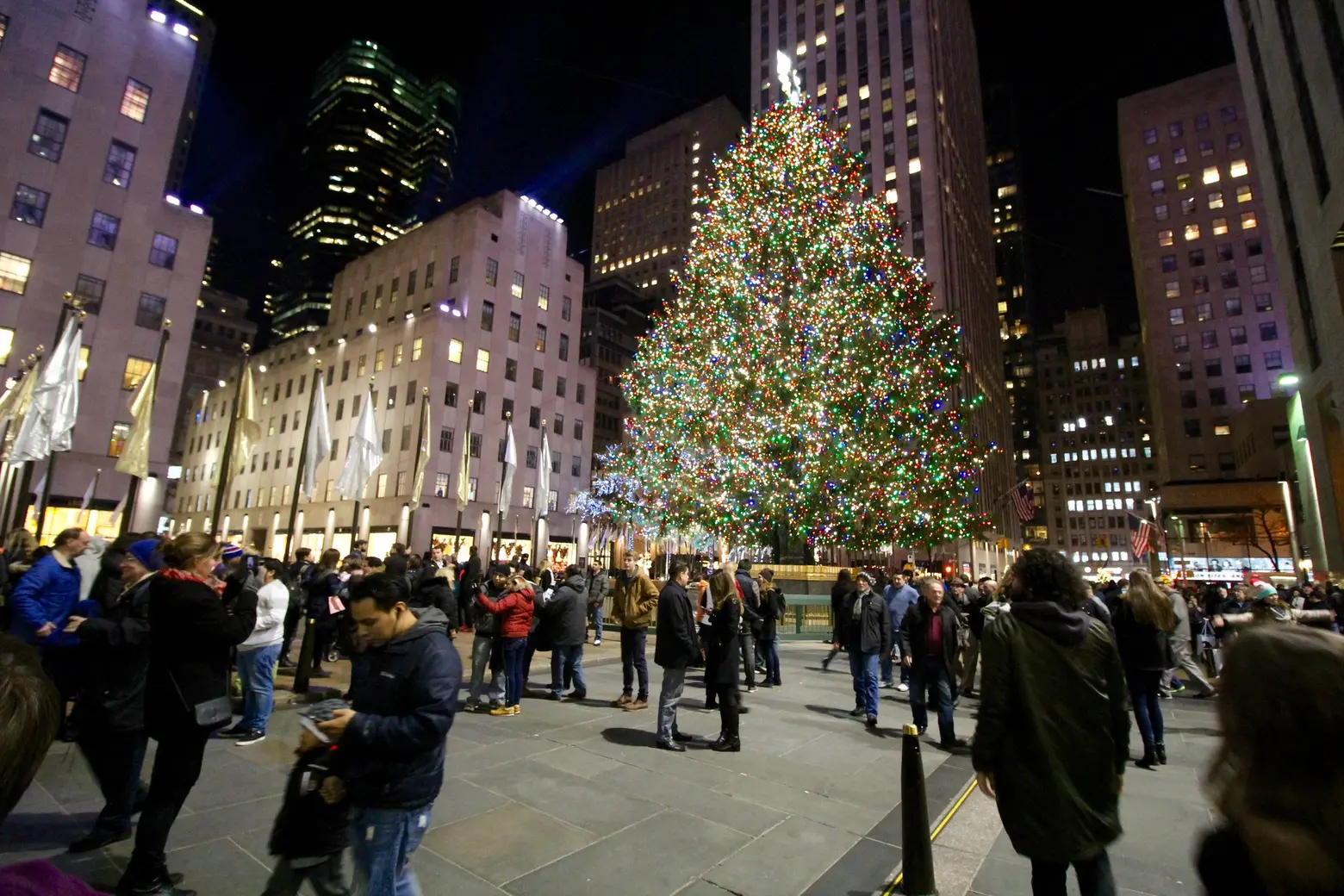 For years, residents and community leaders have called on the city to add pedestrian space near Rockefeller Center to make conditions safer for the hundreds of thousands of people who visit the area during the holiday season to see the tree and store windows. This week, the Department of Transportation privately issued a pilot plan to address the major crowds by increasing pedestrian space on Fifth Avenue between East 48th and East 51st Streets. But Mayor Bill de Blasio quashed the plan before it was officially released, claiming "it was not signed off on by City Hall."
A letter obtained by 6sqft addressed to Manhattan Community Board 5 from the DOT Borough Commissioner Ed Pincar says the agency will "be piloting a Holiday Pedestrian Congestion Mitigation Plan" for the upcoming holiday season. According to the letter dated Monday, the plan involves using French barricades on an "ad hoc basis," with Jersey barriers installed on Fifth Avenue between East 51st Street and East 48th Street to create temporary pedestrian space for the two-month season starting after Thanksgiving. The barriers will be placed eight feet off of the curb on both sides, in the bus lane on the west side of the street and in the travel lane on the east side of the street. This would leave one bus lane and two travel lanes remaining.
"NYC DOT is excited to be able to provide forty-percent more pedestrian space along these three blocks of Fifth Avenue during the holiday season this year, in order to reduce pedestrian congestion and improve both the safety and overall experience of the countless New Yorkers and tourists visiting the area at this special time," Pincar wrote.
But on Thursday, de Blasio said the concept is only in the preliminary stages. "Whoever at the Department of Transportation let that get out there–maybe it was accidental, maybe someone was trying to further their own agenda–but it was premature," the mayor said at a news conference, as amNY reported. "It has not gone through the proper process and review. It was not signed off on by City Hall."
In July, Council Member Keith Powers and Manhattan Borough President Gale Brewer penned a joint letter to the DOT asking them to explore "pedestrianizing the through-streets in Rockefeller Center," citing the 800,000 people that visit the Christmas tree every day during the season.  In the letter, Powers and Brewer ask the agency to close portions of Fifth Avenue and adding pedestrian space from Fifth Avenue to Sixth Avenue on 49th and 50th Streets.
Powers and Brewers on Thursday released a joint statement following de Blasio's dismissal. "As the holiday season approaches we cannot stick with the same old strategy of funneling hundreds of thousands of pedestrians into tights spaces," the officials wrote. "We urge the Mayor to move forward with both plans."
Nicole Gelinas, a fellow at the Manhattan Institute, has presented similar plans to make public space more efficient around Rockefeller by closing 49th and 50th Street to car and truck traffic. Most recently, Gelinas on Tuesday presented a proposal, "Uncrushed for the holidays," to Manhattan Community Board 5.
"We're trying to cram too many people in various modes of transportation in too small spaces that can't handle the capacity," Gelinas told 6sqft, adding the area "isn't working the way it is."
One way to move the plan forward? "It's hard to do major things without mayoral leadership," Gelinas said. "It really requires leadership from the mayor because if you have a situation where DOT feels like they're being constrained by the police then you need the mayor to say, 'well this is how we're going to do it.'"
RELATED: