Corey Johnson announces $19 million in new LGBT support programs, nearly doubling funding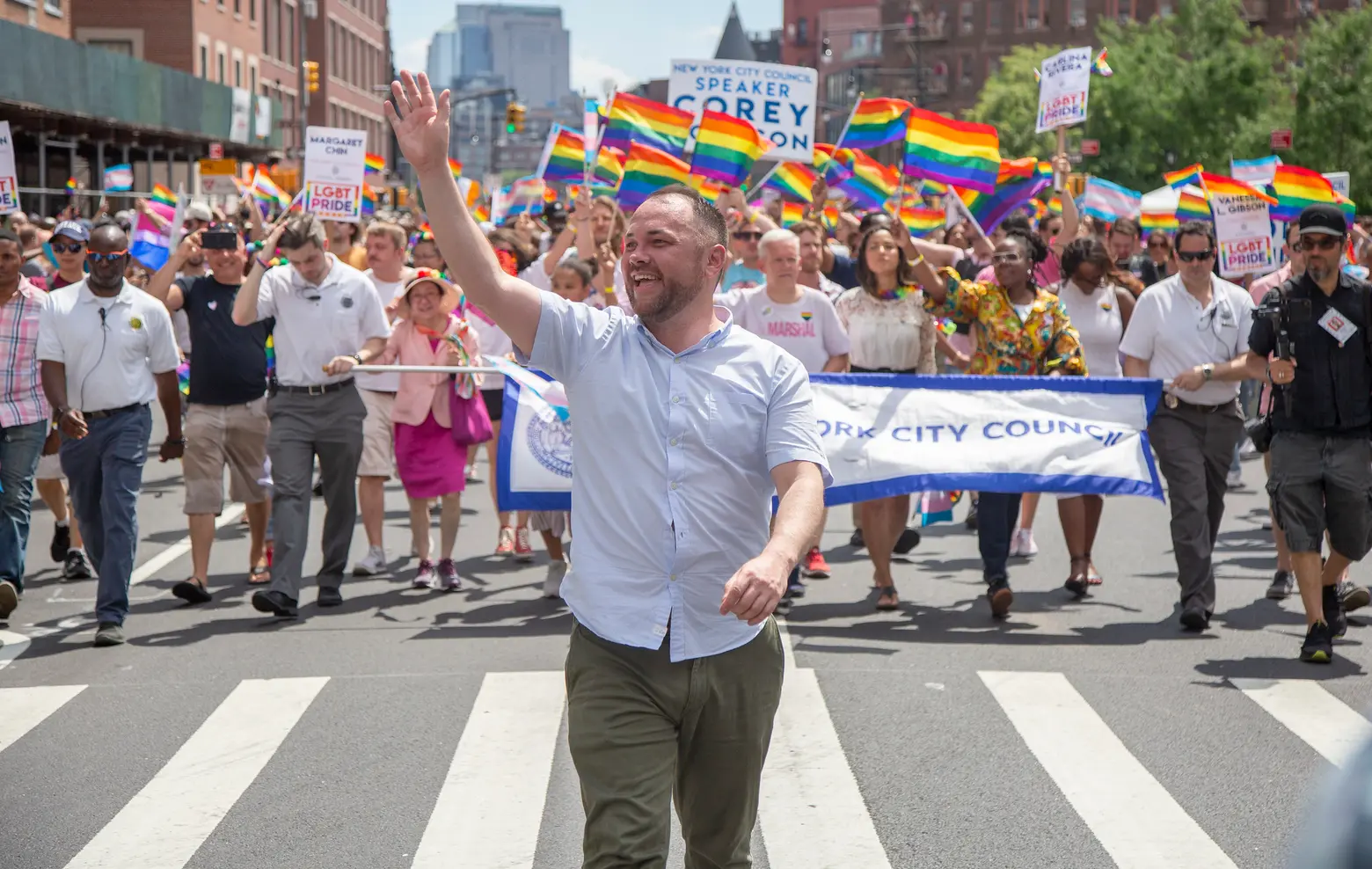 Speaker Corey Johnson and the New York City Council March in the 2019 Pride Parade. Photo by John McCarten via Flickr, courtesy of New York City Council.
In honor of a World Pride weekend that commemorated the 50th anniversary of the Stonewall Inn uprising, City Council Speaker Corey Johnson has announced $19 million in funding for LGBT support programs, which nearly doubles the funding in support of the city's gay community, the Daily News reports. The budget includes $2.3 million for Trans Equity Programs, $3.7 million for LGBT community services and $800,000 for LGBT inclusive curriculum in public schools. Johnson said, "Acceptance is not enough. Our local government must fund programs that support the LBGTQ community, particularly transgender people."
Johnson emphasized the importance of protecting transgender people against discrimination and hate crimes, which have been on the rise recently. Daniel Dromm, Council Finance Chair and chair of the Council's LGBT Caucus, called the budget boost a tribute to the "spirit of Stonewall," on the 50th anniversary of the historic Greenwich Village uprising that sparked the Pride movement.
Activists agreed, calling the new resources available for programs a "global beacon of hope and pride for LGBTQ people." Kelsey Louie of Gay Men's Health Crisis said, "Our movement towards equality began in New York City. So we must always be a leader in efforts to protect and advance all communities, especially those most impacted by all intersections of oppression."
This year's pride events, capped by the 2.5-mile march, drew tens of thousands of participants. The New York Times highlights Johnson's enthusiasm in a speech he gave outside the celebrated Stonewall Inn Friday night, when he told the crowd he was the first openly H.I.V.-positive, openly gay man to lead the New York City Council. He read a list of writers, politicians and activists who fought for gay rights including Larry Kramer, Audre Lorde, Harvey Milk, Marsha P. Johnson and Gilbert Baker. "I would not be standing here today…I may not be alive were it not for those activists."
RELATED: