City revives Downtown Brooklyn's Willoughby Square Park project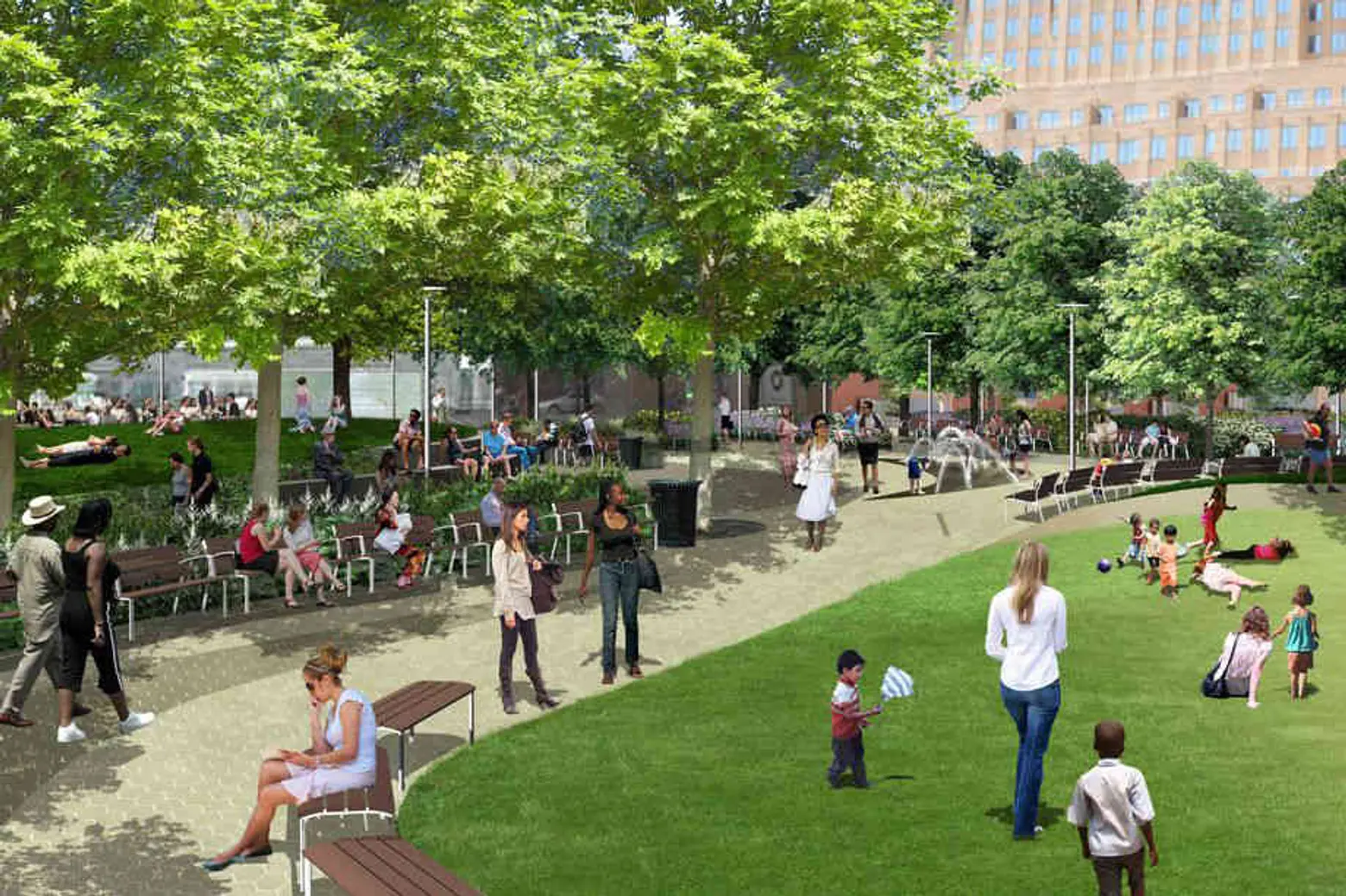 A previous rendering; via EDC
Downtown Brooklyn is finally getting a park that was promised to the neighborhood more than 15 years ago. The city's Economic Development Corporation announced on Friday it will take over construction of the green space at Willoughby Square. In January, the city abandoned the plan to add a new park on top of a high-tech parking facility because of the developer's inability to secure financing. But, as first reported by Crain's, the EDC said the agency's capital division will take on the work itself, without a private developer or the underground automated parking lot originally proposed. The city estimates the park will open sometime in 2022.
The plan to build the greenspace came during former Mayor Michael Bloomberg's administration as an exchange for the upzoning of Downtown Brooklyn. Through this zoning change, the city took over properties and a group of tenement buildings by eminent domain, evicting some rent-stabilized residents in the process.
The city cut the estimated $80 million project down to about $15 million by scrapping the parking, which the EDC called "financially unfeasible." Instead, the rampways of the garage will be converted into green space. In total, the new park will measure 1.15 acres, feature new community amenities, and a public artwork display to honor the area's ties to the Underground Railroad.
"The development of green space at Willoughby Square is vital to the future of Downtown Brooklyn, especially as the neighborhood continues to grow and the need for healthy open space increases,"  Brooklyn Borough President Eric Adams said in a statement. "The commitment made to this community fifteen years ago must be upheld."
The EDC, through the city's Percent for Art program, will select an artist to design a memorial honoring the 19th-century abolitionist movement in Brooklyn. The new artwork would build on the work of In Pursuit of Freedom, a history initiative created by the Brooklyn Historical Society, Weeksville Heritage Center, and Irondale Ensemble Project.
A portion of the site will be open for public use this summer while the design is finalized, according to the city. Construction is expected to begin next year, with the park's completion estimated for 2022.
[Via Crain's]
RELATED: