City announces $100M plan to modernize freight distribution infrastructure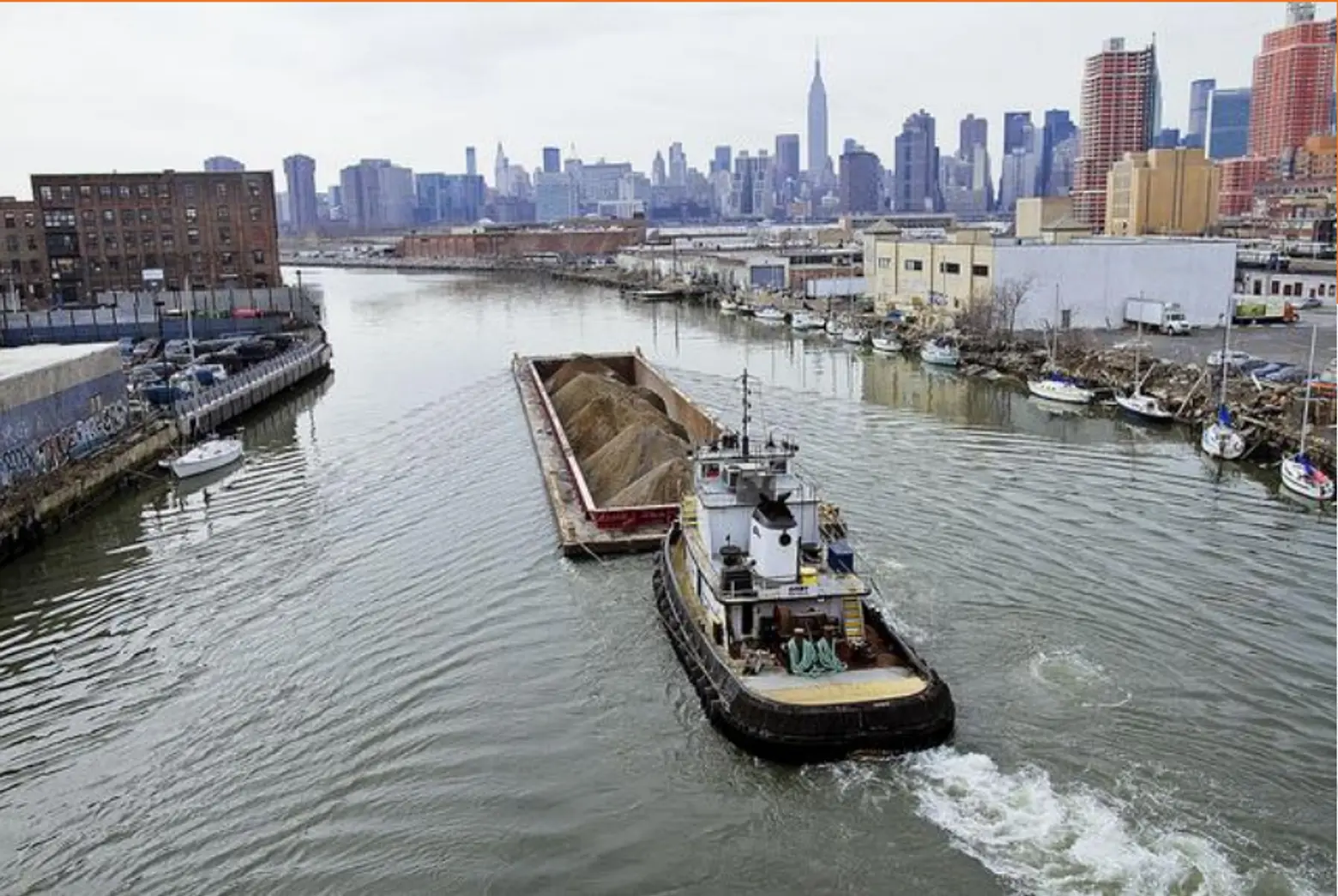 Aggregate barge on Newtown Creek. Photo Credit: Mitch Waxman via NYCEDC
Mayor Bill de Blasio and the city's Economic Development Corporation (EDC) announced on Monday the launch of a plan for investing in updated transportation options for New York City businesses and dividing distribution among the five boroughs. Freight NYC is a $100 million plan to overhaul the city's aging freight distribution systems through strategic investments to modernize maritime and rail assets and create new distribution facilities. The plan hopes to create 5,000 jobs as well as a more sustainable and resilient supply chain network.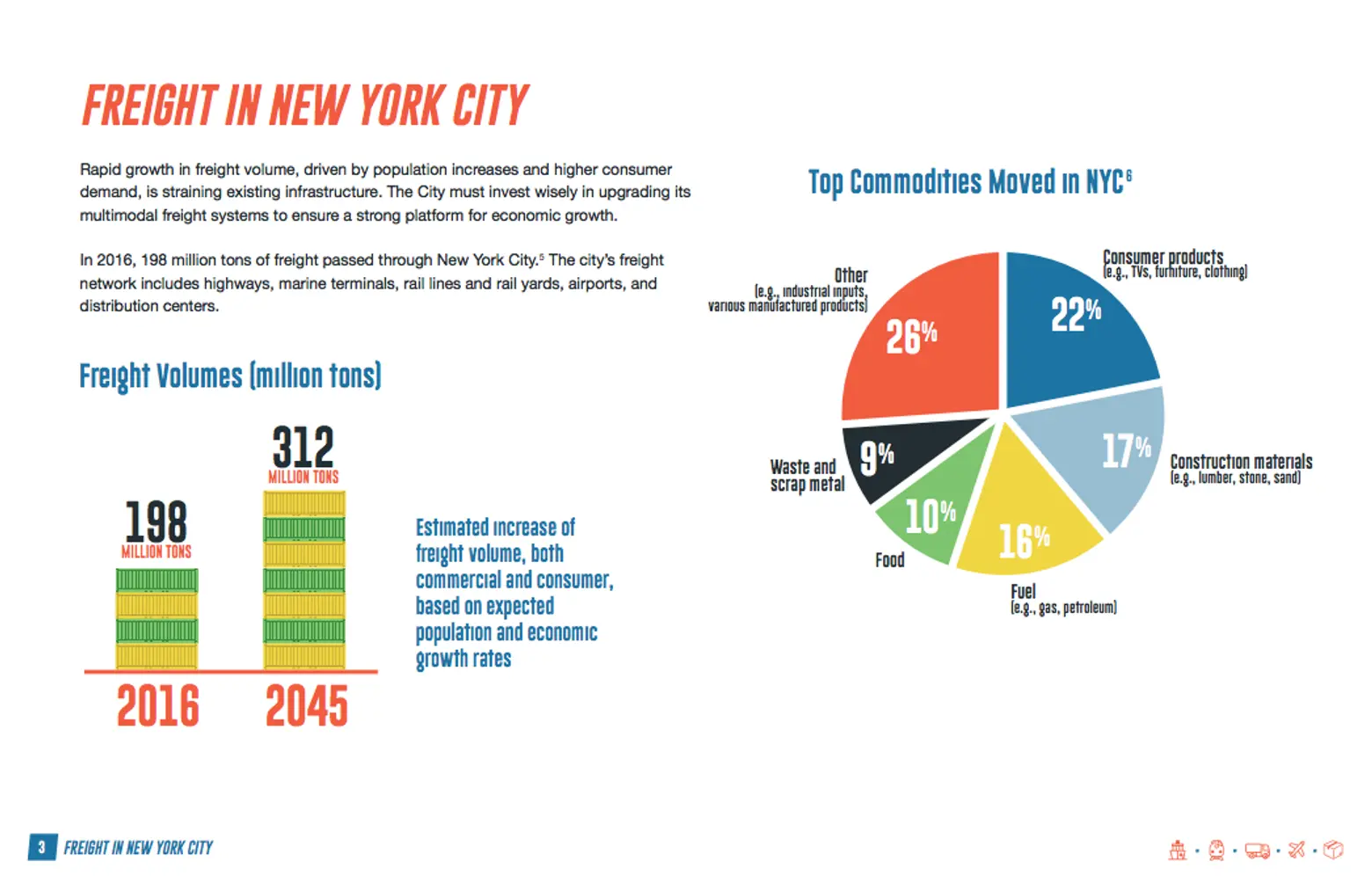 According to EDC president and CEO James Patchett, the plan will decrease congestion and therefore save the economy hundreds of millions of dollars: "This plan is a win-win for our environment and economy."
The city currently depends on a crucial but aging marine, rail and highway infrastructure. As the city's population–and consumer demand for near-instant deliveries–grows, local freight volumes will grow an estimated 68 percent by 2045, further slowing traffic and impeding commerce.
The plan revolves around three key strategies to shore up New York City's freight distribution industry for future success:
1. Investing in multimodal infrastructure
2. Creating new freight distribution hubs
and
3. Promoting the use of clean trucks, reinforcing 2015 clean fleet goals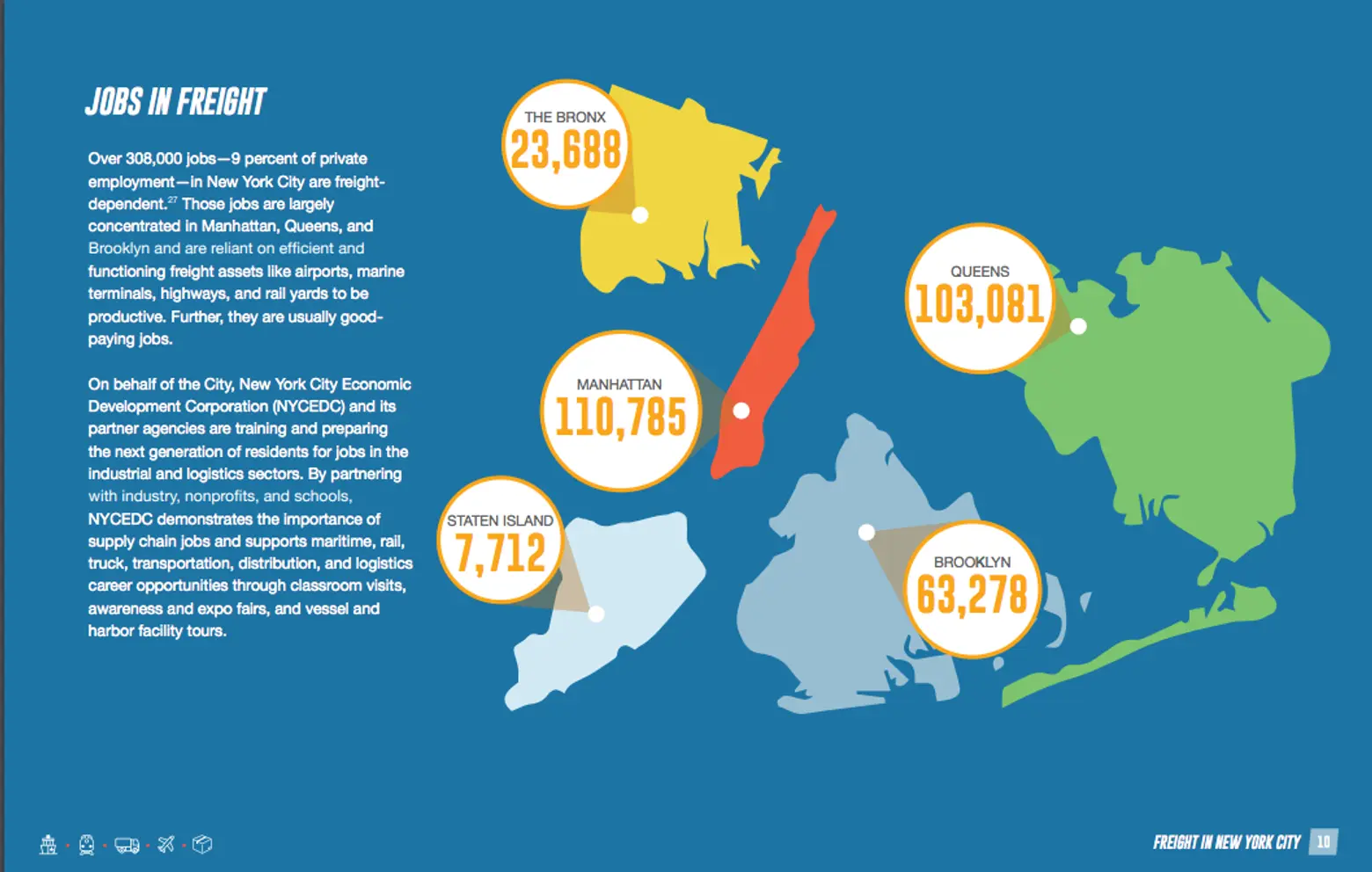 The Freight NYC plan was first announced in 2017, with this week's announcement marking the plan's launch. In addition to investing in existing maritime and rail assets, the city plans to work with private partners to create new updated distribution, transload and warehousing facilities and to promote and incentivize the use of environmentally-friendly green trucks for last mile delivery.
Trucks currently move nearly 90 percent of freight. The biggest impediment for freight efficiency, according to the report, is the use of truck transportation. Trucking congestion cost the city's economy $862 million in 2017; that number could reach $1.1 billion by 2045. The Freight NYC plan will remove 15,000 vehicles' worth of CO2 per year, ultimately helping to improve air quality and reduce asthma rates.
"Freight NYC is an investment in our city's future," said Mayor de Blasio. "By modernizing our approach to shipping, we will create thousands of good-paying jobs while keeping our streets safer and cleaner."
You can read the full Freight NYC plan here.
RELATED: