Canarsie Tunnel rehab to wrap up early, full L train service expected in April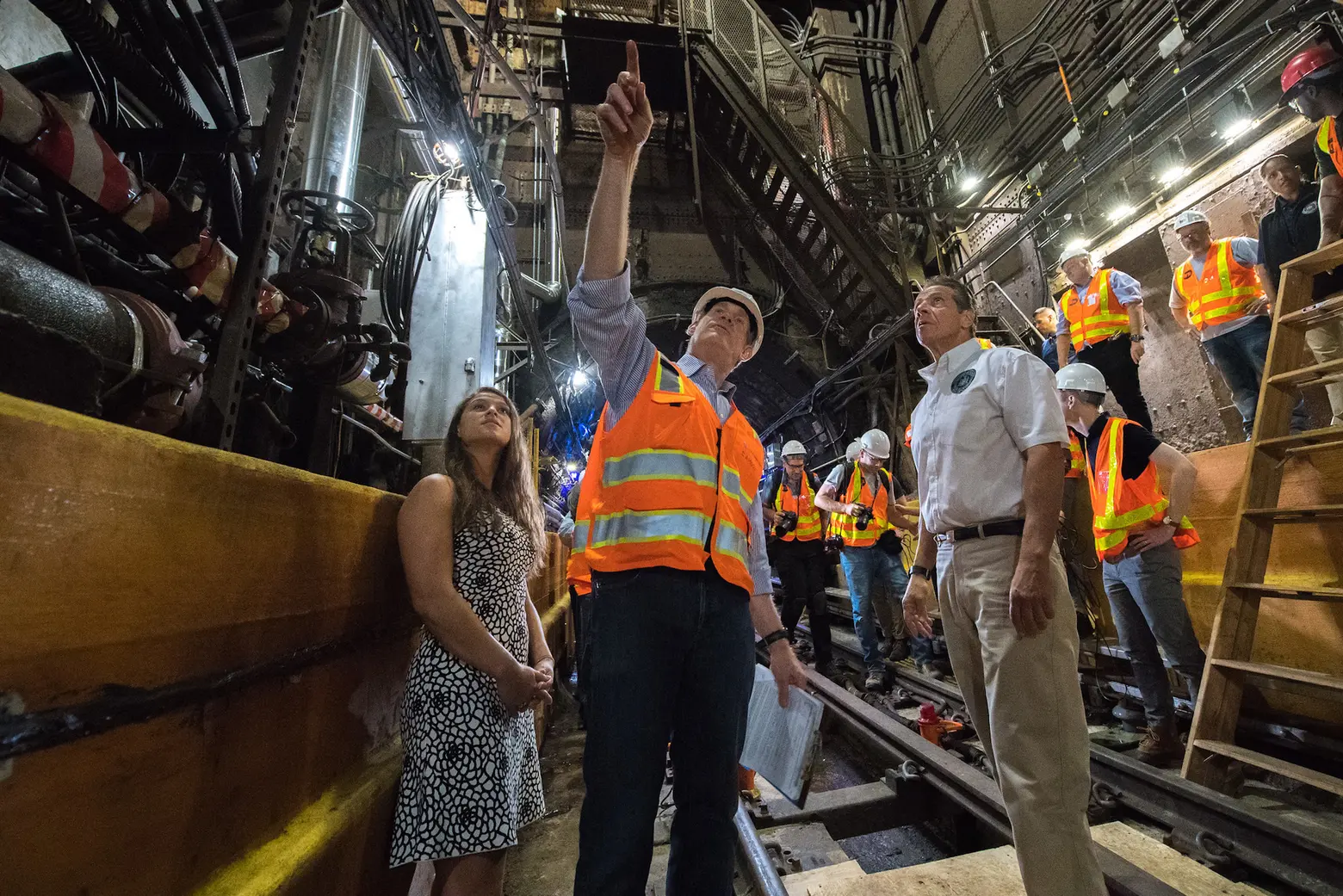 Repair work of the century-old Canarsie Tunnel will wrap up three months early, bringing full L train service to commuters as early as April, Gov. Andrew Cuomo announced Sunday. The original construction plan from the Metropolitan Transportation Authority called for the subway line to totally shut down for 15 months during the repairs. Last winter, a few months before work was set to begin, the governor stepped in with a new plan that avoided a full shutdown of L train service.
"Today we saw up close what happens when you abandon the old ways of doing things and think outside the box– you get the work done better, faster and cheaper," Cuomo said. "And in this case you get a better and safer tunnel than before."
The revised plan added a new cable racking system on the exterior of the bench walls in the tunnel instead of within the wall. This system, according to engineers tapped by Cuomo, allows for more efficient construction. The work was done on one tunnel at a time, making it possible for L train service to continue during construction.
In the first phase of the project, more than 6,300 feet of track has been built, a new pumping system to handle flooding added, and more than 7,000 feet of specialized fiber optic cables installed.
According to the MTA, work on the first tube finished in just five months, making the deadline for the entire project move up to April 2020. Full L train service was expected to return next summer under the revised plan.
The full cost of the project is not known. Janno Leiber, the MTA's chief development officer, told amNY on Sunday that the project would finish under budget.
"This milestone for the L Project's tunnel rehabilitation is proof that we're ready," Lieber said in a statement. "We've already been using lessons learned to improve execution of this major project, and I'm looking forward to applying the same kind of collaborative and aggressive project management strategy to revolutionize the way all MTA capital projects get done."
L train has run every 20 minutes on nights and weekends from Bedford Avenue since work began in April. As the project enters phase two, additional subway service disruptions will continue for the next few months as part of the agency's accessibility projects. For three to five weeks in October and November, the L train will not stop at 8th Avenue or 14th Street-6 Avenue, with service ending at Union Square on nights and weekends.
The L train will also not run between Lorimer and Broadway Junction on the weekends of Oct. 4 to Oct. 6, Jan. 3 to Jan. 6, Jan. 10 to Jan. 12, Jan. 17 to Jan. 18, and Jan. 24 to Jan. 26. Free bus service will run between the stations during the closures.
RELATED: