How to celebrate Bastille Day 2022 in NYC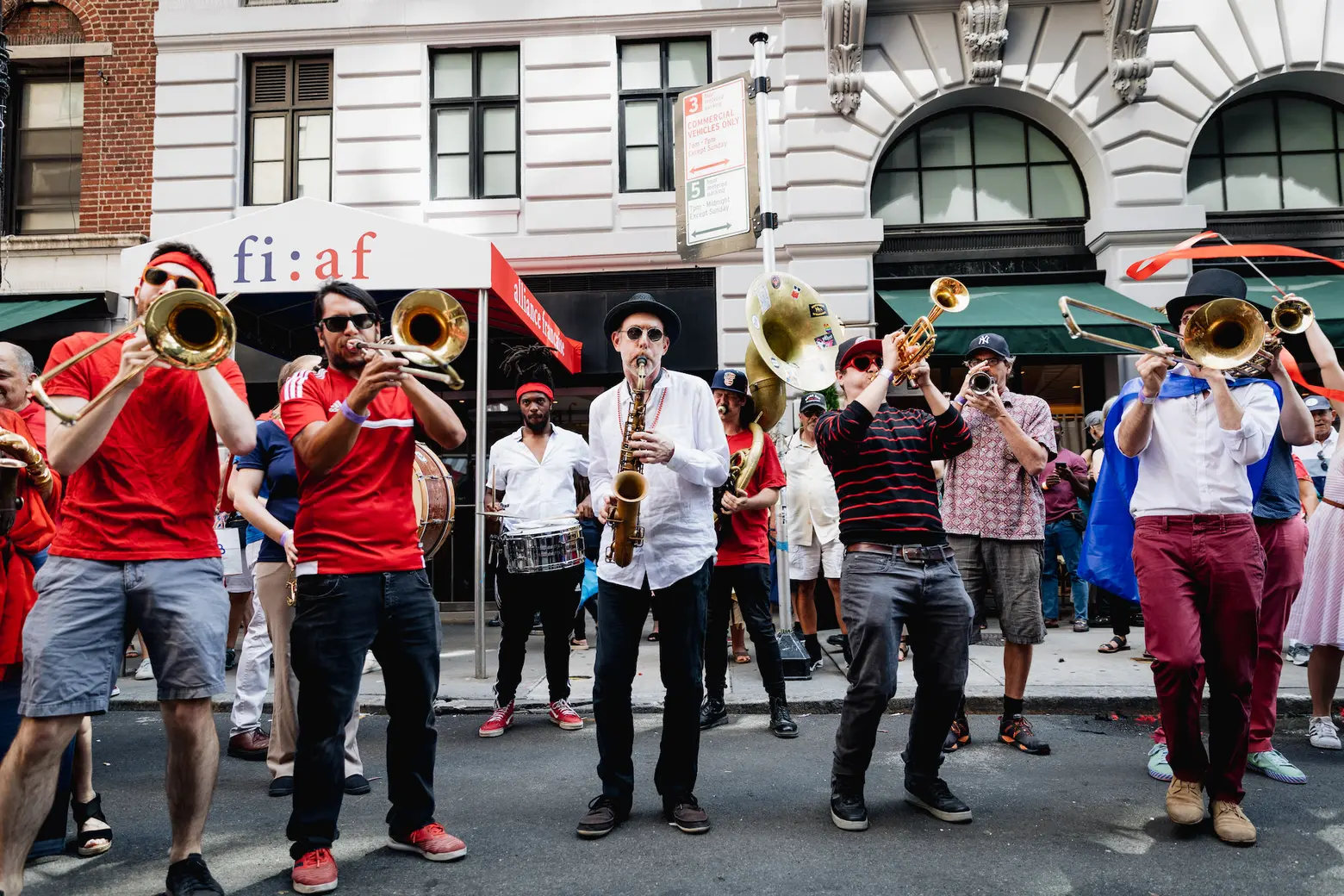 A past Bastille Day event hosted by the French Institute Alliance Française (FIAF) Photo © Brittany Buongiorno
Just a little over a week after the United States celebrates its independence, France celebrates its own freedom. Held on July 14, Bastille Day commemorates the day French revolutionaries stormed the Bastille and sparked the beginning of the French Revolution. Here is a round-up of Bastille Day celebrations in New York City, from the larger festivities in Central Park to specials at French restaurants throughout the city.
CELEBRATIONS
Bastille Day Celebration in Central Park
After a successful first year, the Consulate General of France in New York is hosting a celebration of French culture with live theater, music, and dance in Central Park. This year's celebration will commence with opening speeches from the Consul General of France in NY Jérémie Robert and the President of French-speaking Societies of NY Gérard Epelbaum. Performers for this year's show include Virgil Boutellis, Adam Leites and Daniel Rafimayeri, China Moses, DeLaruentis, and DJ Joachim Garraud. The celebration begins at 6 p.m. on July 14 at Central Park's Rumsey Playfield. Admission is free and a full lineup can be found here.
FIAF's Bastille Day Celebration
For more than 20 years, the French Institute: Alliance Française has hosted its own Bastille Day celebration in NYC. On July 10, the FIAF will be putting on its annual event with a stacked lineup of events, performances, and food and drink tastings. There will be more than 4o booths sharing the best of French food and culture, a chance at winning a getaway to France's Occitanie region. Attendees will also be able to catch a sneak preview screening of Azuro. This year's celebration will be held on Madison Avenue from 59th to 63rd Streets from noon to 5 p.m. A full line-up can be found here.
Bastille Day in Jersey City
209 3rd Street, Jersey City
The French American Academy is hosting its own Bastille Day celebration in Jersey City from 2 p.m. to 7 p.m. on the 14th. Guests can expect a fun and exciting day full of activities accompanied by French food and drink. The school will also be hosting an open house for parents on the same day from 3 p.m. to 6 p.m.
Industry City's "La Brooklynaise" Pétanque Tournament
68 34th Street, Brooklyn
Carreau Club is hosting the second annual "La Brooklynaise" open pétanque tournament on July 17 at Brooklyn's Industry City. There will be player brackets for both beginners and experienced players, with prizes being awarded to the top three teams in both brackets. Those who would rather sit and watch while enjoying French food and drink are more than welcome to do so. Participating partners for the event include Mothershuckers who will be hosting a raw bar, Chefs Anthony Sousa and Conner Updegrave who will be showcasing Binchotan grilling, D'Artagnan who will be awarding charcuterie boxes to tournament winners, and Ricard who will be serving pastis cocktails. The event will be accompanied by French music played by live DJs all night long. The tournament will start at 11 a.m., and those interesting in participating in the event should register here.
The Annual Greater New York Velosolëx Club Rally & Rendezvous
The annual parade of French automobiles and bicycles is once again returning to NYC. This year's rally will start at 10 a.m. on July 10 at Riverside Drive and 122nd Street before proceeding down through Manhattan. During one of the stops in the rally, the vehicles will be parked in front of the FIAF fair on Madison Avenue between 59th and 63rd Streets for all to see. The rally's full route for this year can be found here.
Films on the Green 2022
Hosted by Villa Albertine, the French Embassy, FACE Foundation, and NYC Parks, Films on the Green is an annual free outdoor French film festival. This year's festival is taking place in nine different parks across Manhattan and Brooklyn and runs through September 9. A full list of the festival's schedule can be found here.
RESTAURANT SPECIALS
La Goulue
29 East 61st Street, Manhattan
As one of the city's most beloved French restaurants, La Goulue is welcoming patrons to come and celebrate Bastille Day alongside classic French dishes like steak au poivre, profiteroles, and more. La Goulue is open for both lunch and dinner, has outdoor seating, and offers delivery for those wanting to enjoy Bastille Day from the comfort of their home.
La Brasserie
411 Park Avenue South, Manhattan
La Brasserie is offering a special prix-fixe menu in celebration of Bastille Day. For $65, patrons can enjoy gougère rolls, leeks vinaigrette salad, steak au poivre, grilled loup de mer, and chocolate profiteroles for dessert. A la carte dining will also be available, in addition to menu favorites like steak frites.
Image courtesy of Bar Marseille
Bar Marseille
190 Beach 69th Street, Queens
Rockaway's beachside French restaurant and rooftop Bar Marseille is offering two special deals in honor of Bastille Day. The restaurant will be offering steak frites for $20 and 50% off on all French wines during lunch and dinner.
Mister French
24 East 21st Street, Manhattan
This French supper club will be offering special food and drink deals in observance of Bastille Day, including $17.89 for champagne and pommes frites for the entire day on the 14th.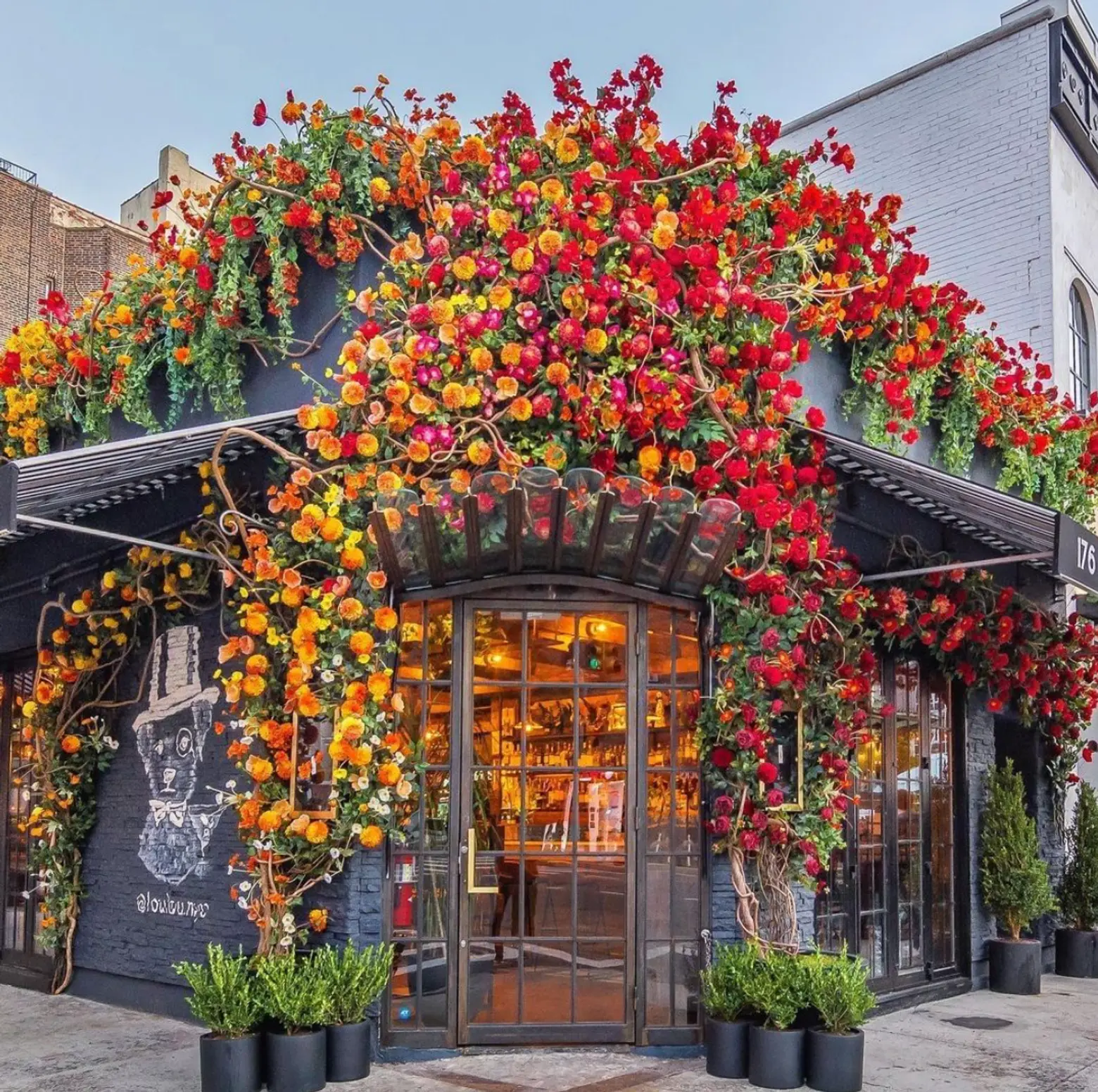 Image courtesy of Floratorium
Loulou
176 8th Avenue, Manhattan
Chelsea's iconic French bistro Loulou is celebrating Bastille Day with an all-day St. Germain bar cart and live accordion player. Come enjoy specialty cocktails and classic French dishes amidst the festivities.
RELATED: