15 ways to celebrate Bastille Day in NYC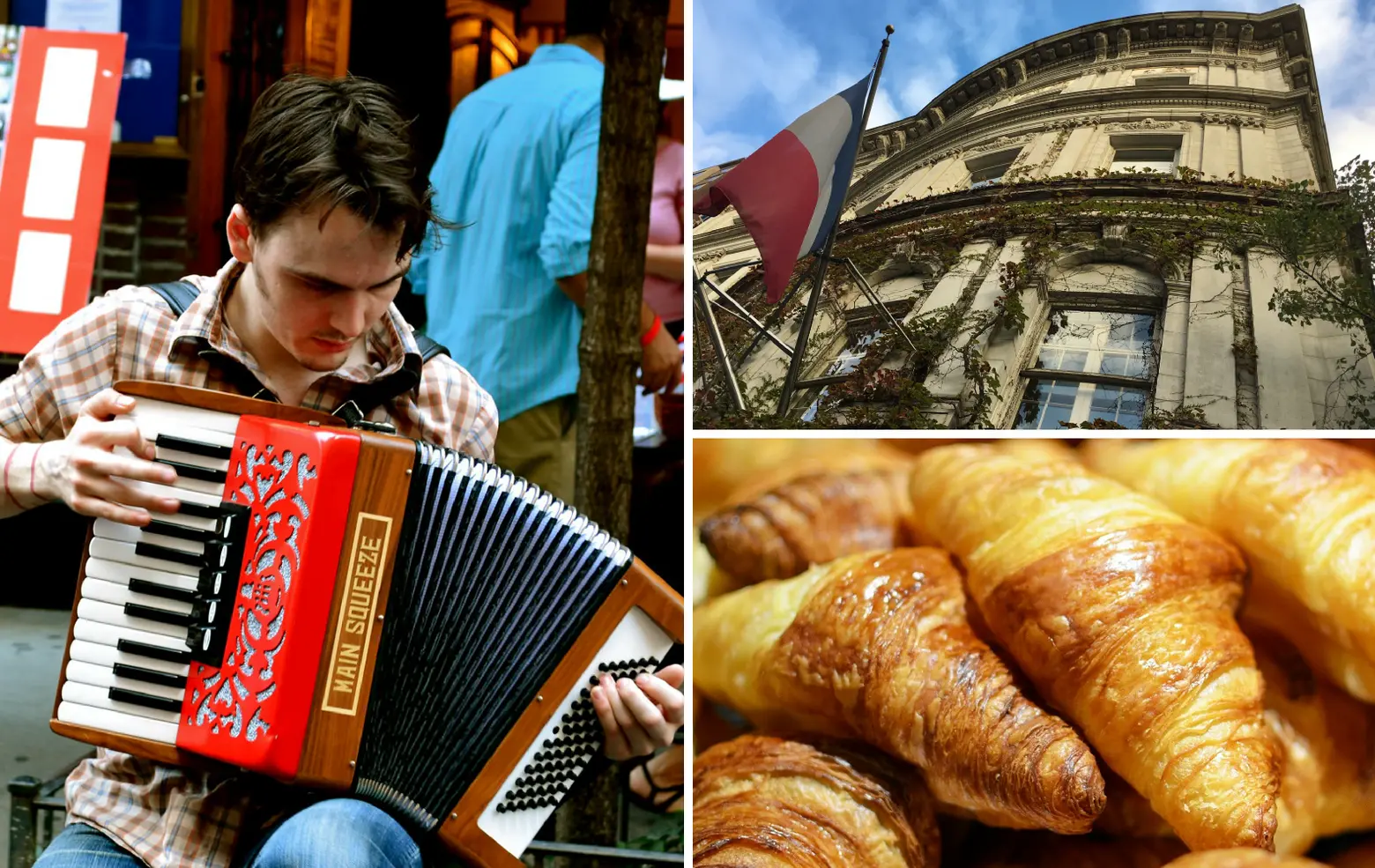 Independence Day may have been last week, but if you haven't had your fill of red, white, and blue festivities, Bastille Day is this Sunday. Whether you're a history aficionado or just appreciate French culture and cuisine, there is plenty to do this weekend to celebrate the 230th storming of the Bastille.
Events at the French Institute: Alliance Francaise
Join the French Institute: Alliance Francaise for a three-block street fair on Sunday. The FI: AF hosts an annual fête populaire, with wine tastings, live performances, and dozens of market booths. There's plenty to do, so make sure you give yourself enough time to wander around.
1. Champagne, cocktail and jazz party
What's more French than champagne and jazz? Celebrate Bastille Day in style at the French Institute Alliance Francaise. Located in their gorgeous sky room, you'll taste five different types of champagne, along with cocktails and gourmet macarons. The Avalon Jazz Band will be playing tunes from the 20s and 40s.
Presented by the Côte d'Azur tourism board, several partners from the region are offering special deals on travel, hotels, and gifts. On Sunday, July 14, head to 60th Street and Madison Avenue to get a chance to snag discounts on everything from cooking classes to resort stays.
The French Institute: Alliance Francaise is hosting live music and dance performances by artists from both France and New York. On the main stage, there's everything from jazz to rock and roll to can-can, and there's even an opportunity to participate in some of the performances. French-Iranian artist Cocovan is bringing her collaborative letter-writing art installation, The World Letter, and there will even be a professional mime strolling around the fair.
4. Special screening: C'est la vie!
Don't miss a special Bastille Day screening of "C'est la vie!," written and directed by the duo behind the award-winning "The Intouchables." Join wedding-planner Max as he tries to pull off a lavish wedding while the celebration (and his personal life) devolve into chaos. The film is in French, but if your skills are a little rusty, there are also English subtitles.
5. Citroen and Velosolex car show
Join a group of car and bicycle enthusiasts as they cruise from Riverside Park to the French Consulate, to Central Park, and finally end at Coco Bistro for drinks. Don't own a Citroen or Velosolex? You can still watch from any point along the route.
Where to eat
In addition to haute couture and the City of Lights, one of the things France is best known for is its cuisine. What would a celebration of France's independence be without amazing wine and cuisine? Luckily, there are plenty of places to eat in honor of Bastille Day.
French cuisine is delicious, but it can get pricey. From July 8 to July 21, join over 240 restaurants as they participate in French Restaurant Week. Restaurants across the city will be offering special prixe-fixe menus to celebrate the French Revolution.
7. Bal des Pompiers at Jacques Brasserie
Bastille Day celebrations in France are usually held in firehouses. You'd be hard-pressed to find a firehouse in NYC that would do the same, but Jacques of Jacques Brasserie is bringing the spirit of the Bal des Pompiers to New York. There will be specialty cocktails, street food-style snacks, a DJ, and a Petanque tournament.
8. Bastille Day at Le District
Located in Battery Park City, Le District is known for its expansive French market, selling everything from pastries to fresh produce. They also have a full-service restaurant, Beaubourg Brasserie, and a bar that serves craft cocktails and wine. In addition to sit-down reservations, there will also be games scattered throughout the market for kids to play, a DJ, and a gift basket giveaway of Grey Goose.
9. French Wine and Cheese: Bastille Day at Murray's Cheese
France is one of the world's top producers of cheese, a fact that Murray's Cheese is well aware of. For Bastille Day, the retailer is paying homage to the many types of cheese France is famous for. Each cheese is paired with complimentary wine.
Bouley Test Kitchen is known for immersive culinary experiences, and their Bastille Day brunch soiree is no different. On the menu are delicious French bites and wines, as well as live cooking demonstrations. There's even a live gypsy jazz band!
Neighborhood events
Although FI:AF's fair might be one of the largest Bastille Day events in the City, there's still plenty to do outside of the Upper East Side. Listen to music, dance the night away, or treat yourself to some French beauty products.
11. French Kiss by House of Yes
The extravagant House of Yes is once again going all-out, this time for Bastille Day. Festivities include can-can dancers, a French Kissing booth, and plenty of Champagne. Dressing up is strongly encouraged- those with an RSVP can get in for free before 11 pm if they're dressed creatively.
12. Bastille Day Brunch at Blue Note with Fleur Seule
Join Fleur Suele, an authentic 1940s jazz band, as they perform classic French tunes by the likes of Josephine Baker, Edith Piaf, and Charles Trenet. Grab a drink and relax in this famous jazz club as you're transported back in time.
13. Summer Soiree with Caudalie 
What better way to celebrate Bastille Day than by pampering yourself with the best French cosmetics Caudalie has to offer? Sip rosé, treat yourself to mini facials and indulge in some macarons. Caudalie is hosting the party across all of its locations, including all three in NYC, so you can have your pick of which one to visit.
14. Bronx Arts Ensemble Bastille Day Concert
The Bronx Arts Ensemble is setting up in Van Cortlandt Park to play a night of tunes all written by Francophone composers. Grab a picnic blanket, sit back, and enjoy the music.
15. Edith Piaf Tribute by Myriam Phiro at Joe's Pub
Joe's Pub, famous for being the U.S. debut of Amy Winehouse and Adele, is hosting a tribute to Edith Piaf in honor of Bastille Day. Myriam Phiro will be crooning her most famous tunes, using them to retell the life story of the French icon who would go on to be her greatest inspiration.