A history of Book Row, NYC's long-time downtown haven for bibliophiles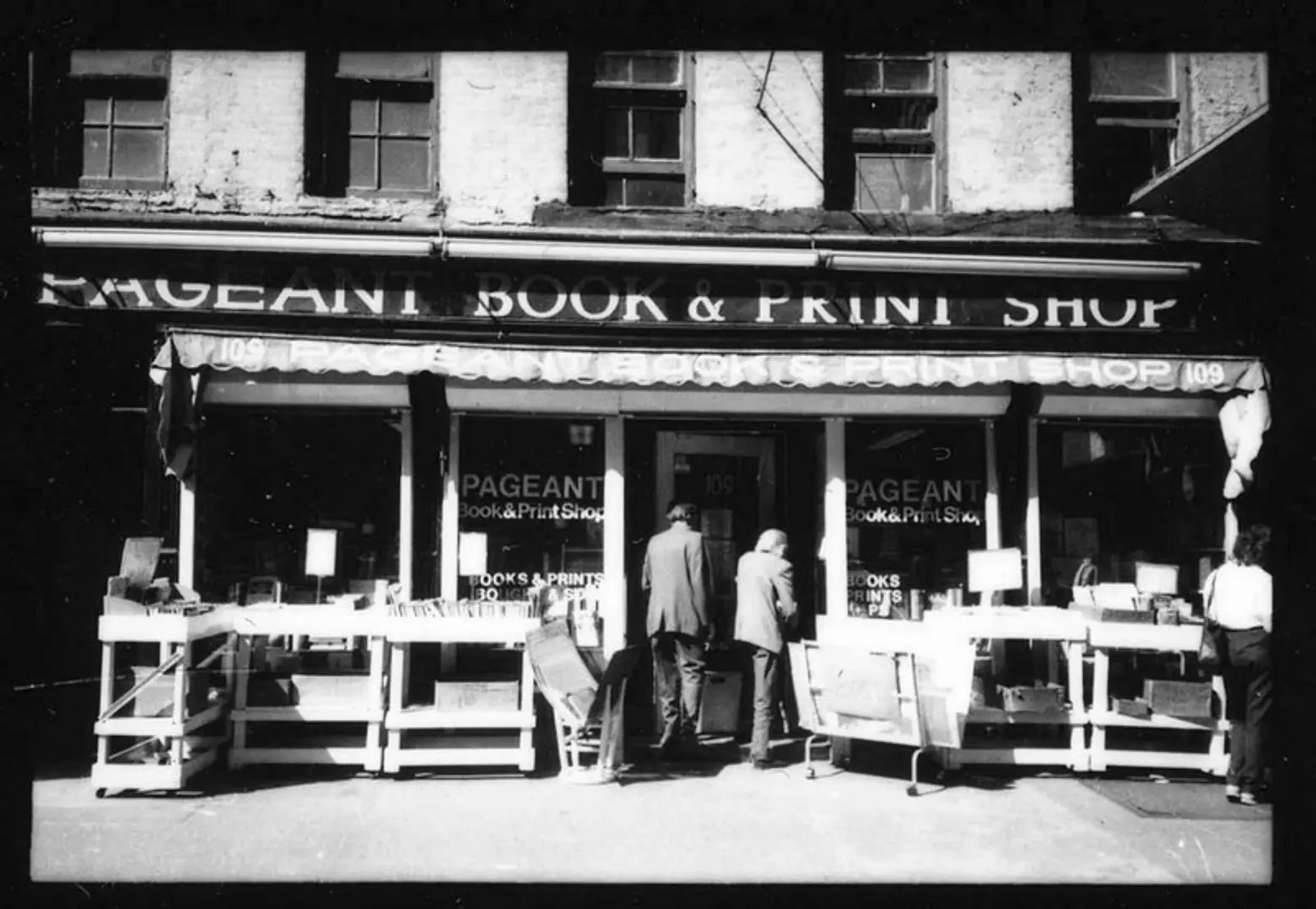 The slogan of beloved NYC bookstore the Strand boasts the store's "18 miles of books," a number that seems incredibly vast yet was once just a small fraction of what book lovers could expect to find in the neighborhood. For almost eight decades, from the 1890s to the 1960s, the seven blocks of Fourth Avenue between Union Square and Astor Place were home to a thriving bibliophiles' paradise known as Book Row.
Here, book lovers and secondhand vendors gathered, and the pace of the city slowed down as they browsed the miles of stacks available. Speaking to the New York Times, collector Paul A. Solano—who went on to open his own used book shop in Morningside Heights—said it took him a week to stroll through all the stores on the seven-block stretch. In its heyday, Book Row was home to 48 bookstores and millions of volumes. Now, the recently landmarked Strand bookstore is the only remaining vestige of that era.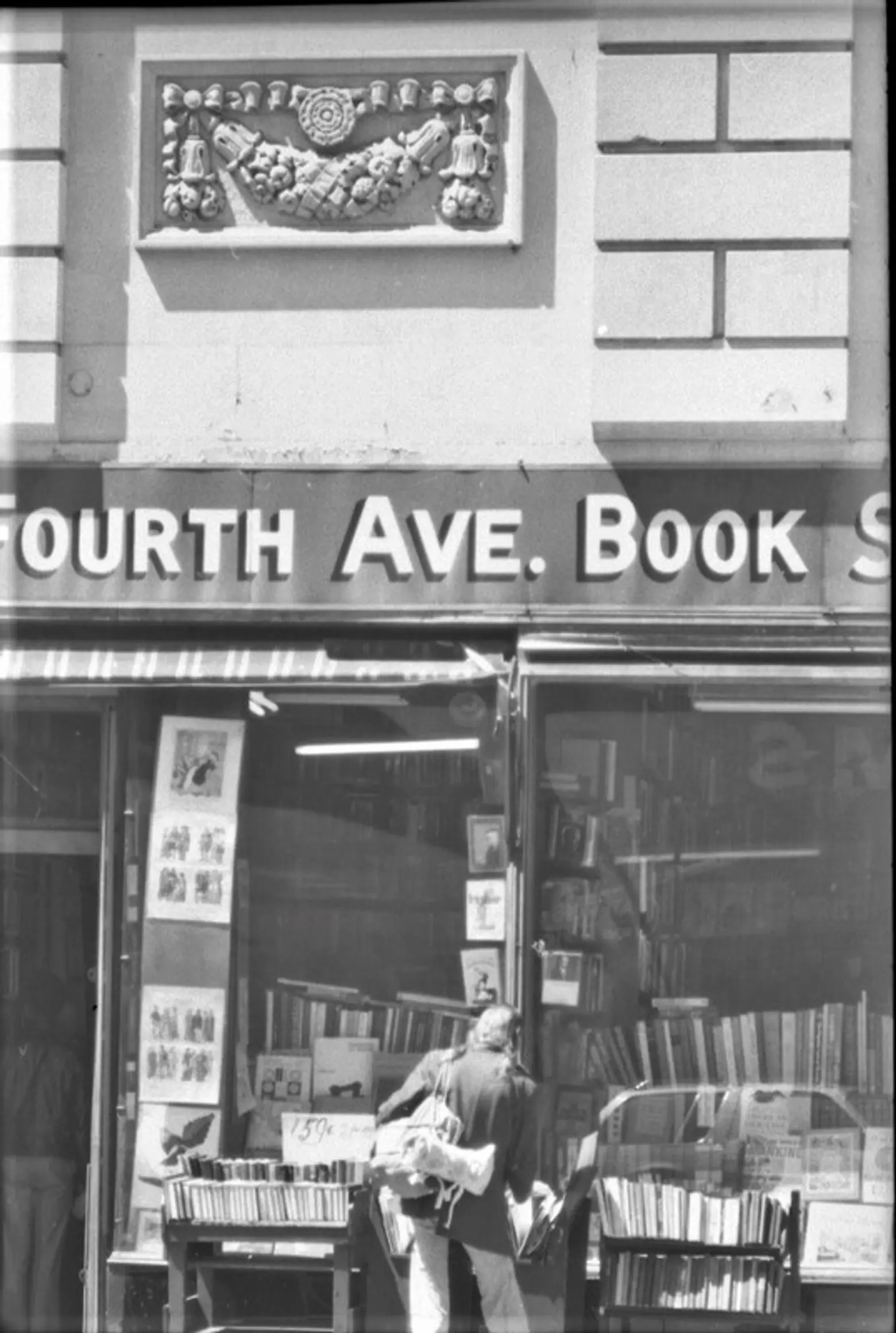 "Fourth Avenue Book Store, 132 4th Av, SE corner 13th St; 4th Avenue Books, former Post Office Bldg," Village Preservation (GVSHP) Image Archive, accessed September 9, 2019
It all started with bookseller George D. Smith, who co-founded a bookstore at 830 Broadway—next door to the present-day Strand—around 1890 and soon after opened a second book shop of his own in the same area. It wasn't long before 4th Avenue was filled with shops and carts overflowing with books, catalogues, and prints, many of which were rare volumes. Marvin Mondlin and Roy Meador trace how the area became the "secondhand book capital of the world" in Book Row: An Anecdotal and Pictorial History of the Antiquarian Book Trade.
The best-known shops in the area were Schulte's, Biblo and Tannen, Dauber and Pine (albeit on Fifth Avenue), and the Strand, but there were many others that focused on special interests. There was the antiquarian cookbook-focused The Corner Bookshop and the Aberdeen Book Company which was one of the first stores on Book Row to sell paperbacks. This specialization—which you don't often find in secondhand books stores today—ensured a kind of neverending variety that kept customers going from store to store. "No matter how large and complete the stock of a secondhand book dealer may be, his neighbor's collection will be quite different," noted publisher and editor Guido Bruno. "The clients of secondhand bookshops like to browse about…they love to have a large territory in which to hunt."
It didn't even matter that the bookstores were uncomfortable. Mondlin and Meador frequently described the stores as "cramped, weakly lighted, inadequately heated, seldom air-conditioned spaces." Nevertheless, bibliophiles are ever determined in their quest. The area regularly drew illustrious clientele including André Breton, Jack Kerouac, and Robert Frost.
Frederick Lightfoot, a customer of Book Row in the 1930s, once described the booksellers as "people of remarkably strong individuality, probably mostly self-taught to a high degree of knowledge about many subjects as well as of the books they handled." But they were also known for their intense, often abrasive personalities, which might ultimately have been one of the reasons behind the demise of Book Row. "What happened to Fourth Avenue, essentially, it was run by a lot of very interesting, strong, self-centered individuals, including my dad, and very few of them imparted knowledge to the younger generation," said Fred Bass in a video interview with NY1. "I remember one of those stores on Fourth Avenue in the 1970s, one of the last ones—maybe that made them even meaner. [The owner] had this big cousin who used to just throw people out, he wouldn't even give an explanation."
"Sometimes they would just say 'No,'" Fran Lebowitz remembers. "You would say 'How much is this?' and they would say 'No.' They were always reading, they were hunched over, and they basically hated you. They didn't want you there, they acted more like you broke into their house."
But the main reason why Book Row was on the wane as early as the 1950s was more typical: rising rents. In a 1956 article on the difficulties of selling books in the city, the New York Times wrote: "This is their plight: They can exist only in low-rental shops, yet they need tremendous storage space."
"My rent tripled," said Fred Bass, owner of the Strand Book Store in 1988. "But I bit the bullet and I made the deal. If I was 10 or 15 years older I might have quit. But I've got a lot of young people. I've got an organization here." That year, the Strand—who by then also had two stalls uptown by Central Park—grossed $7 million. "We think it's a healthy business," said Mr. Bass. "As far as we're concerned there are no dark days of New York bookstores."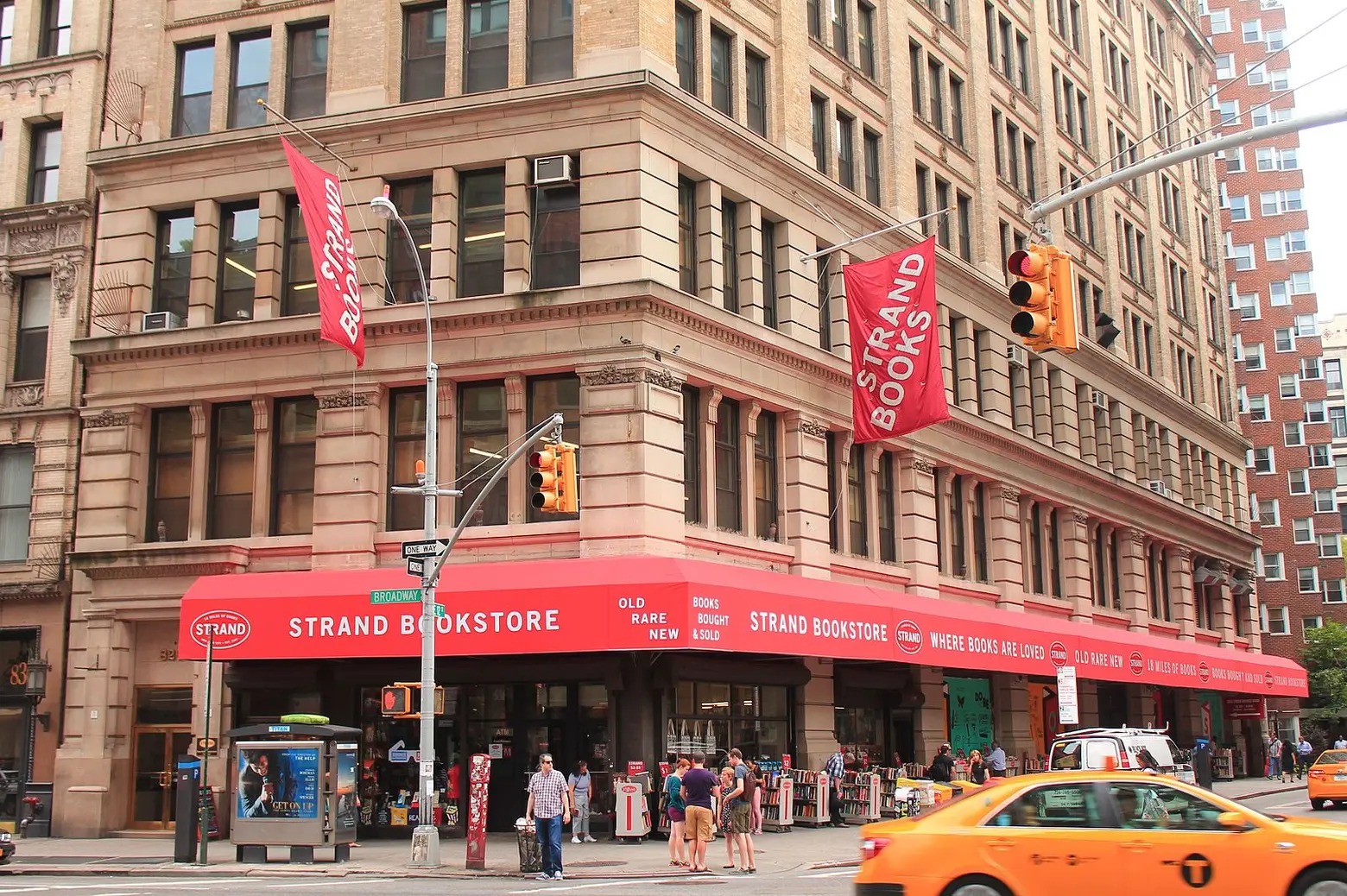 Image via Wiki Commons
The Strand proved to be an outlier in this sense. With the advent of new media and the rise of large retail bookstores like Barnes & Noble, most booksellers on Book Row closed shop or relocated by the late 1960s. Some of the Fourth Avenue vendors put aside their competitive streak and banded together to form the Fourth Avenue Booksellers Association (separate from the Antiquarian Booksellers of America which formed in 1949 and still exists) with a headquarters at 73 Fourth Avenue. In 1969, they requested to have the Fourth Avenue street signs between Eighth and 14th Streets changed to read "Fourth Avenue-Book Row," but the city denied this request.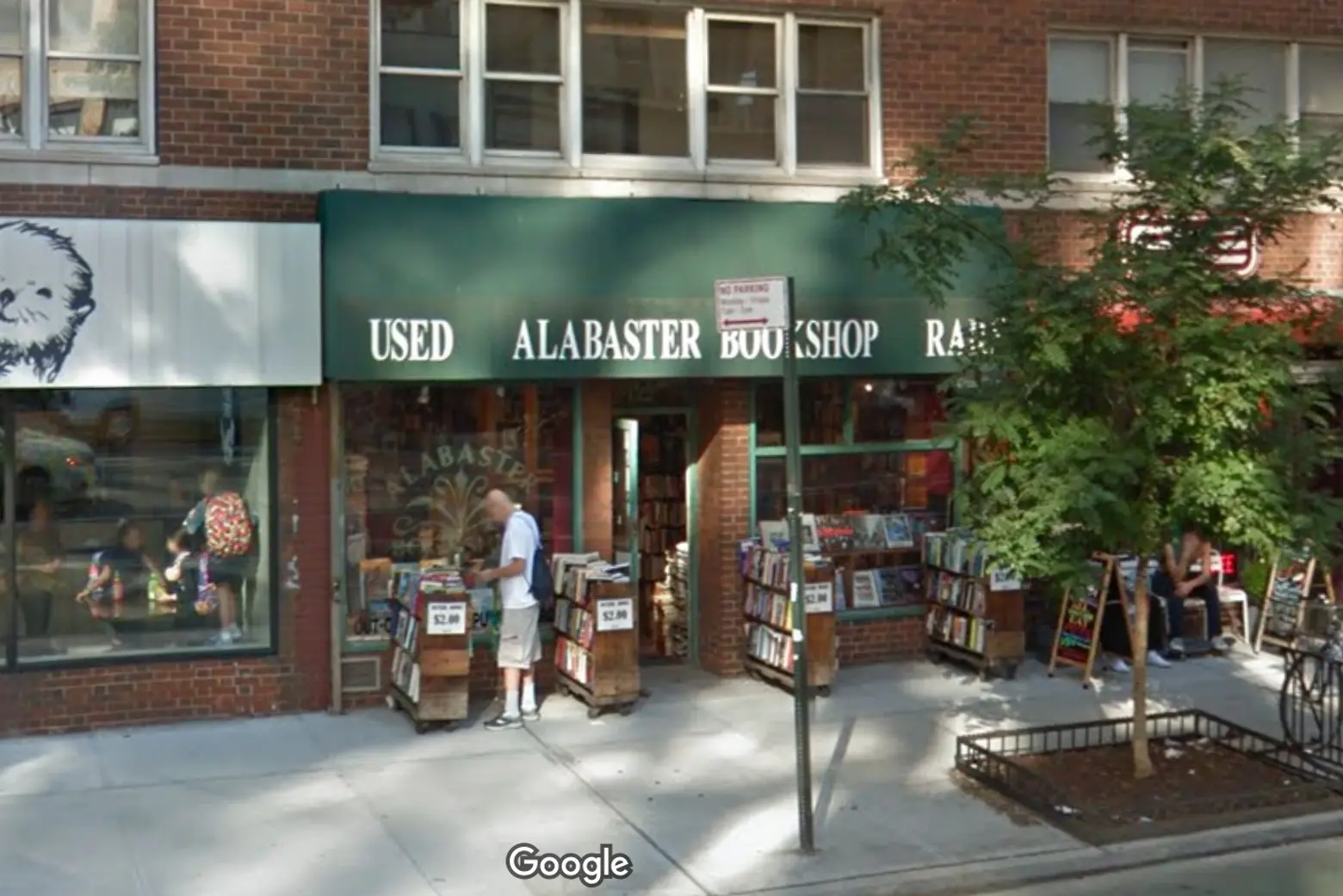 Map data © 2017 Google
In 1996, Steve Crowley opened Alabaster Book Shop at 122 4th Avenue, the newest secondhand bookstore on former Book Row, still in operation today. Whether you blame rising rents, Amazon, or the always-impending "death of print," it's no secret that the number of independent bookstores in the city has been sharply declining since the heyday of Book Row. But there are some glimmers of hope for the city's book-lovers. As one example of success despite the odds, Soho bookseller McNally Jackson—who faced being moved out of the neighborhood due to a 136 percent rent increase earlier this year—is not only staying put but managed to open a new location at LaGuardia Airport earlier in the year and has another upcoming at Brooklyn's City Point.
Though it had long been considered an unofficial city landmark, the Strand was officially designated by the LPC in June, despite worries from current owner Nancy Bass Wyden that the designation would serve mainly to restrict timely construction or renovations of the store in the future. "Although this is not the outcome we hoped for, we'll continue to serve our customers as we have done robustly for 92 years," the store said in a statement.
RELATED: