A Closer Look at ODA's 75 Nassau Street & Other Nearby Towers Planned For Fulton Street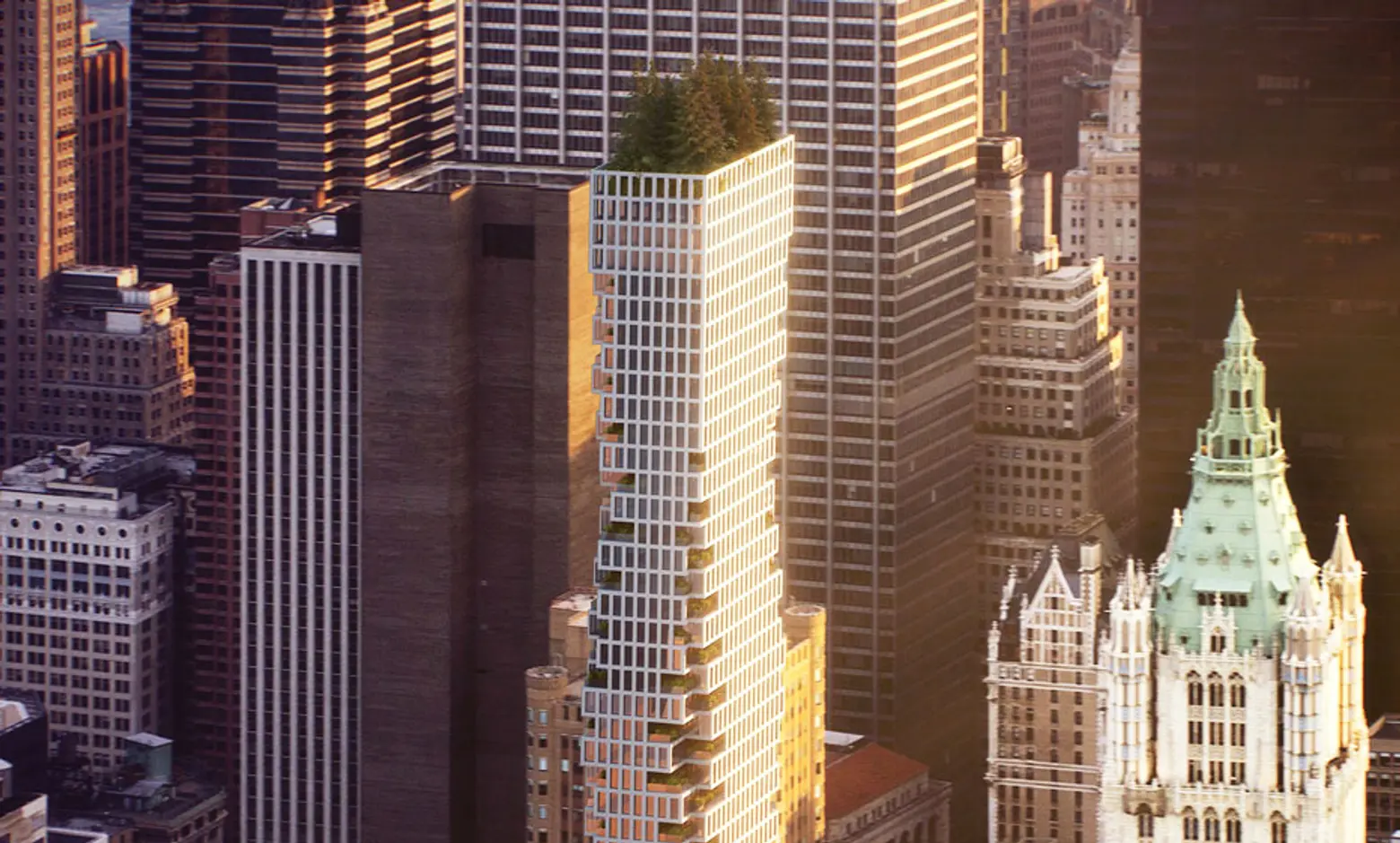 Capitalizing on a revitalized Financial District, Fulton Street is bursting with residential development activity. With a re-imagined Fulton Street Transit Hub open and the second coming of the World Trade Center shopping center and Pier 17 on the horizon, at least five sizable towers are jostling to join the street's renaissance.
Most interesting of the bunch is a 40-story residential skyscraper set to rise at 75 Nassau Street. Developed by Lexin Capital and designed by ODA Architects, its 307,000-square-foot, slab-like massing is distinguished by fragmented and nibbled-away edges that run vertically along the tower's corners. At its more than 500-foot-high pinnacle, a forest of trees will top the structure, giving the high rise a profile that will recall the iconic finials of the district's skyscrapers.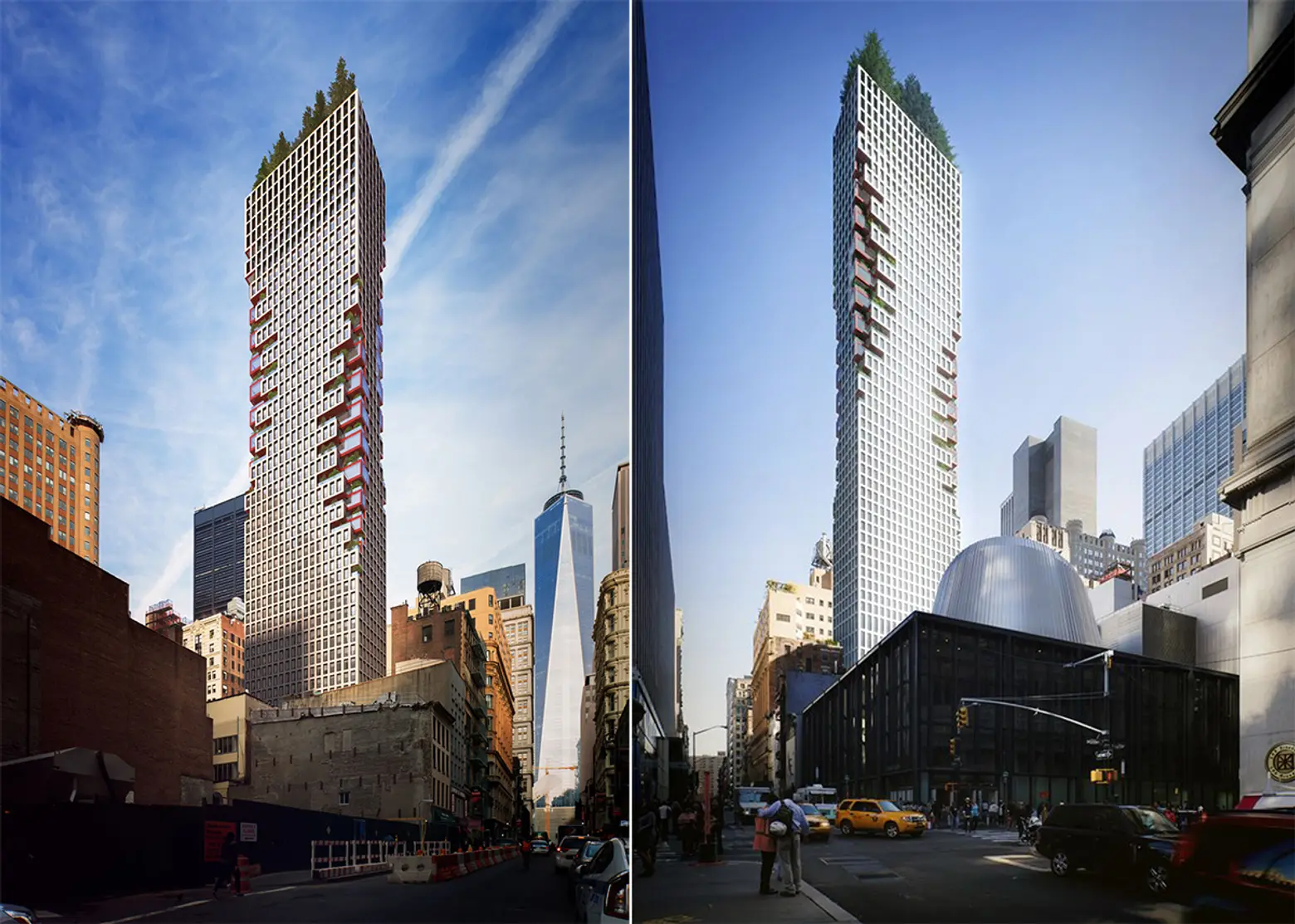 L: Looking west down Fulton Street; R: Looking east from Fulton Street & Broadway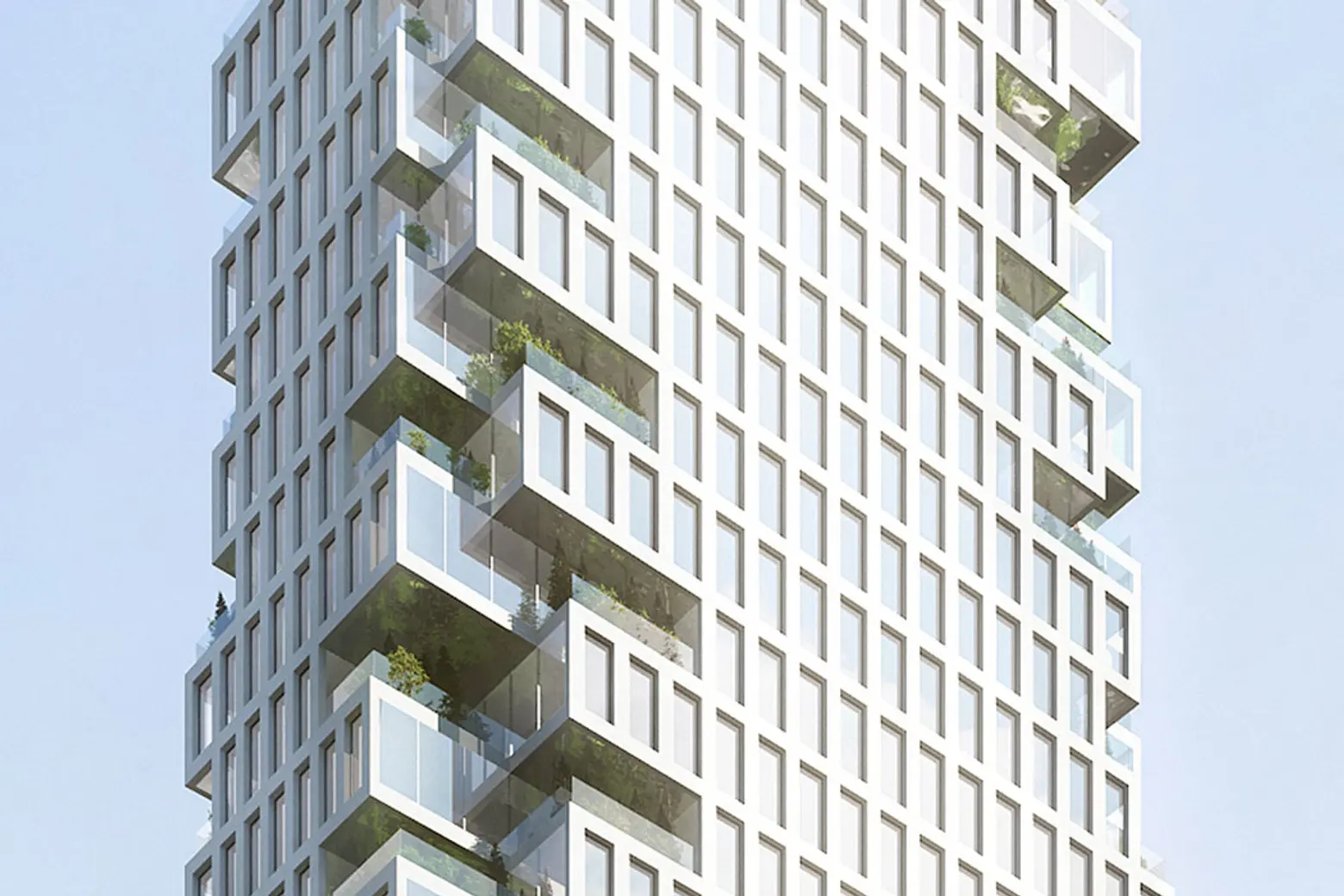 Additional renderings published on ODA's webpage provide us a clearer understanding of the "eroded" corners and how they will provide many mid- to upper-level units with terraces, a rare amenity in the area.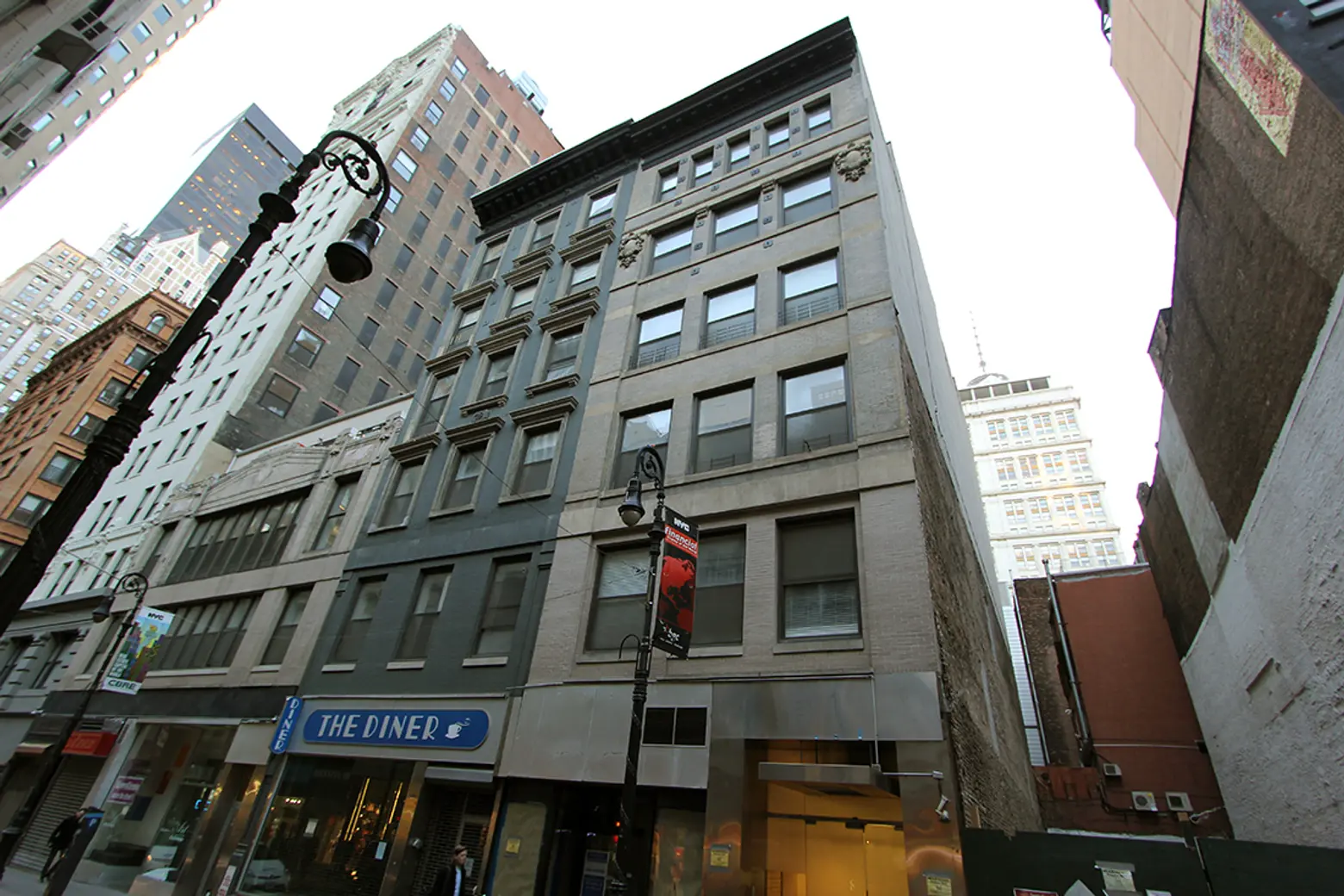 Current site of 75 Nassau Street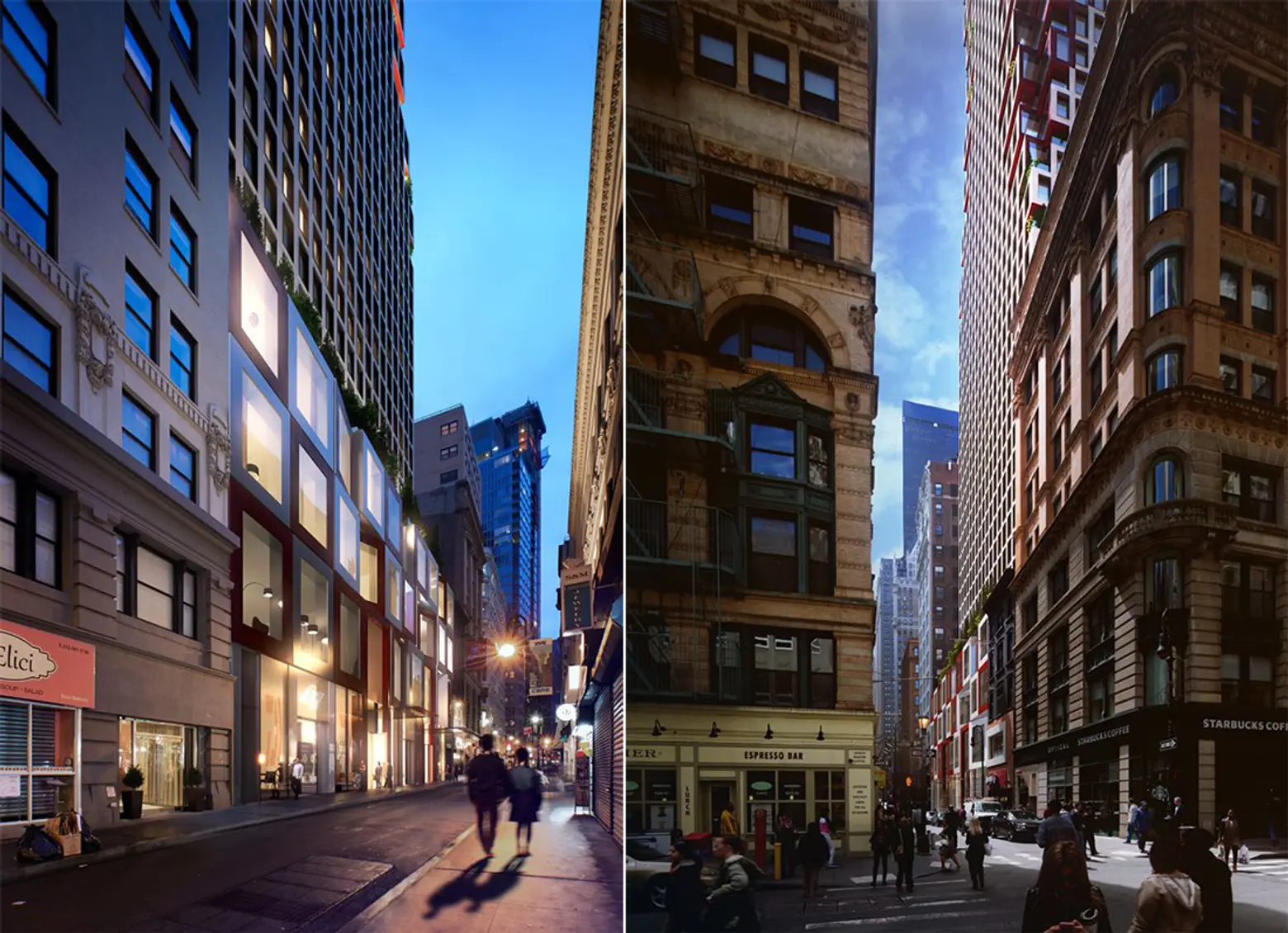 The tower's base along Nassau Street. All renderings and drawings © ODA Architects
Unfortunately, the project will raze five characterful, low-rise buildings along narrow and pedestrian-friendly Nassau Street. The five-story 85 Nassau Street, which housed a Wendy's, has already been demolished and others are currently being vacated. Ousted retailers include a New York & Company, a coffee shop called The Diner, and the clothing chain De Janeiro. Thankfully, yet-to-be-approved DOB filings state the tower will contain a number of retail spaces inside the podium. There will also be two floors of office space and approximately 229 residential units, split between rentals below and condos above.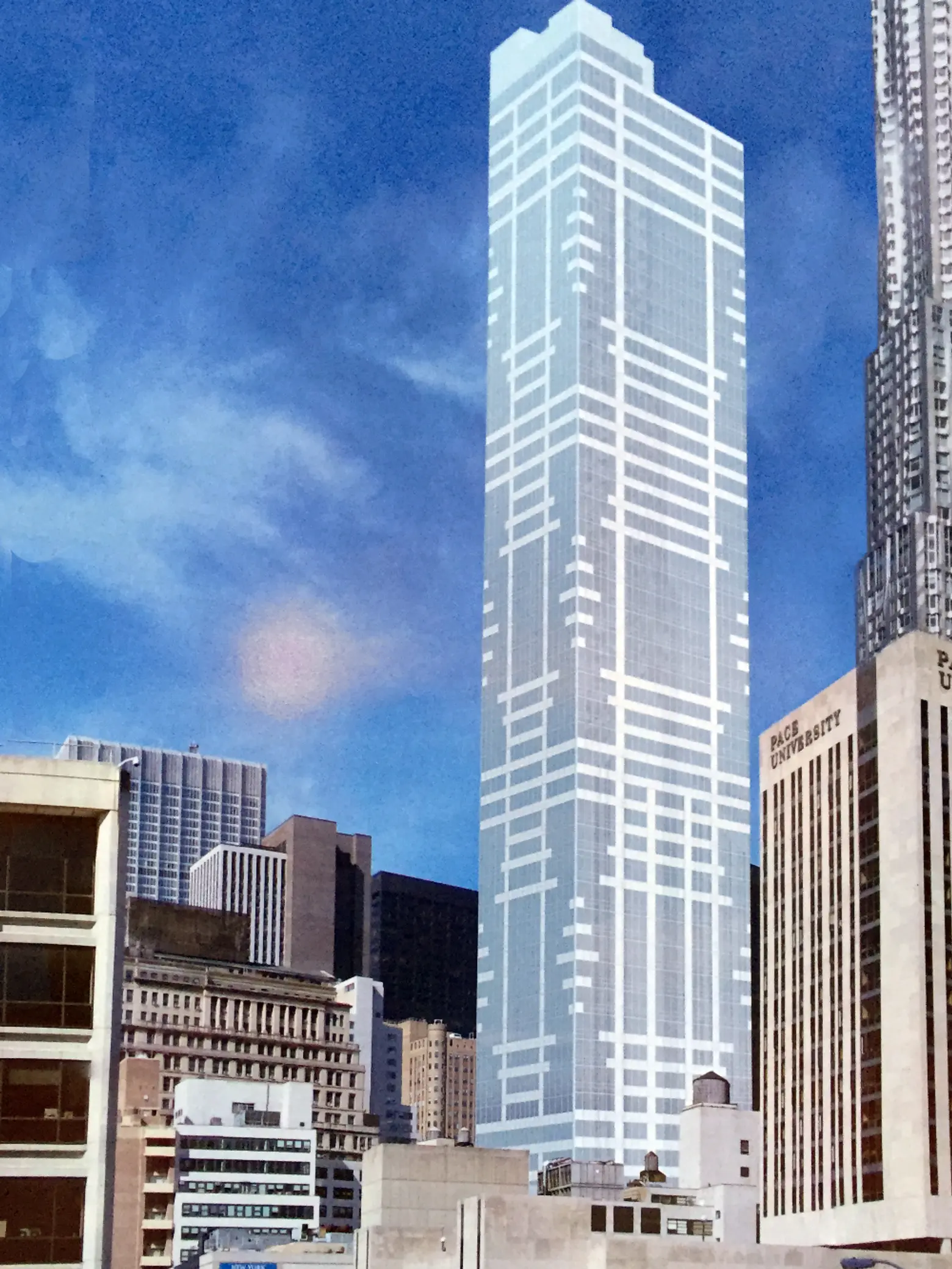 Newly posted rendering of 112-118 Fulton Street, SLCE Architects
Just east of 75 Nassau, construction workers are busy excavating the site of Carmel Partners' 49-story rental tower at 118 Fulton Street. Recently, a new rendering has appeared along the construction fence showing a slightly modified and even more unattractive design.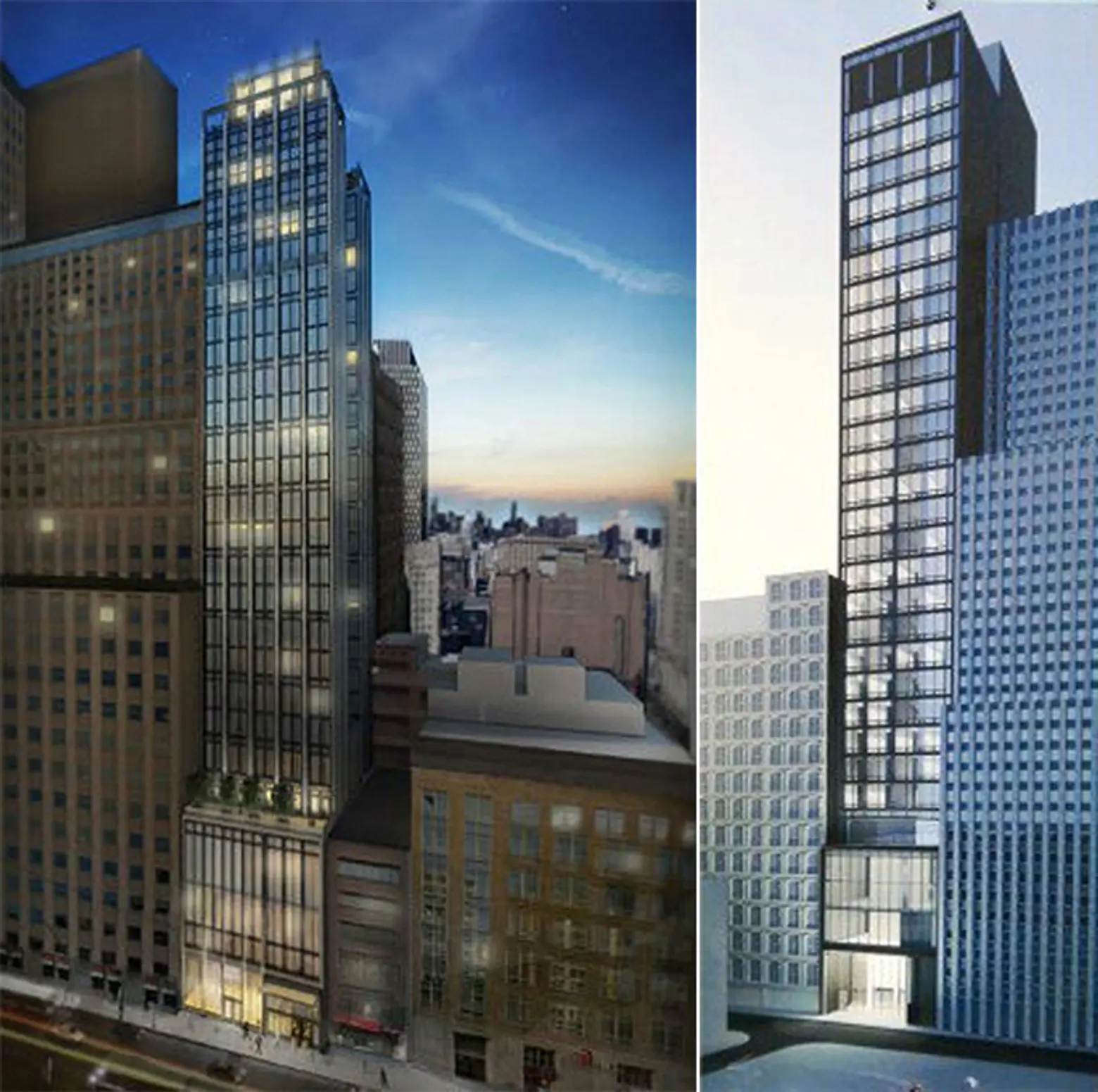 143 Fulton Street, designed by SLCE Architects
Across from the Fulton Center Transit Hub, Tribeca Associates is busy demolishing a once-charming, three-story building at 143-145 Fulton Street that housed a Whyte's Restaurant. The site will make way for a 26-story, 228-key hotel tower designed by SLCE Architects.
Near the southeast corner of William and Fulton Streets, at 130 William Street, the Lightstone Group is readying a site to construct a 50-story hotel and condo tower. Goldstein Hill & West Architects are listed as the architects of record.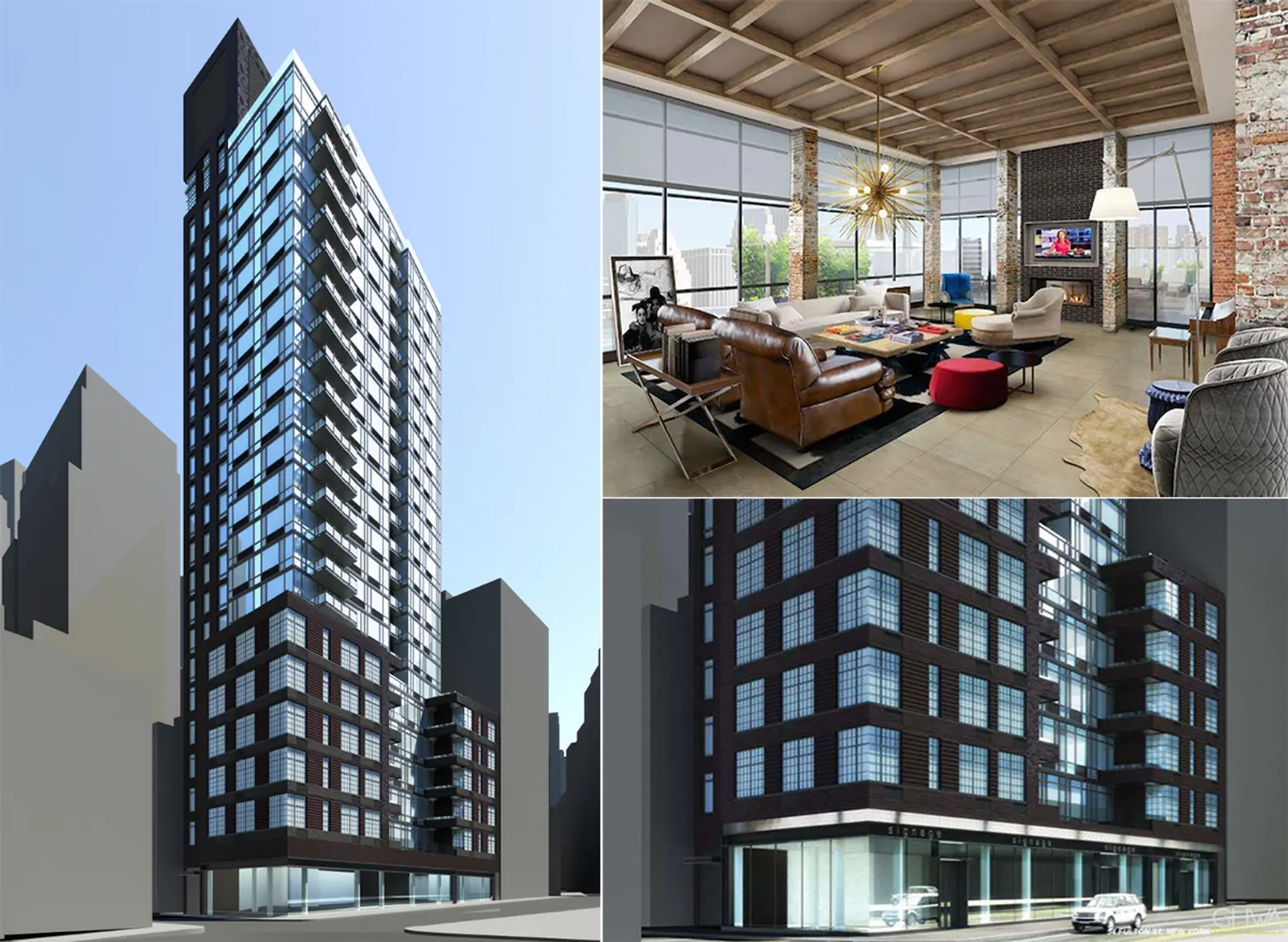 Renderings of The Exhibit at 56 Fulton Street
Furthest east and approaching the South Street Seaport, the structural frame of a future 23-story tower dubbed The Exhibit has reached street level. The project replaces a parking garage and will bring 120 rental units to the area. Socius Development Group and the Brauser Group are the developers with Goldstein Hill & West Architects tapped as designers.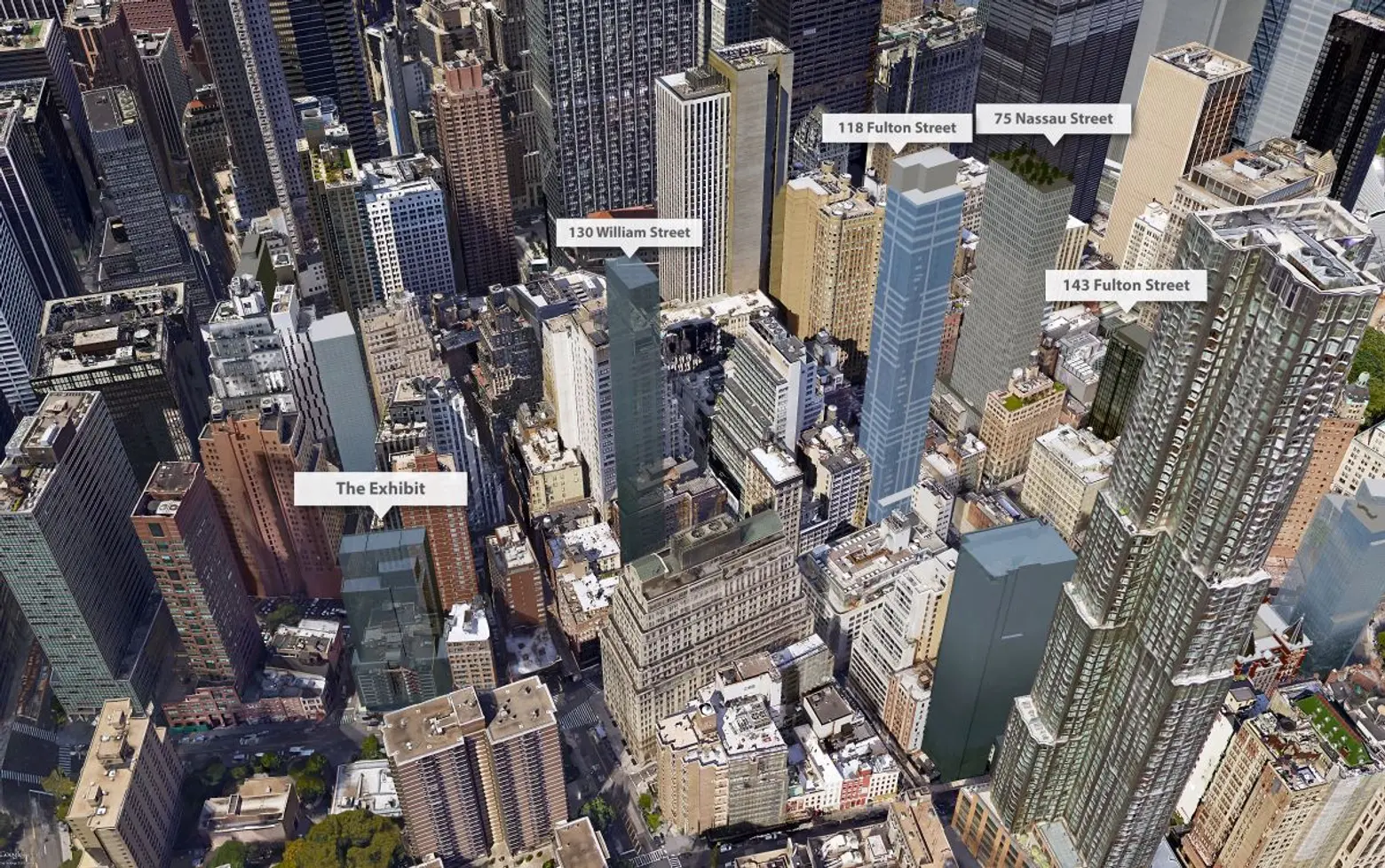 Google Earth rendering via CityRealty
RELATED: