See the mass vaccination site now open at Yankee Stadium for Bronx residents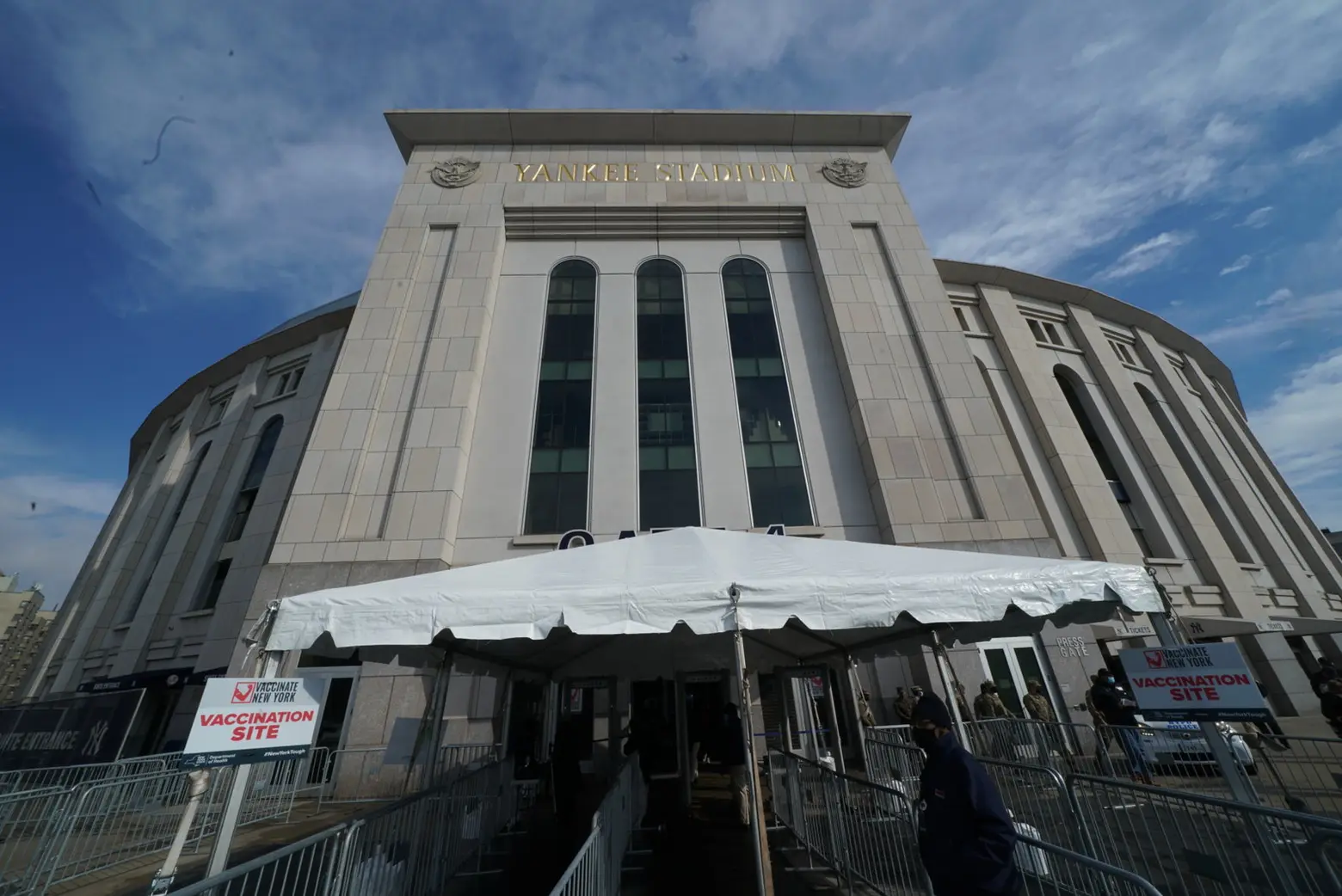 As of today, the mass coronavirus vaccination site is open at Yankee Stadium. Appointments are reserved for Bronx residents only who meet phase 1a and 1b eligibility requirements, and the site will operate every day from 8 a.m. to 8 p.m. Gov. Mayor Bill de Blasio, wearing a Yankees cap (he's a vocal Red Sox fan), was at the stadium and spoke with Yankees president Randy Levine, manager Aaron Boone, and legendary player Mariano Rivera, all of whom encouraged people to sign up for vaccines. As of today, 13,000 of the 15,000 available appointments through next week had been filled.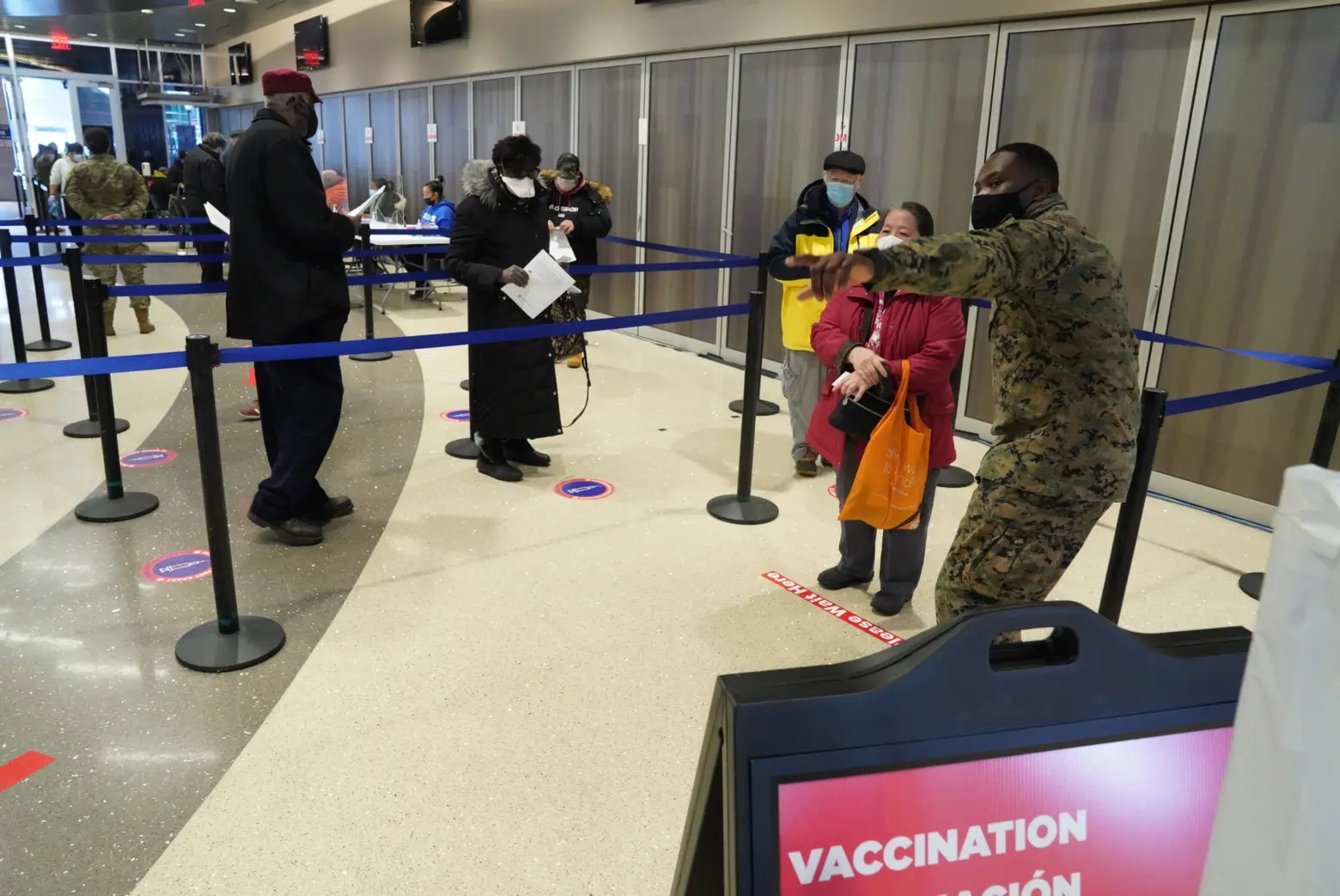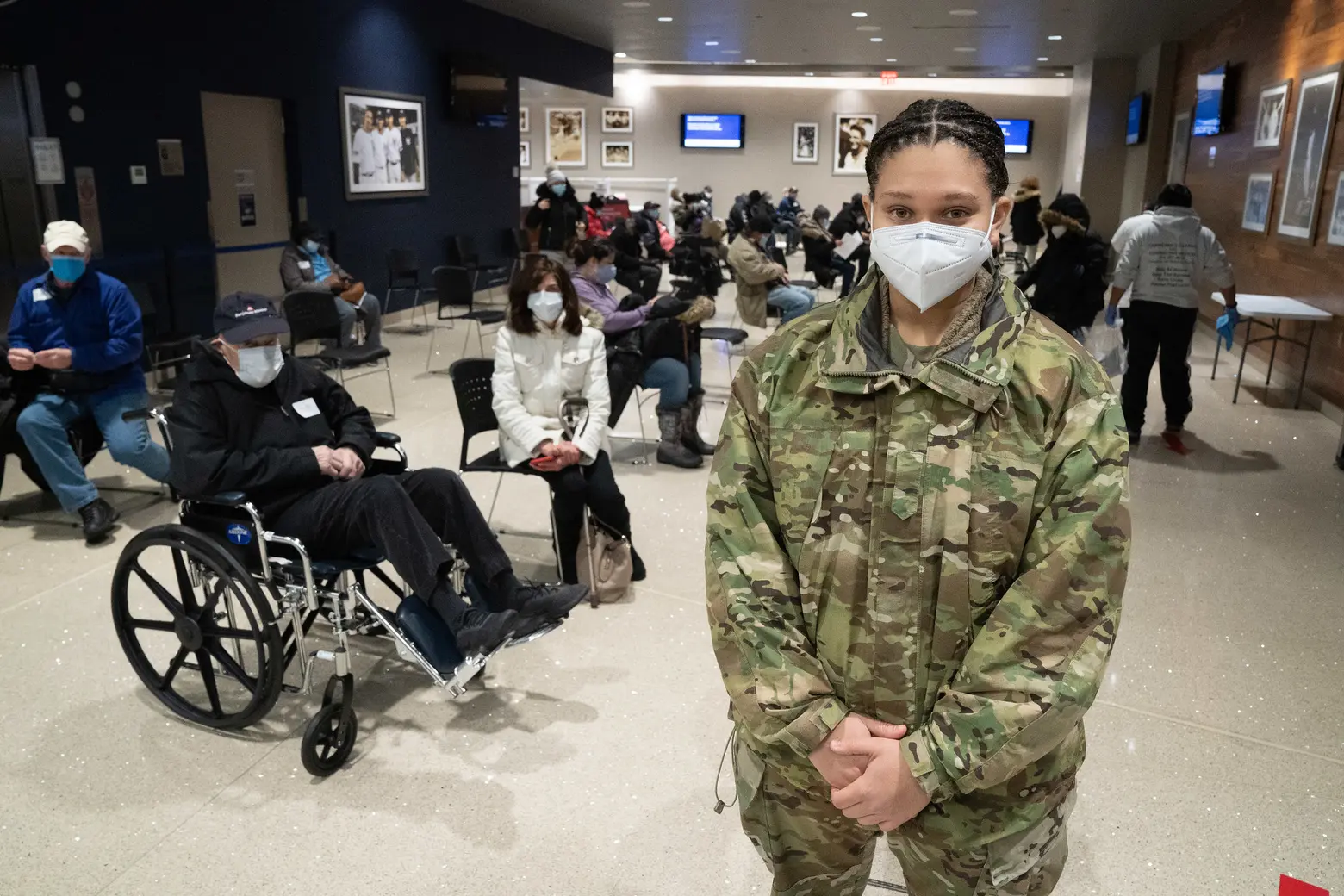 "I used to save games, now we are saving lives. And that's what matters, it's not about the game, it's about the people and that's why we are here," said Rivera.
The new vaccine hub comes as city data released this week revealed vast inequities in vaccination rates among white New Yorkers and communities of color and as the Bronx is currently experiencing the highest positivity rate of any borough. The data also showed that of the 512,820 people who have received at least one dose of the COVID-19 vaccine in New York City, nearly 25 percent are not city residents.
Plus, a report from THE CITY last week found that many of those receiving vaccines at the Fort Washington Armory site in Washington Heights, where a majority of residents are Hispanic, lived outside of the five boroughs. Following the report, the site's operator, New York-Presbyterian, announced it would limit all future appointments to residents of NYC, with a minimum of 60 percent of all those slots reserved for eligible residents of Washington Heights, Inwood, Northern and Central Harlem, and South Bronx communities.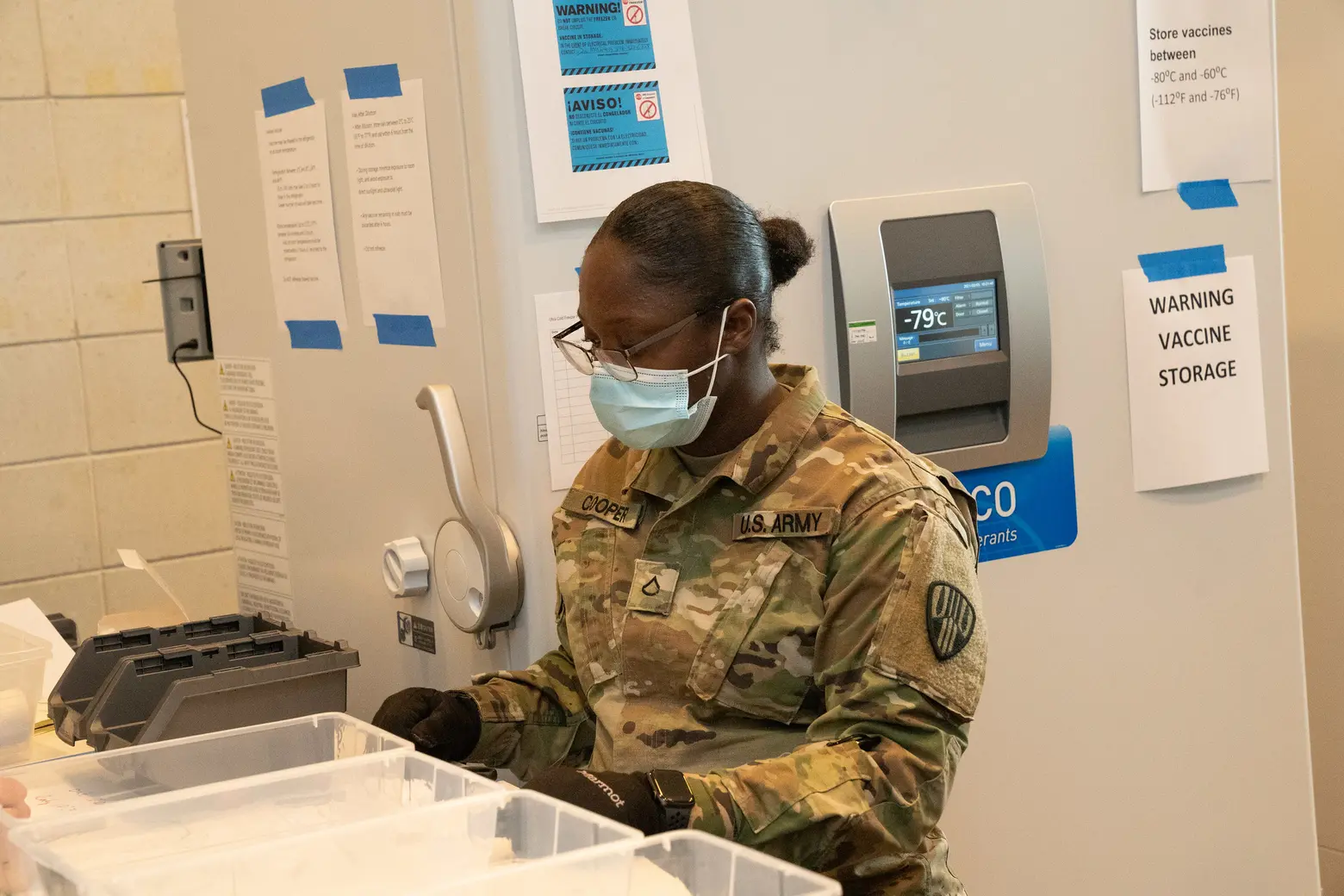 "It's abundantly clear that Black, Latino and poor communities have been hit the hardest by COVID, and the Bronx is no exception," Governor Cuomo said. "Our efforts to target vaccinations by locations with higher positivity rates have been working to not only keep the infection rate down, but to help ensure equity in our vaccine distribution process, and opening a mass vaccination site at Yankee Stadium – the Bronx's most iconic landmark – is the perfect solution to helping this borough get vaccinated and defeat COVID once and for all."
According to state data, the 7-day average percentage of positive test results in New York City has hovered just above 5 percent. In the Bronx, the rate has remained over 6 percent, the highest in the city.
Earlier this week, the governor announced plans to open 35 community-based pop-up vaccination sites at churches, cultural institutions, public housing complexes, community centers, and other places this week, with a focus on fairly distributing the vaccine. The state has already started deploying these "community vaccination kits" to 33 NYCHA senior housing developments, home to over 7,600 residents.
"This mega site shows what our grassroots, equity-driven NYC Vaccine for All effort is all about," de Blasio said. "Yankee Stadium has always been known for its World Series banners, but now it'll be recognized as a place where the people of the surrounding community in the Bronx can receive the vaccine doses that they need and deserve. This is about justice and standing up for the neighborhoods that were hardest hit by COVID-19."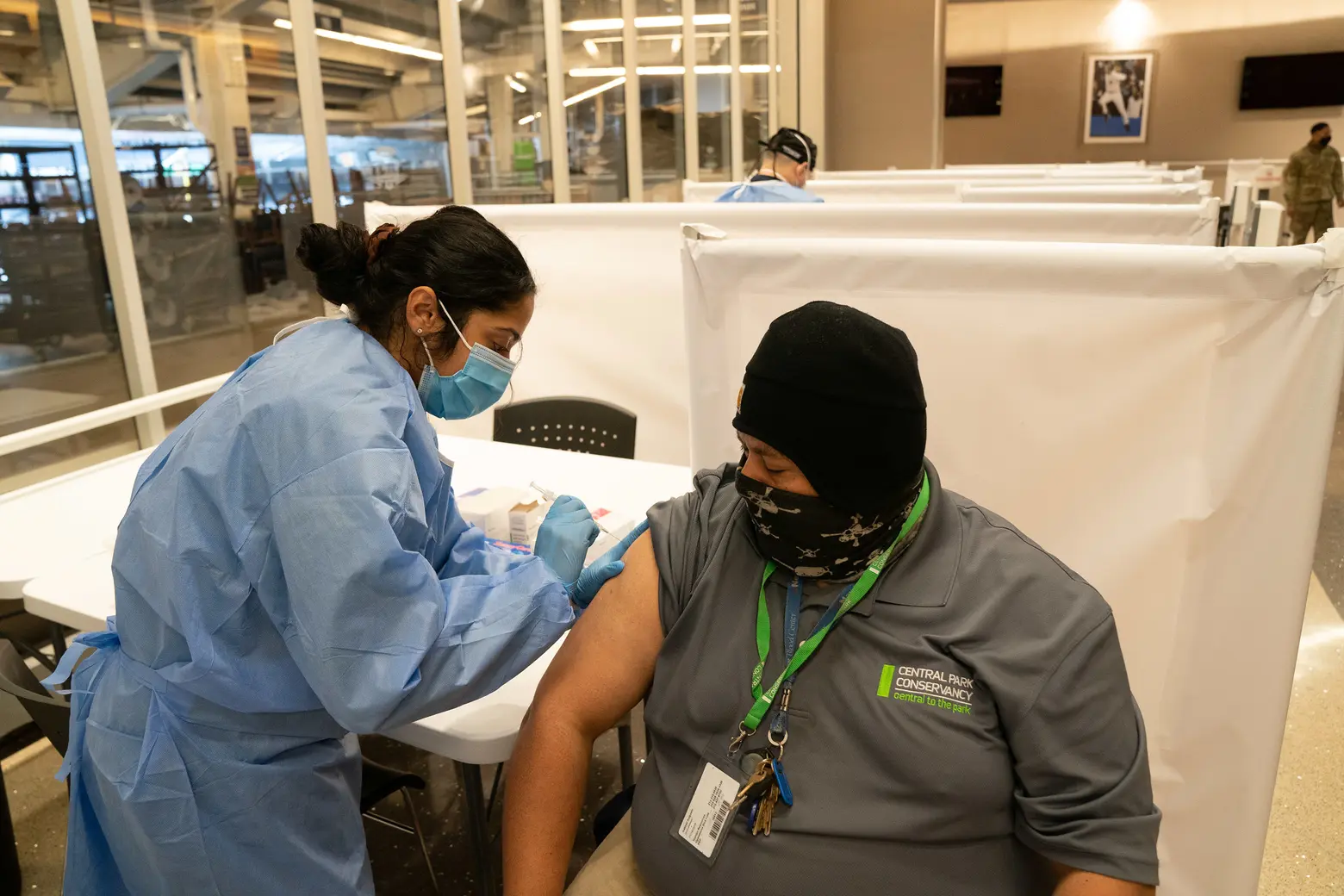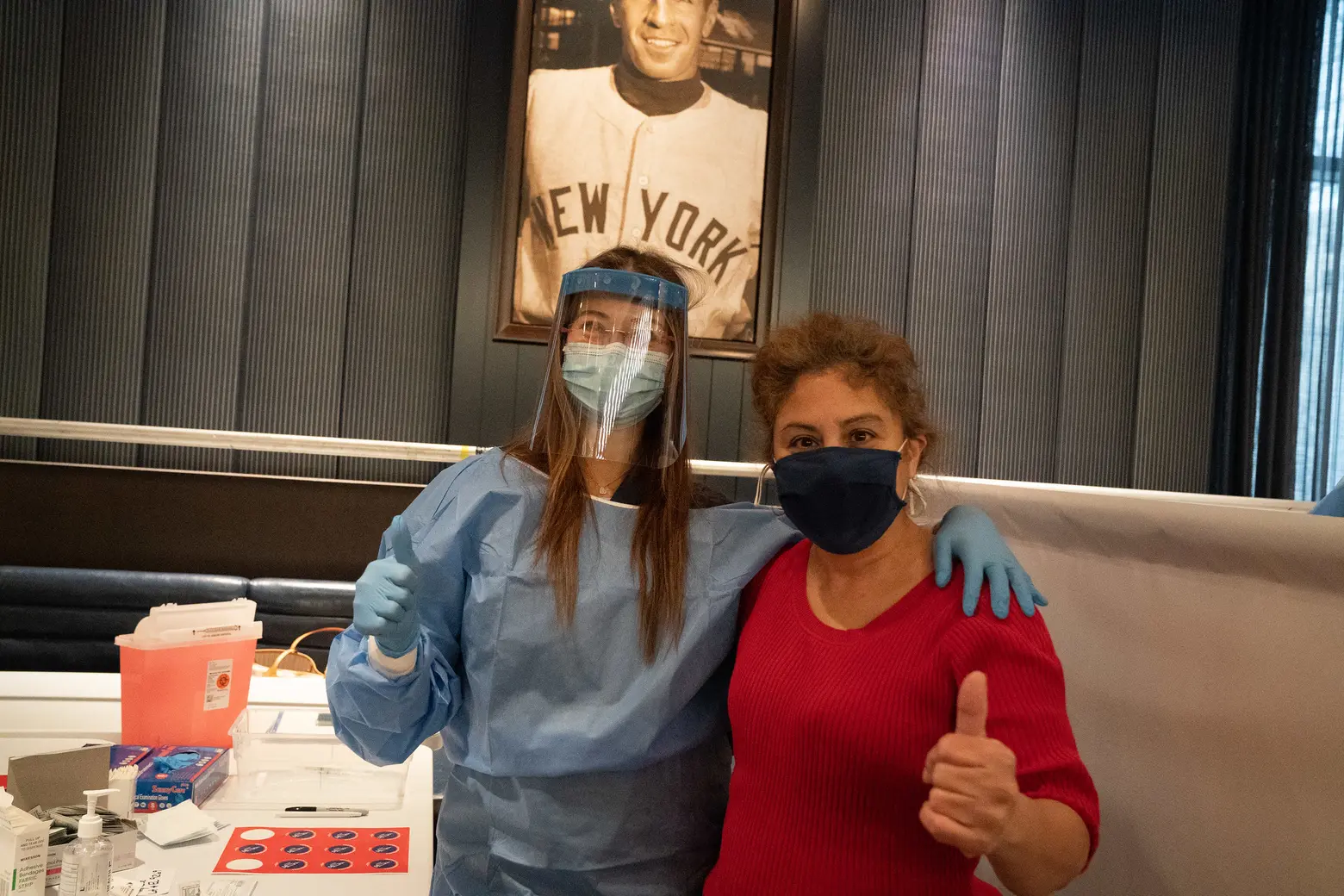 According to officials, 15,000 appointments will be available at Yankee Stadium during the first week. The effort is made possible through a partnership between the state, city, the New York Yankees, SOMOS Community Care, and the New York National Guard. Though everyone is encouraged to make an appointment online or by phone in advance, Yankees president Randy Levine did say that four ticket windows, staffed by Yankees personnel, will be open to assist Bronx residents who show up without an appointment.
Bronx residents who qualify can sign up for an appointment at Somosvaccinations.com or by calling 1-833-SomosNY.
RELATED: 
All photos courtesy of Office of Governor Andrew M. Cuomo on Flickr