Where to go horseback riding in NYC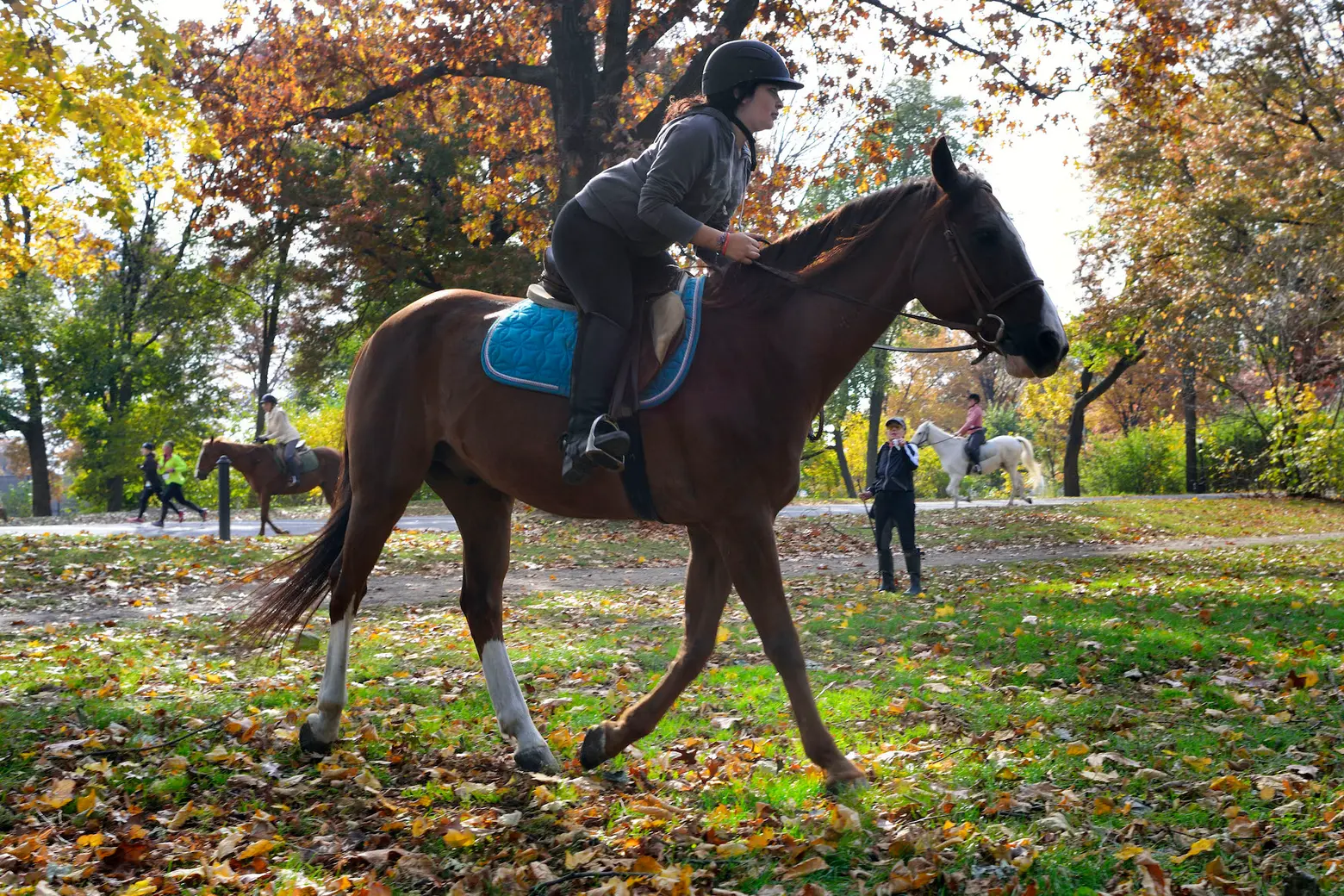 Photo by Martin Seck courtesy of the Prospect Park Alliance
Do you ever dream about galloping on horseback down the busy streets of Midtown? Okay, well you can't do that. But there actually are a number of places in New York City where you can go horseback riding, including at historic stables in Prospect Park and along the Jamaica Bay beachfront.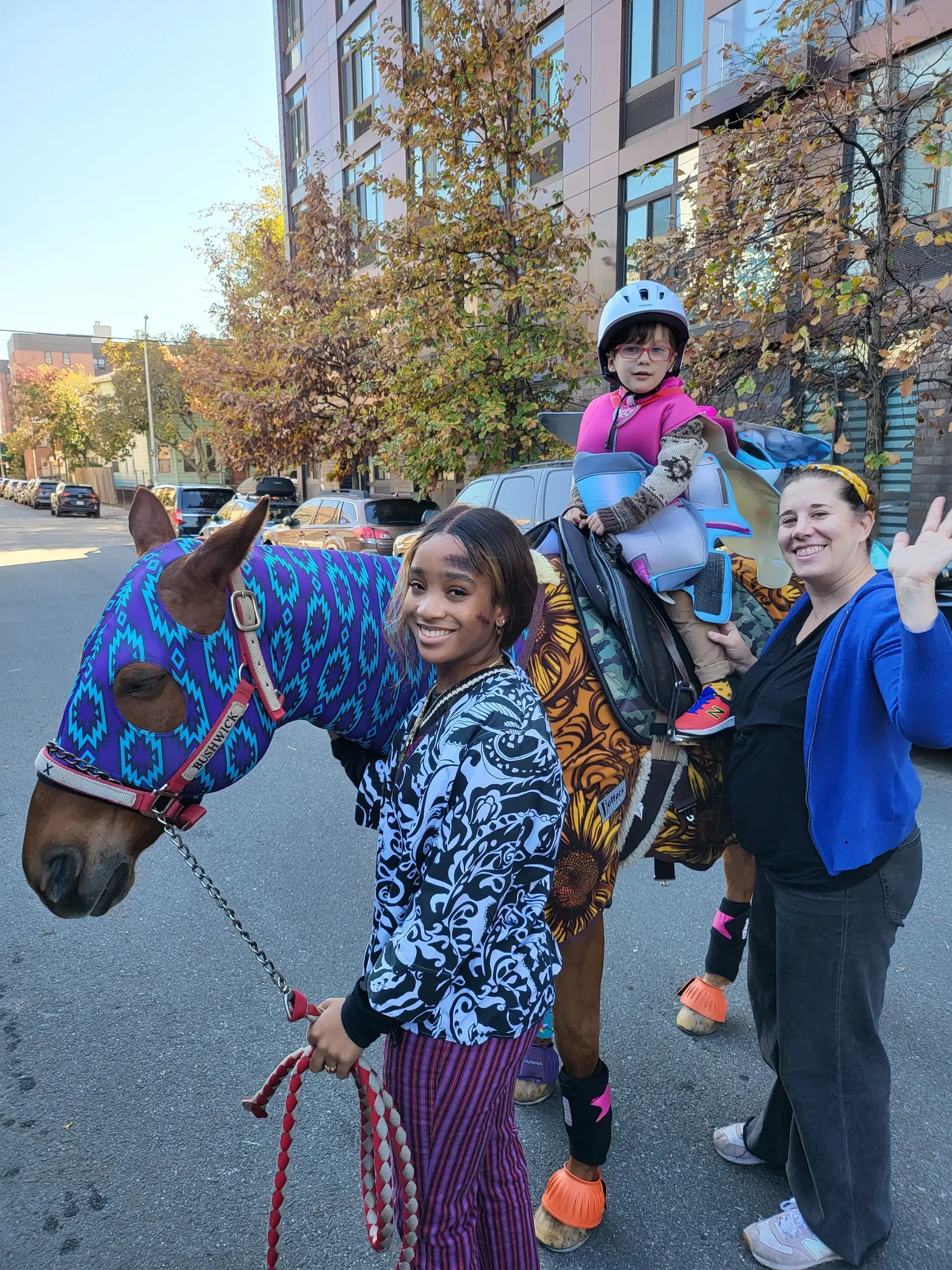 Photo courtesy of Be•Brooklyn Equine
At Prospect Park, Be•Brooklyn Equine took over a historic stable in the park (formerly called Kensington Stables) in 2018. By horse, you can trot along the 3.5-mile bridle path and access areas of the park that are hard to get to by foot.
"Prospect Park in the heart of Brooklyn, like Central Park in Manhattan, are the two premier Landmark Parks in NYC both designed by renowned architects [Frederick Law Olmsted and Calvert Vaux]. However, while both parks were built for horses, Prospect Park is the one in this dynamic duo remaining with an active horse stable," John Quadrozzi, Jr., owner of Be•Brooklyn Equine and third-generation horseman, said.
"Almost every entrance of Prospect Park has a horse statue of some kind with the magnificent Horse Tamer statues at the entrance."
Established in 1917, Prospect Park Stable took on new life 101 years later as, not only a place for New Yorkers to ride but a home for "second career horses."
"For one reason or another, they did not work out for their original intended purpose and were resold or rehomed around before landing in [Be•Brooklyn Equine]," Xiana Quadrozzi, owner and program developer/director, said.
"Through retraining, focused healthcare maintenance, and lots of attentive socialization with other horses and the humans that care for them, these horses get a restart to help them develop into roles that suit their state of mind and body. Some become loyal student horses, some trusty trail horses, and most enjoy both jobs interchangeably to help keep their minds stimulated."
The stable has also launched a waste management program that donates horse manure to community gardens.
Prospect Park Stable isn't the only place you can go to get up close and personal with some equines. Below, is a list of other locations around NYC that offer horseback riding:
1. Be•Brooklyn Equine
55 Caton Place, Windsor Terrace, Brooklyn
The former Kensington Stables is now Prospect Park Stable offering trail rides, lessons, horse rentals, and pony rides and parties for kids; the park has 3.5 miles of trails.
The not-for-profit organization has launched an initiative called Helping Hoof with the mission to place their second-career horses in " healthy, nurturing, loving environments," promote equine-assisted therapy and assisted learning, make riding accessible to people "with physical, emotional, social, or economic challenges," and to "promote public infrastructure that is respectful to urban horses so they may live and thrive in an urban environment that is healthy and safe for both horses and humans."
 

View this post on Instagram

 
2. GallopNYC
88-03 70th Road, Forest Hills, Queens
80-98 Linden Boulevard, Howard Beach, Queens
GallopNYC is an equine therapy center offering a range of programs like therapeutic riding and hippotherapy. In addition to its two main facilities, GallopNYC also offers therapeutic riding at Prospect Park and Bronx Equestrian Center. A 30-minute group lesson is $60, and private lessons are $65. There are also volunteer opportunities at the non-profit organization.
 

View this post on Instagram

 
3. Jamaica Bay Riding Academy
7000 Shore Pkwy, Bergen Beach, Brooklyn
Located on a wildlife preserve, Jamaica Bay Riding Academy offers guided rides, group trail rides, and pony rides. Guided group trail rides are available for riders over the age of 13 seven days a week and cost $90 while private rides are $140. Kids 12 and under can enjoy pony rides for $25.
 

View this post on Instagram

 
4. Riverdale Stables
6394 Broadway, Riverdale, The Bronx
For beginners learning to ride, Riverdale Stables offers private and semi-private lessons seven days a week. Located in Van Cortlandt Park, the stables offer an after school program, a summer program, and jumping lessons. Lessons range from $65 to $110 with packages available to purchase multiple lessons at once.
 

View this post on Instagram

 
5. Bronx Equestrian Center
9 Shore Road,  Pelham Bay Park, The Bronx
Located in Pelham Bay Park in the Bronx, Bronx Equestrian Center offers trail rides, lessons, pony rides, and therapeutic riding (through GallopNYC). Trail rides run 45 minutes to an hour for $65 and lessons range from $40 – $60 with packages available. Or, take a couple of laps around the ring for just $10; kids can enjoy pony rides for only $5.