What you need to know about Columbus Day and Indigenous Peoples' Day events in NYC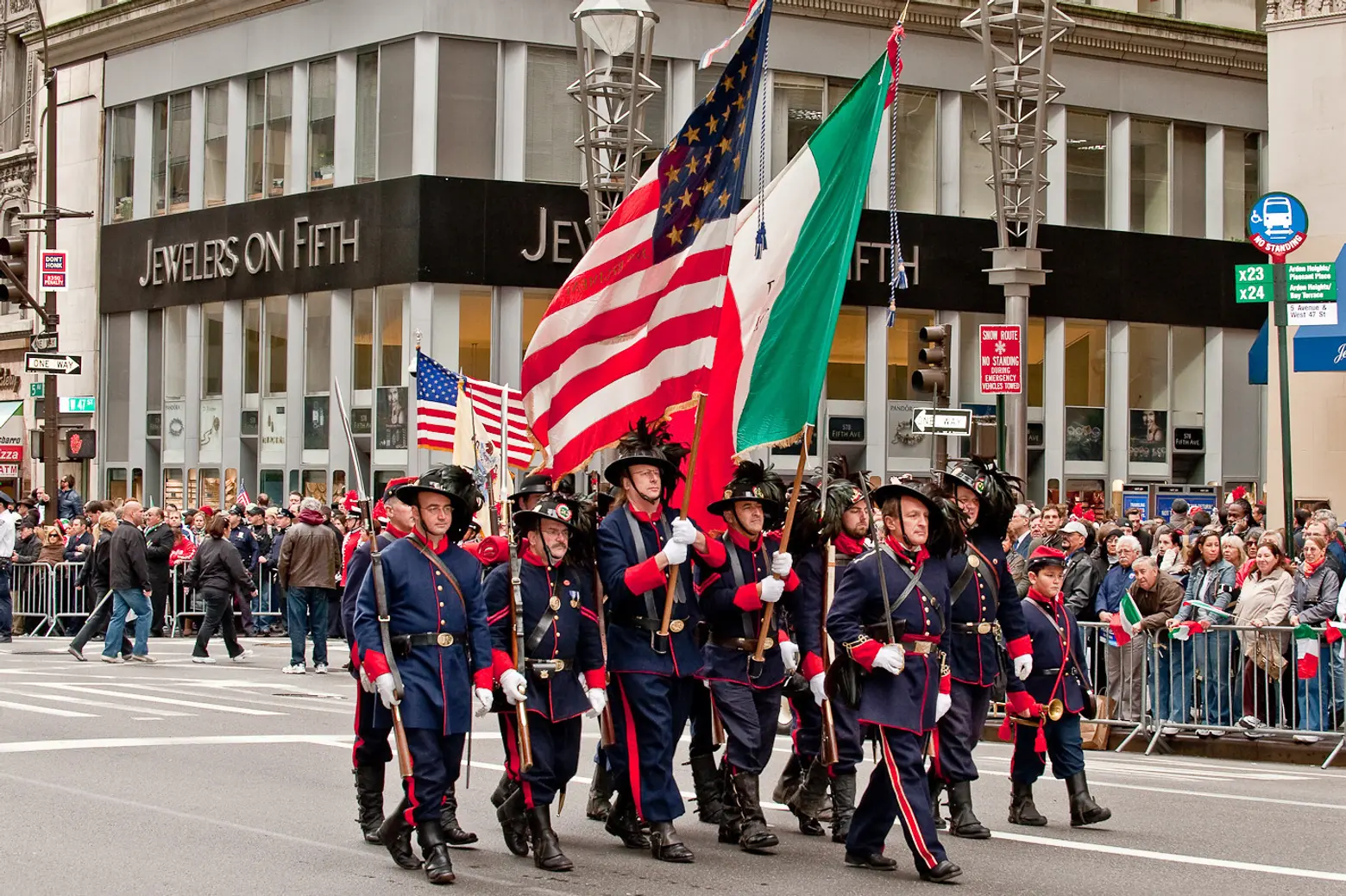 A three-day weekend is upon us as New Yorkers get ready to celebrate Columbus Day and Indigenous Peoples' Day on Monday, Oct. 14. Major events include the 75th annual Columbus Day parade on Fifth Avenue and the two-day Indigenous Peoples' Celebration of New York City on Randall's Island. Ahead, get the low-down on both holidays, including additional planned activities, how to get around, and street closure information.
Hosted by the Redhawk Native American Arts Council, the Indigenous Peoples' Day celebration takes place across two days, Sunday, Oct. 13 and Monday, Oct. 14. The festivities, now in their fifth year, bring together a group of 14 Indigenous Organizations to create awareness about the holiday, with which many seek to replace the federally-recognized Columbus Day.
At least eight states and 130 cities have legally changed the holiday to honor Native Americans instead of Christopher Columbus, who enslaved, colonized, and killed thousands of indigenous people.
The free celebration, taking place at Harlem River Field on Randall's Island, includes performances, speeches from indigenous performers, and a sunrise ceremony on Monday at 7 a.m. Other events to check out include storytime and language lessons about the holiday at the Brooklyn Children's Museum and hammock-making and performances at the National Museum of the American Indian.
The Columbus Day Parade, the world's largest celebration of Italian-American culture according to the organizers, welcomes more than one million spectators each year. The Columbus Citizens Foundation says the parade "celebrates the spirit of exploration and courage that inspired Christopher Columbus's 1492 expedition to American and the important contributions of Italian-Americans and other immigrants that followed."
The parade includes performances by professional musicians and high school bands, traditional centuries-old dancing, and artfully-designed floats.  The chairman of Ferragamo USA, Massimo Ferragamo, will be the grand marshal of the parade, which kicks off at 11:30 a.m. on Monday.
City, state, and federal government offices are closed, which includes the post office. Both the libraries and the city's public schools will be closed on Monday.
Bus routes and some subway lines may be affected by the parade. Check out the MTA's scheduled service changes for this weekend here.
Street closures during the Columbus Day Parade on Monday, Oct. 14, according to the city's Department of Transportation, are as follows:
Formation:
43rd Street between Madison Avenue and 5th Avenue
44th Street between Madison Avenue and 6th Avenue
45th Street between Madison Avenue and 6th Avenue
46th Street between Madison Avenue and 6th Avenue
47th Street between Madison Avenue and 6th Avenue
Route:
5th Avenue between 72nd Street and 43rd Street
Dispersal:
5th Avenue between 72nd Street and 79th Street
72nd Street between 5th Avenue and Madison Avenue
73rd Street between 5th Avenue and Madison Avenue
74th Street between 5th Avenue and Madison Avenue
75th Street between 5th Avenue and Park Avenue
76th Street between 5th Avenue and Park Avenue
77th Street between 5th Avenue and Park Avenue
78th Street between 5th Avenue and Park Avenue
Miscellaneous:
60th Street between Madison Avenue and 5th Avenue
62nd Street between Madison Avenue and 5th Avenue
63rd Street between Madison Avenue and 5th Avenue
64th Street between Madison Avenue and 5th Avenue
68th Street between Park Avenue and 5th Avenue
69th Street between Park Avenue and 5th Avenue
70th Street between Park Avenue and 5th Avenue