Weeks before winter begins, thousands of NYCHA residents have been without heat or hot water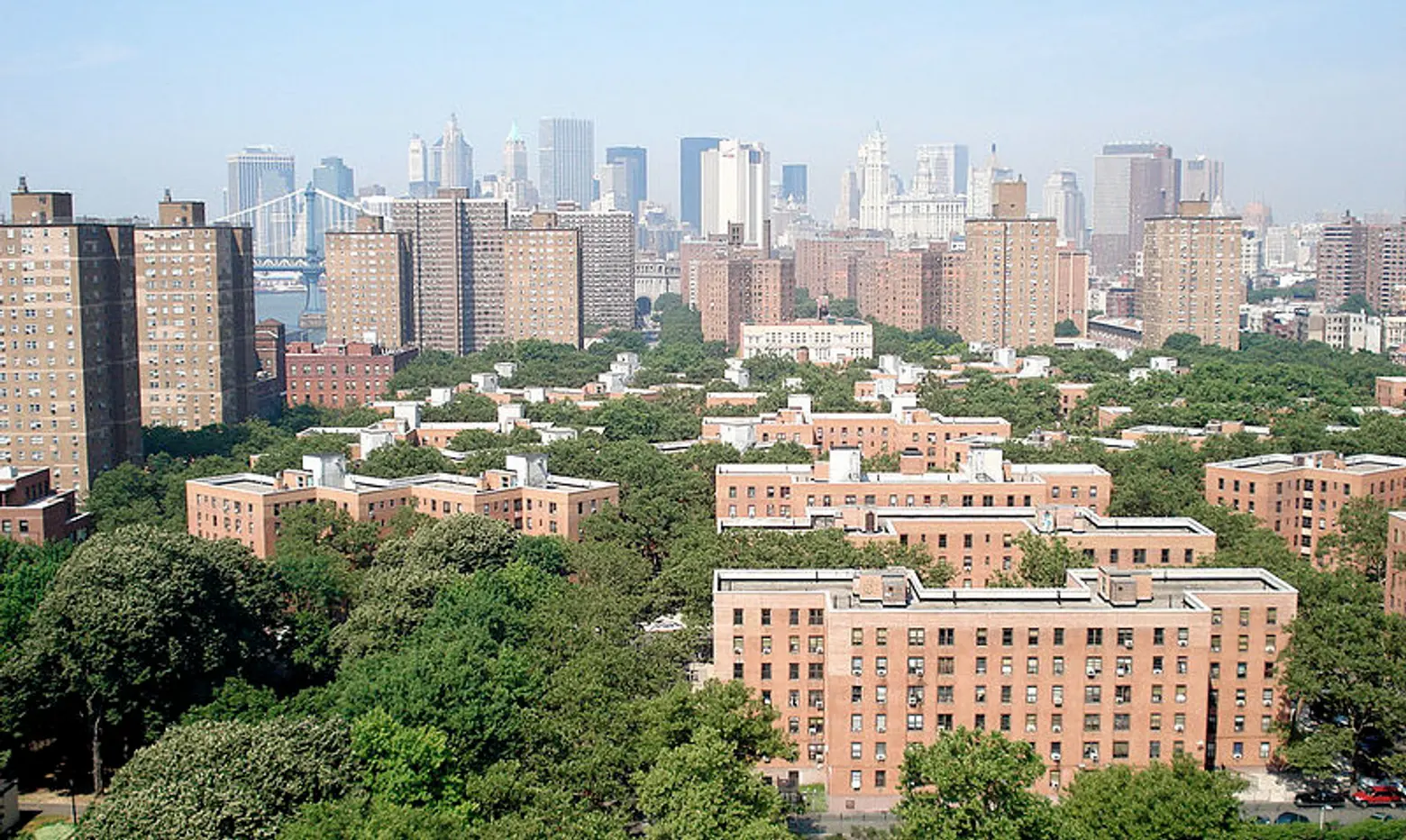 More than 2,460 residents at the LaGuardia Houses on the LES were affected by the outages Tuesday; photo via Wikimedia
Thousands of public housing residents did not have heat and hot water on Tuesday, making it the second widespread outage in less than two weeks. As first reported by Gothamist, 10,000 New York City Housing Authority tenants across six complexes suffered from the outages this week. And last week, when temperatures dropped below freezing, roughly 23,000 NYCHA residents did not have heat or hot water at some point.
The largest complexes affected on Tuesday included the Lower East Side's LaGuardia Houses, which houses 2,461 residents, and the George Washington Houses on the Upper East Side, home to more than 3,436 tenants. Other complexes affected on Tuesday include the East River Houses on East 105th Street, Chelsea's Elliot houses, the Wald development in the East Village, the Coney Island I development, and Clason Point in the Bronx.
The unplanned service interruptions, about a month before the official start of winter, follows an abysmal heat season for NYCHA last year, which saw over 291,500 public housing residents affected between October 1 and May 31, according to documents obtained in August by The Legal Aid Society. The organization has requested the agency offer a reduction in rent for those who suffered from the outages.
"So far this heat season, thousands of NYCHA residents have been impacted by a heat or hot water outrage–already very similar to what residents experienced the last two winters," Redmond Haskins, a spokesperson for the Legal Aid Society, told Gothamist.
"When the Housing Authority fails to provide tenants with working utilities, as per law, it must issue rent abatements those impacted. This is the law for tenants in market rate apartments and it duly applies to those in public housing."
By 5 p.m. on Tuesday, heat and water service was restored at four of the six complexes, according to a tweet from NYCHA's official account. Clason Point in the Bronx and the Coney Island I were restored later in the evening.
When the temperatures drop, outages have been customary for many of the city's 400,000 public housing tenants. Old boilers are mostly to blame, as more than half of the authority's 1,713 boilers are more than 20 years old with most needing repairs or replacement, the New York Times reported in October.
While the city announced in March plans to install new boilers at 11 NYCHA developments, it will take three years to do so. The agency will also allocate $1 billion over the next five years to replace 310 boilers.
See current NYCHA heat and hot water service outages here.
[Via Gothamist]
RELATED: