This Jake Gyllenhaal-designed LOX hoodie from Russ & Daughters supports The Actors Fund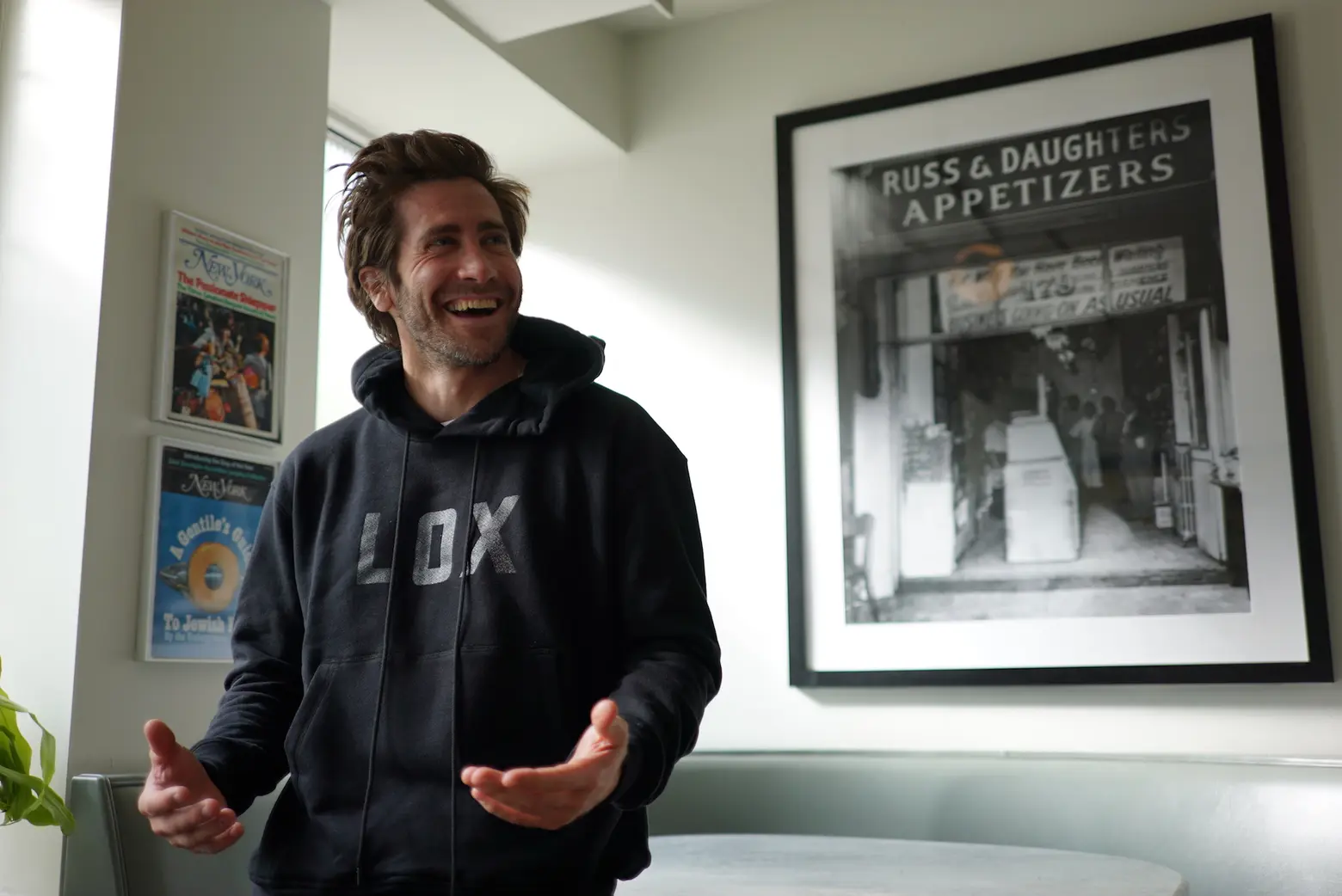 Photo courtesy of Russ & Daughters
Jake Gyllenhaal is once again teaming up with New York City icon Russ & Daughters for a good cause. In collaboration with the 100-year-old smoked fish seller, the actor designed a hoodie with the word LOX displayed on the front. Proceeds from the sale of every hoodie, which is going for $150, will go to The Actors Fund, which supports local theater workers.
"Nothing like a big bag of bagels and LOX!" Gyllenhaal wrote on Wednesday in an Instagram post featuring a photo of him wearing the sweatshirt next to a giant bag of bagels. "I designed a hoodie with my friends at Russ & Daughters, the proceeds from the sale of every hoodie will go to the Actors Fund's efforts to support NYC theater workers impacted by the pandemic."
The hoodie, also created alongside the newly founded non-profit New York Forever, was hand-made by Storytellers and Creators, a Brooklyn-based garment manufacturer. The pullover sweatshirt has an oversized fit and is made with French Terry.
"You may not know the incredible crew of people that make the theaters run," Gyllenhaal wrote."You may not know how tough the past year and a half has been for them, but I can tell you that nothing in the theater works without them."
Last summer, Gyllenhaal and Russ & Daughters released a limited edition tie-dye t-shirt to support the neighborhood business. According to a press release, the LOX hoodie, "the graphic and the style," stemmed from an idea the actor had a year ago.
"New York is not New York without food and the arts. This hoodie reflects the intersection of these communities and the shared desire Jake, Russ & Daughters, and New York Forever have to support these communities so deeply impacted by the pandemic," Niki Russ Federman, fourth-generation co-owner of Russ & Daughters, said.
Get yours here.
RELATED: