This $23 Million Soho Loft Comes With Designer Furniture and a Motorized Headboard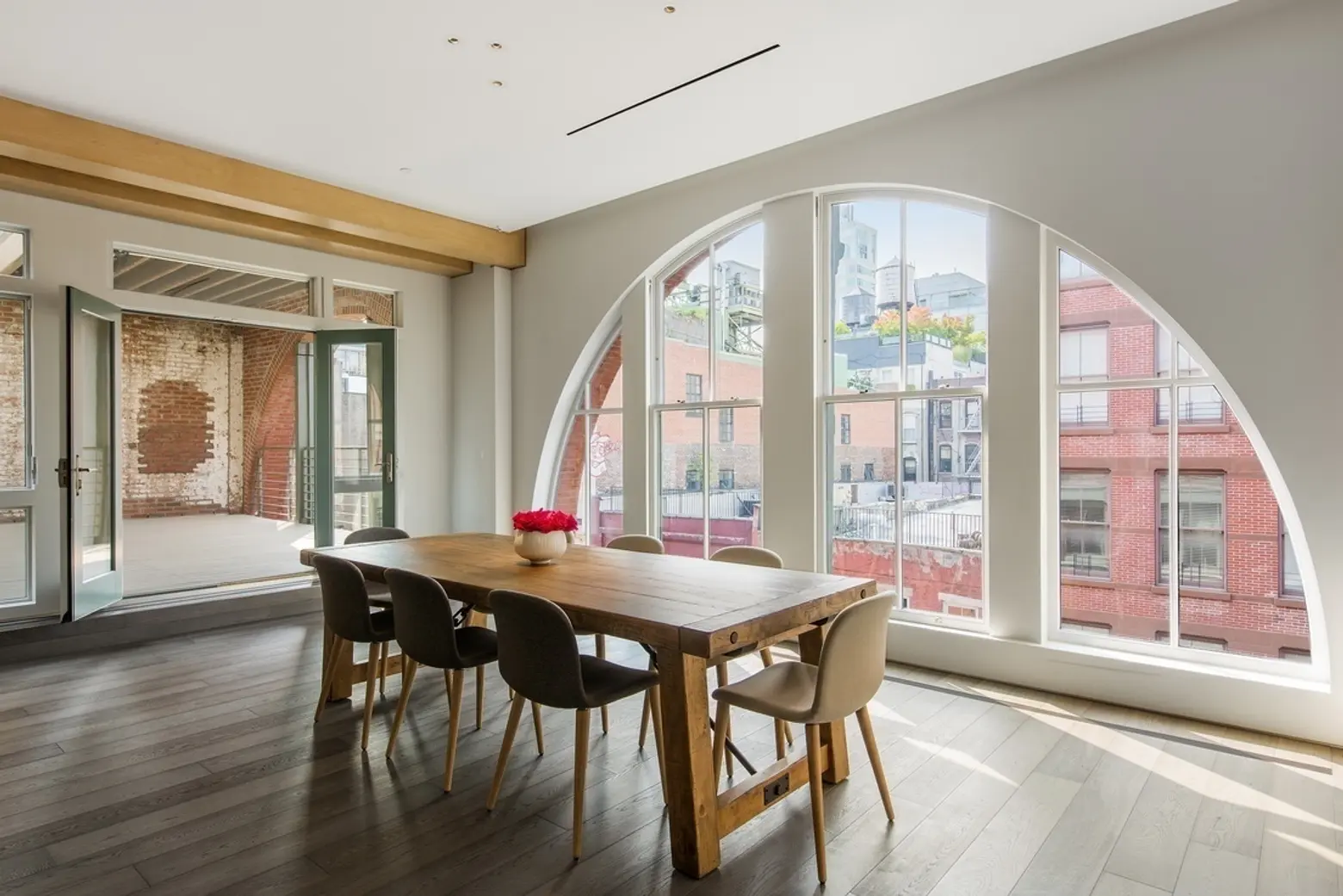 This enormous and undeniably awe-inspiring condominium at 50 Wooster Street seems pretty straightforward: A huge Soho loft with a sleek and expensive-looking contemporary renovation. And you have a choice! You can rent this gleaming 4,800 square-foot downtown pleasure palace for $40k a month, or just buy it for a mere $23.3 million.
The property's recent history is a little more complicated; like many of its kind, it reflects the changing neighborhood. Within two decades this apartment in a six-story Romanesque cast-iron structure built in 1895 has morphed from a slightly DIY Soho loft condo conversion to a developer's pad with innovative interiors by Winka Dubbeldam to a top model's aerie to a raw loft space that wasn't selling to a $23 million architect-designed (again) trophy loft (again).
In the late '90s, longtime Soho resident and architect Lawrence Bogdanow renovated the pair of buildings known as the Wooster Street Condominium at 42-50 Wooster Street, retaining many of their iconic cast-iron and loft details. Full- and half-floor units were given a basic infrastructure and mechanical overhaul and, in 1998, sold as "raw" spaces. Developer Jonathon Carroll (developer of the distinctive Winka Dubbeldam-designed Greenwich Street Project at 497 Greenwich Street) purchased unit 5N for $5.6M. Dubbeldam stepped in and gave the interiors her innovative, modern design treatment. Carroll sold the loft in 2005 to Brooklyn-born Victoria's Secret and runway model Haylynn Cohen for $5.8M.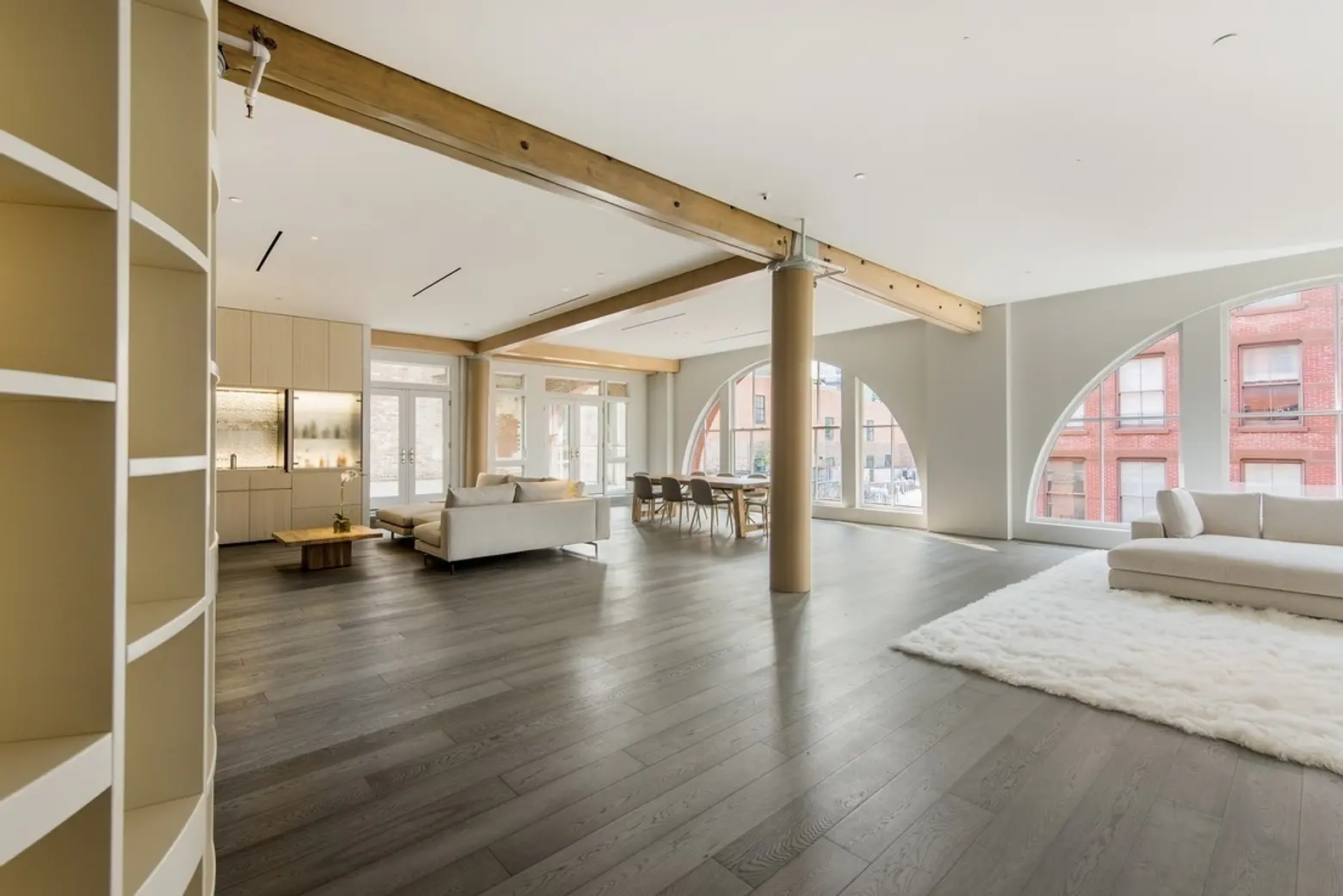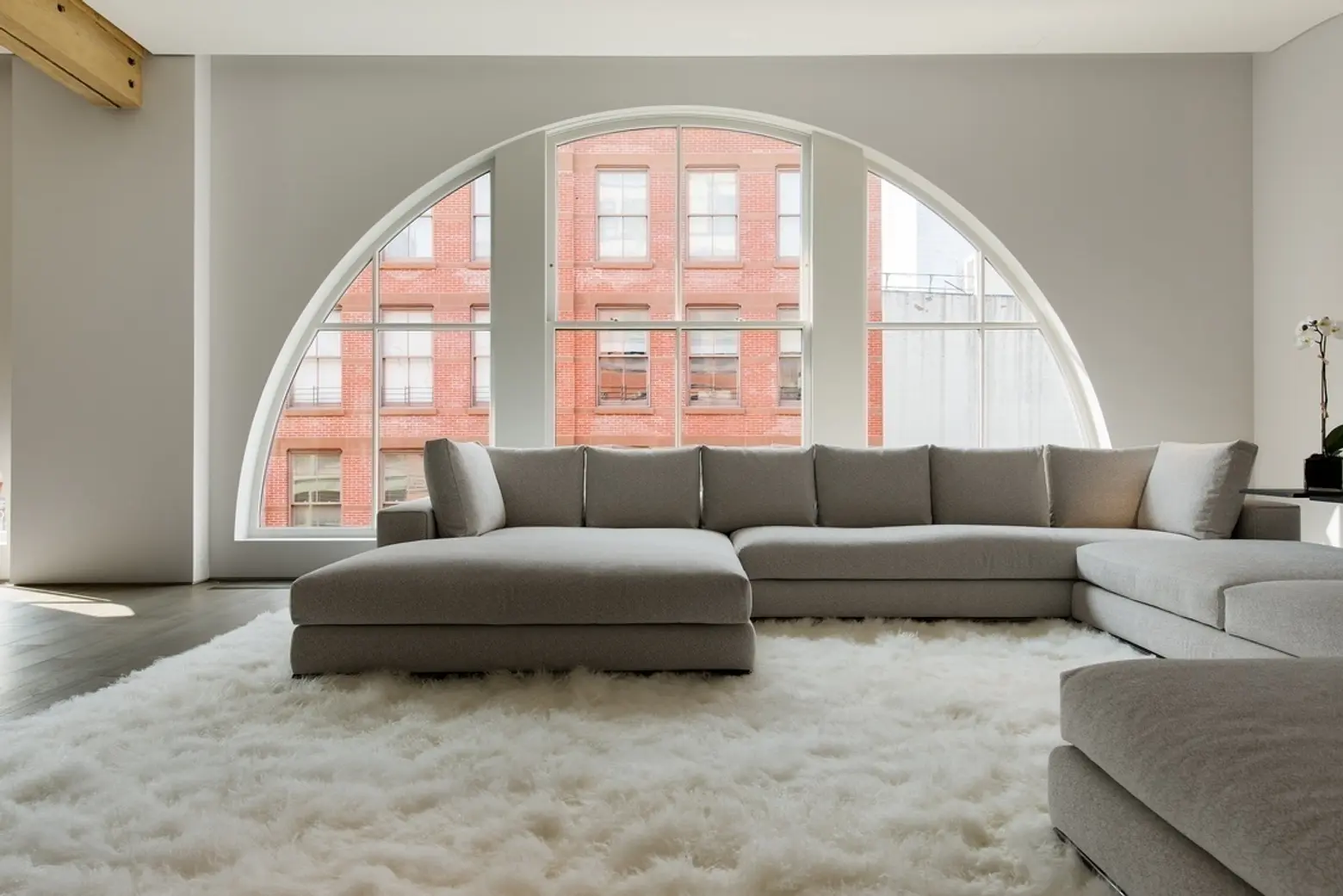 Forward to 2006, when the Observer ran this piece about Carroll's Dubbeldam-designed digs (which were apparently on the market at the time for $11M) noting the rotating cast of celebrity neighbors in the building including Clare Danes and rocker Billy Corgan. In 2009, the loft appeared on the market again as a "trophy loft" with Ms. Dubbledam's design for $8,995,000, and was subsequently discounted to $7.75 million. According to records, Ms. Cohen sold the loft in 2010 for $7,450,000 to an LLC. Two years later in 2012, it appeared on the market again for $9.75 million as a "raw full floor loft," sans fancy interiors, with an invitation to "design your dream home."
Fast forward a mere four years. In its most modern incarnation, unit 5N has just been unleashed on the market, shepherded by "Million Dollar Listing New York" star/broker Ryan Serhant, for the aforementioned $23 million/$40k a month. The apartment appears to have emerged, butterfly-like from its "raw" phase, with a quadruple-mint interior overhaul by Jeff Goldberger at Urban Edition Architecture, which we're sure warrants a $13 million price hike.
Today's buyer can definitely move right in to the sprawling space offering "modern furnishings without sacrificing the historical charm of its cast-iron exterior." The fully-furnished three-bedroom loft promises its owner a life of ease, with European oak flooring, a built-in humidifier, custom lighting, an integrated speaker system and more, all controlled by an iPhone app. A private elevator landing opens before a foyer-anchoring custom-made backline bookshelf and a large living area furnished with Minotti couches and a Mongolian lamb rug by Tai Ping.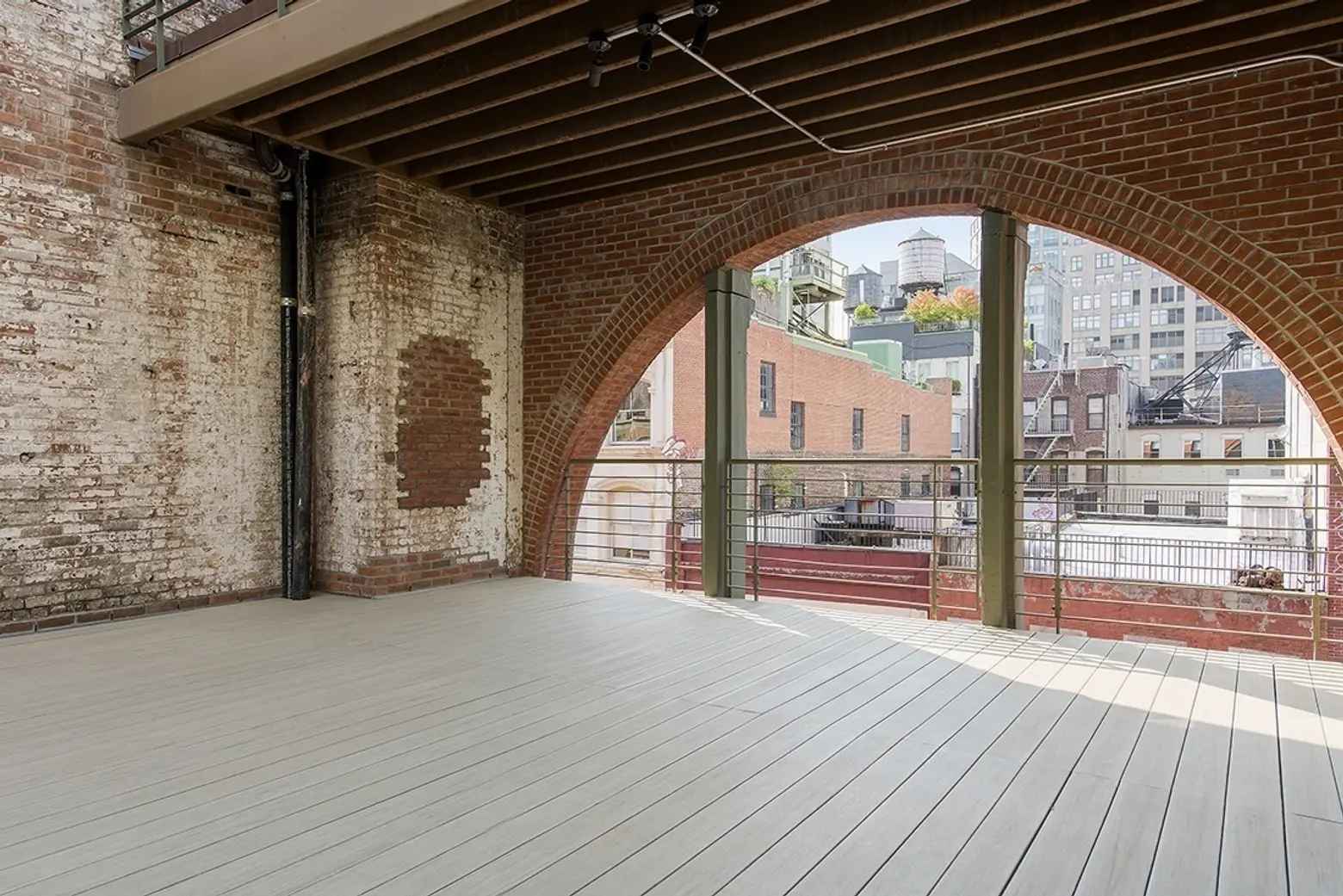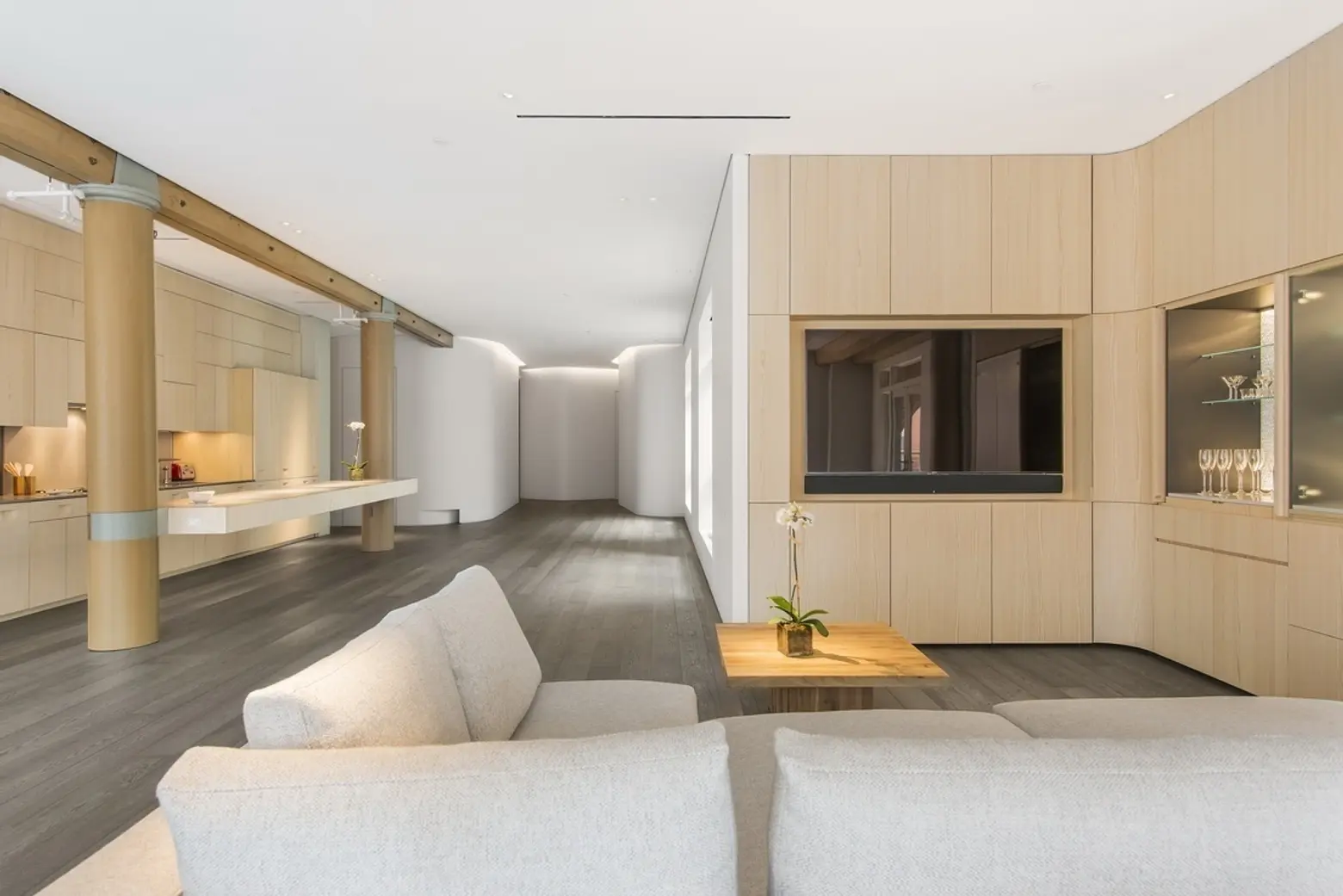 Two sets of doors take you out to the private terrace with new flooring and custom lighting. The loft's "entertainment area" offers "a top of the line 75inch Samsung 4k LED television, Artison Studio soundbar, Apple TV, Sony Blu-ray player, and a Velodyne 8 subwoofer." (We're thinking the target buyer is probably not someone seeking peace and quiet or a lot of quality family time).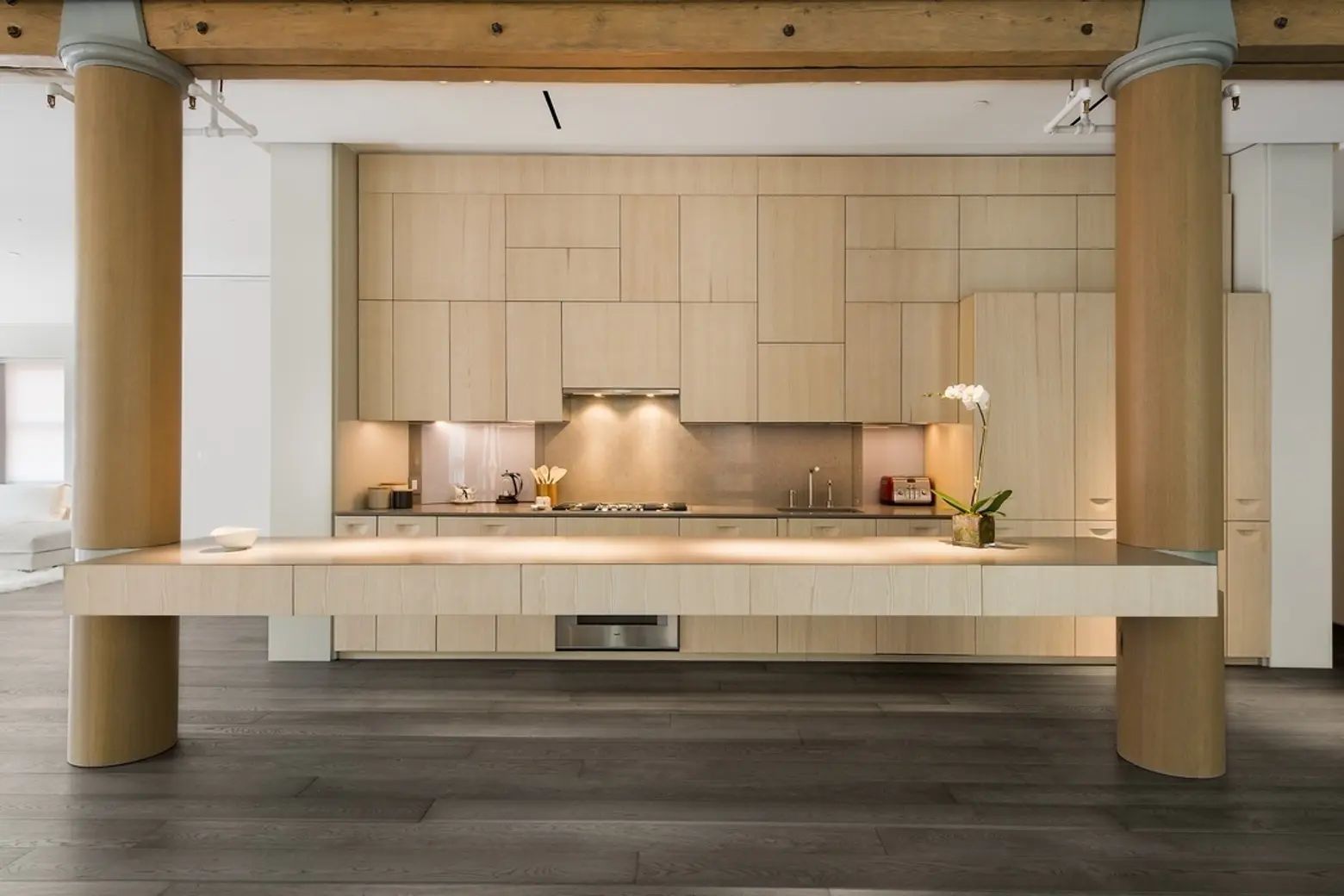 A massive open gourmet kitchen boasts high-end finishes including two Miele dishwashers, refrigerator, and freezer, a Gaggenau gas range and oven, a Miele washer/dryer, a Liebherr wine cooler, Caesarstone countertops and lots and lots of custom cabinetry. The dining area comfortably seats eight guests at a grand dining oak table (or you could just get a bigger dining table and more chairs).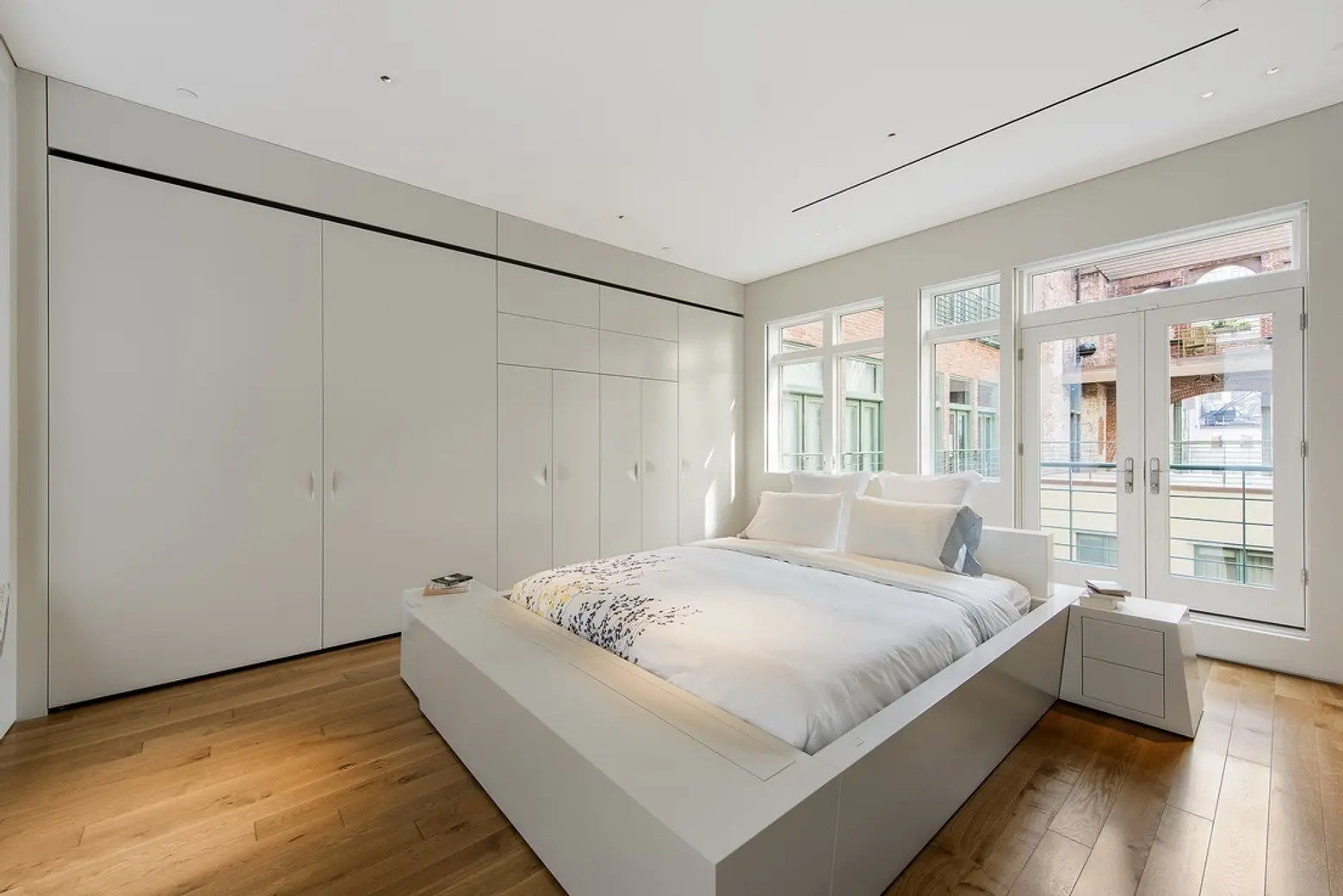 Down the hall is the spacious master suite complete with an Eco-Smart fireplace, motorized shades, and that motorized headboard, which apparently "gives you the choice to face the fireplace in the winter, or enjoy the tranquility of your private balcony during the summer." Floor-to-ceiling wardrobes rock custom lighting and motorized clothes rods (because why not?). There's also a room-sized walk-in closet with adjustable floor-to-ceiling shelves, and, of course, more motorized clothes rods.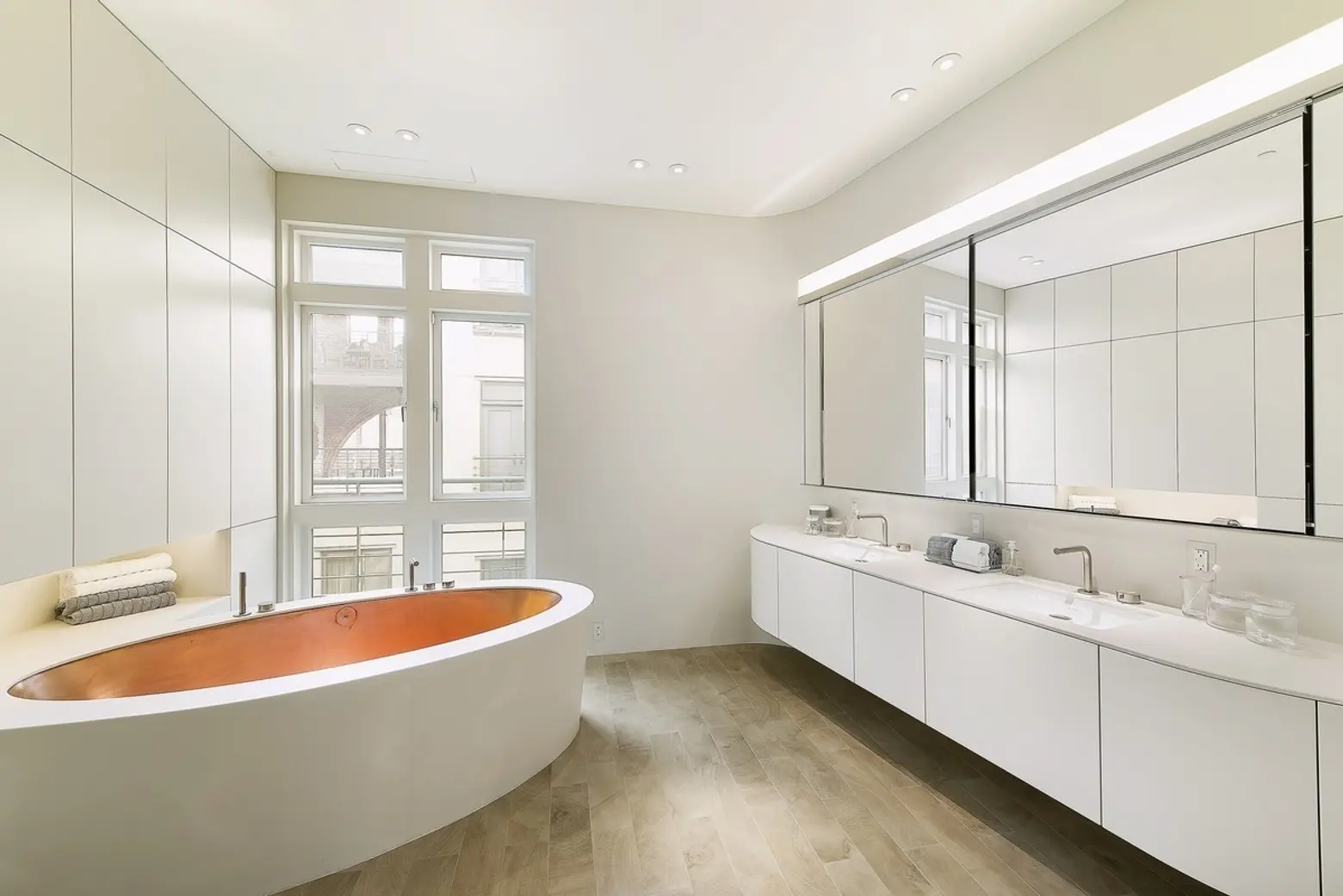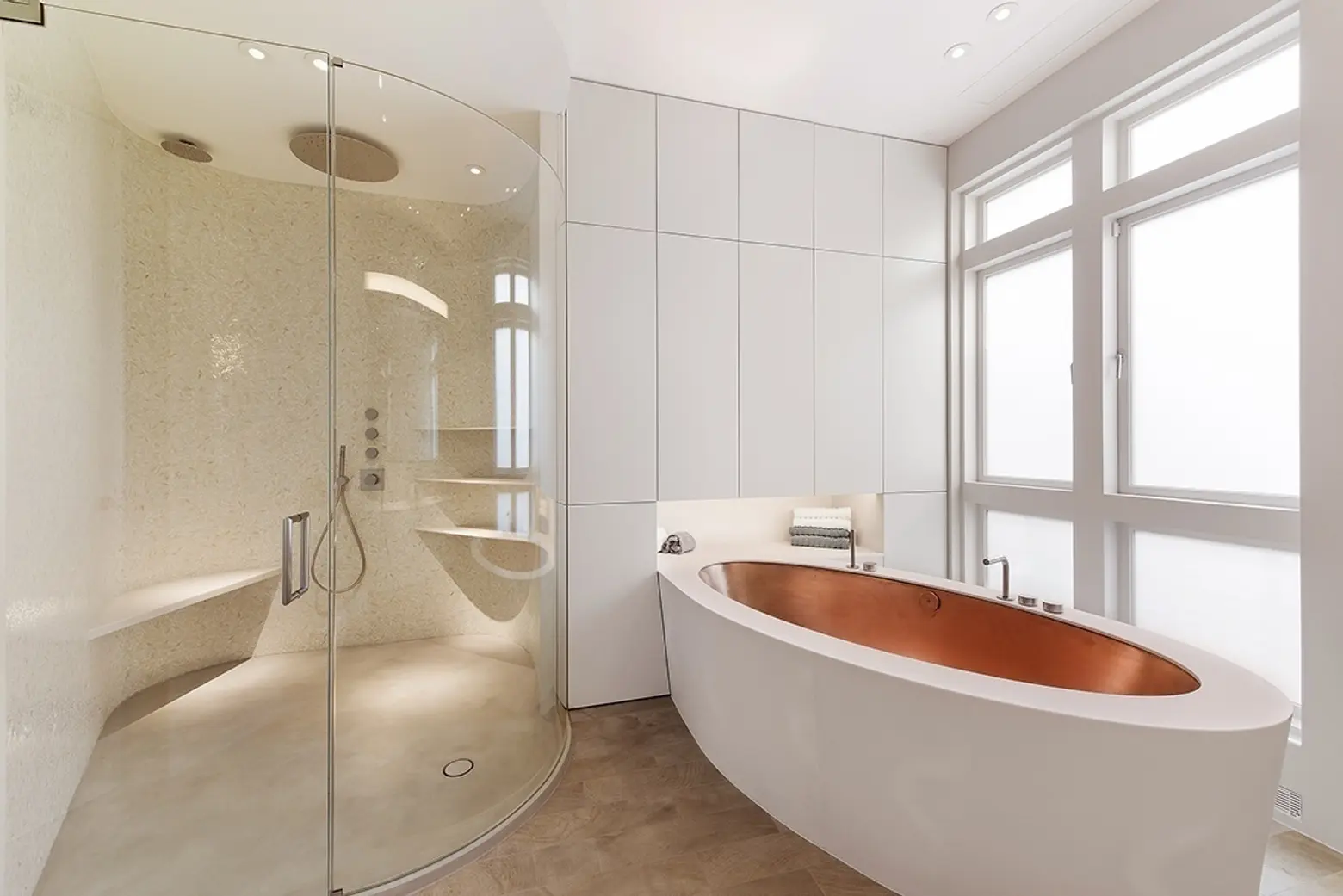 The master bath offers top-of-the-line finishes that include a raw copper spa tub, and an enclosed shower with seating for two, porcelain heated flooring, extra cabinet space, a Laufen bidet, custom glass mosaic wall tiles and windows that "become frosted with a touch of a switch for additional privacy."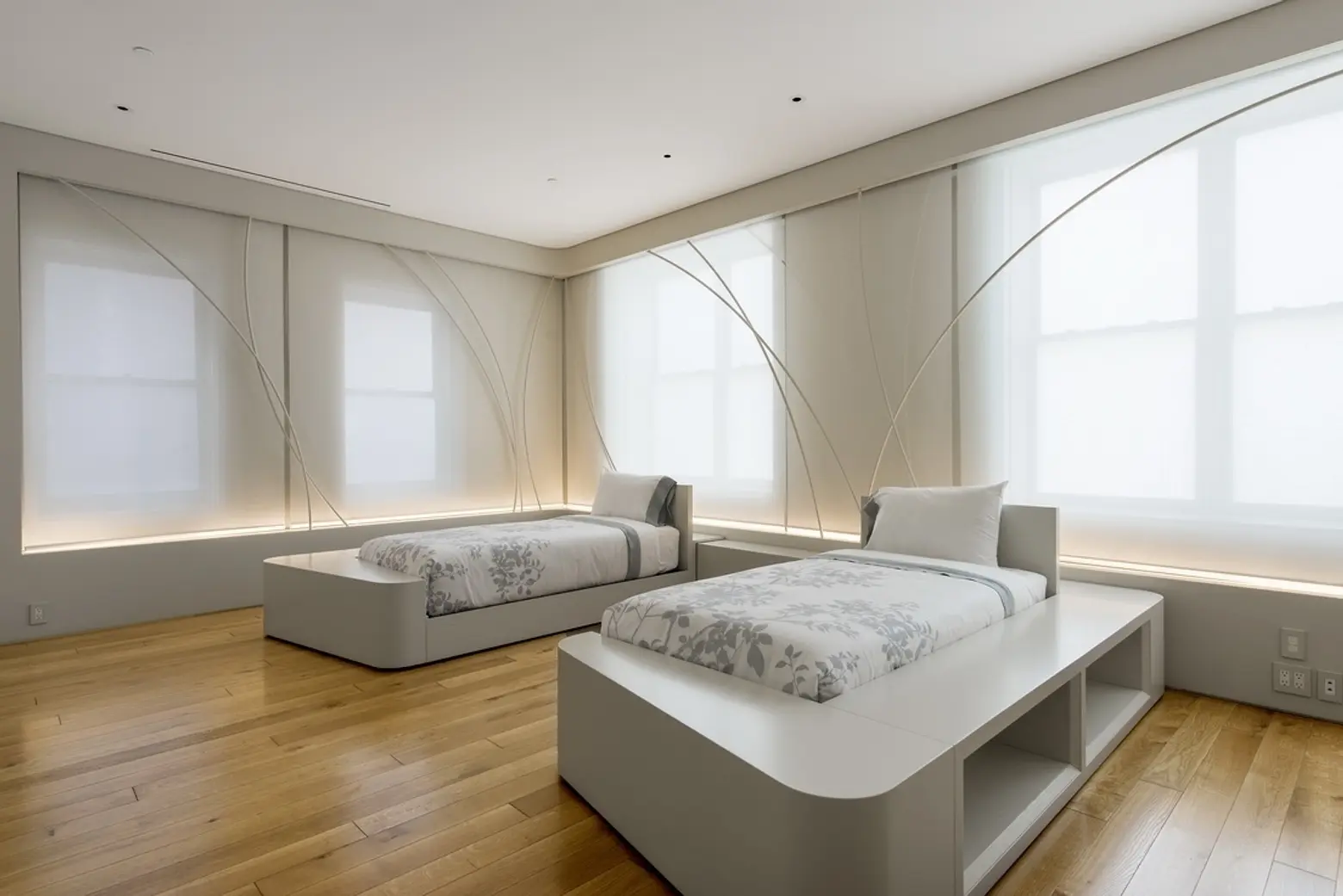 Two more bedrooms and baths also offer motorized everything, including "Tempur-pedic twin mattresses that can easily be combined to become 1 king size bed."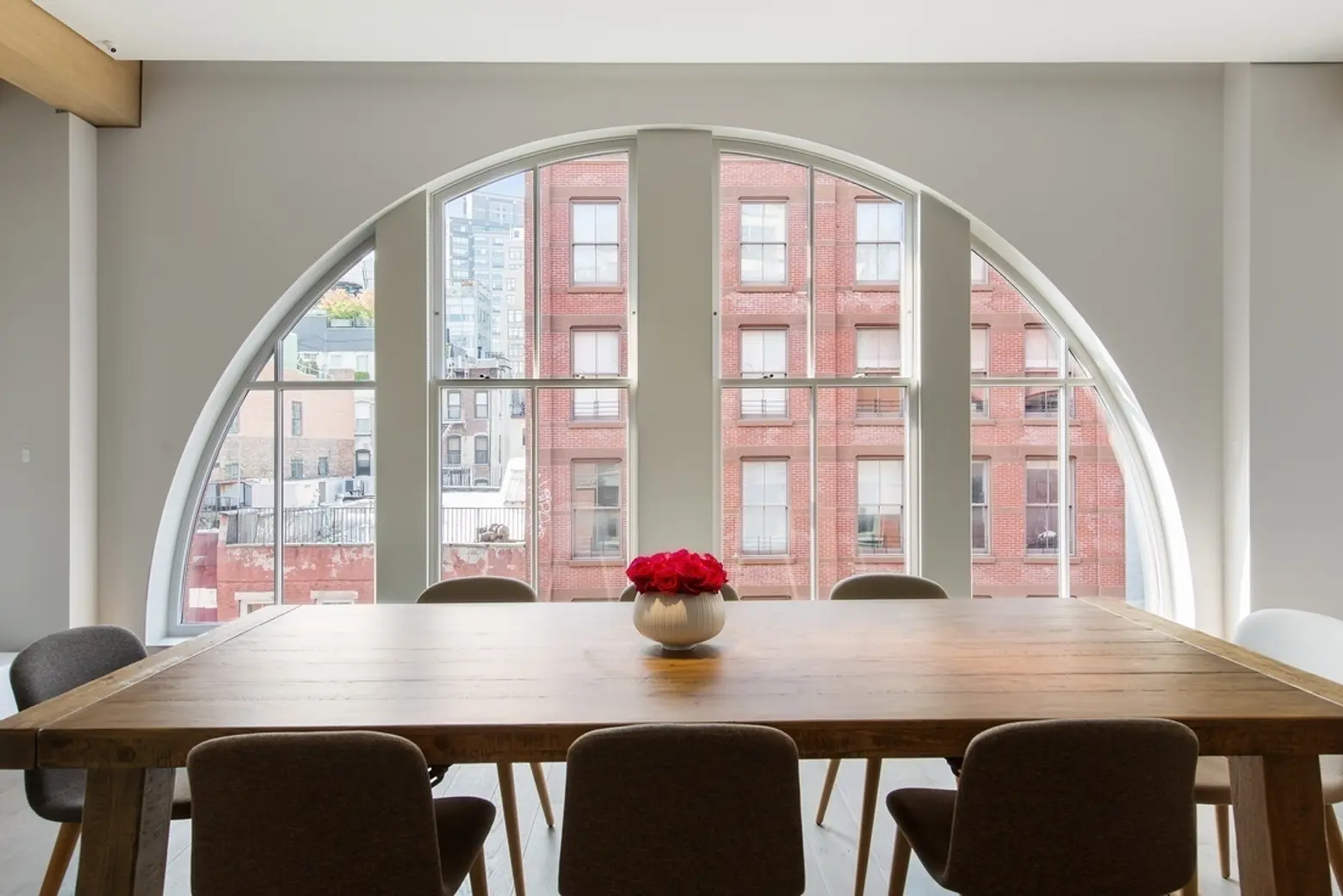 The 1895 building offers building offers useful but definitely anti-climactic digital key-lock private elevators and a full-time super.
[Listing: 50 Wooster Street #5N by Ryan Serhant and Peggy Zabakolis of Nest Seekers]
[Via CityRealty]
RELATED: 
Images courtesy of Nest Seekers.