The 10 best spots for plant classes in NYC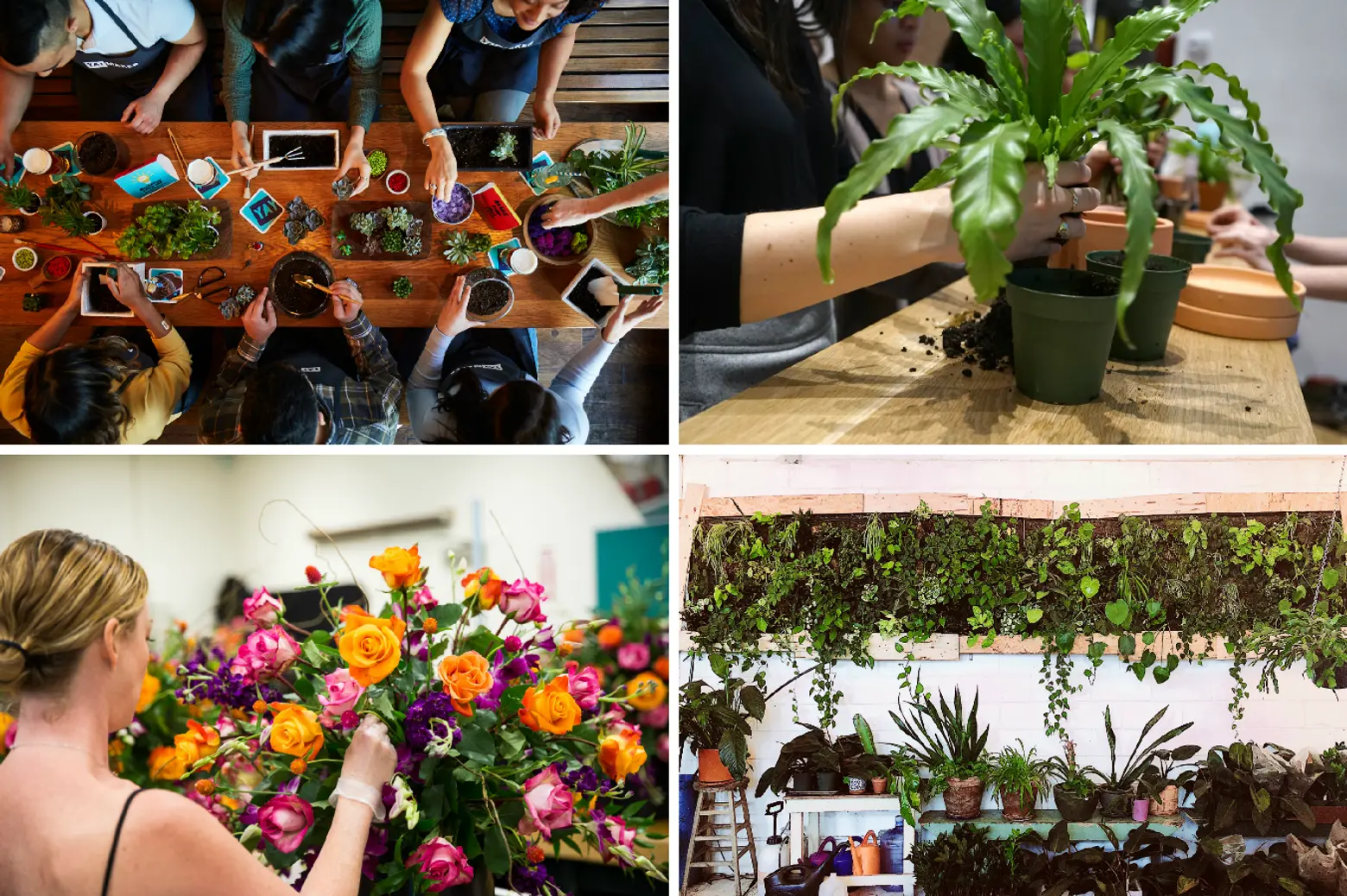 Even if you've never managed to keep a succulent alive for more than a month, there's no denying that apartment greenery is having a moment. Luckily, New York is full of plant shops and other great spots offering classes and workshops to locals looking to shore up their green thumbs and maybe not kill a plant the second it crosses their threshold. Ahead, we've rounded up the 10 best, from terrarium and flower-crown making to botanical mixology to the principles of hydroponics.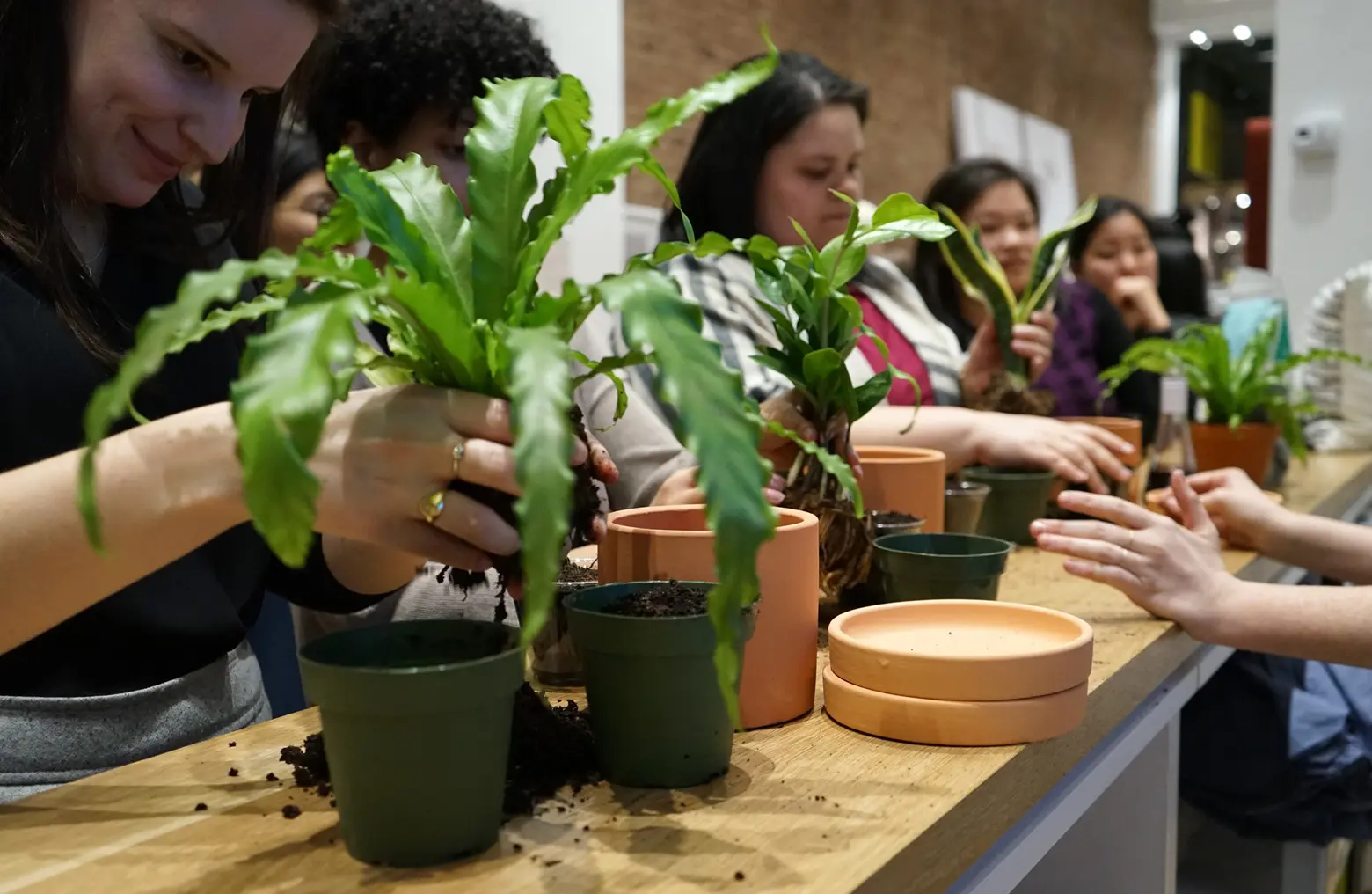 Photo courtesy of the Sill
1. The Sill
84 Hester Street between Allen and Eldridge Streets in Chinatown, Manhattan + 448 Amsterdam Avenue between 81st and 82nd Street on the Upper West Side, Manhattan
The Sill's been one of the city's best plant sources since it started as a home delivery service in 2012. Now, both its Chinatown and Upper West Side storefronts help New Yorkers learn the skills to care for and cultivate greenery in their own homes, offering a slew of weekly workshops focusing on potting, arrangement, mounting, and more. Classes on tap include Plants 101, which covers the care and keeping of common houseplants; a DIY terrarium class, which is pretty much what it sounds like; and a botanical floral arrangement workshop, where you'll learn how to cut and arrange beautiful bouquets. Classes are in the $30-$60 range and tend to sell out, so be sure to book in advance.
2. Twig Terrariums
642 Coney Island Avenue between Slocum Place and Matthews Court in Kensington, Brooklyn
Kensington/Ditmas Park plant shop Twig Terrariums offers group workshops to help folks make their own mini-plant homes. Attendees can choose among hour-long moss terrarium-making workshops, succulent terrarium-building workshops, and romantic terrarium-making-for-two date nights, plus you can book private sessions and/or parties if you wish. The shop provides all the plants and materials, along with a care sheet, so you can keep your terraria thriving long after you leave. As a bonus, classes are BYOB.They run $65-$95, though private workshops climb up to $150.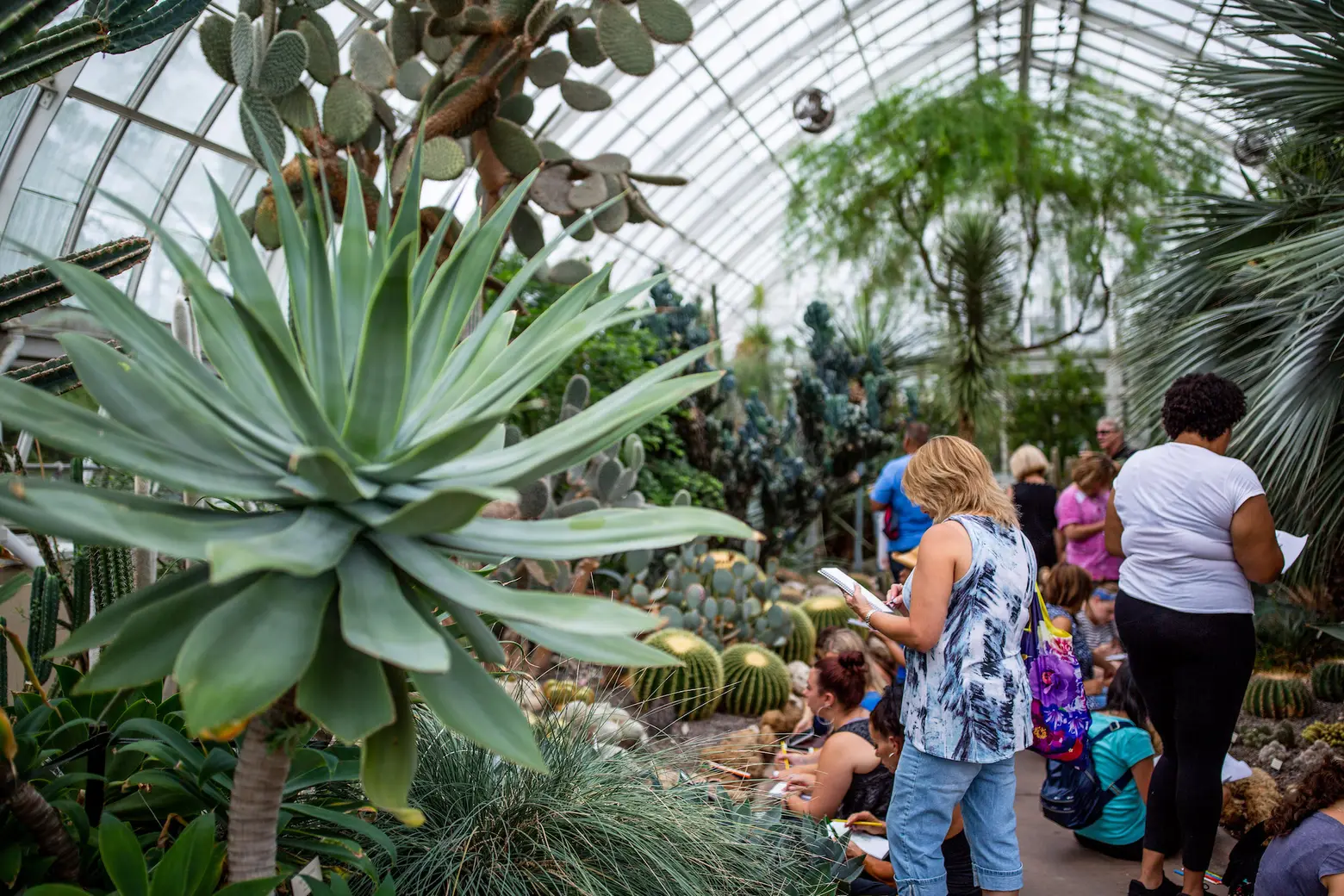 A horticultural therapy class at NYBG, courtesy of the New York Botanical Garden
3. New York Botanical Garden
2900 Southern Boulevard in The Bronx
Unsurprisingly, New York's most plant-filled spot is also home to some of its best plant-centric classes. The New York Botanical Garden's got a slew of offerings, with everything from one-off workshops to multi-week courses for folks looking to dig into more advanced greenery. Topics include botany, horticulture, floral design, landscape design, gardening, plant-related wellness, crafts, and even botanical art and illustration. You can take a class on botanical mixology, or learn how to build an herbal first aid kit, or learn how to landscape an urban sidewalk garden. Classes can cost under $50 and run up to the $400s for courses, with a special discount for NYBG members.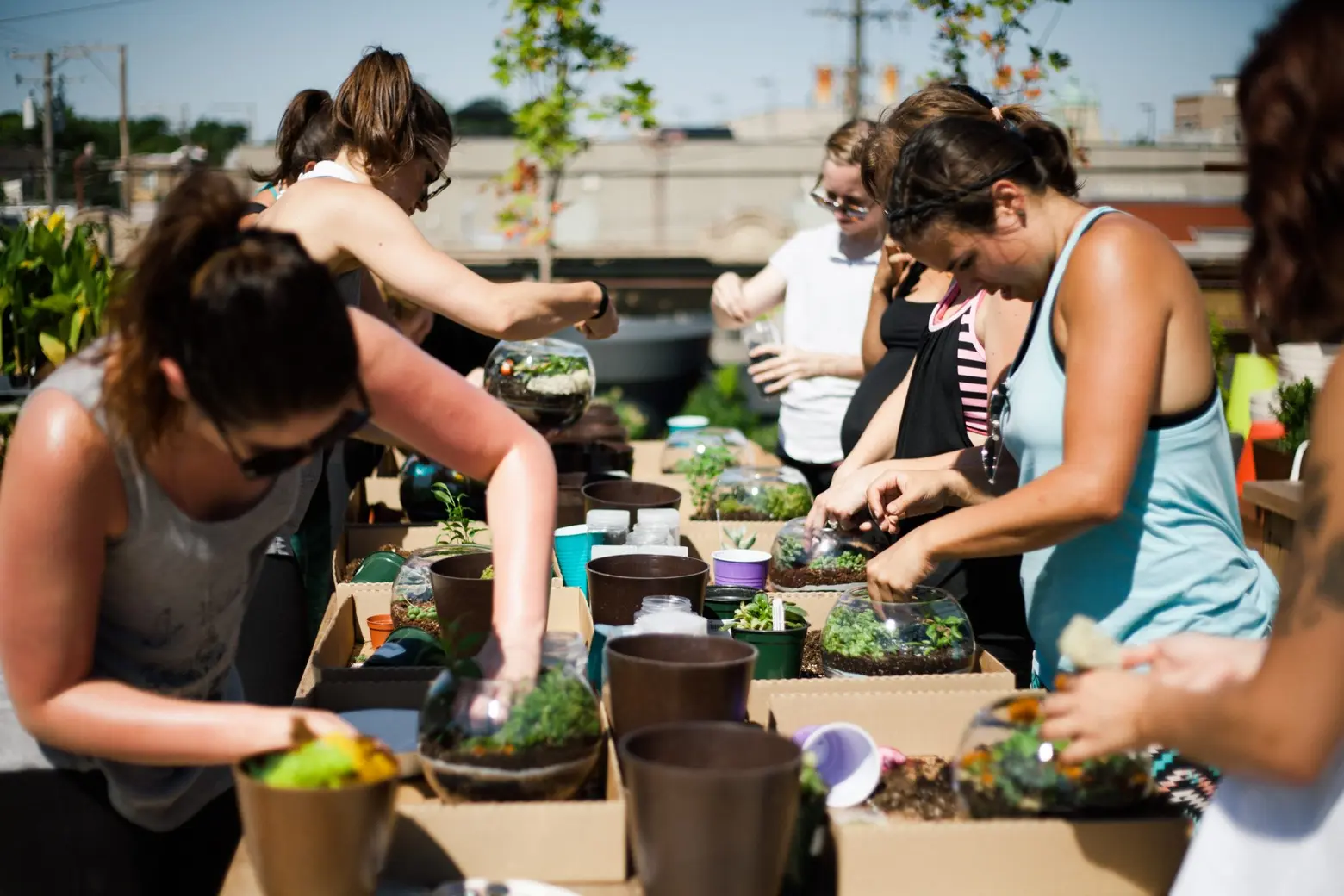 Photo courtesy of Sprout Home
4. Sprout Home
59 Grand Street between Kent and Wythe Avenues, Williamsburg, Brooklyn
Williamsburg plant shop Sprout offers one of the best terrarium-building classes in the city. For $75, you get an open bowl, planting materials, and a set of plants. Instructors will teach you how to arrange your terrarium, and how to make it a happy home for tiny plants, regardless of whether you live in a lightless studio or east-facing solarium. Classes are held monthly; see Sprout's website for more details.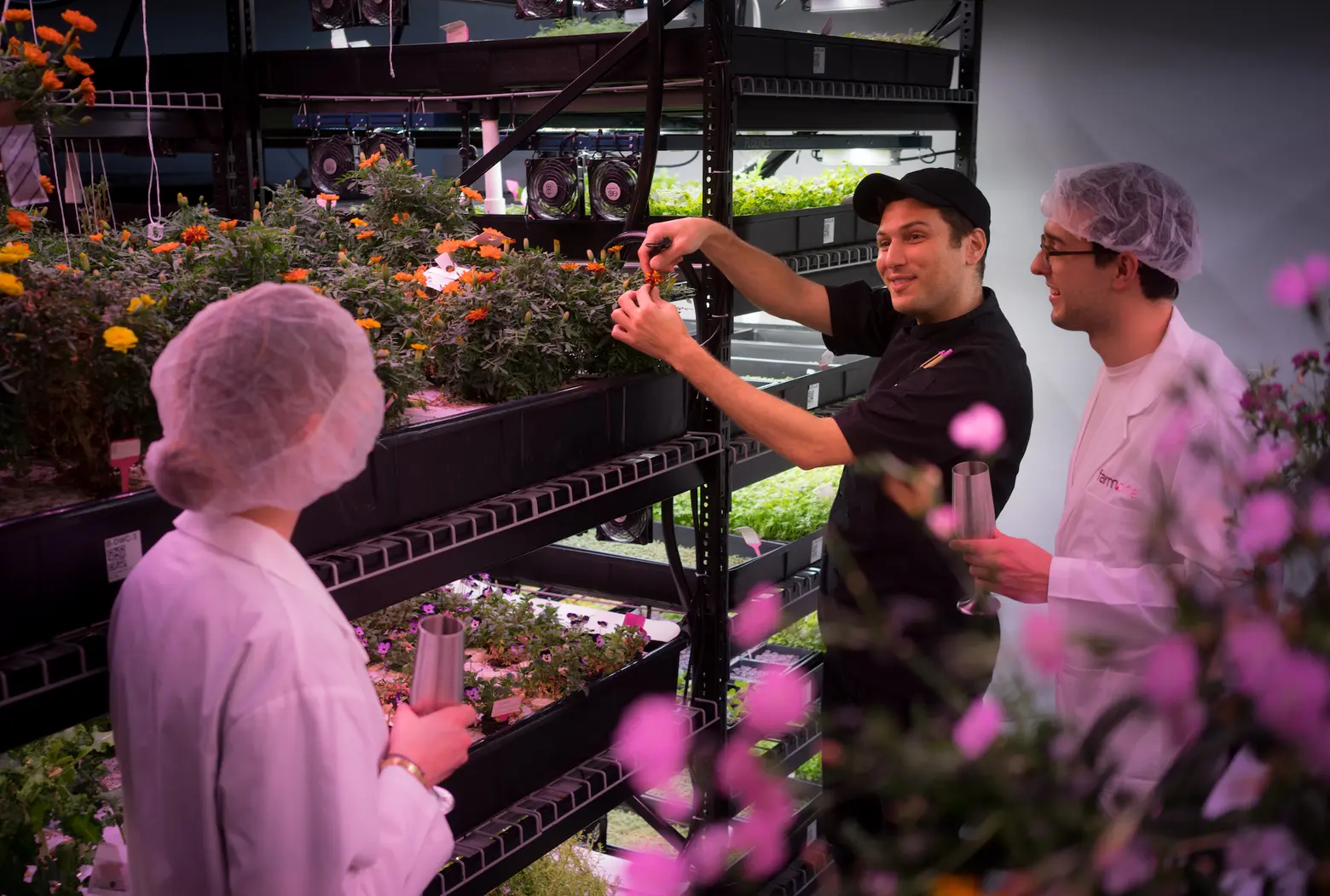 Courtesy of Farm.One
5. Farm.One
77 Worth Street between Broadway and Church Streets in Tribeca, Manhattan
Tribeca-based Farm.One is essentially a high-tech indoor hydroponic farm, which uses LED lighting and other innovations to grow rare herbs, edible flowers, and other flora and fauna that wouldn't otherwise survive in New York's climate. Chefs and mixologists often use flowers and herbs from Farm.One in their dishes and drinks, but even laypersons can learn how to grow and utilize these unique herbs, greens, micros, and flowers, thanks to Farm.One's celebrated hydroponics and indoor farming workshop. The two-hour hands-on class teaches attendees everything from the principles of hydroponics to managing climate, to planting, to pruning, plus you get to taste some of Farm.One's offerings and take home a hydroponic planter of your own. The course costs $130-per-person.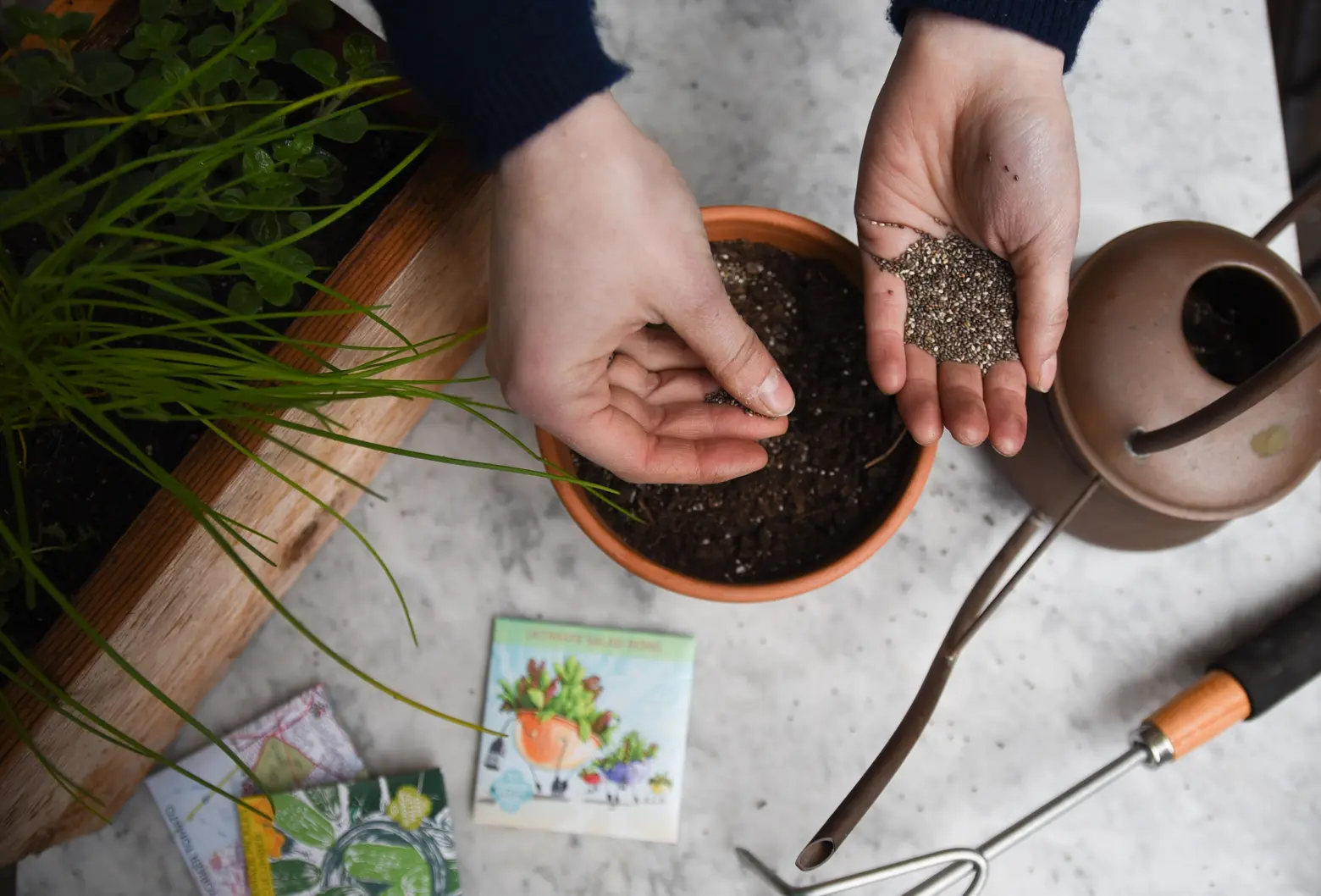 Photo courtesy of Rosehip Social
6. Rosehip Social
379 Graham Ave between Jackson and Skillman Streets, Williamsburg, Brooklyn
Floral design studio Rosehip Social runs a number of fun flower-related classes out of its aptly-green Williamsburg storefront. Classes include a seasonal monthly chalice bouquet class, where $75 gets you a 1.5-hour lesson on creating a perfect floral arrangement, materials included. They've also got a centerpiece-arranging class you can book with a group for $140-per-person, a $90 class on houseplants, and specialty and child-friendly classes on potting and arranging.
7. Petals & Roots
31-27 31st Street in Astoria, Queens
Astoria floral design shop Petals & Roots hosts workshops when their schedule permits (they do a lot of weddings, so there's a good chance May through October is tight). Classes are announced on their website and usually sell out within 48 hours; they run the gamut from flower crowns, to centerpiece designs, to terrarium builds. You can also book private events, like bachelorette parties, directly through the shop. Prices range from around $45 for a flower crown workshop to $150 for something more ornate and include materials. As a bonus, workshops are often BYOB.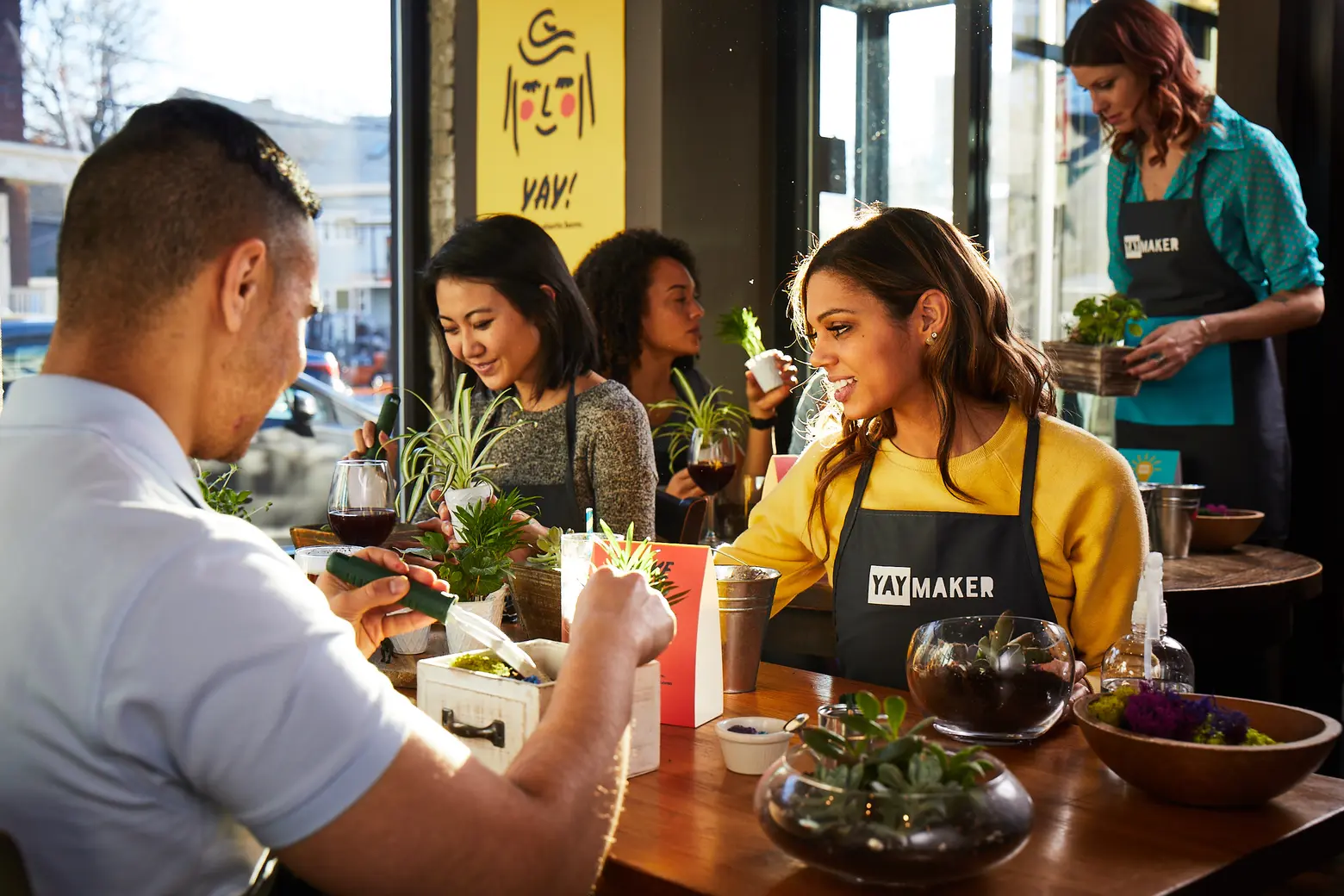 Photo courtesy of Yaymaker
8. Plant Nite
See website for details
Boston-born event group Yaymaker is best known for their Paint Nites, bar-based drink-and-draws that became so popular they expanded to our fair city. In addition to the Paint Nites, though, Yaymaker also hosts Plant Nites, descending upon bars all over town with terrarium crafts and planters in tow. You can sign up for a succulent planter workshop using rose quartz or amethyst, or decorate an aforementioned terrarium with fairy lights, or create a mini zen garden, or just booze up and let other people get their hands dirty, if you'd prefer. Hosts provide instruction and materials, you pay for your bar tab, and wake up the next day with a new plant friend and a hangover. Classes vary in location and cost, so check Yaymaker's website for details.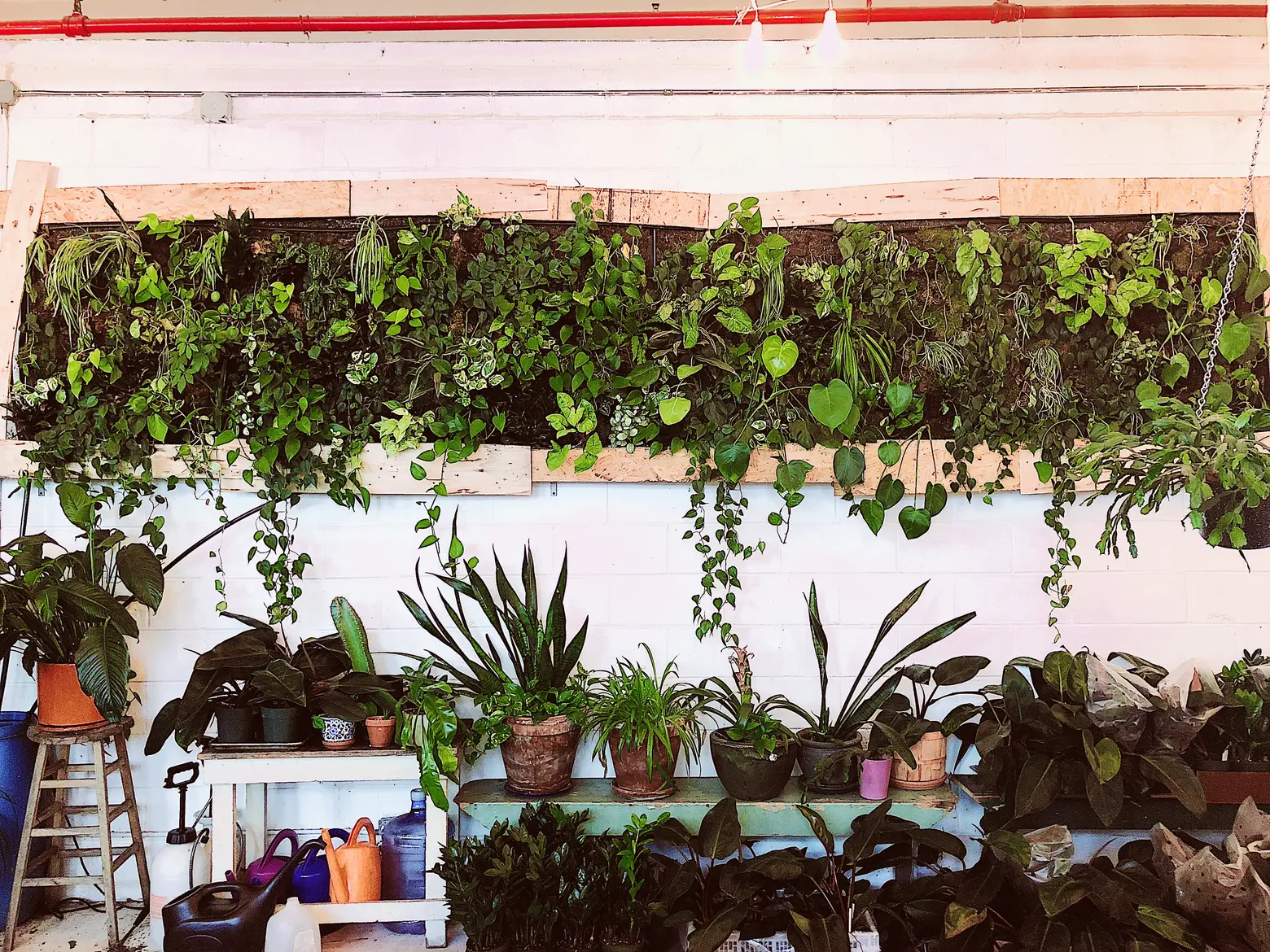 Photo courtesy of Brooklyn Grange Rooftop Farm
9. Brooklyn Grange
63 Flushing Avenue in the Brooklyn Navy Yard, Brooklyn
Rooftop soil farm Brooklyn Grange offers a number of plant- and farming-related workshops at its Navy Yard and LIC locations. Workshops include beginners' gardening classes, lessons on advanced indoor planting, herbal cleanse workshops, and even a class on making fermented sodas, for people who are tired of blowing money on retail kombucha. Prices vary; Brooklyn Grange also offers scholarships for workshops for green-thumbed folks looking for a little financial assistance.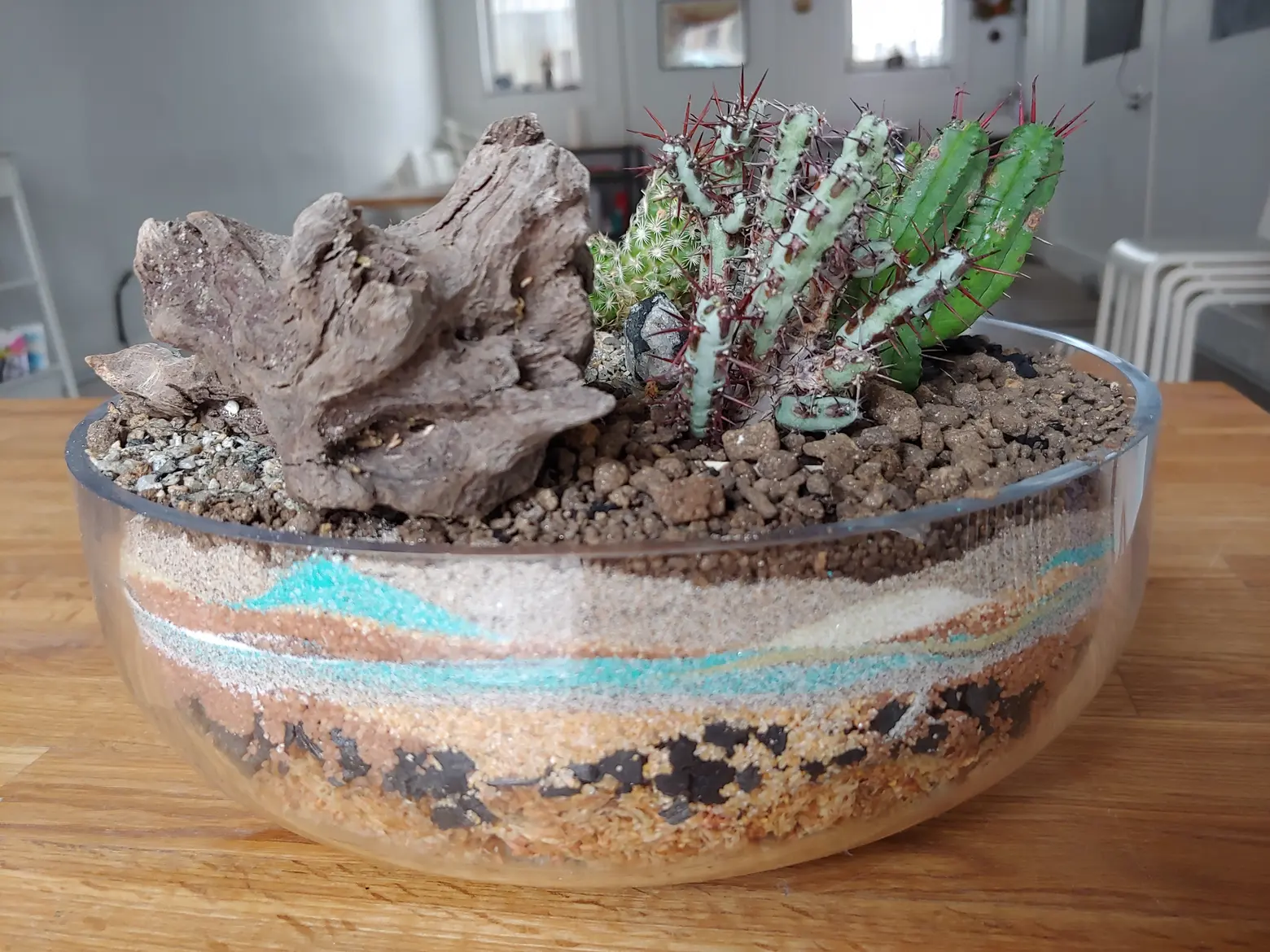 Photo courtesy of Brooklyn Brainery
10. Brooklyn Brainery
190 Underhill Avenue between St. Johns Place and Sterling Place in Prospect Heights, Brooklyn
Brooklyn Brainery offers classes on just about anything, so it should be no surprise that they've got the city covered when it comes to working with plants. Currently, you can take a terrarium-making workshop, or learn to grow indoor bonsai trees, or, hell, walk around looking at trees, if that's the most greenery you can handle in a day. Brooklyn Brainery is always adding new classes, so keep checking their website for more additions as spring rolls in. Note that classes range in price.
RELATED:
Photos in lead image courtesy of Yaymaker, The Sill, New York Botanical Garden, and Brooklyn Grange Rooftop Farm