Spotlight: Pyro Spectaculars' Gary Souza on the Art of Creating Macy's 4th of July Fireworks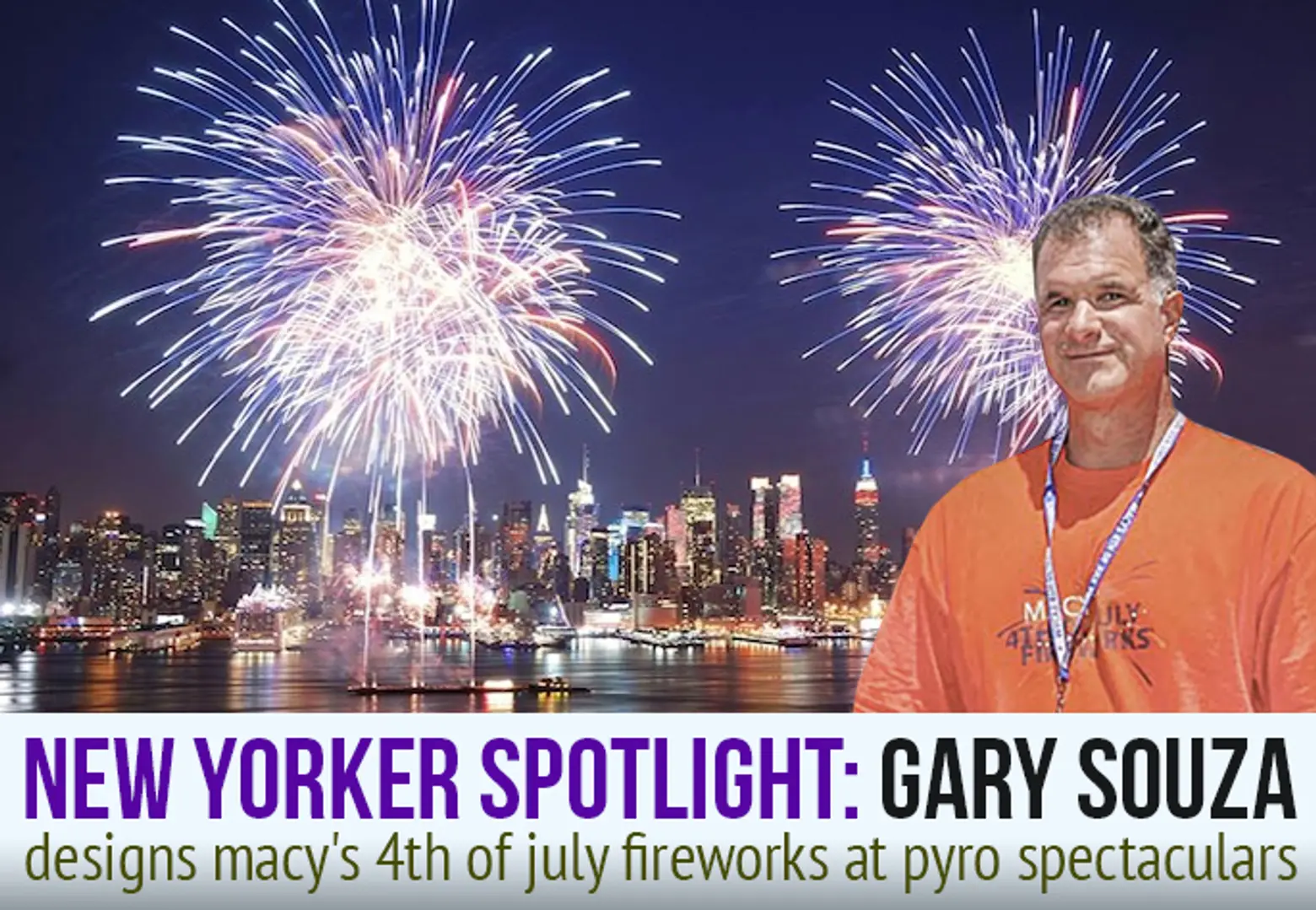 When America celebrates her 240th birthday on Monday, Gary Souza will be marking the occasion in a very big way. As a fireworks designer for Pyro Spectaculars, he is responsible for creating and overseeing the wondrous fireworks that make the nation ooh and aah during Macy's 4th of July Fireworks. This year's show will be Macy's 40th annual production, a huge milestone for the department store, and will take place over the East River in Midtown and Lower Manhattan.
Pyro Spectaculars is a multigenerational family business begun by Manuel de Sousa after he immigrated from Portugal to the San Francisco area in the early 1900s. Over the years, the business has grown tremendously from creating small fireworks displays to a company that now spans five generations and is responsible for providing fireworks for some of the biggest names in the sports and entertainment industries, including the Winter and Summer Olympics, Super Bowls, Disney, and at concerts for icons such as the Rolling Stones. When it comes to Macy's, Pyro Spectaculars has a 35-year collaboration with the store that has propelled the fireworks company to develop technology that allows for safer, more elaborate firework creations to come to life.
6sqft recently spoke with Gary to learn about the magnificence of fireworks, what it takes to produce the Macy's show, and some of the exciting new elements at this year's display.
What are some of your memories of the family business growing up?
I always considered this a form of babysitting because I would go away with my dad when I was little, and he would do all the things we do today just on a smaller scale. While I couldn't always be directly involved with the fireworks, I would do other tasks around the facility. The fun part for me was at the end of the day I got to pick up all the scraps and put it all into what I would consider my fireworks and go out to the test area and shoot them.
Have fireworks changed since you were young?
While fireworks can be looked at as very simple, I think the overall picture of what we do, what we create in the sky, has grown tremendously over the last 20 or so years. While the basic formulas of fireworks have been the same for hundreds of years, technology [that we can now use] makes the fireworks a little more spectacular. The use of computers and graphic design help us to create firework scenes, and that's what I think has changed over the years with the industry. We started shooting a computer-driven Macy's show back in the early 90s, which was the first big fireworks show to use that technology.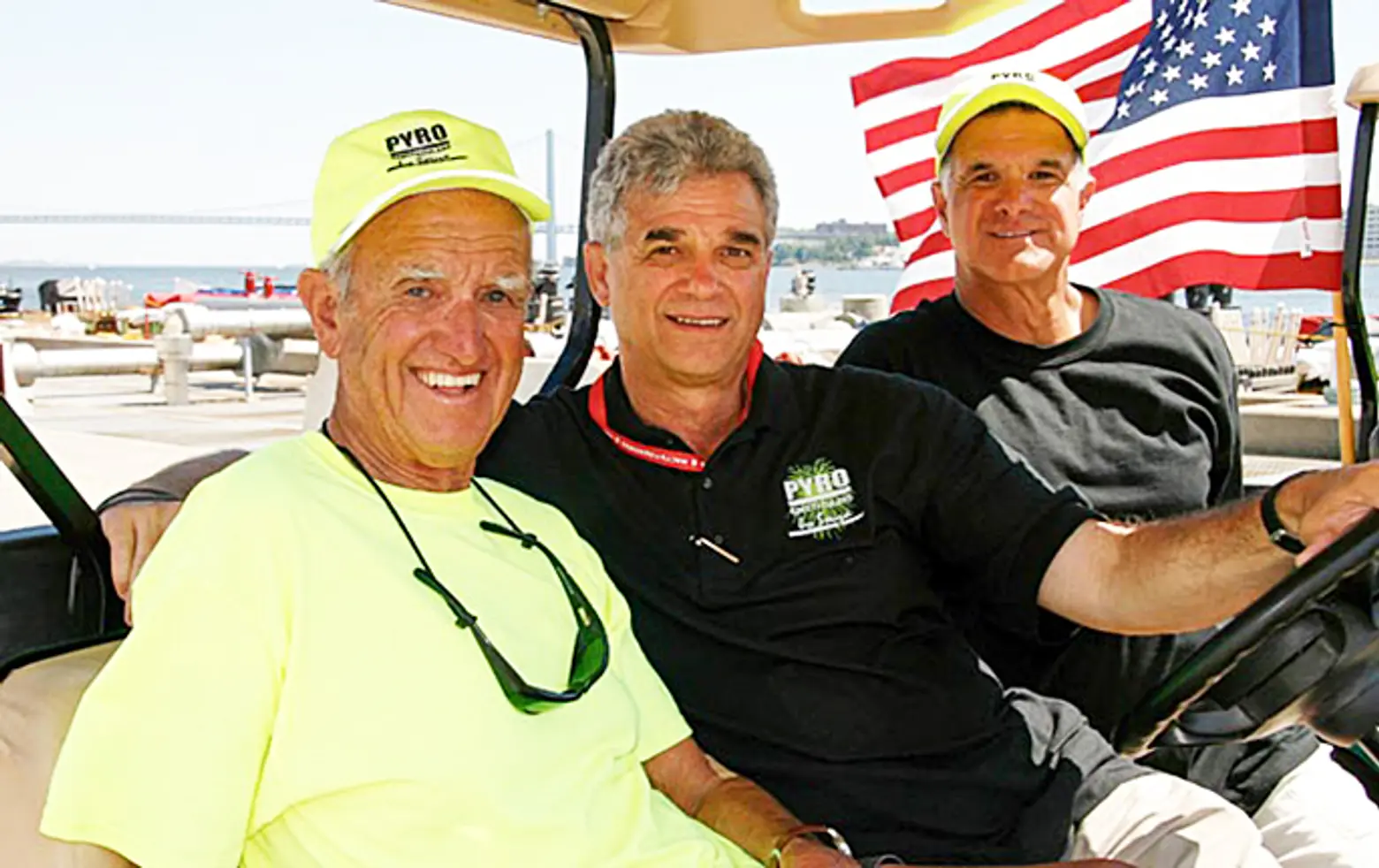 Bob Souza, Jim Souza, Gary Souza; photo via Gary Souza
Pyro Spectaculars is one of several multigenerational fireworks companies in America. Why do you think this industry tends to have a familial component?
It is firework, not fire fun. It's a really difficult business. There's safety issues and storage issues, regulatory issues and all, and it just becomes very difficult to be in that business. So while it's fun to see the fireworks, there's a lot of work involved. I think it requires a great amount of passion.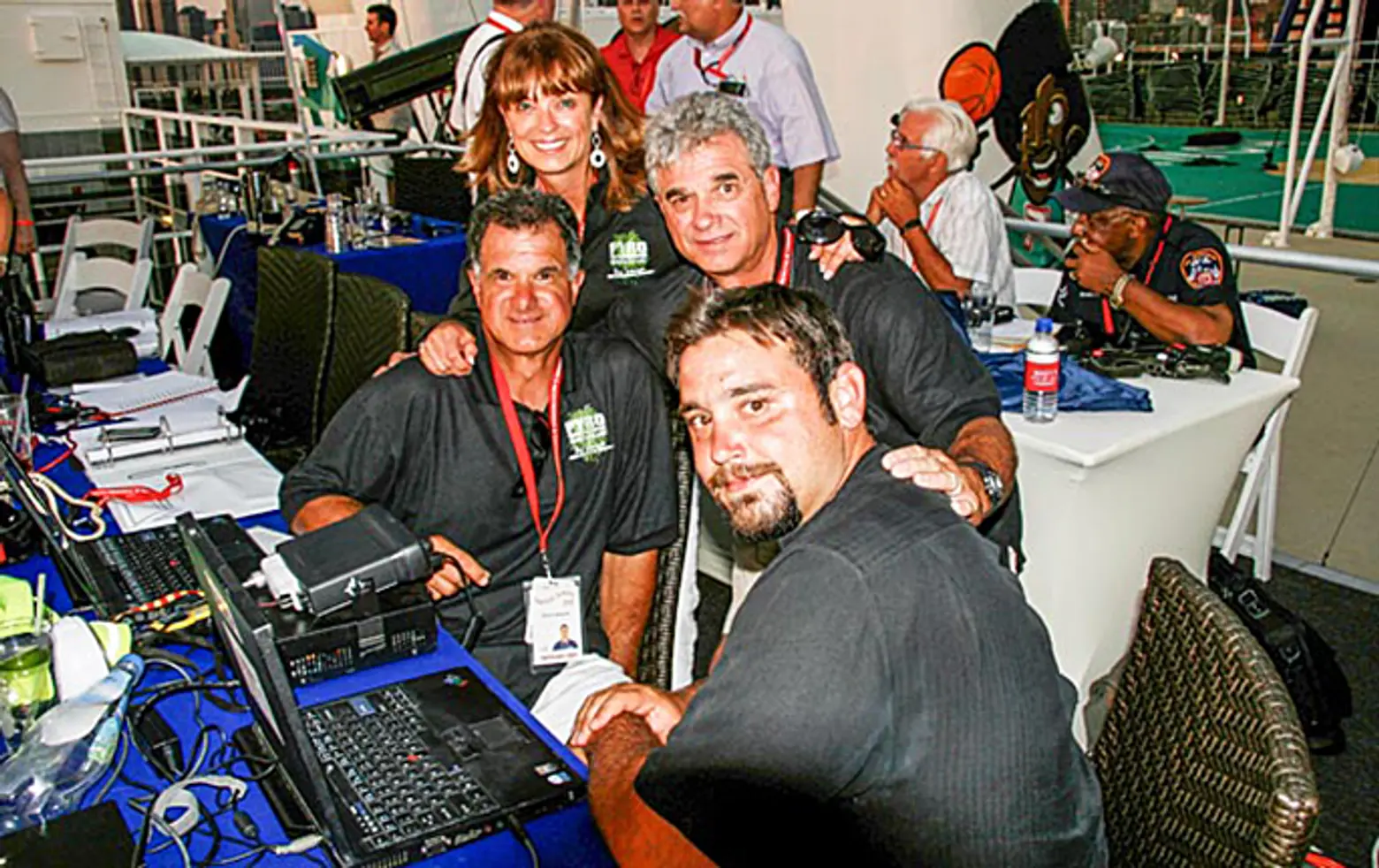 Gary Souza, Nancy Souza-Gilfillan, Jim Souza, Christopher Souza; photo via Gary Souza
What does it take to produce a large-scale fireworks show in New York?
The team works very hard all year round to make sure everybody understands their role. It's a partnership between our company and Macy's, and we work with the City of New York and all of the agencies including the Fire Department and the Coast Guard.
When designing for Macy's, what comes first: the music or the fireworks?
Macy's has always done a spectacular job of bringing together great talent and voices and music and putting that score together, and we work with that. Some of the fireworks are slow, passionate, dramatic; some are fun, whistling, noisy, and might burst for a certain period of time. I've had the pleasure of working with Bill Schermerhorn from Macy's pretty much every year that I've been there. He and I have a design chemistry where he'll put music into the show and already what I'm going to choose. When I hear the song, I know what he had in mind.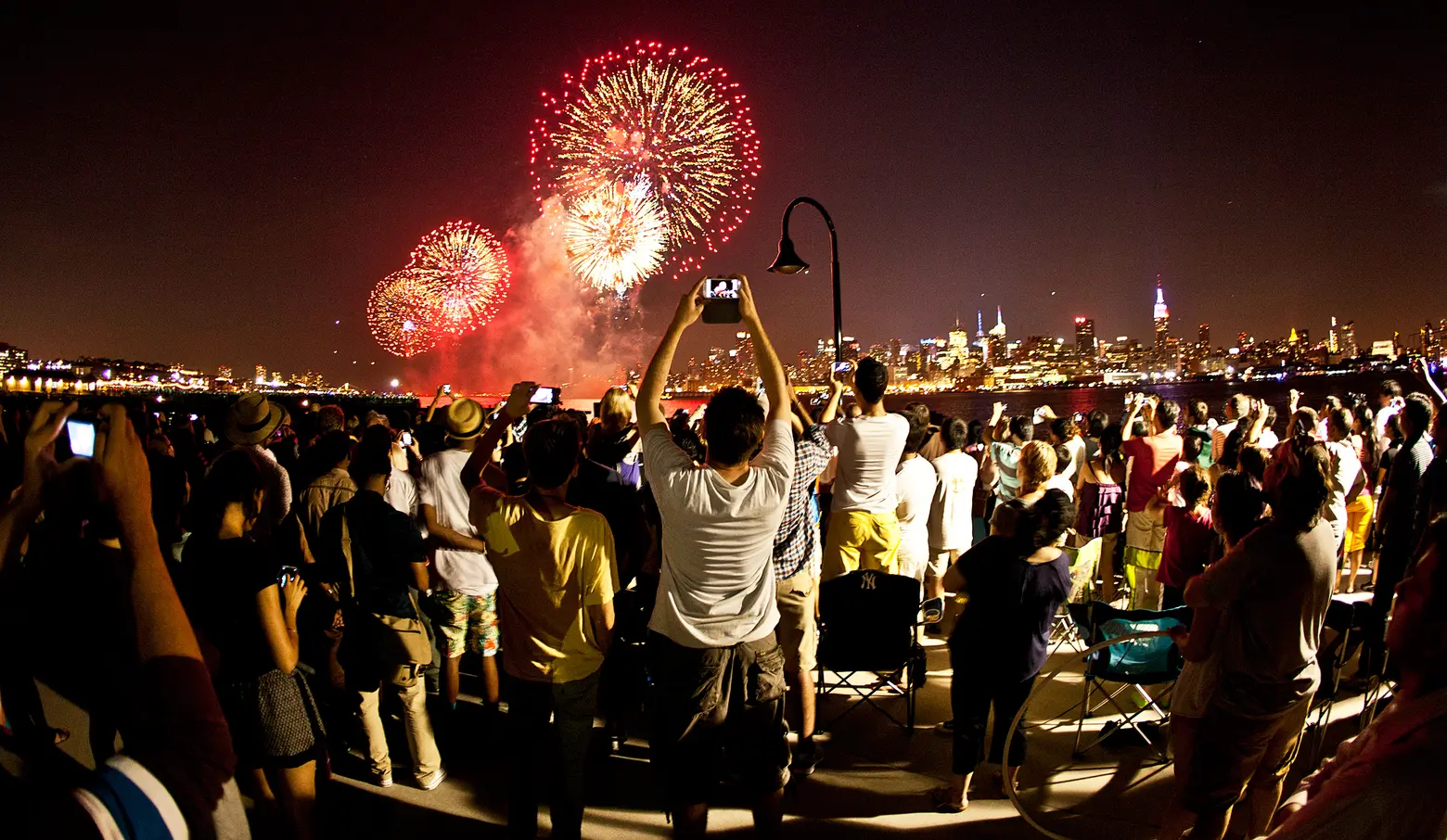 Spectators watching the Macy's show in 2013 from Hoboken, via Anthony Quintano/Flickr
When selecting fireworks, what are you looking for?

Our team searches around the world to purchase fireworks that are new, exciting and different. There might be up to nine different countries represented. There are unique features that come from each country and we try to represent those in our display. To do this job well, you need to almost have a video gallery in your mind because it's not just color or noise, it's also duration, depth, layering, and pace.
How many different types of fireworks do you use?
This year we have fireworks that range from one inch up to 10 inches in diameter. Some are less than one second, but our longest is a 12-and-a-half second burst. We have some fireworks that from the time they leave the mortar of a barge, they'll change 15 times with different effect. There is a song written for this show called "Where Eagles Fly," and we're going to have what is called a double palm tree, which is almost feather like, so there's feathers of an eagle that will be symbolic of an eagle flying. As the show is on its way out, there will be a trailing ember golden tail with a splitting, waterfall-like cascade that come off as it climbs the crescendo and busts in the sky.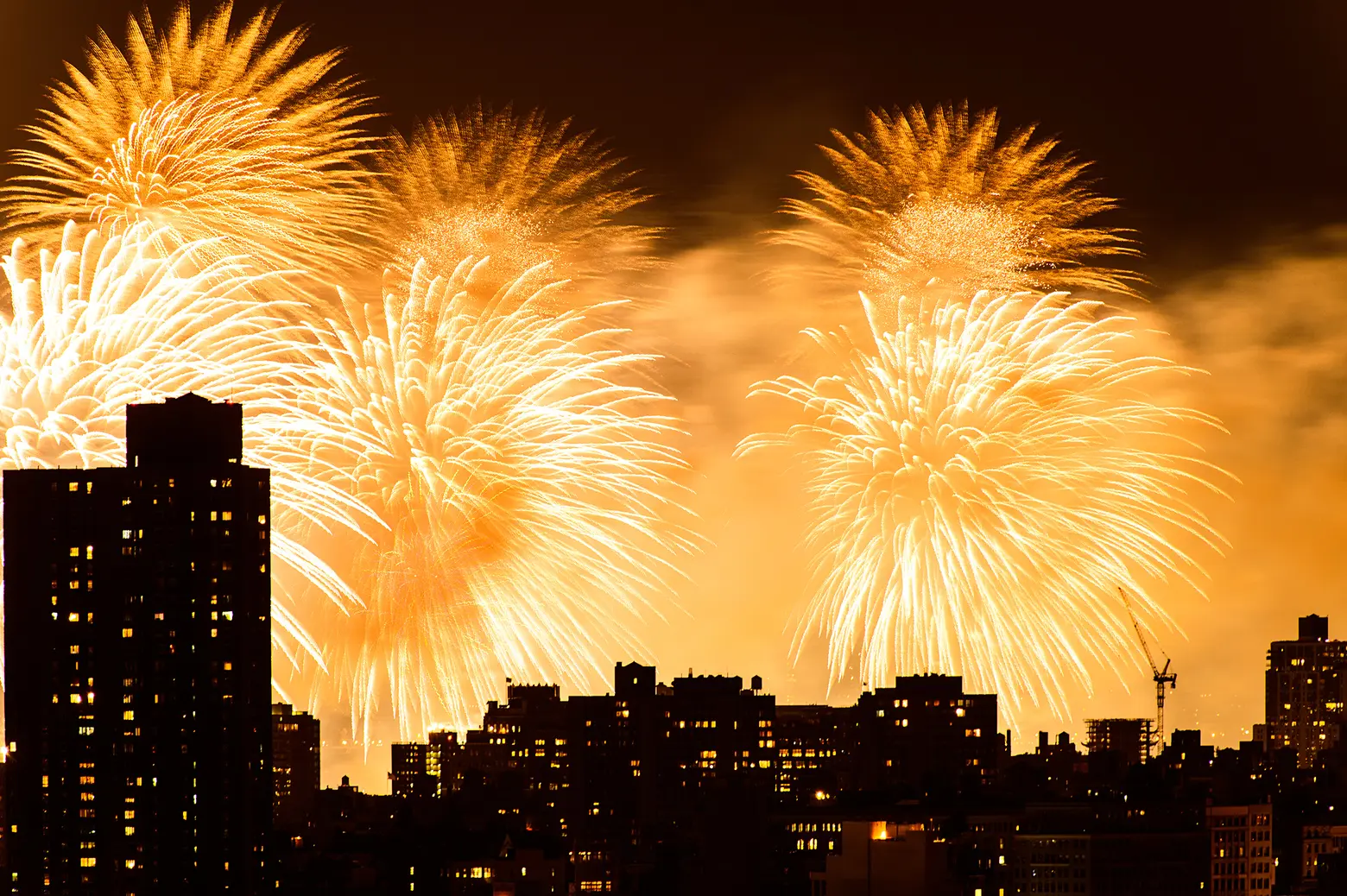 Macy's Fireworks 2013, via Douglas Palmer/Flickr
Speaking of which, what else can America look forward to at this year's show?
I think you're going to experience the best of what all the Macy's shows have incorporated over the past 40 years. We tried to go back and look at what types of fireworks were used early on and how that evolved, but also capture a lot of the passion of this year in the patriotism, [since we are] working with the Air Force Orchestra. We've included more American-made products than we have in many years—fireworks that were made specifically for this show and are going to [be used] during "Simple Gifts."
Another part is that we're going to do some pyro writing with letters. It will be the first time that's performed in the Macy's show. We're really excited to bring that technology with these fireworks that will come up like little pixels in the sky and write the letters U-S-A just before the start of "America the Beautiful."
We also have more golden cascades. Macy's fireworks has become over the years synonymous with the golden mile that we call a mile-long stretch of golden cascades that sparkle with embers coming from a thousand feet down to the water, touching the tips between all the barges and filling the sky above the river with these golden beautiful embers. This year we have 13 different color transitions of that golden mile. We've not only made the longest golden mile that Macy's has had in 40 years, but it will be the most spectacular.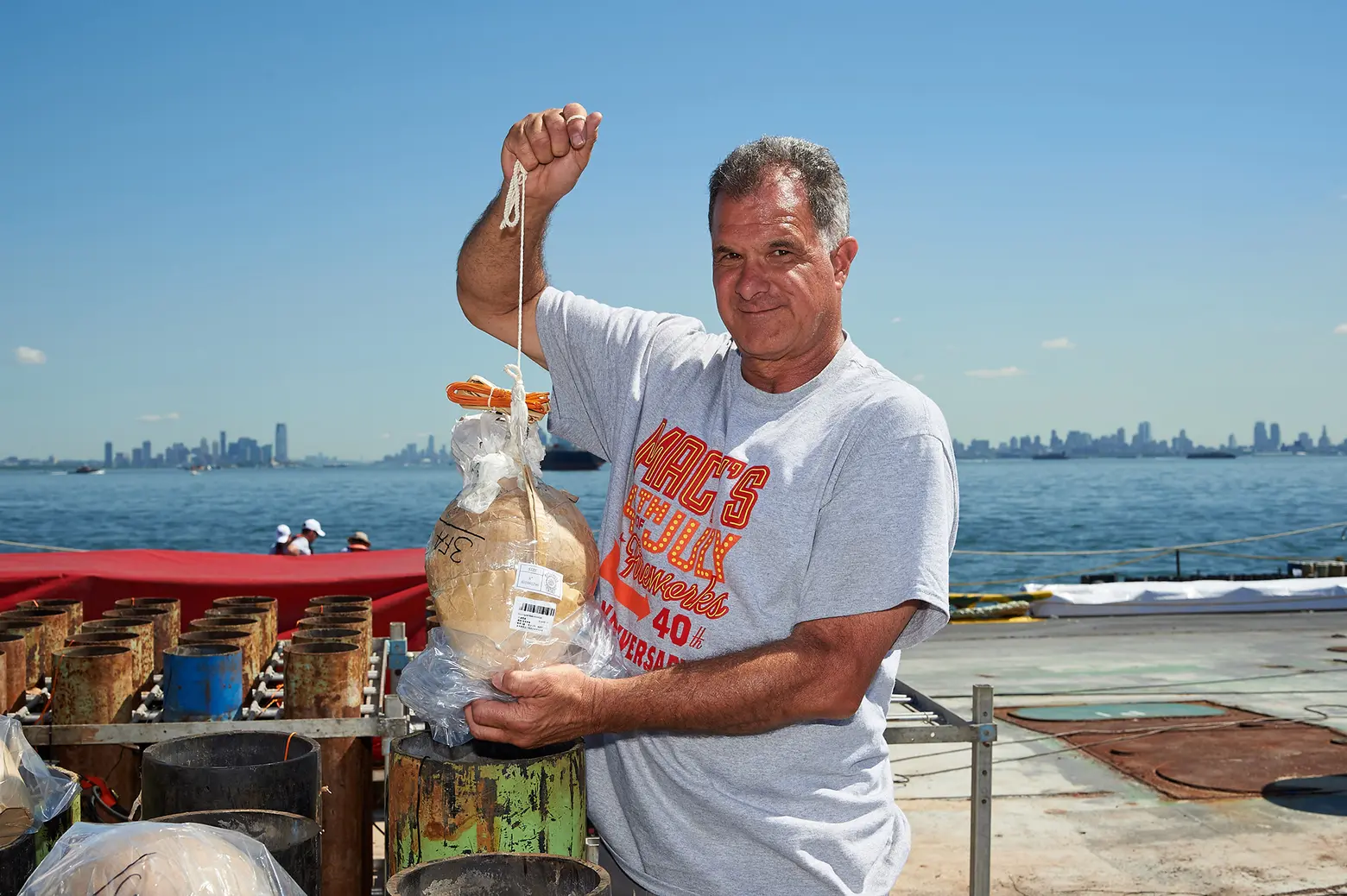 Even after all these years, do you still find yourself moved by these displays?
There are very few opportunities that any person in their lifetime can say that they have actually touched the hearts of a mass of people in a very positive way. I've had the pleasure of standing and bringing together people with great enjoyment and passion through fireworks. To be able to do that and to see the work that you and your family did at an Olympic Opening Ceremony, on the field amongst athletes, or at the Paralympics or Special Olympics, has really been the most rewarding for me.
+++
To learn more about the best places to view this year's fireworks, click here.
[This interview has been edited for clarity]
RELATED:
Lead image via Macy's