Six Architects Reimagine the MetLife Building As an Eco-Friendly Tower of the Future
Earlier this week, the six finalists in the "Reimagine a New York City Icon" competition were announced (h/t NY Yimby). The competition to reimagine the MetLife Building, sponsored by Metals in Construction magazine and the Ornamental Metal Institute of New York, isn't part of any real-life plans for the iconic Midtown tower, but when great minds get to this kind of imagining, great ideas are born. Architects and engineers were asked to "reimagine 200 Park Avenue with a resource-conserving, eco-friendly enclosure—one that creates a highly efficient envelope with the lightness and transparency sought by today's office workforce—while preserving and enhancing the aesthetic of the building's heritage."
Designed by Emery Roth & Sons, Pietro Belluschi, and Walter Gropius, the 59-story MetLife Building, located to the north of Grand Central Terminal, opened in 1963 as the Pan Am Building. MetLife bought the building in 1981, and though they sold it in 2005, the architectural icon keeps their name. Below are the finalists' descriptions and renderings for the tower's eco-friendly future.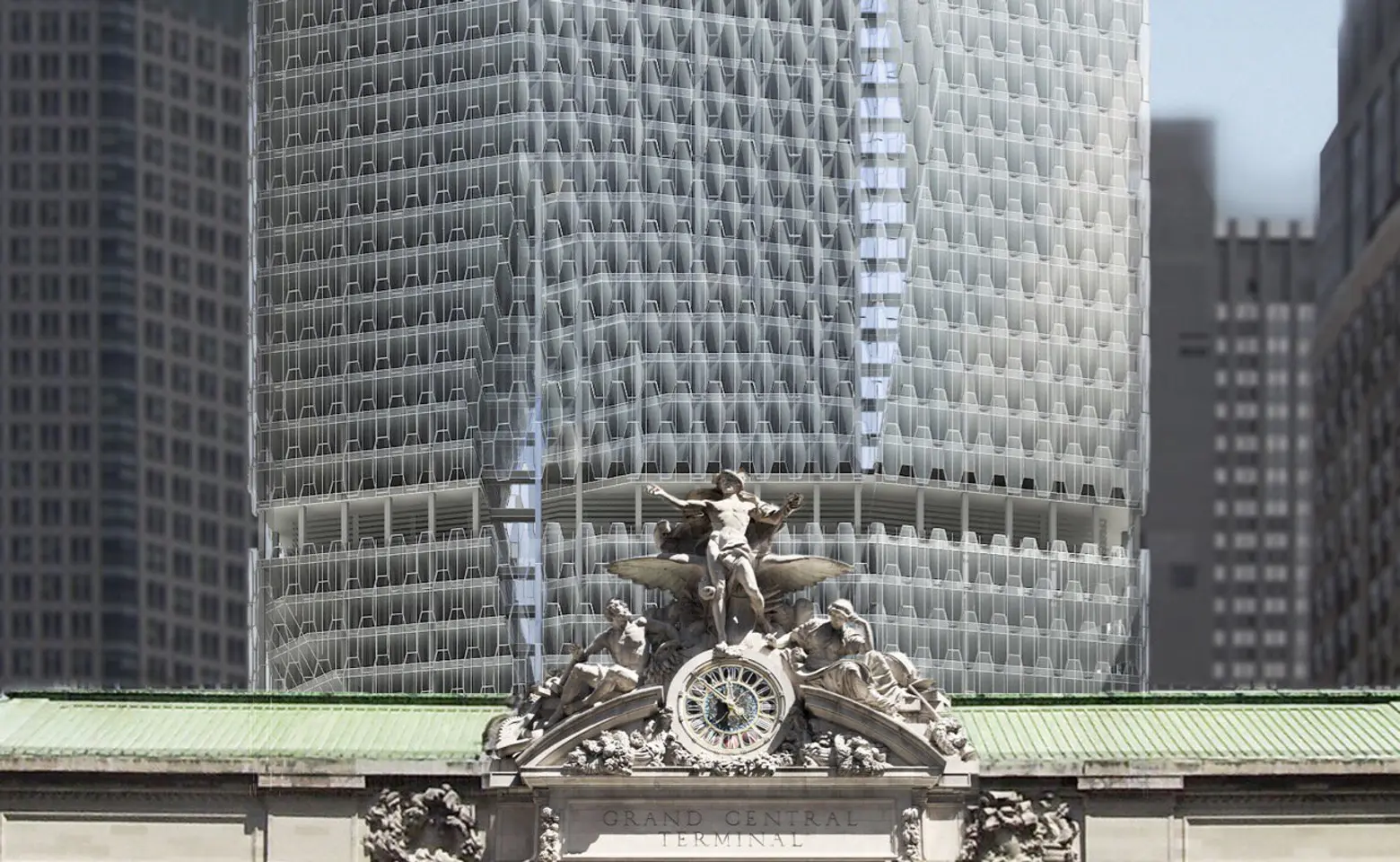 ↑ PanAm Under Glass (PDF) (VOA Architecture, PLLC; Werner Sobek New York Corp.)
Here, space is chiseled away to create transparency without completely removing the building's mass. "Removed floor area is relocated to graduated upper floors to suggest skyward ascension. The outer glass sheath restores the building to a simpler geometry… Applied in a larger scale to the tower allows for maximum daylighting while the denser, smaller scale at the podium creates a more monolithic reading much closer to pedestrian level."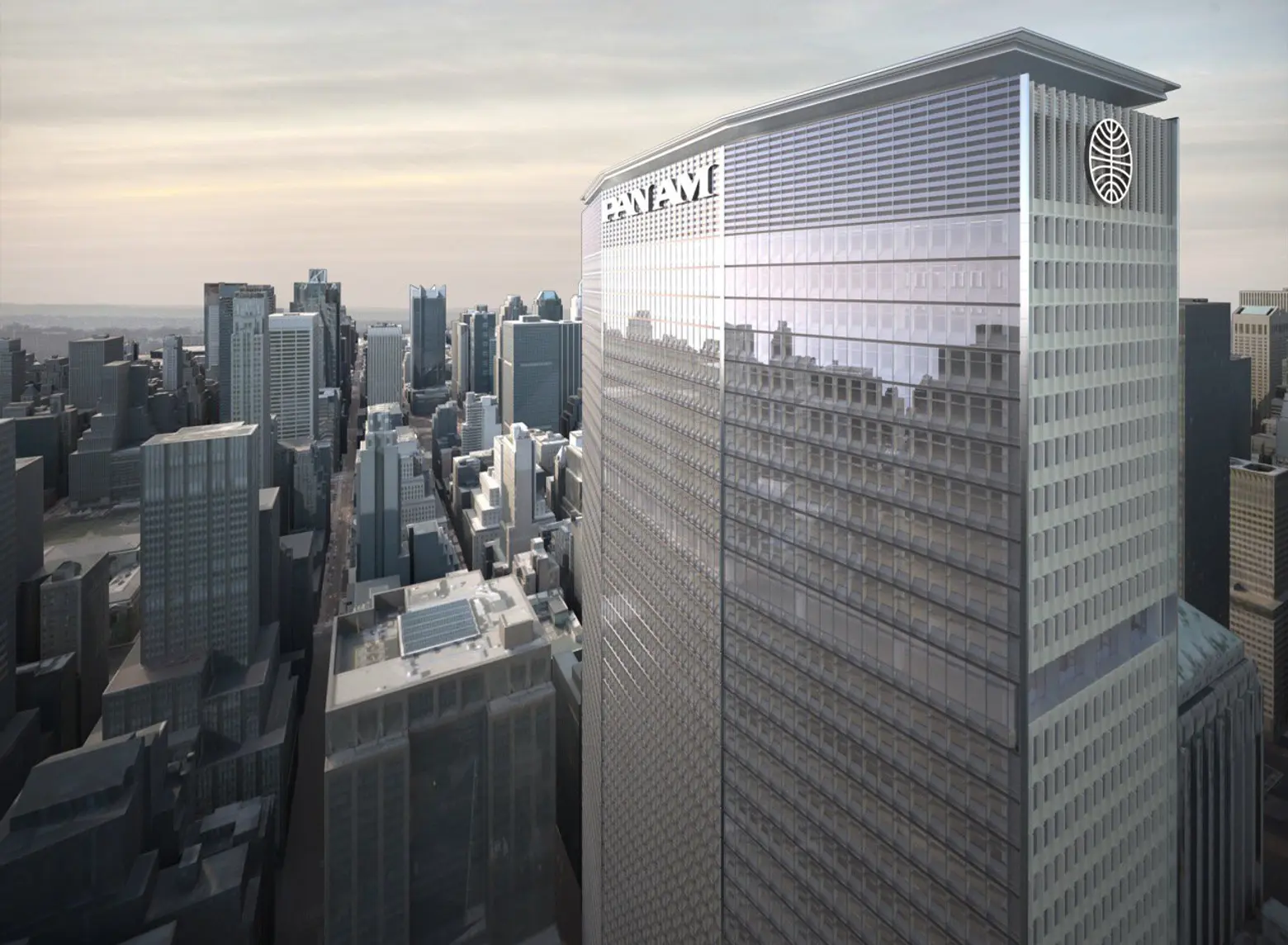 ↑ Performance Based Preservation (PDF) (SHoP Architects; CASE-RPI; Heintges)
This proposal seeks to answer the question, "How can we improve the performance of mid-century office buildings while preserving our architectural heritage?" It preserves what the designers consider the building's most iconic element — its precast concrete shell — but adds a new curtainwall to control solar heat gain and glare. "By preserving and overcladding – instead of demolishing and recladding – our proposal reduces the building's environmental impact by 42% over the next 50 years."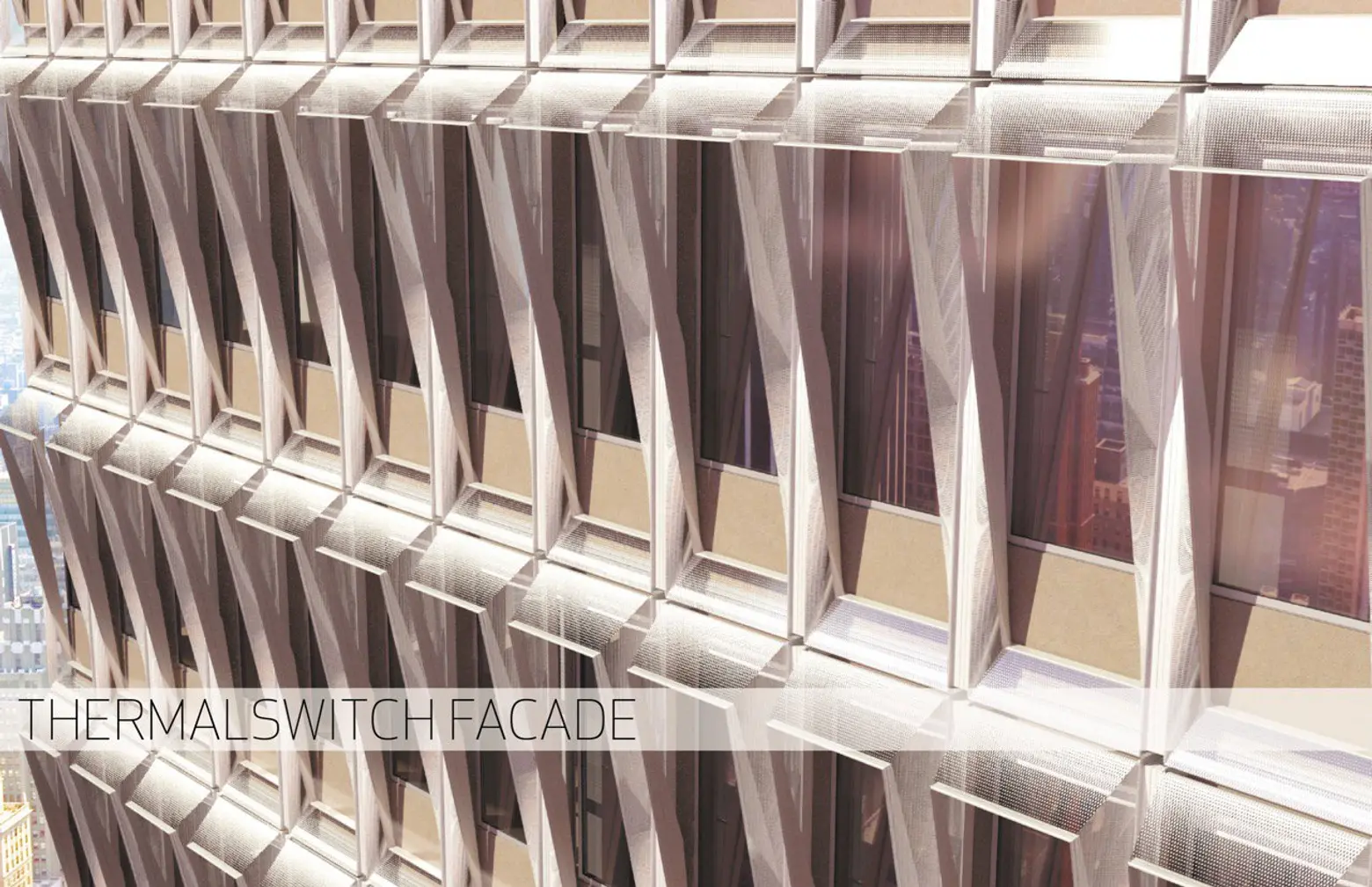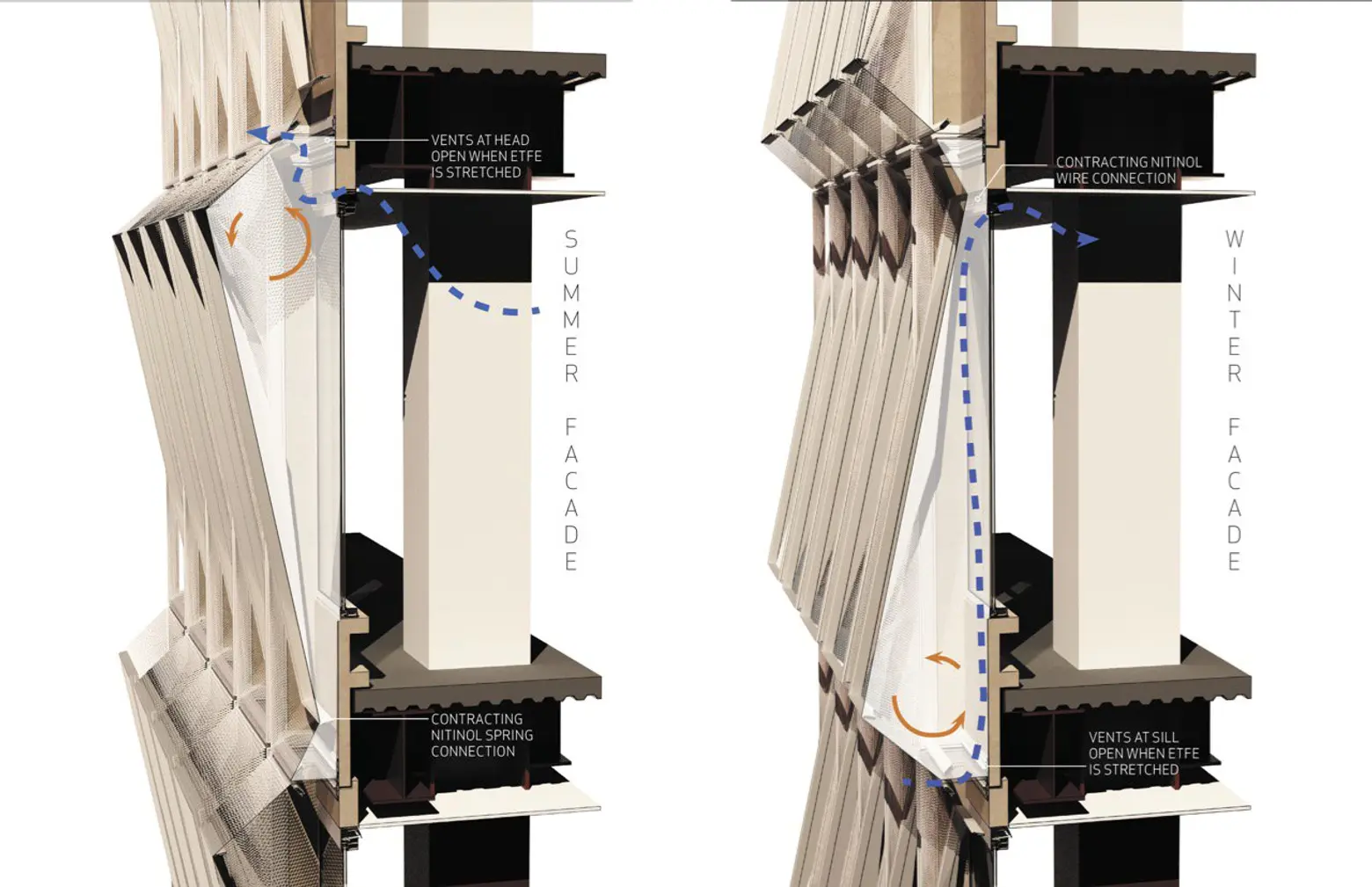 ↑ Thermalswitch Facade (PDF) (StudioTJOA)
This facade mounts directly over the building's existing precast panels. "Because the Thermalswitch unit is designed to fit over the existing single floor unit, once the units are unloaded on a floor above, the existing glazing is removed and they are set via a custom horizontal slide and floor crane through the opening of the precast unit."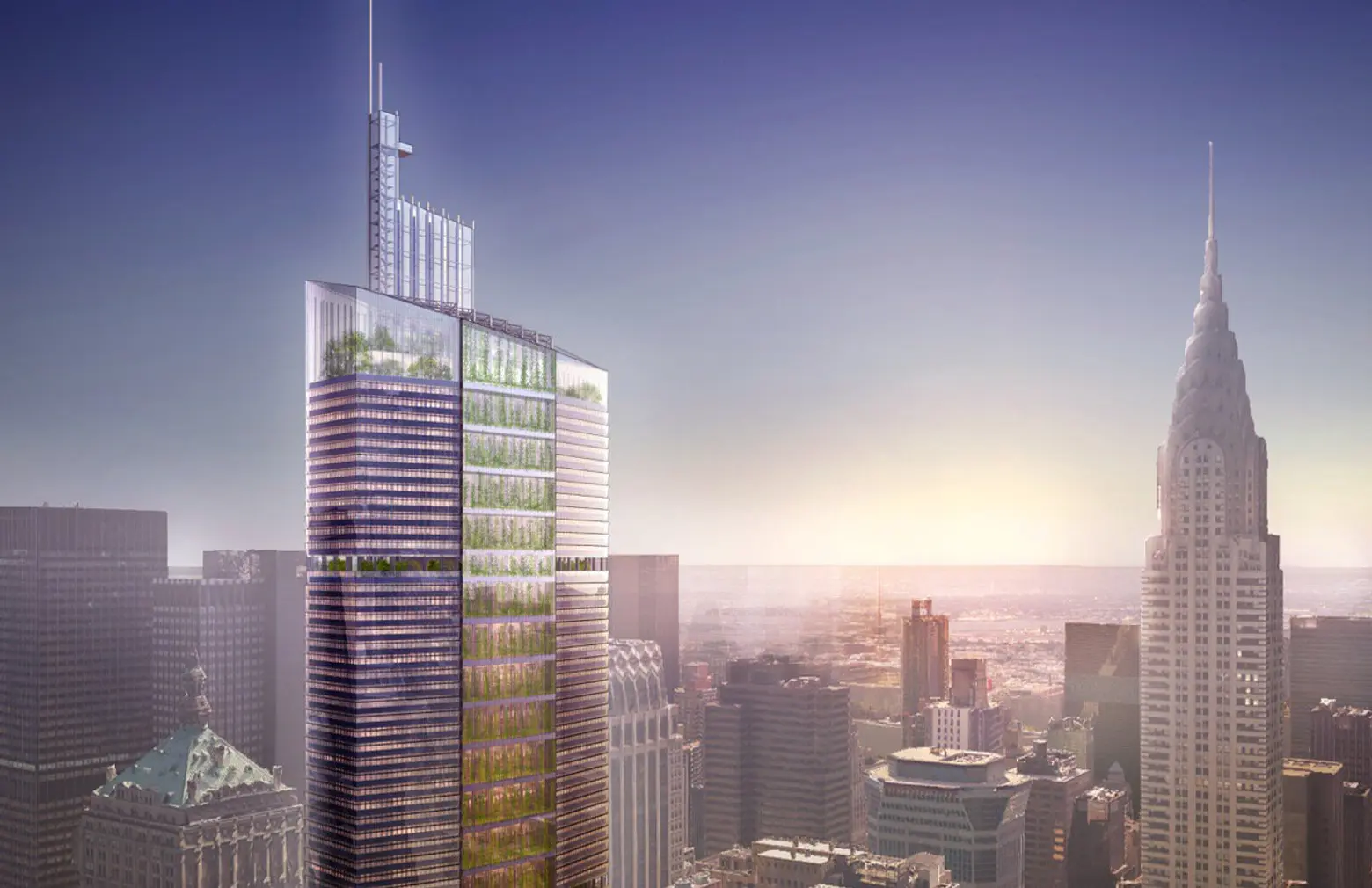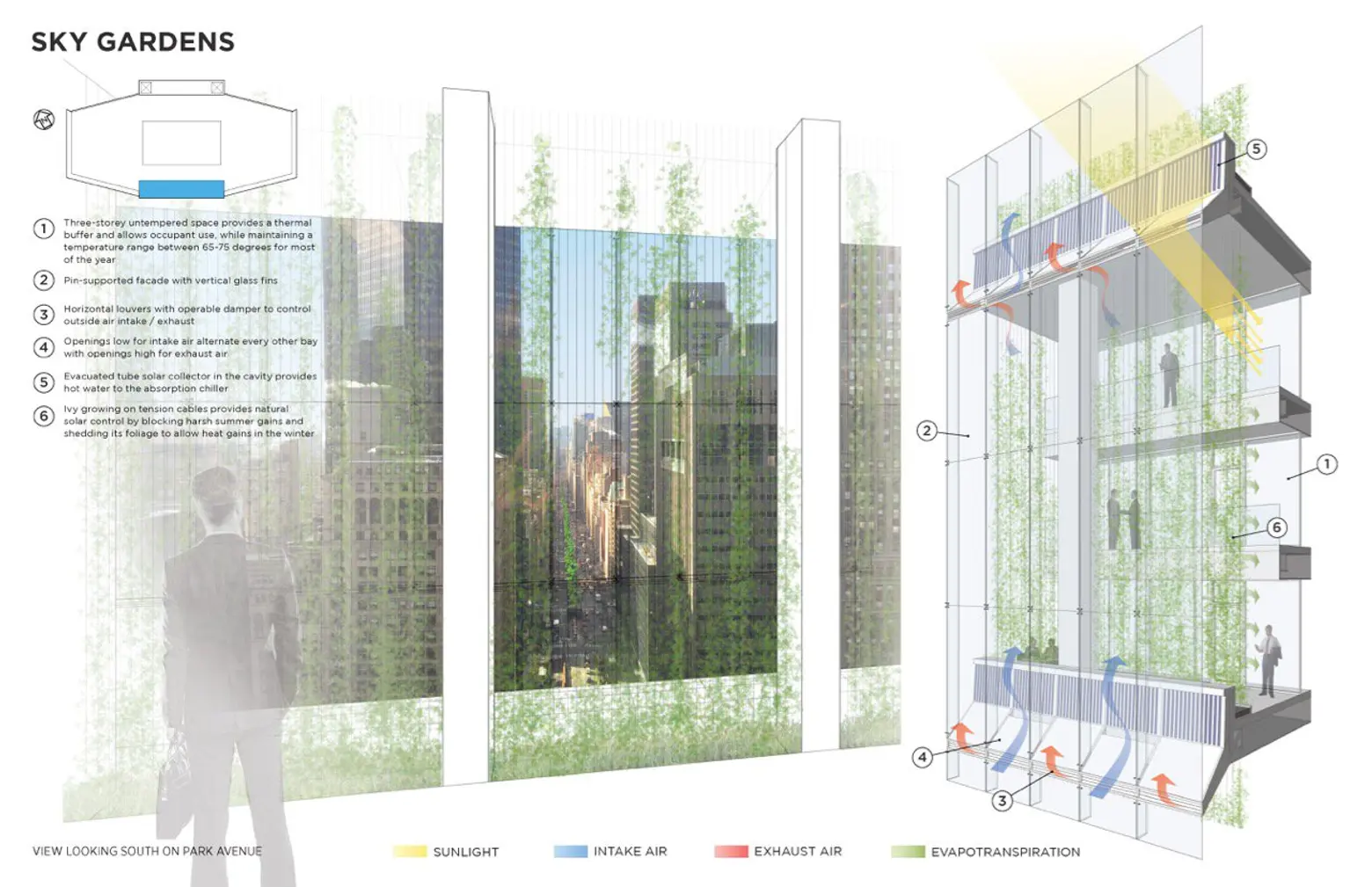 ↑ Harnessing Urban Energies  (PDF) (FXFOWLE, Thornton Tomasetti, Dagher Engineering)
These firms created a new exterior cladding system to improve energy performance and the workplace environment. The central, three-story spaces are considered "thermal buffers" and employ ivy grown on tension cables for natural solar control. As they explain, "We have created amenity spaces that take advantage of unparalleled urban vistas for enjoyment by the building users as well as by the general public. All of these interventions have been made without a loss in leasable square footage…" In all, their proposal lowers the building's present annual energy consumption by 80 percent.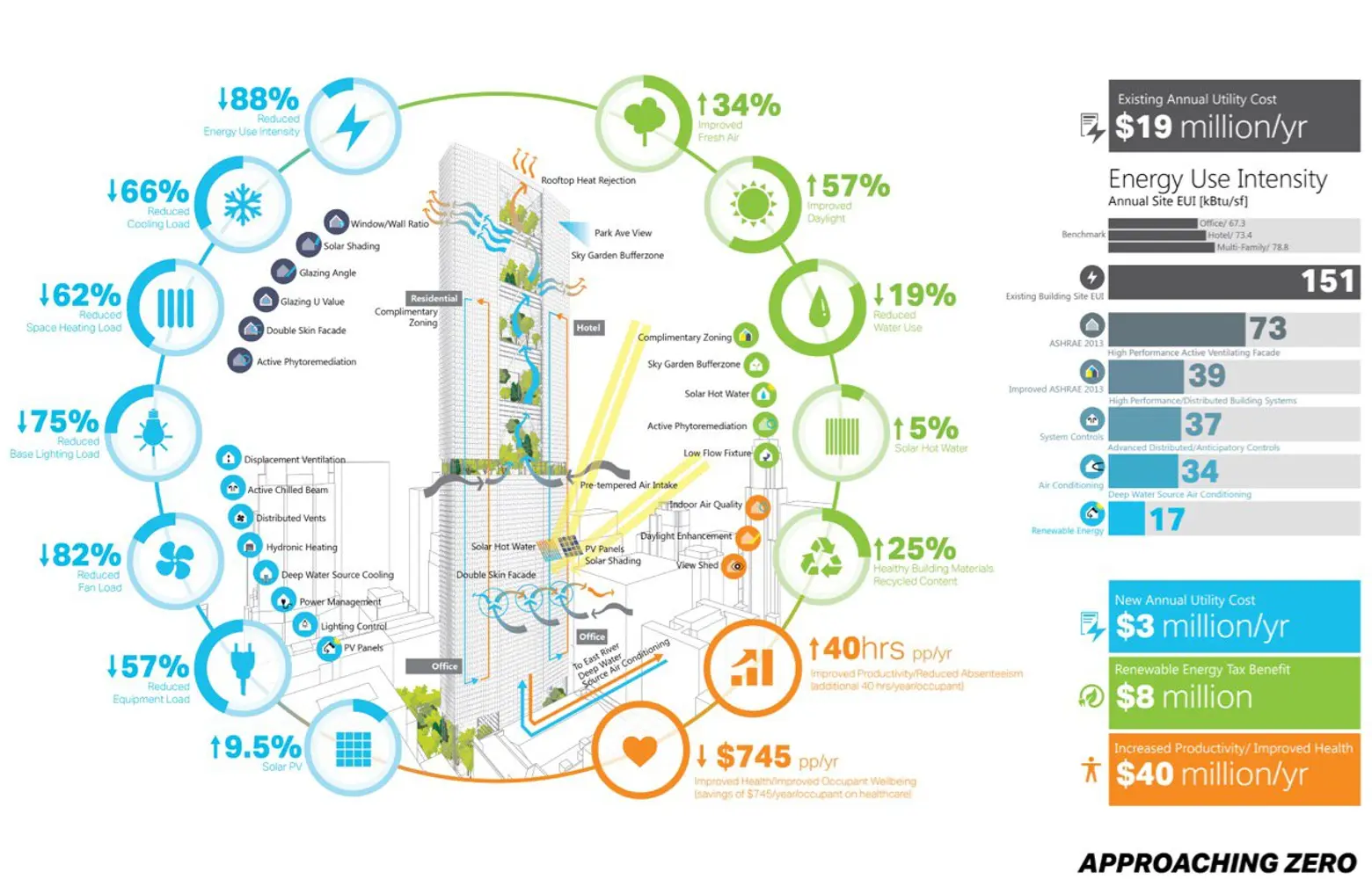 ↑ Vertimeme (PDF) (AECOM; Volley Studio)
By doubling the height of the building and adding a high-performance facade, Vertimeme would reduce greenhouse gas emissions and the overall carbon footprint. The designers would employ strategies to increase fresh air and natural light, thereby binding "economic impacts with environmental efficacy."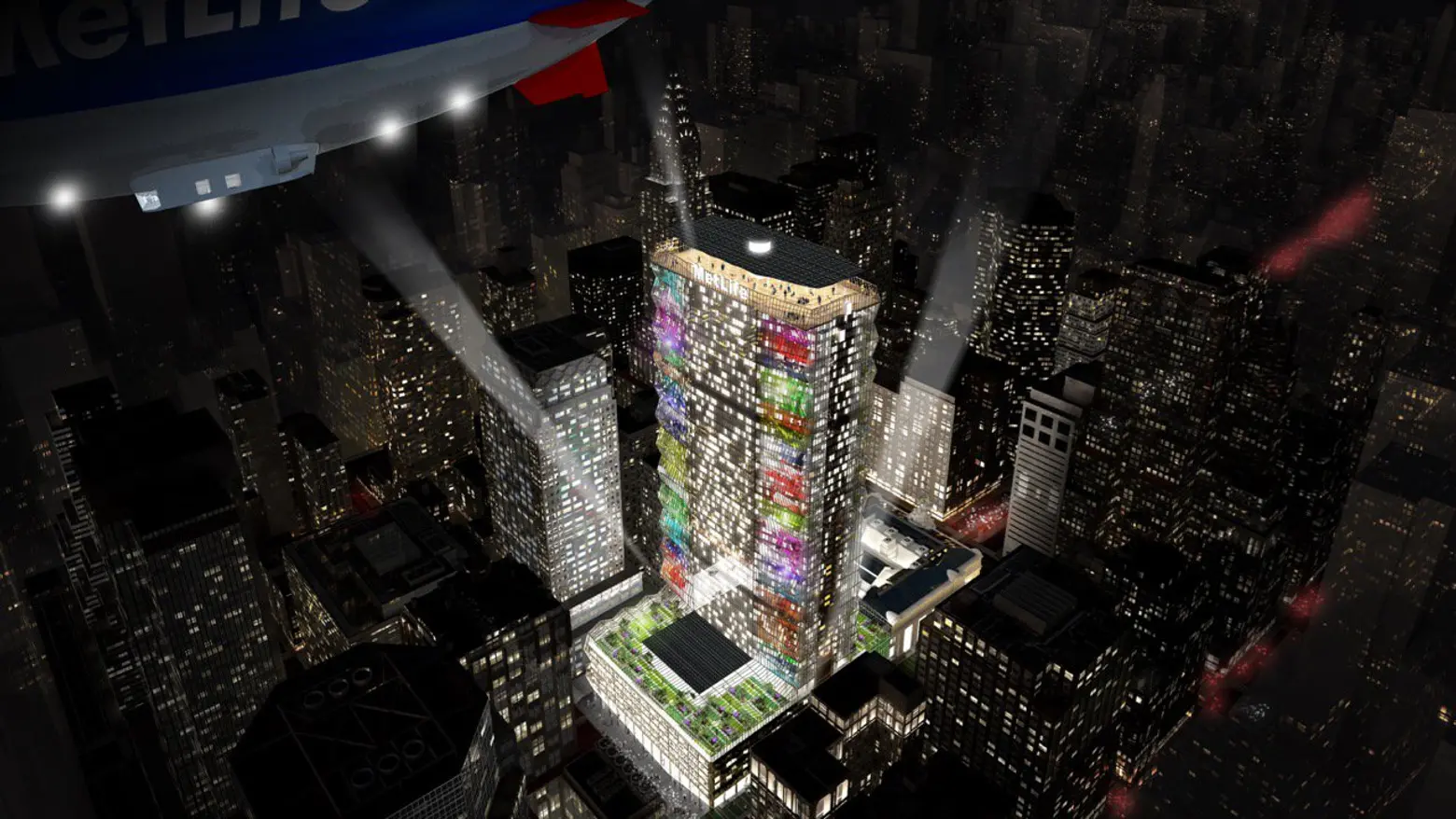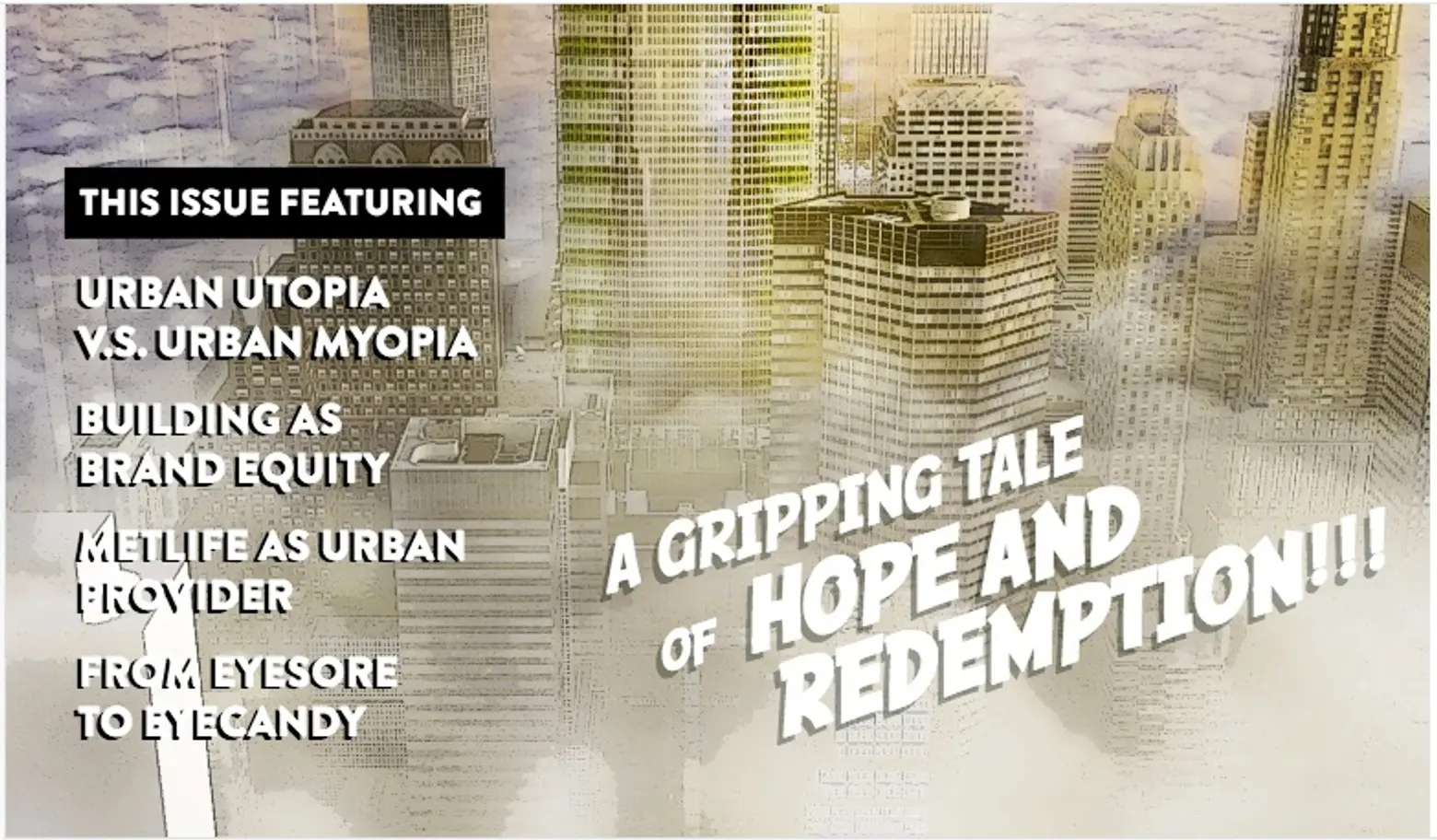 ↑ Farm Follows Fiction (PDF) (Lemay, Ecosystem, Sefaira)
Recreating the "world's tallest farm," graphic novel style.
The competition was inspired by the President's Climate Action Plan and the Architecture 2030 Challenge. In this case the finalists split the $15,000 prize. A panel of six competition jurors included top experts in sustainable design in architecture and engineering.
[Via NY Yimby]
RELATED: