St. Patrick's Day 2021 in NYC: Parades, treats, takeout, and more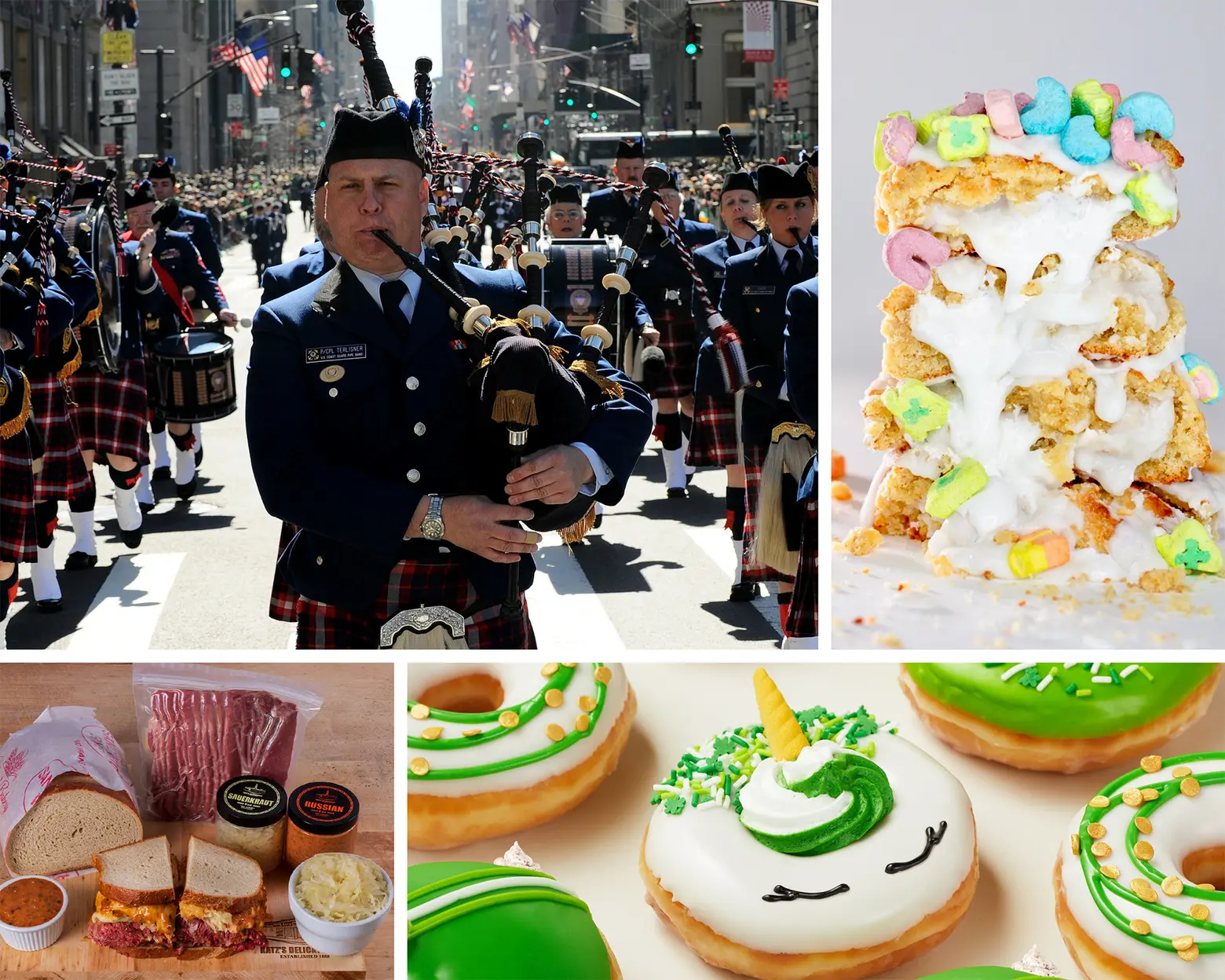 Last year's St. Patrick's Day Parade was one of the first large events to be cancelled due to the COVID pandemic. This year, the event's going virtual, and there are many other safe and fun ways to celebrate the holiday. From a virtual tenement tour to an outdoor trolley tour at Woodlawn Cemetery to picking up sweet treats topped with Lucky Charms or ordering corned beef meals, we've rounded up all the ways New Yorkers can mark St. Patrick's Day this year.
Outdoor + Virtual Fun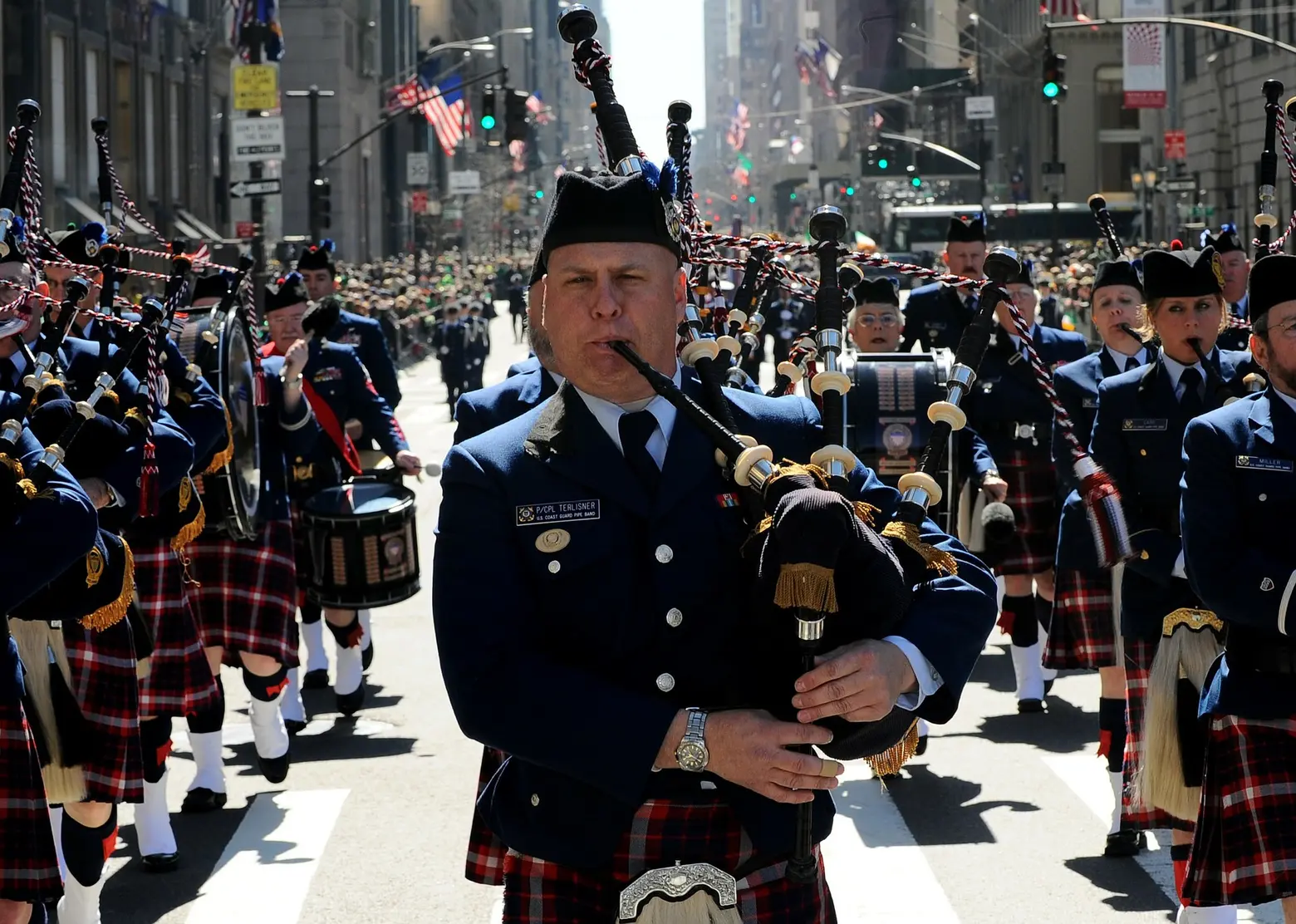 Image by David Mark from Pixabay
Virtual St. Patrick's Day Parade
Wednesday, March 17: 10am
Though it will be virtual, this year will mark the 260th St Patrick's Day parade in New York City. The parade leaders will join a select number of first responders and essential workers to offer a prayer for all the victims of the pandemic and to mark the 20th anniversary of 9/11. There's a full slate of live-streamed events, including a broadcast of St Patrick's Day mass from St. Patrick's Cathedral at 8:30am and a special 7pm celebration on NBC.
Woodlawn Cemetery's Irish-American Trolley Tour
Sunday, March 14: 12:00pm and 2:30pm
$30
On this special tour of Woodlawn Cemetery, you'll visit beautiful Celtic gravestones and mausoleums of Irish-Americans and see the final resting places of actors, authors, patriots, and politicians, including Geraldine Fitzgerald, Chauncey Olcott, and James Gralton. You'll also find out about New York's connection to Ireland going back more than 200 years with men and women who have roots in the Emerald Isle.
Chelsea Market St. Patrick's Day celebration
Wednesday, March 17: 4-8pm
At their open-air and heated outdoor expansion on 15th Street (between 9th and 10th Avenues), Chelsea Market is throwing a socially distant celebration. Participating vendors including Dickson's Farmstand Meats, Amy's Bread, and Mayhem Beer, who will be serving up beer, corned beef and cabbage, and soda bread to name a few. In addition, there will be live Irish music from Luke O'Malley and Irish dancers.
A St. Patrick's Day Feast! with 100 Pleats
Tuesday, March 16th: 6:30-7:30pm
$49.99 per screen
Virtual cooking lesson platform 100 Pleats is hosting a St. Patrick's Day Feast with Chef Diane Henderiks where she'll teach a group lesson on how to create her hearty Guinness Beef Stew made with beef, red wine, the stout beer, white mushrooms, carrots, celery, red potatoes, and herbs. Lessons must be booked in advance and once confirmed, guests will receive ingredient and kitchen equipment details for this celebratory dish.
Celtic Magic: Exploring Irish History Through Grand Illusion
Wednesday, March 17: 8-10 pm
$25
This virtual event from the New-York Historical Society combines spellbinding magic, storytelling, comedy, and the beauty of Irish culture. Illusionists Daniel GreenWolf and Bella GreenWolf take a journey through Irish history and mythology—from the ancient Celts to Irish immigrants—through the lens of stage magic, grand illusions, and expert sleight-of-hand.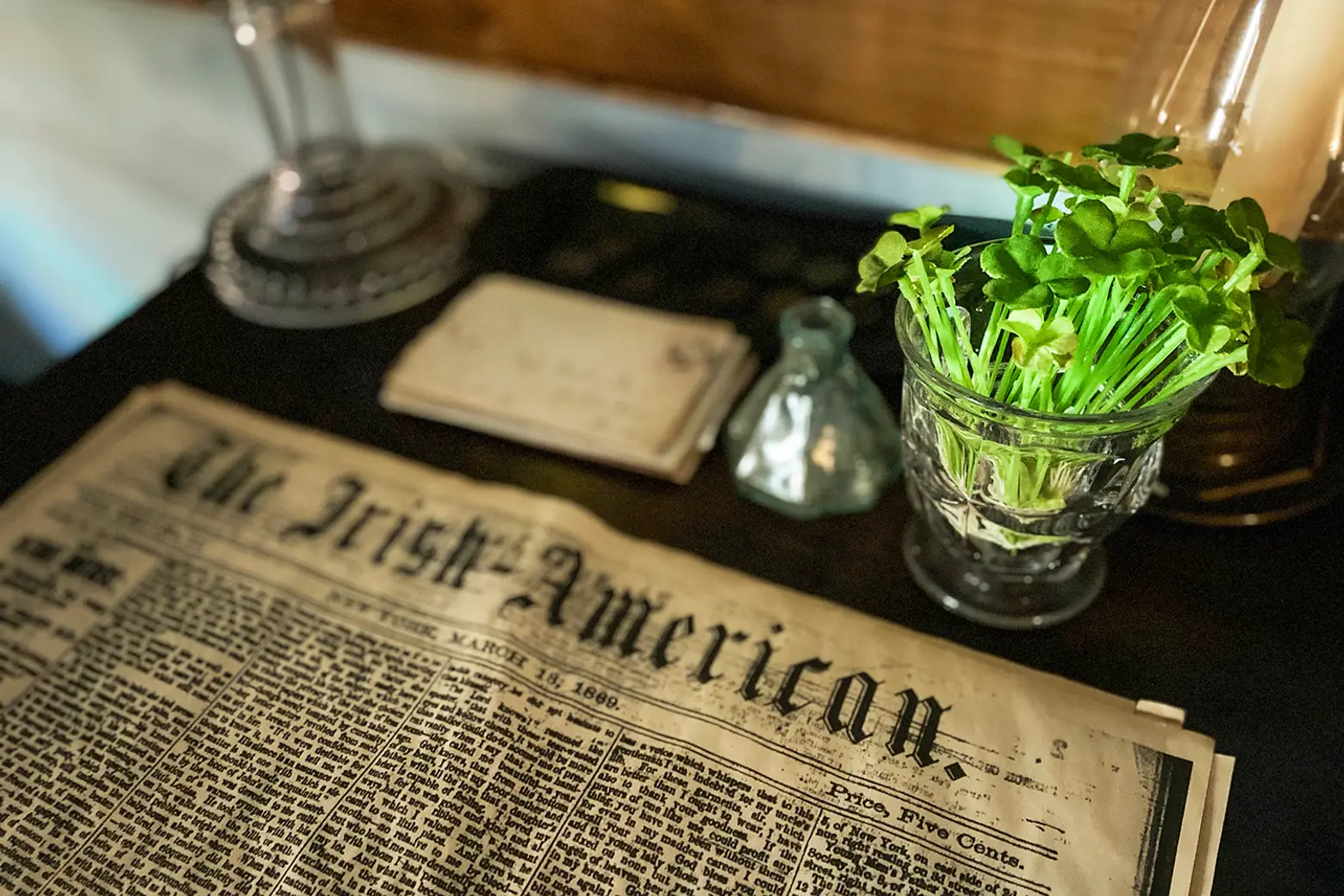 Photo courtesy of the Tenement Museum
Virtual "Moore Family" Tour at the Tenement Museum
March 13-17: times vary
$10 per device
This incredible Lower East Side museum allows you to step back in time to real 19th-century tenements. Because of the cramped spaces, the indoor tours aren't yet COVID compliant, but the Tenement Museum is offering tons of virtual versions. This tour normally takes guests back to 1860s New York to visit Joseph and Bridget Moore, Irish immigrants living with their children at 97 Orchard Street, and explores how Irish immigrants handled discrimination and how the Moore family made an Irish home in the heart of the Little Germany neighborhood. The special St. Patrick's Day versions will also look at how the New York City St. Patrick's Day parade, already popular by the 1860s, gave Irish immigrants like the Moores the opportunity to both show pride in their home country and express their new rights in America.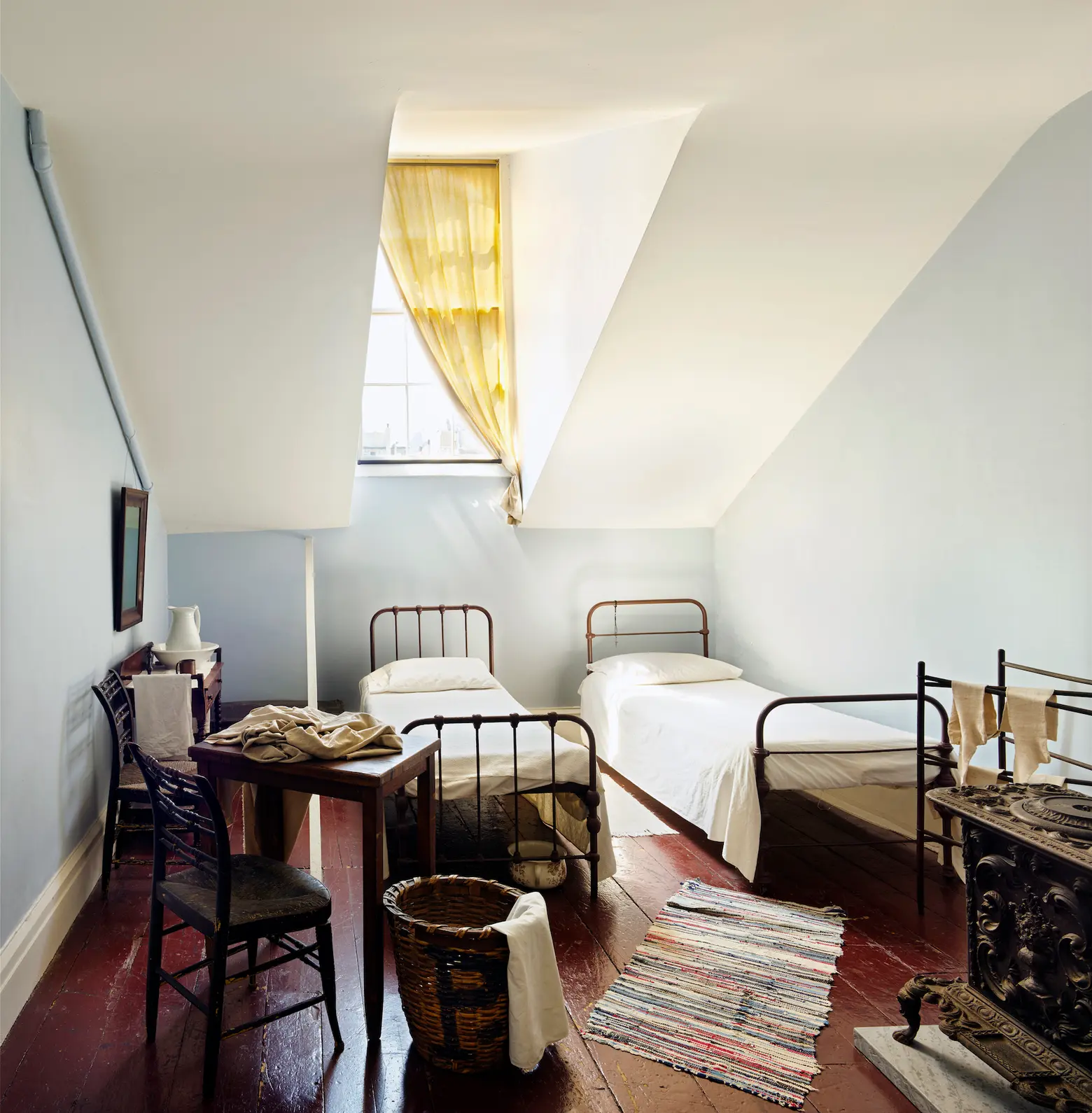 Photo of the servant's bedroom by Annie Schlechter, courtesy of the Merchant's House Museum
In the Footsteps of Bridget Murphy: A Virtual Tour of the Merchant's House Museum
March 17: 6pm
$10
The Merchant's House Museum is an intact 1832 house that educates about life during the 19th-century in NYC. From 1935 until 1865, a wealthy merchant family, the Treadwells, lived here, along with their four Irish servants, one of whom was 19-year-old Bridget Murphy. This "back-stairs" virtual tour of the Merchant's House will let you experience what daily life was really like for Bridget and the thousands of women like her who worked in domestic service. You'll visit four floors of period rooms, from the ground floor kitchen to the fourth-floor servants' quarters, which may be the oldest intact site of Irish habitation in New York City.
Treats + Takeout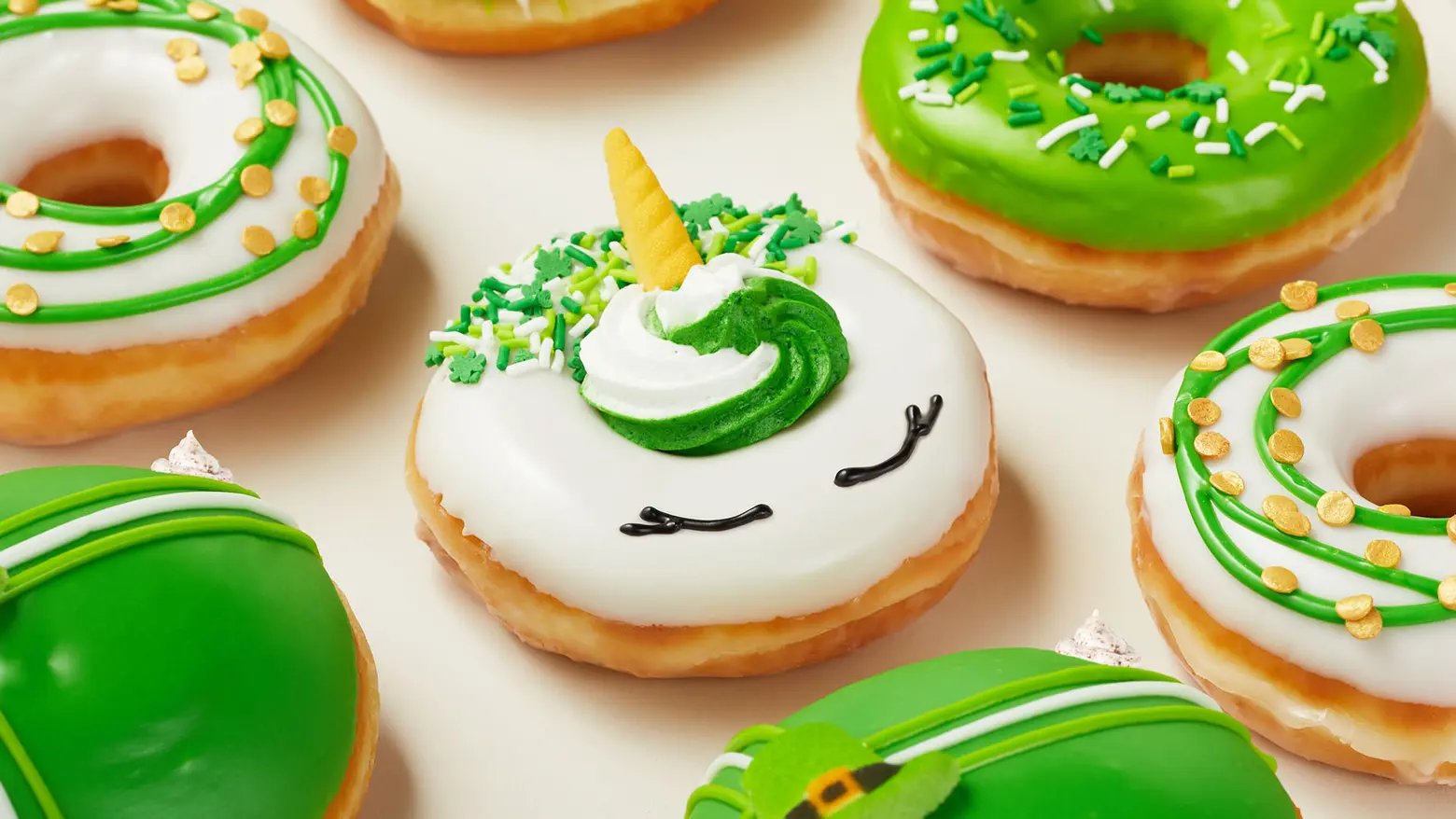 Courtesy of Krispy Kreme
Krispy Kreme's Luck O' the Doughnuts Collection
From March 11th to the 17th, Krispy Kreme is offering a special Luck O' the Doughnuts Collection with four new treats:
Lucky Gold Coin Doughnut – An Original Glazed® doughnut dipped in white icing, decorated with a green icing swirl and sprinkled with lucky gold coins.   ​
Lucky Sprinkles Doughnut – An Original Glazed doughnut dipped in green icing and topped with a festive shamrock sprinkle blend. ​
Lucky Unicorn Doughnut – An Original Glazed doughnut filled with KREME™, dipped in white icing and hand decorated to resemble a magical unicorn.  ​
Lucky Leprechaun Doughnut – A doughnut filled with Cookies and Kreme, dipped in green icing, decorated with plaid icing stripes and topped with a Leprechaun Hat sugar piece.
Also, on March 16th and 17th, they're bringing back the O'riginal Glazed Doughnut, an Original Glazed doughnut gone green, available by the dozen. Plus, guests who visit Krispy Kreme shops wearing green can receive one free O'riginal Glazed Doughnut!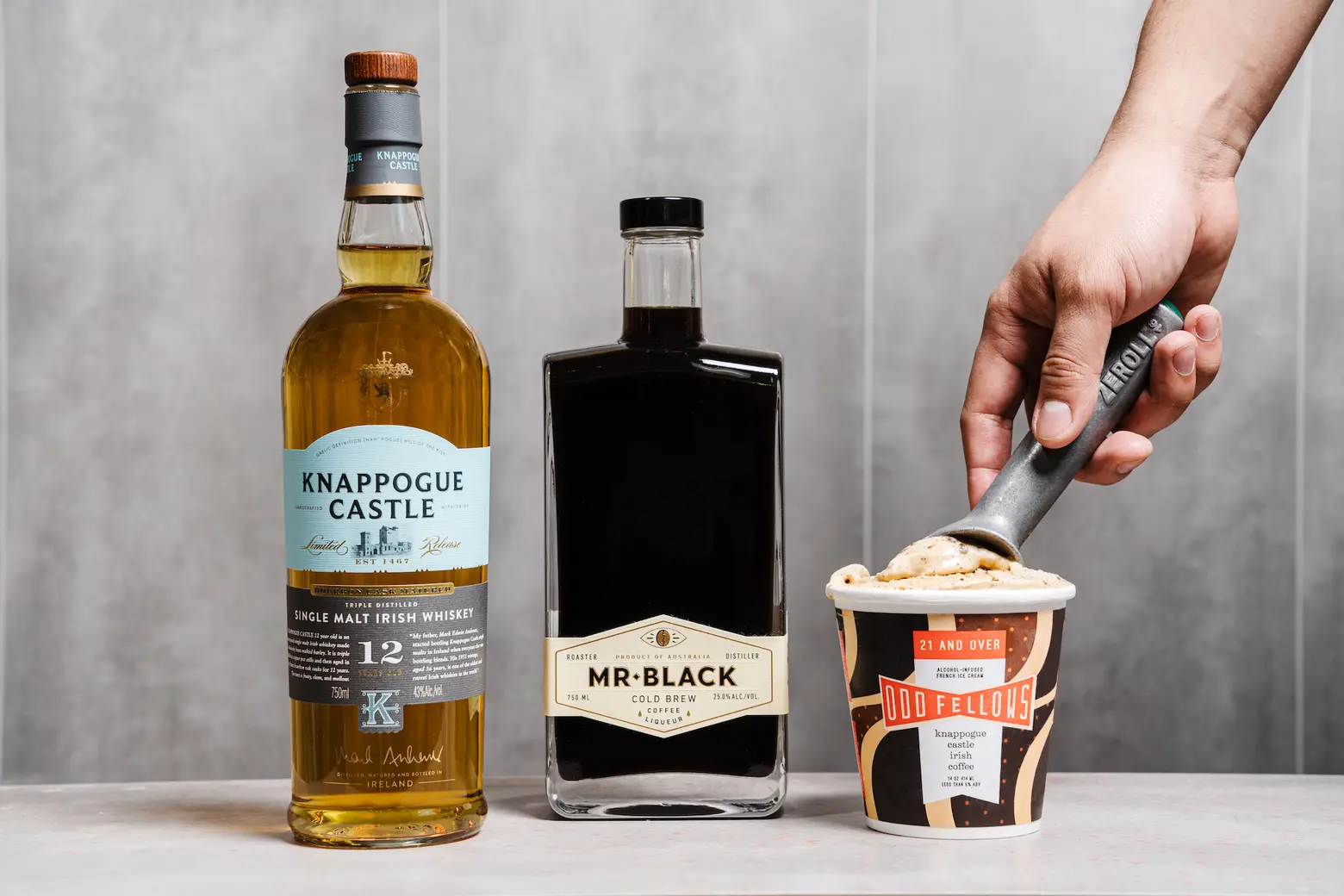 Photo by Daniel Schwartz, courtesy of OddFellow's Ice Cream Co.
OddFellows Ice Cream Co.'s Knappogue Castle Irish Coffee Ice Cream
This Brooklyn-born ice cream shop is known for its eccentric flavors. So for St. Patrick's Day, they've teamed up with Knappogue Castle Single Malt Irish Whiskey and Mr. Black Coffee Liqueur to create the ultimate Irish Coffee ice cream. OddFellows' Knappogue Castle Irish Coffee ice cream will be available by the tub for $13.50 in OddFellows' New York City stores and shipping nationwide as part of a Pick 6 Collection for $79.00.
Photo by Emily Chan for Leonelli Bakery
Leonelli Bakery's St. Patrick's Day Rainbow Cookies
This Italian bakery in Nomad is taking one of Italy's traditional sweets, the rainbow cookie, and giving it an update with the colors of the Irish flag. The special, limited-edition cookies–which feature raspberry jam wedged between layers of almond cake–are available to purchase in-shop or order ahead in larger quantities.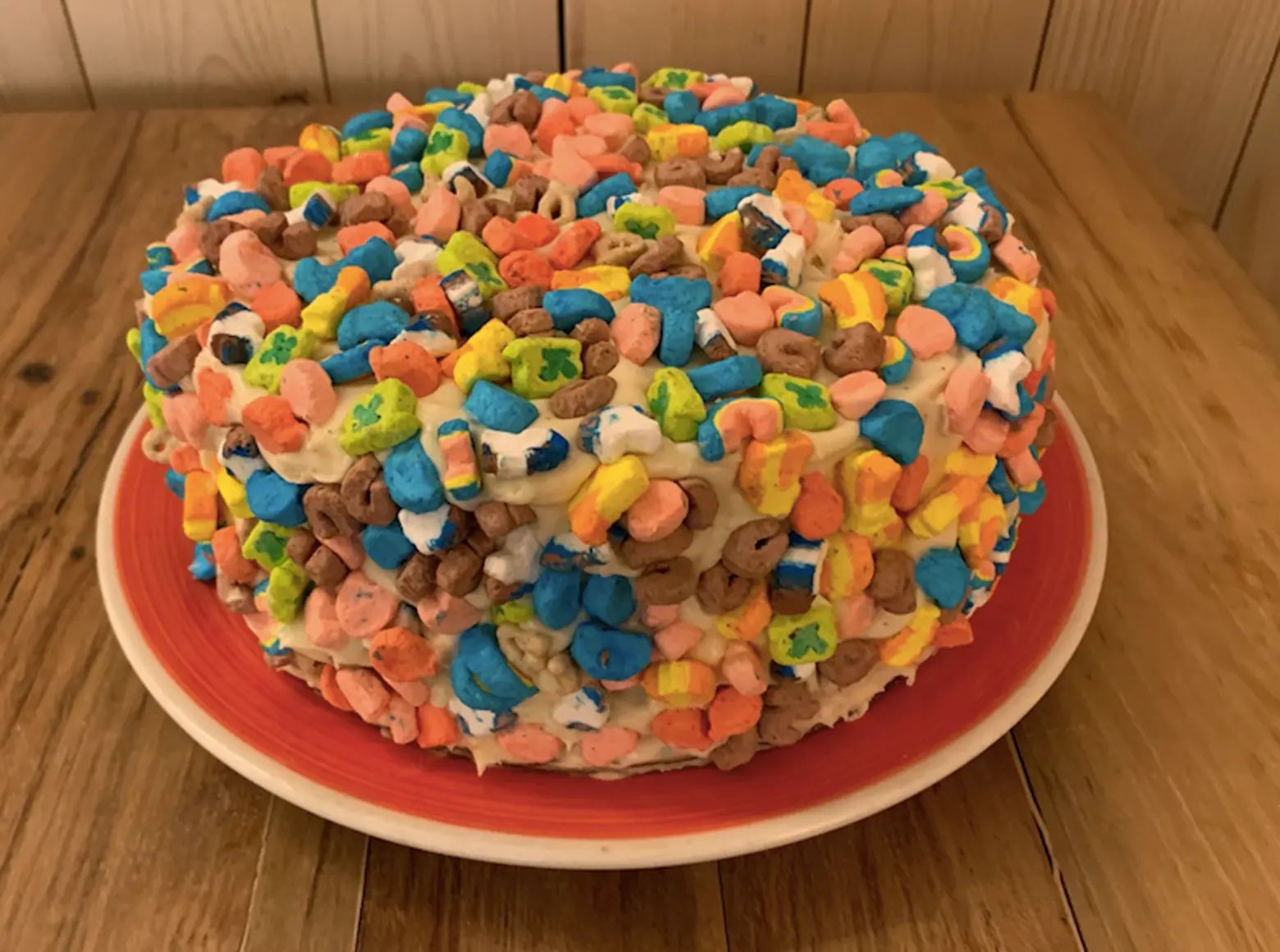 Good Enough to Eat's Lucky Charms Cake
This cozy neighborhood restaurant on the Upper West Side is offering a very festive dessert. The Lucky Charms Cake is a stout-soaked layer cake served with Irish Cream Frosting and coated with the marshmallow cereal. The whole cake is $55 and must be pre-ordered 48 hours in advance; it is also available for $8 per slice and can be ordered for takeout and delivery, or enjoyed while dining at the restaurant.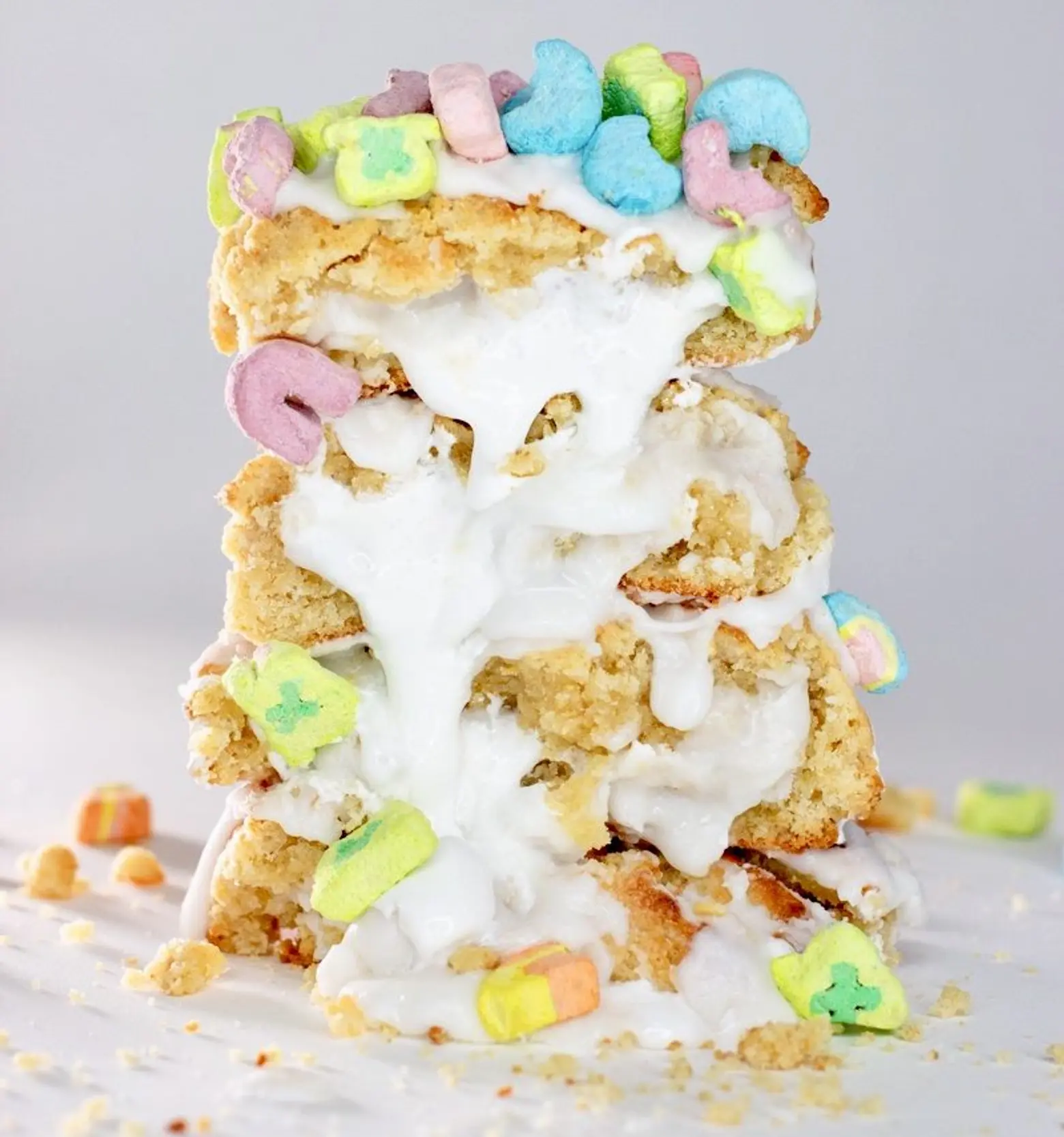 Courtesy of Chip City
Chip City's Lucky Charm Cookie
Here's another super-fun Lucky Charm treat. Chip City's Lucky Charms cookie is a cereal cookie filled with marshmallow fluff and topped with Lucky Charms. It will be on the menu at all six locations across NYC (Astoria, Ditmars, Long Island City, Sunnyside, Williamsburg, West Village) from Monday, March 15th to Saturday the 20th.
Murray's Cheese Whiskey Lover's Cocktails and Cheese Board
This cheese board was designed to pair perfectly with your favorite Irish Whiskey. It features four bold cheeses that can stand up to a serious drink, plus a handful of bold bites that pack a bright hit of flavor for a simple and delicious board that's perfect for cheese and scotch lovers alike.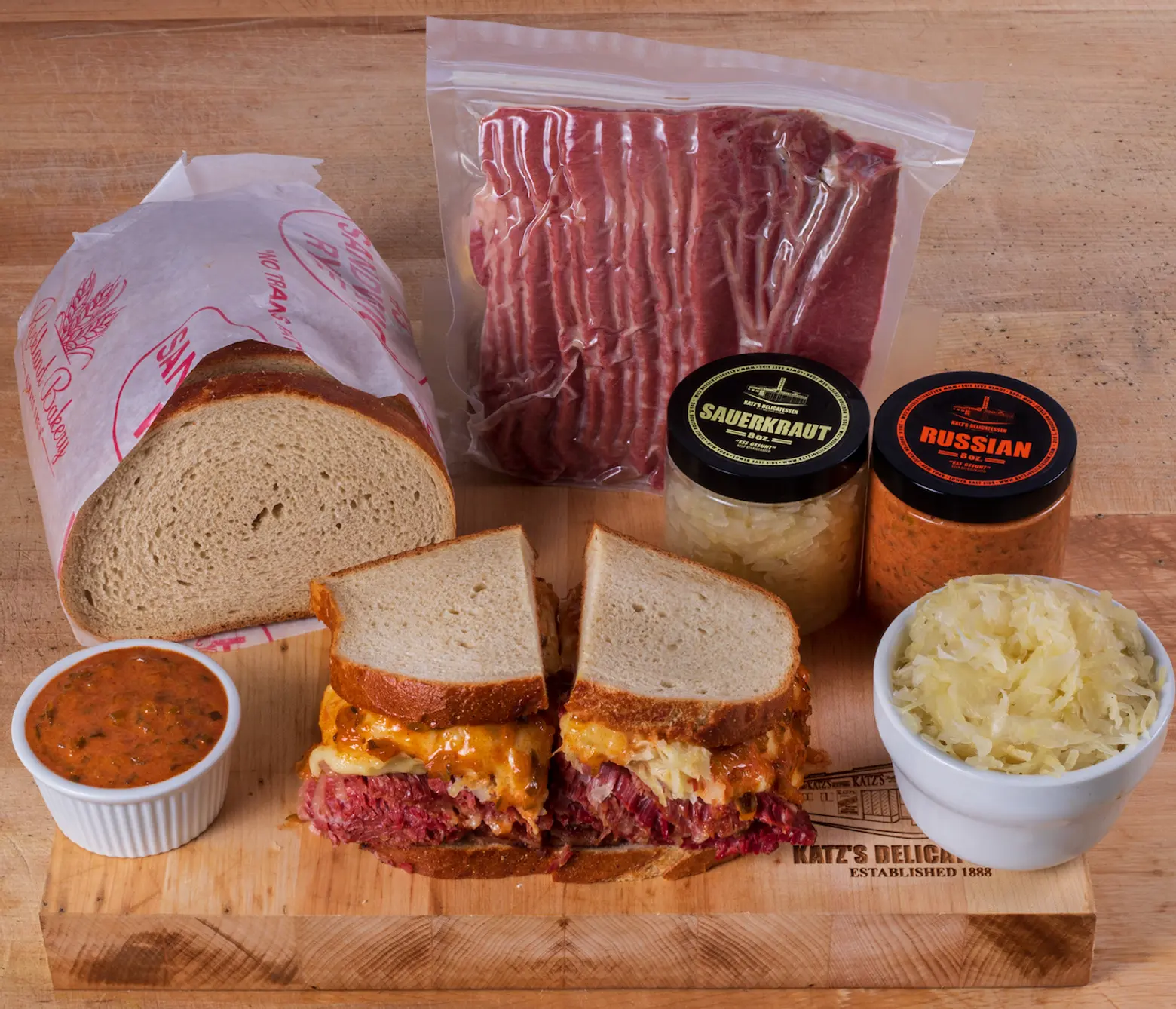 Courtesy of Katz's
Katz's St. Patrick's Day Reuben Package
The iconic Katz's Delicatessen are experts on corned beef, so why not order this mouth-watering Reuben package that comes with two full pounds of corned beef (or pastrami), swiss cheese, tangy sauerkraut, two quarts of pickles, rye bread, and house-made Russian dressing. The $110 package makes four sandwiches.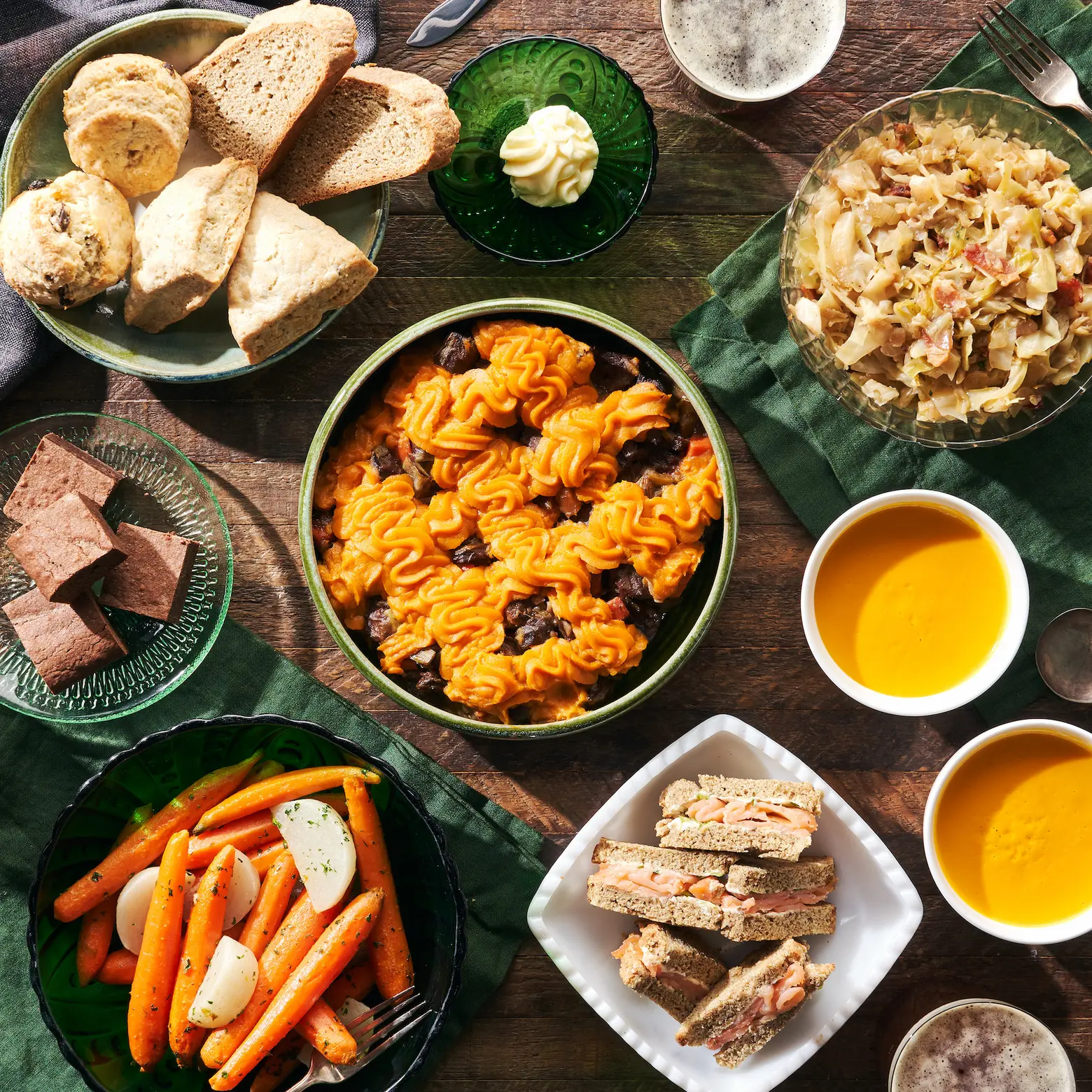 Courtesy of Baldor Specialist Foods
Baldor Speciality Foods' St. Patrick's Day Feast 
This meal kit curated by Thomas Preti Events includes Shepherd's Pie, smoked salmon on Irish brown bread sandwiches, twice-braised cabbage with crispy bacon, carrots and turnips with sweet Irish butter, Irish cream brownies, and caraway and raisin scones. It serves 4-6.
Restaurants
Ten Hope
This Williamsburg restaurant has a beautiful heated garden, and on St. Patrick's Day you can choose to celebrate inside or out. Grab a bucket of five beers for $25 or enjoy a Jameson drink, all of which will be specially priced at $10 for the day.
American Brass
Head to the Long Island City waterfront and spend the holiday inside one of American Brass' 34 heated greenhouses that can hold up to 6 people. On the 17th and 18th, any of their cocktails that include Writers Tears Irish Whiskey or The Irishman Irish Cream will be $11.