Indoor dining in New York City will shut down next week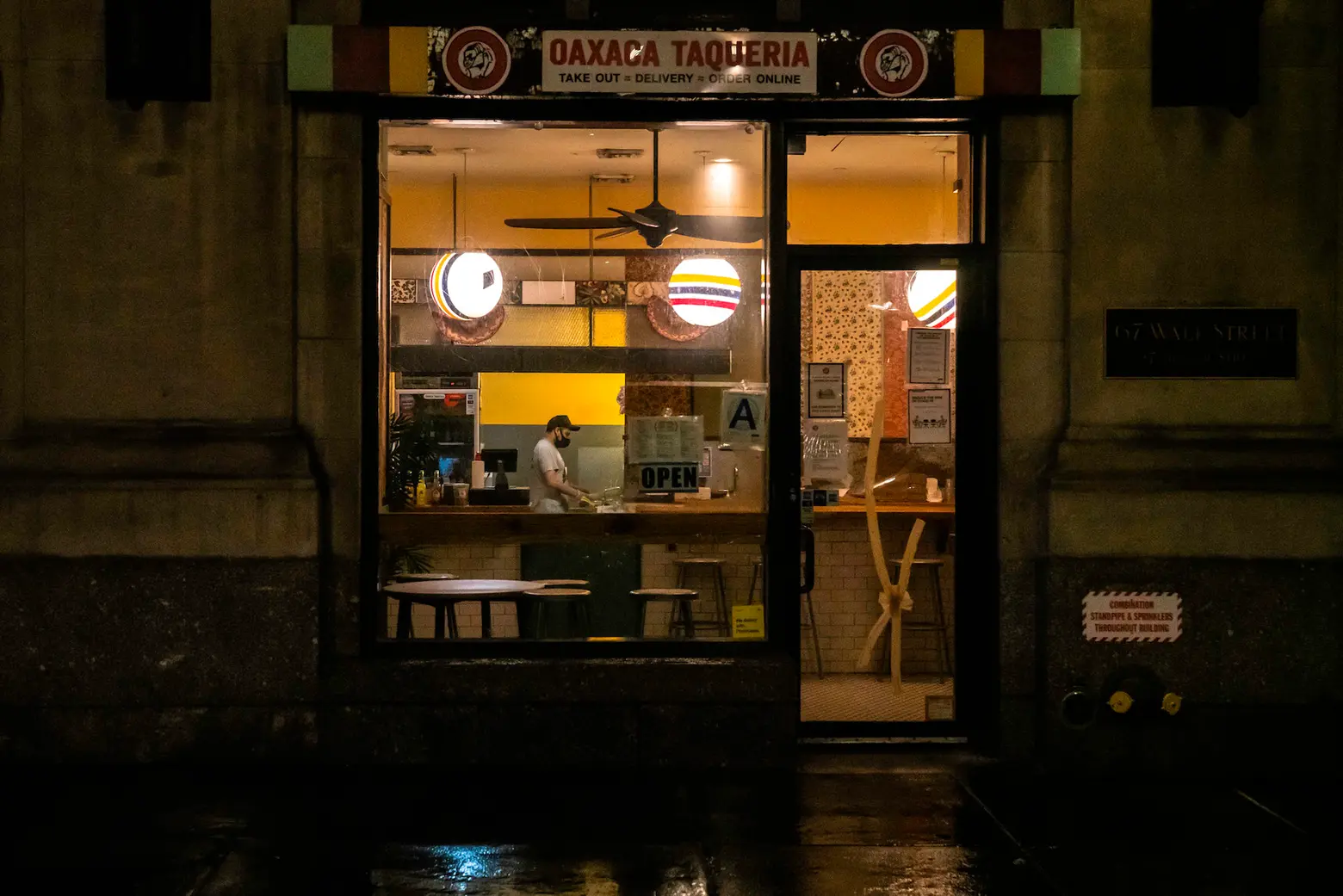 Indoor dining in New York City will end on Monday as coronavirus cases and hospitalizations continue to climb, Gov. Andrew Cuomo announced on Friday. Outdoor dining, delivery, and take out can continue. According to the contact tracing data from the governor's office, restaurants and bars account for 1.43 percent of the spread of the virus in the state of New York. Indoor household gatherings making up nearly 74 percent.
In a press conference on Friday, Cuomo called the city's density a "liability" and cited the Centers for Disease Control and Prevention's updated warnings about indoor dining as reasons to shut it down. The governor first announced last week that indoor dining would end in New York City if the hospitalization rate did not stabilize over five days.
"In New York City, you put the CDC caution on indoor dining, together with the rate of transmission and the density and the crowding. That is a bad situation," Cuomo said. "The hospitalizations have continued to increase in New York City. We said that we would watch it. If the hospital rate didn't stabilize, we would close indoor dining. It has not."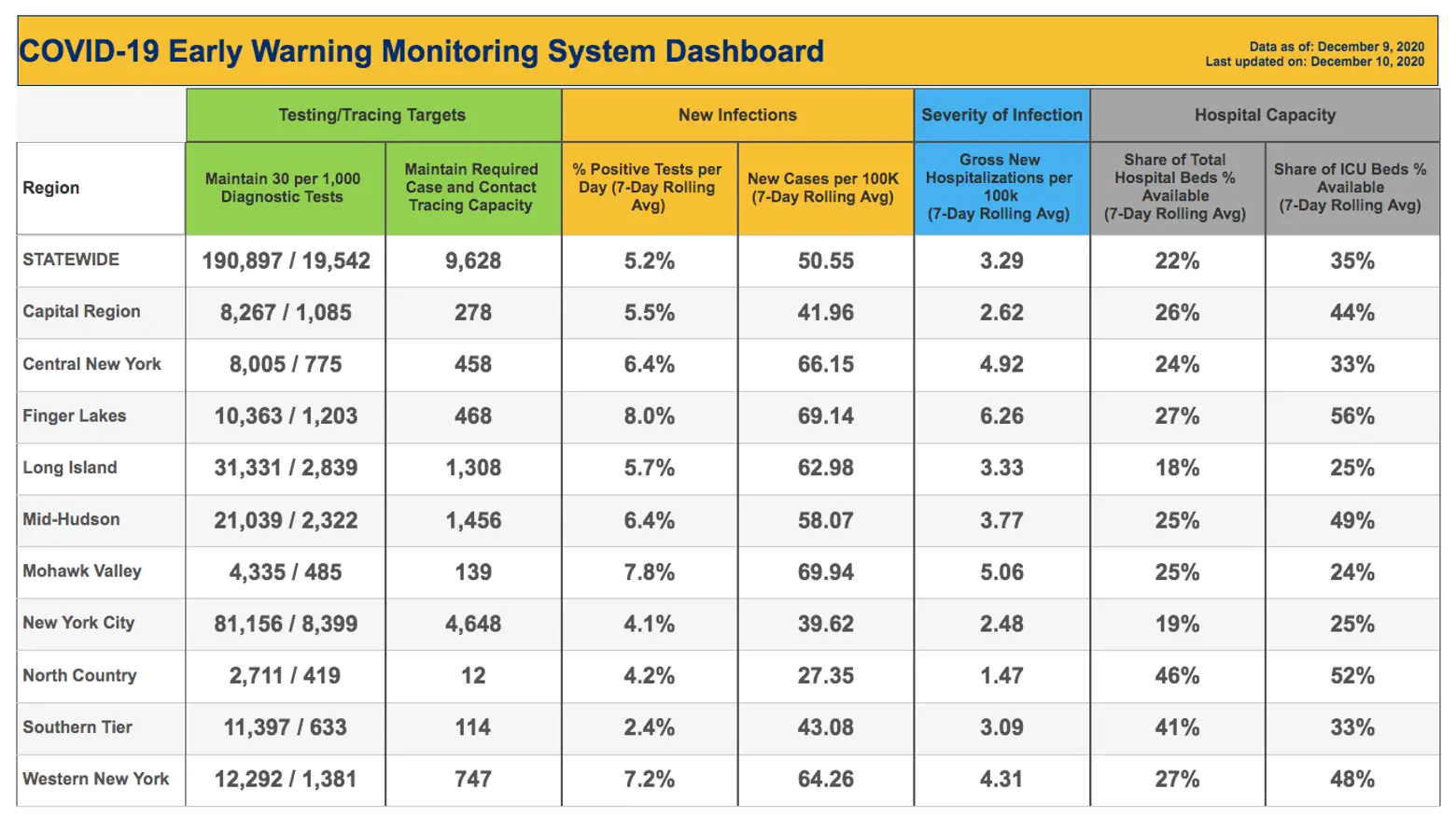 NY's regional dashboard; data as of Dec. 10
On Thursday, the state said over 5,000 New Yorkers are hospitalized with COVID-19, the most since May. The state is now focusing on the regional hospital bed capacity and occupancy to determine restrictions. According to the state's data, New York City currently has over 1,570 COVID patients hospitalized and about 81 percent of its beds occupied.
New York City opened indoor dining at 25 percent capacity on September 30. Every other region outside of the five boroughs has been permitted indoor dining at a higher capacity since the summer. Cuomo on Friday said he will be analyzing data related to indoor dining in these regions over the weekend and make adjustments next week.
The state will be looking at hospitalizations and cases in the city over at least a two week period to see if reopening is possible.  Cuomo also said gyms and salons will have to reduce capacity from 33 percent to 25 percent and increase testing from bi-weekly to weekly. He also said the state would be extending the current commercial moratorium on evictions.
Andrew Rigie, executive director of the NYC Hospitality Alliance, questioned the state's data related to indoor dining in the city, citing the low infection rate in the borough of Manhattan, which has the largest number of restaurants in New York, compared to the infection rate found on Long Island and in Westchester.
"While public health and safety must be paramount, Governor Cuomo's announcement to once again shut down indoor dining in New York City is at odds with the State's own data that's been presented as driving these decisions, and it will be the last straw for countless more restaurants and jobs. And the restrictions begin on Monday with zero economic support for small businesses that are already struggling to survive," Rigie said in a statement on Friday.
Rigie added: "Closing indoor dining in New York City will severely jeopardize the survival of countless small businesses and jobs and now it's more important than ever that all levels of government pass critical support to help save the industry."
In a statement to 6sqft, the Five Borough Chamber of Commerce Alliance said the restrictions "could not have come at a worse time for restaurants."
"This shutdown marks a completely different economic climate than restaurants faced at the onset of the pandemic, where many were in a better financial position and supported by federal stimulus funding," the Alliance said. "We now fear that thousands of small businesses will be forced to permanently close their doors and lay off employees, which will have an irreversible impact on the city's economic recovery and social fabric. To prevent the total collapse of the nation's largest and most vibrant restaurant industry, the federal government urgently needs to enact a new COVID-19 relief package."
RELATED: