With signs of a possible plateau, social distancing fines in New York double to $1,000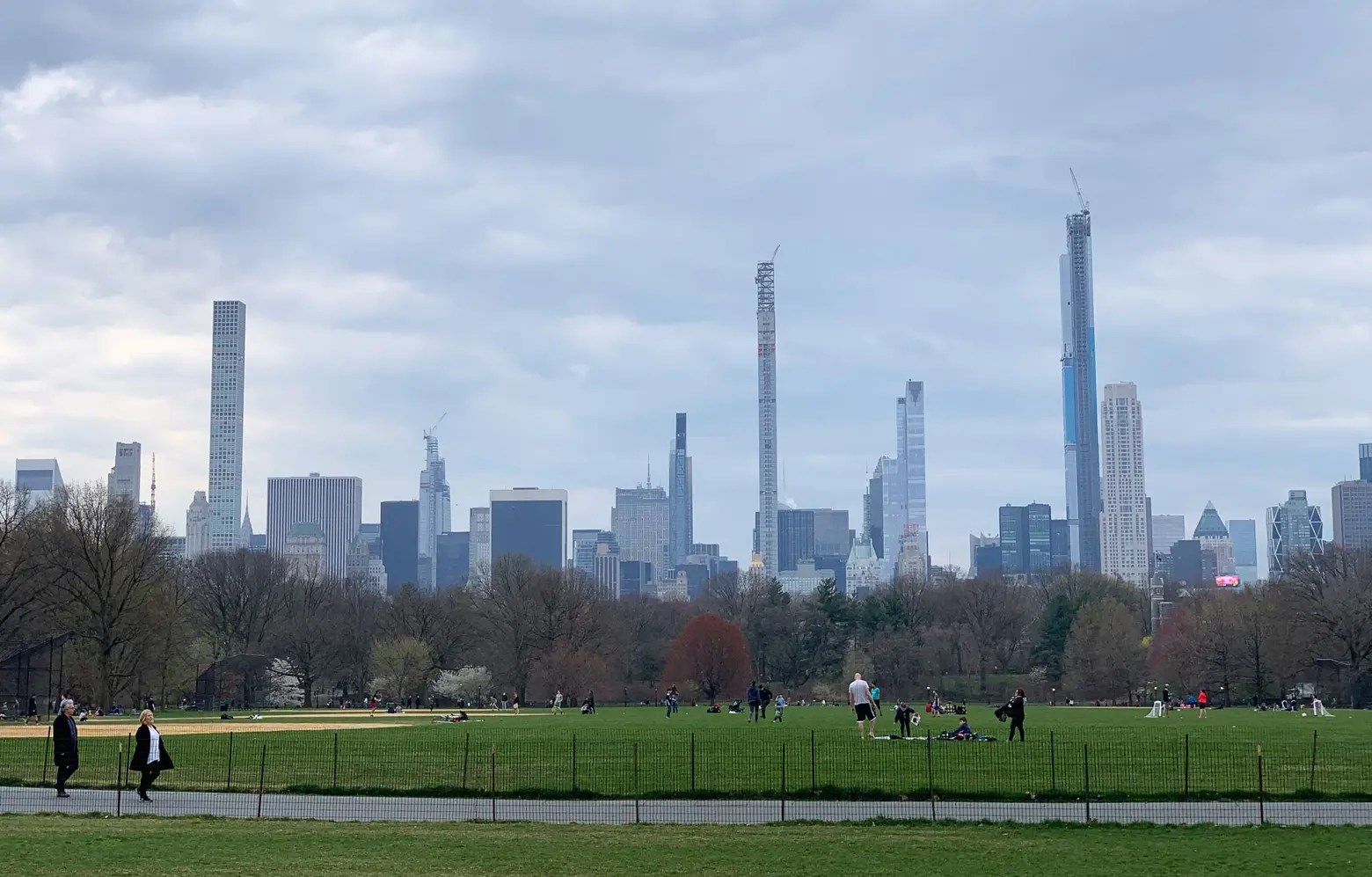 Photo of Central Park on 4.6.20 © 6sqft
With the total number of COVID-19 cases in New York State now at 130,689 and the number of deaths at 4,758, Governor Cuomo announced today that he was extending his executive New York State on PAUSE order through April 29th. However, the reason for this is slightly optimistic; the state is seeing early signs of a possible plateauing in daily new cases, which indicates that social distancing measures are working. But in order for them to continue working, residents in NYC must remain vigilant, which was not the case over the weekend, with parks and public spaces once again becoming overcrowded. Therefore, the governor is increasing the social distancing fine from $500 to $1,000.
"This is an enemy we have underestimated since day one," said Governor Cuomo this afternoon as he cautioned New Yorkers against becoming too lax too soon, citing examples in Hong Kong in South Korea where the numbers rose when restrictions were lifted too early. He flashed photos on his presentation of city parks and places like the Union Square Green Market overwhelmed with people this past weekend. As 6sqft noted earlier, "We personally witnessed major overcrowding in Central Park over the weekend, with cramped running and biking loops, groups continuing to congregate, and people even climbing over police barricades to work out on a set of monkey bars in a closed-off playground."
Governor Cuomo continued to emphasize to New Yorkers that their behavior is reckless and lacks concern for vulnerable populations and our healthcare workers. To curb the issue, last week the Governor closed all playgrounds in NYC (days earlier, the Mayor had only closed 10), and today, the Parks Department announced that all dog runs and dog parks throughout the city will be closed, as Gothamist reported. Ten days ago, the Mayor launched a Safe Streets pilot program in which he closed one six-block stretch of road in each borough to vehicles to serve as additional open space. However, he announced yesterday that he would be ending the program, causing some to be concerned that this would further stress the parks.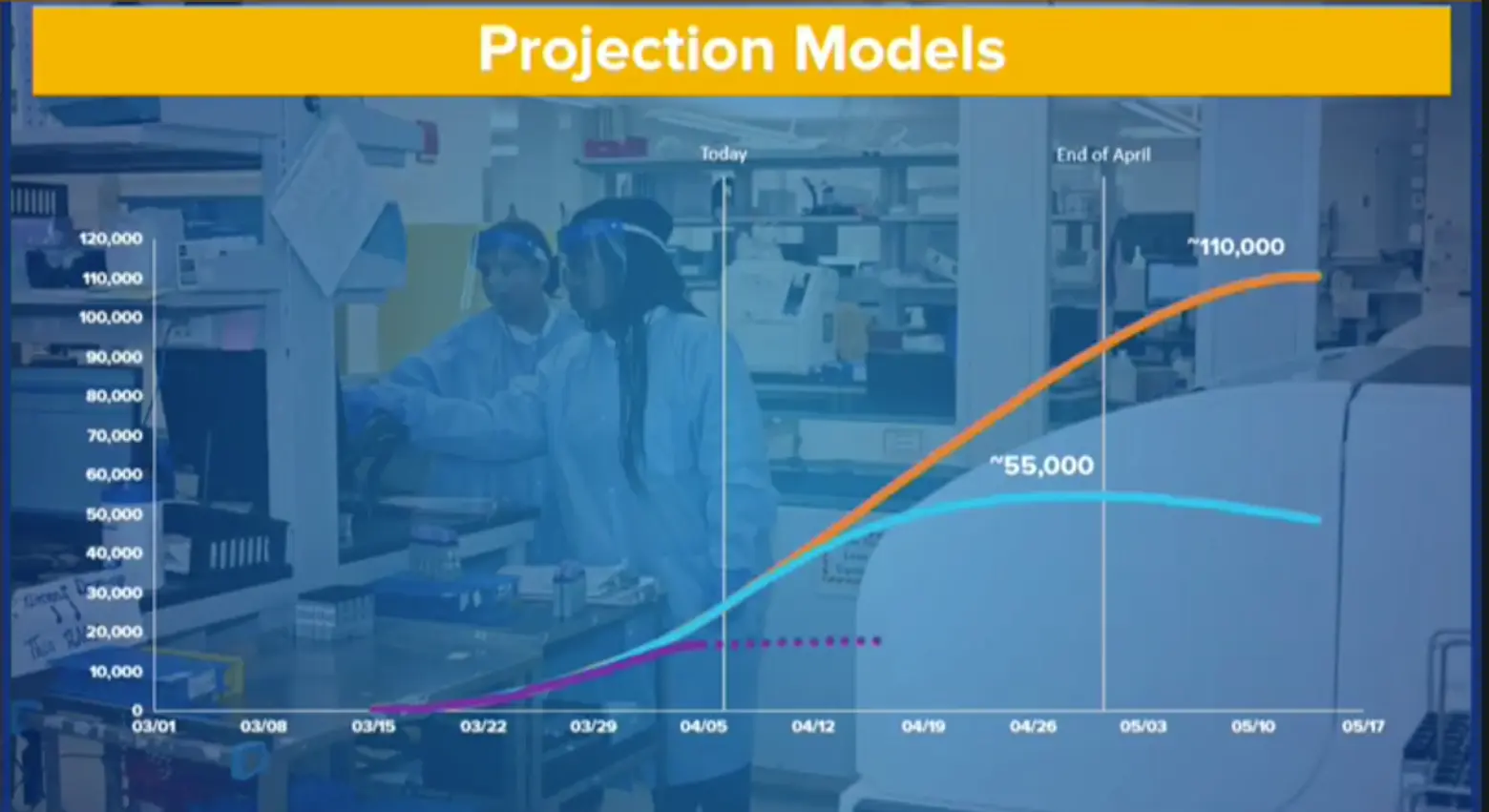 Slide from Governor Cuomo's 4.6.20 press briefing
As seen in the chart above, earlier models predicted the state needing 110,000 or 55,000 COVID hospital beds. But with more data now available and the positive effects of social distancing becoming more apparent, the current model points to a possible "flattening of the curve." Though the governor warned that it very well could be too early to make a prediction, the numbers do indicate that daily hospitalizations and intubations are down and that the number of daily new positives and deaths has not significantly risen for the past few days, all of which are positive signs of a possible plateauing of the virus spreading.
The idea is that the increased fines will cause more people to comply with social distancing measures, especially as warmer weather is upon us. And with PAUSE extended through April 29, the governor's hope is that the positive effects we have seen so far will continue because, as he explained, "If we are plateauing, we are plateauing at a very high level, and there is tremendous stress on the health care system."