Gorgeous Versailles-Inspired Townhouse with Sweeping Staircase Sells for $6.7 Million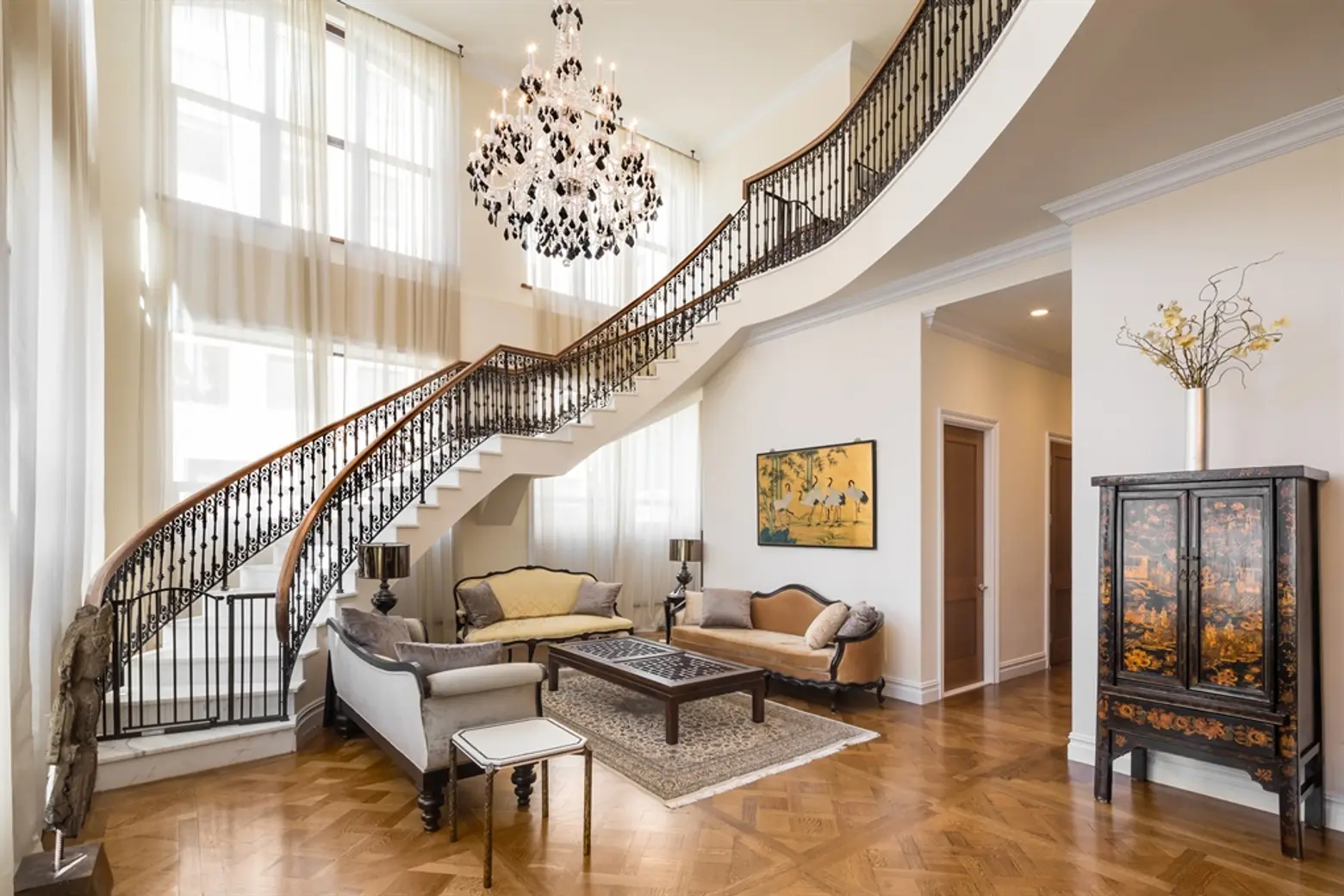 It probably seems odd for a New York apartment to spark visions of Scarlet O'Hara walking down a staircase. And where is this apartment? It's not in Brooklyn, or even on the Upper East Side. Ladies and gentlemen you are in Tribeca, where developer and homeowner Gizman Abbas decided to forgo the typical warehouse look in favor of a more palatial, classic look inspired by a trip to Versailles. And if you're not fascinated by the old world details, let us remind you that just because a home looks like the backdrop for a period piece, doesn't mean it can't be rigged with enough modern-day technology to rival Bill Gates. Because our friend Mr. Abbas has traveled to more places than just Versailles, and his cup of inspiration runneth over. It was apparently enough to convince New York attorney Tracey Anne Zaccone. According to city records, Zaccone just purchased the home for $6.7 million, and it looks like she got a steal of a deal.
When Abba, the son of Ethiopian refugees, purchased the opulent townhouse at 415 Washington Street, it had already undergone quite the transformation. The 4,000-square-foot townhouse has had many lives, formerly two model units and a soap factory before that. However, when Abba took possession, he took it to the next level, switching out the scissor staircase for a sweeping Calacatta gold marble structure with wrought iron banister; and replicating the pattern from the Palace of Versailles floors into quarter-sawn white oak. The main floor has a Poggenpohl kitchen with a large granite island and a flueless ethanol fireplace, along with two bedrooms, one with an en suite. Before you head up to the top floor you're met with your first dilemma. Do you want to ascend that grand staircase like a southern belle today or do you want to rest your legs and enjoy the modern convenience of an in-home elevator. This is your life now, Ms. Zaccone.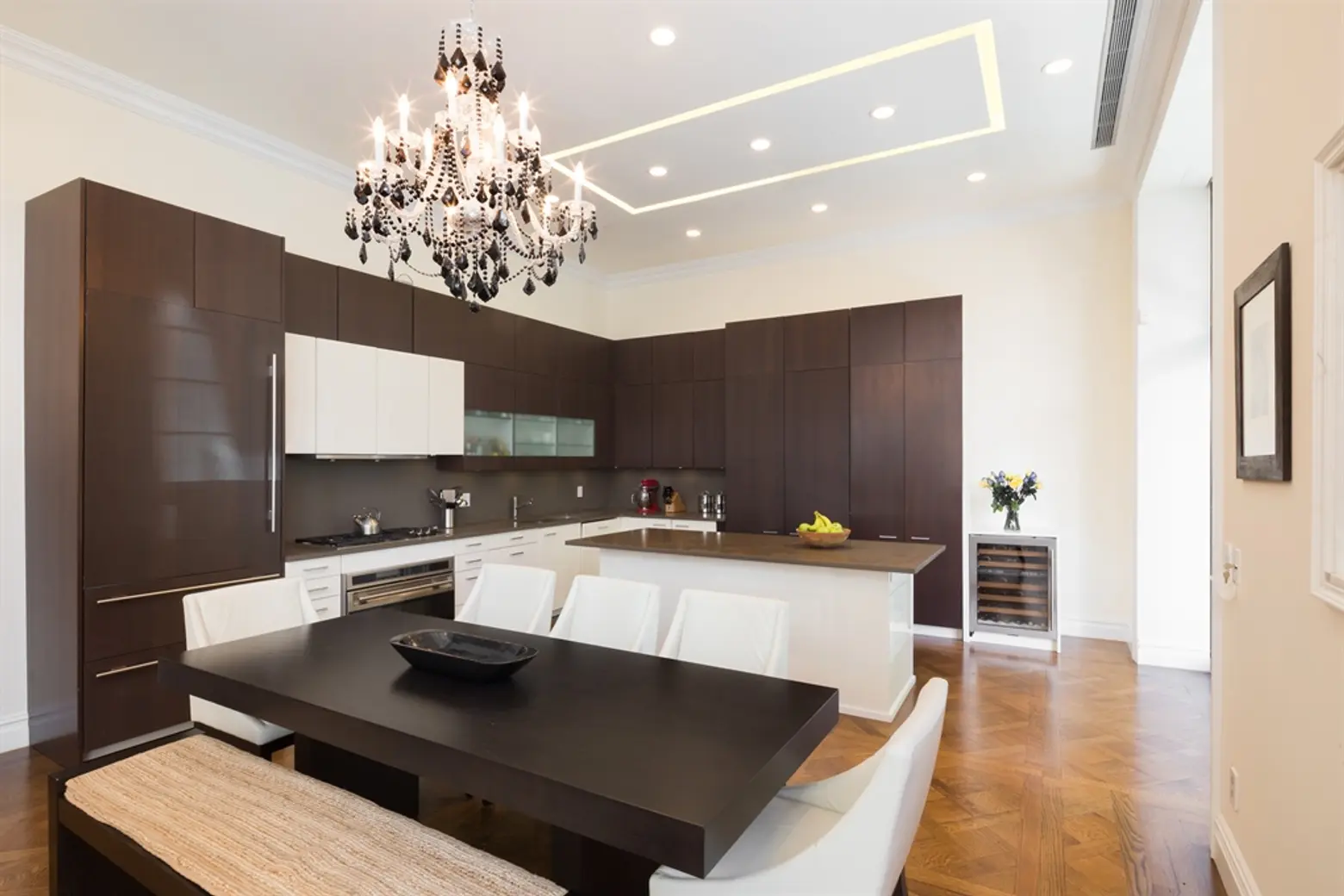 On the top level, the master suite features a spa-like bath with a soaking tub, rain shower, and windows with automatic shades. And the master isn't getting special treatment. Another bedroom also has a rain shower with a silver granite wall, which sounds like it would be so mesmerizing and relaxing it would almost be dangerous. The lower level of the home has a family room with a home theater and a cove-lit coffered ceiling. And best of all, gone are the days of rummaging through your closet wishing you had more light, because each of this home's closets is cedar-lined walnut closets. Additional high-tech gadgets like automatic heated toilets led the selling brokers to describe the townhouse as "automated bliss". And now Ms. Zaccone is going to be living in this bliss for nearly $3 million under the initial asking price of $9.5 million. Sounds like a good deal to us.
[Listing: 415 Washington Street TH18 by Josh Doyle, Nick Gavin and Jeremy Doyle of Corcoran]
Photos courtesy of Corcoran